The International University of the Vietnam National University - Ho Chi Minh City has been presented with an institutional ASEAN University Network-Quality Assurance (AUN-QA) quality certificate.
Two Vietnam universities among world's best
Vietnamese university climbs 15 places in QS World University Rankings 2019
Five Vietnamese universities listed in QS Asia rankings
Modest level of research: weakness of Vietnam's universities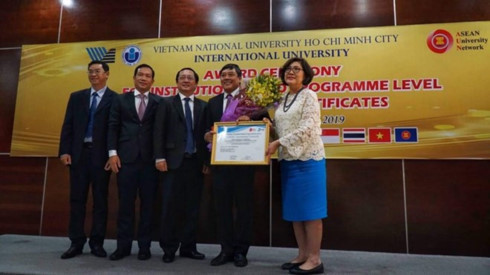 At a ceremony to present an institutional AUN-QA quality certificate to the International University (Photo: hcmiu.edu.vn)
The university is the seventh educational institution in Southeast Asia and the third in Vietnam to receive the title.
On this occasion, the AUN also presented the programme level AUN-QA quality certificates to two programmes of the university.
The university announced it has had 11 training programmes that met the AUN-QA standards, including nine in undergraduate and two in master's programme. Its two courses also meet the standards of the Accreditation Board for Engineering and Technology (ABET).
The AUN-QA network is a group of chief quality officers appointed by the AUN's member universities as the focal point for coordinating to harmonise educational standards and seeking continuous improvement of academic quality of ASEAN universities.
The AUN-QA assessment at institutional level comprises 25 criteria and 111 sub-criteria categorised into groups of strategic quality assurance, systematic quality assurance, functional quality assurance and results.
In 2017, the HCM University of Technology and the University of Science of the Vietnam National University - Hanoi were granted with institutional AUN-QA quality certificates. VNA