Downpour and floods since June 23 left one person dead and three others missing in the northern mountainous province of Lai Chau as of 6am of June 25.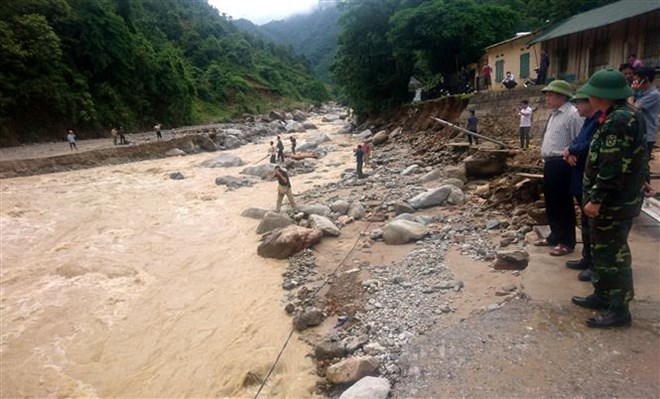 Rescuers look for missing people in Lai Chau province 

Sevenhouses in the province were also swept away by floods, along with 46 ha of riceand crops. As many as 500 head of cattle and poultry were killed.

Total economiclosses in Lai Chau were estimated to hit more than 21 billion VND (901,770 USD).

Meanwhile,floods submerged 24 houses in the neighbouring Lao Cai province, and damaged onesuspension bridge in Sa Pa district along with several roads and irrigationworks.

The twoprovinces have sent workers to repair damaged roads.
The Central Steering Committee on NaturalDisaster Prevention and Control instructed the northern provinces to organizeforces to quickly overcome flood consequences, look for the missing and providesupport to affected households.
The localities were also asked to monitorhigh-risk areas and dykes in order to timely evacuate residents in emergenciessituations and keep a close watch on development of the weather.
Thenorthern mountainous region is vulnerable to flash floods and landslidestriggered by big rains.

Since the beginning of 2019 to mid-June, 23persons died or went missing in natural disasters, and economic losses wereestimated at over 337 billion VND (14.56 million USD).-VNA

Flash floods collapsed the only suspension bridge spanning Ban Ho stream connecting Sa Pa and neighbouring communes in Lao Cai province. The floods also caused serious damages in Lai Chau province.  

Trillions of dong have been spent to implement anti-flood projects, but rainwater and high tides still leave many areas of HCMC inundated.