More than 94 per cent of students sitting the national high school examination in late June of this academic year are eligible for graduation.
High school graduation rate at over 97 percent nationwide
Continued reform to upgrade education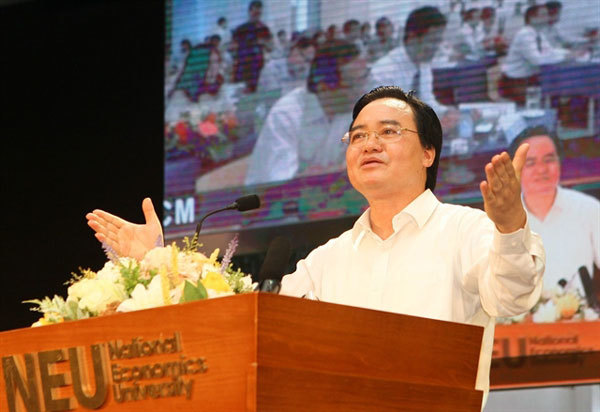 Minister of Education and Training Phung Xuan Nha speaks during a teleconference among three cities of Hanoi, HCM City and Da Nang on university enrollment in 2019 and the Higher Education Law. — VNA/VNS Photo
The rate of graduation has dropped by 3.51 per cent compared to the previous academic year, the Ministry of Education and Training said yesterday at a teleconference among the cities of Hanoi, HCM City and Da Nang on university enrolment in 2019 and the amending and supplementing of the Higher Education Law.
Nguyen Thi Kim Phung, head of the ministry's Department of Higher Education, said the graduation rate reflected the educational quality of the localities and was suitable to the socio-economic conditions of each locality.
In areas such as Hanoi and Nam Dinh, the rate of graduation exceeded 97 per cent while less privileged provinces of Ha Giang and Son La recorded a graduation rate of less than 72 per cent.
Phung said 341,840 students took this year's exam to seek university entrance applications through their test results, the same number as last year.
To prepare for the enrollment plan, Phung asked universities to urgently send the list of lecturers to the ministry in order to build a standard database of higher education lecturers.
She reminded universities of informing on the enrollment plans, answering questions for candidates, especially from July 22 to 31 when candidates adjust their enrollment.
Phung also noted that the enrollment would be carried out from August 6. Universities would not be allowed to adjust the list of students after announcing the enrollment results.
The ministry would publish the list of lecturers and students on the ministry's web portal.
Minister Phung Xuan Nha said the ministry has analysed the results of the national high school examination and would work with localities to improve the quality of teaching and study.
Nha said the ministry has guided universities to implement the enrollment plans, in which universities needed to ensure the quality of students after enrollment.
Nha said the ministry focused on the quality of higher education. Higher education institutions must strictly implement quality accreditation, such as accrediting training programmes and universities' infrastructure. Poor-quality schools would be closed.
Regarding the implementation of the Higher Education Law, Nha asked schools to pay more attention to the implementation of university autonomy, including the establishment and consolidation of school councils.
VNS