Many houses and restaurants have been illegally built along the Red River in Hanoi.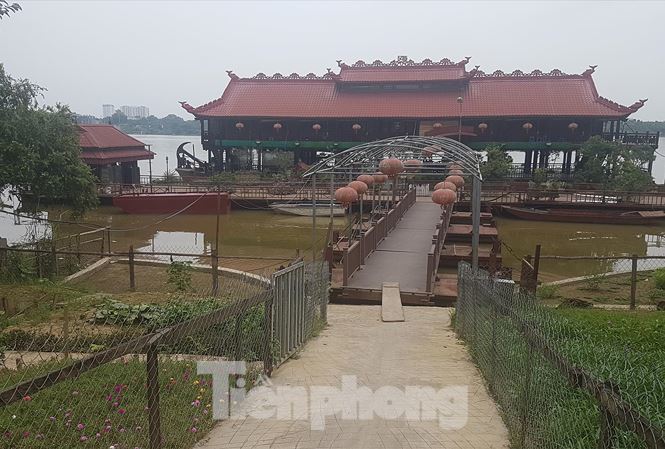 Illegal construction on the Red River
A huge floating restaurant was built near the end of Chuong Duong Do Street and near it is an on-going construction. Just 20 metres away is another two-storey restaurant capable of serving 400 customers and next to it is a residential floating house covering 200 square metres.
There are three restaurants towards Long Bien Bridge. All of them also have hundreds of metres of floor area and are open from noon until late night.
In Phu Thuong Ward, Tay Ho, District, a huge restaurant was built on plastic barrels. The customers were brought to the restaurant by a high-speed boat. Since the restaurant is located off the river bank, customers can eat or fish.
Only Thang Long GTC Company has been granted the permit to Chuong Duong Inland Port, the rest are illegally operating. But even the managers of Chuong Duong Port are also violating regulations.
According to the regulations, investors must apply for permits from related agencies such as the inland waterway port authorities, department of natural resources and rural development or the departments of construction. According to the complaints about Chuong Duong Port, The investor, Thang Long GTC Company, or its partners is building construction and unauthorised areas.
Nguyen Van Vinh, chairman of Chuong Duong Ward, said Thang Long GTC co-operated with Red River Tourism Investment and Development Company to build a restaurant. On May 24, the companies were asked to explain about discharged rubbish and rusty materials. The firms said they would submit a report to the Port Authority of Hanoi.
When being asked about a floating residential house, Vinh said it was built by Hoang Kim Spare Parts JSC. The Department of Transport has only allowed Hoang Kim to build a parking lot on land, it didn't get a permit to do any construction.
Nguyen Quoc Van, chairman of Ngoc Thuy Ward, said they had set up a team to carry out an inspection and has asked illegal restaurant owners to halt businesses and relocate their restaurants by June 30.
Tien Phong/Dtinews

Ha Long, Cat Ba are always the top choices for tourists. But there are many other localities in the north with potential for development yet still struggling for right direction to develop sea tourism

It is worth pondering the dissolution of To Lich water with the Red river's water because the To Lich river is facing the risk of becoming a dead river when it received little amount of water in the dry season.