Many middle-aged Vietnamese people I know have very weird names.
Hue City's doctor arrested for sexually assaulting nurse
VN child protection association pursues elevator sexual assault case
Hanoi teacher accused of sexually abusing boy students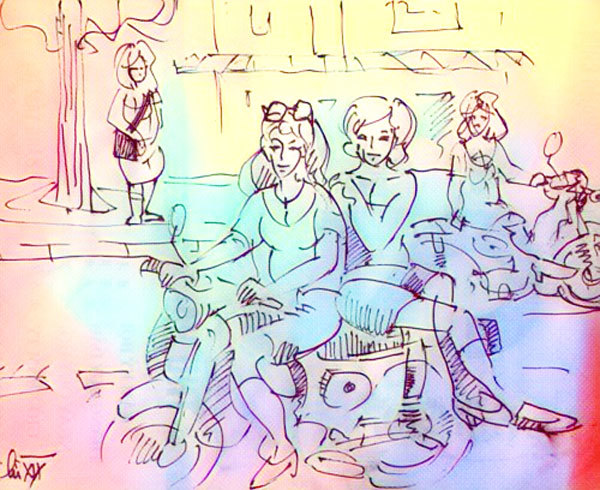 Illustration by Dam Minh Tri/VNS
It is all rooted in a common myth that it is easier to bring up a baby with an ugly name.
"Evil demons will leave them alone and instead disturb children with beautiful names," an old granny may tell you.
Hardly anyone now still believes in this myth as a name obviously cannot offer parents any help in raising and educating a child, and sometimes, an odd name can spell trouble for the bearer.
Ironically, even in the 21st century, a lot of people still hold other unfounded beliefs and use them as useless measures to protect themselves against real danger and discomfort.
"Women wearing revealing clothing are more vulnerable to sexual assault" is among those misleading ideas.
And be – a Vietnamese ride hailing service which has recently joined the market, in what appears to be a frantic effort, has kindly offered online advice called "two minutes of safety with be" in which female customers are recommended to "put on an extra jacket, wear a skirt long enough to cover your legs or consider booking a beCar (instead of beBike) for your privacy and comfort."
To pass on this "little friendly" advice, be had to construct a scenario which could not be more absurd.
"The way you dress can impact the quality of your trip, dear customers," the firm sweetly started.
"An outfit that is a bit revealing or skintight can sometimes make a driver lose focus, then unintentionally affect the safety of your ride," it continues, with an illustration of a female passenger.
The advertisement, before being removed from be's Facebook fanpage, stirred outrage and at the same time exposed an ugly truth that there are lots of people, besides be's marketing team, that still cling on to the myth that liberal clothing may lead to sexual abuse.
"The real danger here comes from men's natural instincts, not be's (male) drivers. And instincts are uncontrollable. If you say this advice to wear an extra jacket or long dress to keep yourself safe is unreasonable, it is just like saying building dams to protect against floods is unreasonable as well. You cannot blame the floods, why not take control of the situation by yourself?" said a Facebooker.
It seems the user has fallen for a common logic trap as it is humiliating to both genders. Here are be's female customers and male drivers, with the men considered to have no self-control and full slaves to their sexuality.
Let us make it clear that rape is not about biological urges; it's violence against women and even men.
It has nothing to do with what people wear.
Last year, an exhibition entitled "What were you wearing" took place in Brussels featuring clothing to items worn by sexual assault victims the moment they were attacked.
A pyjamas, a tracksuit, and even a police uniform were featured as irrefutable evidence of the fact that a person's outfit does not incite rape.
"It is an excuse for violence against women by saying clothing can be seen as provocation for rape, just like a man blaming alcohol for beating up his wife and children, " said Thuy Linh, a gender-based violence specialist in Hanoi.
"Acts of assault and rape are motivated by different factors, mostly social, gender norms and unequal power between men and women, but never clothing," she added.
The responsibility of ensuring safety is not only in the hands of drivers and customers but also be's as a co-ordinator and service provider.
By saying provocative outfits are the reason for sexual assault, be makes me wonder whether it has any protocol in place to deal with the issue.
Blaming is easy, taking action is hard, especially when they don't have a full understanding about what is really going on.
Eight out of ten rapes are committed by someone known to the victim, while only 19.5 per cent of sexual assault cases are carried out by strangers, according to research by the US-based Rape, Abuse and Incest National Network)
Instead of continuing to play the blame game, it is time to look directly at the problem and find for more impactful solutions.
For be, an attentive hotline or safety centre may help.
As a beautiful name poses no threat to a baby, it is not an outfit that hurts.
by Khoa Thu
VNS