The Ministry of Health has given sanction to the Hung Vuong General Hospital in HCM City to carry out surrogate pregnancies on humanitarian grounds, making it the country's fourth public facility to be approved.
Couples benefit from new fertility treatment
Charity provides free IVF treatment for poor infertile couples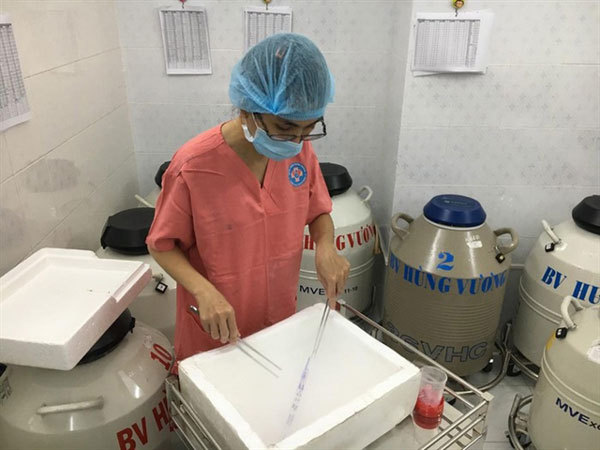 An IVF procedure being performed at Hung Vuong General Hospital in HCM City. Photo courtesy of Hung Vuong General Hospital
The hospital's director, Dr Hoang Thi Diem Tuyet, said applications were already coming in for surrogacy procedures.
Surrogacy is a form of assisted reproductive technology in which an embryo is created using an egg and sperm produced by a couple and transferred to the surrogate's uterus.
The Law on Marriage and Family was amended to allow surrogacy in 2015.
To be eligible, a clinic must be performing at least 1,000 cycles of IVF (in vitro fertilisation) per year.
Surrogacy is a highly complex process that requires among other things extensive counselling and legal assessment.
Vietnam's first surrogate baby was born in 2016 at Hanoi's Central Maternity Hospital to a 38-year-old woman from the northern province of Ninh Binh.
The Law on Marriage and Family allows close relatives to become surrogate mothers and surrogacy is permitted only in cases where the woman, for health reasons, is physically incapable of having children.
A surrogate mother must be between 21 and 40 and physically healthy and already have at least one child. If she is married, she must also have her husband's consent. A woman can be a surrogate only once.
The three public hospitals previously permitted by the ministry for surrogacy are the National Hospital of Obstetrics and Gynecology in Hanoi, the General Hospital in Hue City and the Tu Du Obstetrics Hospital in HCM City.
My Duc General Hospital in HCM City is the only private facility to be approved.
The fee is equal to an IVF procedure, which costs an average of VND60 million (US$2,570).
In Vietnam, around 20,000 cases of IVF are performed every year, according to the ministry.
VNS