Kids at the private Sao Viet Kindergarten in HCM City's Hoc Mon District are happy to put vegetable seeds in styrofoam boxes and water them in the garden.
HCM City kids inspired by aquaponic gardens
City-dwellers plant vegetables, breed fish on the roof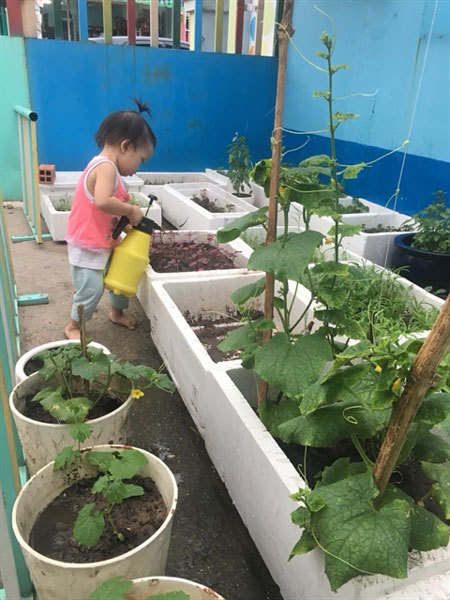 A child at the private Sao Viet Kindergarten in HCM City's Hoc Mon District waters vegetable plants. — VNS Photo Vu Luc
Vo Lan Phuong, the kindergarten's manager, said these are among extracurricular activities, and would help them understand how vegetables grow practically instead of through pictures and possibly fall in love with plants.
"The garden is 10 square metres," she told Việt Nam News.
Many other kindergartens also want to have such a garden but their school does not have the space for it, she added.
The city's Department of Education and Training encourages kindergartens and schools to set up green spaces, she added.
Luong Thi Hong Diep, head of the department's kindergarten division, said the education officials in many city's districts visited Japan and found that there they pay much attention to physical activities outside classrooms and playing in nature to help kids develop comprehensively.
This would not cost much money, and the city's schools could adopt this method, she said.
After their trip, several of them have embraced the concept, she said.
In Binh Chanh District four public kindergartens have earmarked green spaces for trying this since March.
Hoa Anh Dao Kindergarten used 3,600sq.m to create a grass lawn and vegetable garden. The space is designed like a small park for the school's kids to play in nature.
Hoa Phuong Hong Kindergarten has more than 2,000sq.m of green space where kids fish or harvest rice or cabbage with their teachers.
Nguyen Thi Ngoc Huong, principal of Hoa Anh Dao Kindergarten, said it has stimulated teachers' creativeness too, and they now teach kids through playing in the open.
Funds for creating such green spaces come from the city and also donations from parents, she said.
Nguyễn Thanh Xuân, principal of Hoa Phượng Hồng Kindergarten, said it also brings teachers and kids closer to each other.
The department plans to take this to several public kindergartens in districts 9, 12, Can Gio, and Nha Be in the 2019-20 academic year, which has just begun.
It will later take them to the city's inner areas.
Primary and high schools have also created vegetable gardens on their terraces, with students themselves growing and harvesting the vegetables used for their lunch.
In Nguyen Binh Khiem Primary School in District 1, its students' parents funded a garden on the terrace and teachers show students how to plan and take care of the vegetables.
A model that involves growing organic vegetables along with fish in a greenhouse has been adopted by Nguyen Van Troi Primary School in District 4.
Basement garden
Le Quy Don High School in District 3 uses its basement for growing vegetables besides parking vehicles.
A group of students wanted to grow peppermint, basil and other vegetables there to make the air fresher after going on a field trip to the Hi-Tech Agricultural Park in Cu Chi District to learn about various vegetable farming techniques such as hydroponics.
They have installed six frames with 20 pillars each on plastic pipes with a diameter of nine centimetres. Each pillar has 42 holes for growing vegetables using aeroponics which reduces water use by 98 per cent of and fertilizer use by 95 per cent. No chemicals are used.
Moreover, they use LED lights to help the vegetables photosynthesise without sunlight.
In the past the department has urged the Ministry of Education and Training to make greenery a criterion for assessing the quality of educational institutions.
VNS