Some hospitals have begun providing on-demand Covid-19 test services in response to high demand.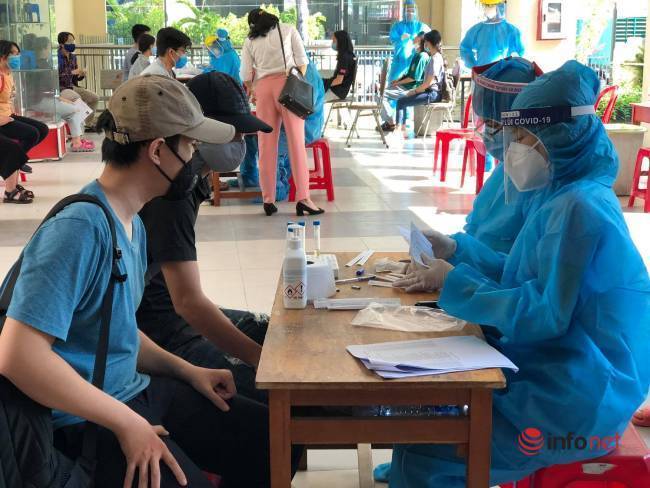 Nguyen Thu Ha in Bac Tu Liem district in Hanoi said she has returned home from Quang Ninh province where she spent the Tet holiday. She and other family members made health declarations after the return.
They were asked to stay in quarantine at home and report to the local medical center if they have a high temperature or cough. If so, they will get tested.
However, as Ha is worried about the infection probability, she has decided to use on-demand testing service and pay for the service.
Many other people also want to have on-demand tests as the pandemic is still in a complicated situation. The fee for tests is between VND1 million and VND2 million.
There are many hospitals in Hanoi recognized by the Ministry of Health as meeting the requirements to test for SARS-CoV-2.
The testing center of the University of Public Health has confirmed that the center is providing Covid-19 testing service at a fee of VND1 million to subjects without epidemiological factors. Samples are taken at 9-11 am every day.
At Hong Ngoc Hospital, service users have to pay VND1.6 million. At Medlatec, the fee is VND1.199 million.
Licensed medical centers have the right to provide on-demand tests. However, hospitals only reserve testing kits to carry out compulsory tests for patients going to the hospitals. Meanwhile, the tests are free if they are conducted for epidemic prevention purposes.
At 108 Hospital, people who want to get tested before traveling abroad have to pay VND2,350,000.
The E Hanoi Hospital is also one of the medical centers allowed by the Ministry of Health to conduct Covid-19 tests in Hanoi. However, Le Ngoc Thanh, director of the hospital, said the service is only provided to those who have suspected factors or want to go abroad.
He went on to say that it would be a wasteful expenditure if tested spontaneously.
"The test result is valid only at that moment. More importantly, one needs to comply with epidemic prevention principles," he said.
Associate Prof Dr Tran Dac Phu, senior advisor to the Center for Public Medical Event Response, said the on-demand testing service has been approved by the Prime Minister, but the service still is not available in some provinces.
Many people refuse to get tested despite symptoms of cough and high temperature, while other people just want to get tested, and others don't observe epidemic prevention measures.
He said provincial CDCs have been instructed to carry out tests for people in areas with high risks. In Hanoi, for example, all the people returning from Hai Duong have to be tested. 
N. Huyen

Vietnam has done a good job in their fight against the coronavirus pandemic, according to US magazine Business Insider citing Australian think-tank The Lowy Institute's recently-published Index.
This morning, the Ministry of Health announced 2 more cases of Covid-19 in Hai Duong, the country's Covid-19 epicenter, bringing the total number of patients in the country to 2,403.