The KOVA Tourism Joint Stock Company, investor of Bac Waterfall-Sao Stream tourism area in Hanoi, has built and renovated six structures without approval from authorities.
Hanoi continues investigating land violations in Soc Son district
Hanoi to impose penalties on Soc Son forest violations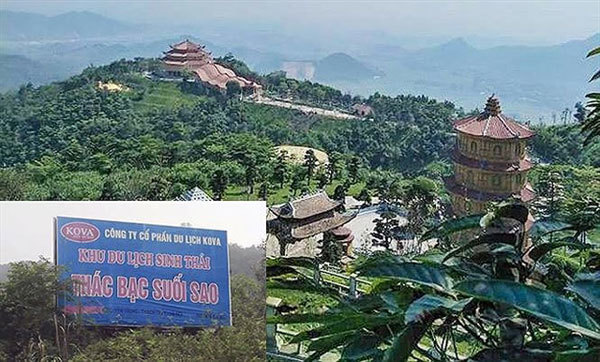 Pagodas and temples have been illegally built in the forest area. Photo tienphong.vn
The violations were revealed after an investigation by Hanoi's Construction Department.
Earlier media reported that a series of pagodas and temples had been built in the forests in two communes of Yen Binh and Yen Trung of Thach That District.
The inspection team reported to the municipal People's Committee that the KOVA Company committed violations on construction and the information reported by the media was correct.
The newly built structures are Ngoc Hoang Gate, a security house, a restroom. Other renovated structures include the Tu Tran Temple.
The team also discovered six other structures in the tourism area that are not in the list managed by the Thach That District's People's Committee.
The Thach That District's People's Committee was blamed for lacking supervision.
The KOVA Company admitted their violations on land use and management, and pledged to deal with the issues.
Inspectors ordered the Thach That District's People's Committee to ask the violator to dismantle the buildings.
The company was also told to stop construction of pagodas and temples in the forest.
The KOVA Company started investment in Bac Waterfall-Sao Stream tourism area which covered 59.2ha, in 2002. The project was then located in Yen Trung Commune, Luong Son District, Hoa Binh Province before the commune was merged into Hanoi's administrative boundary.
The tourism area was open in June 2007.
Hoa Binh Province's People's Committee gave a nod to the area's expansion proposal in 2008, increasing the area to 233ha.
The land lot for expansion is in the forest.
The project's expansion was suspended in 2008 when Yen Trung and Yen Binh communes were merged into Hanoi's boundary.
The project's expansion is still waiting for the local authorities' approval but the KOVA Company constructed buildings without any official permission.
VNS