The demand for doctors and medical workers is high, but the workforce for the healthcare sector is produced only by several public schools. This has prompted private schools to jump on the bandwagon.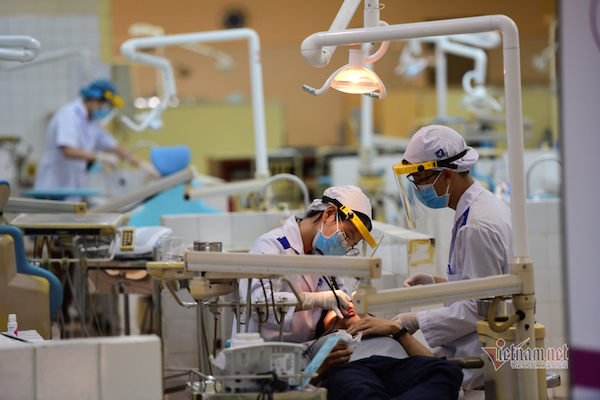 Many private universities have announced that they will enroll students for healthcare majors in the 2021 enrollment season.
In 2016 and earlier years, healthcare-related majors were only available at a few schools, such as Hanoi Medical University, HCM City Medical and Pharmaceutical University, Thai Nguyen Medical University and Can Tho University.
But things have changed in recent years. More and more private schools have opened majors related to healthcare.
Hong Bang International University has announced the opening of eight new majors related to healthcare, including traditional medicine, medical imaging techniques, oral health, midwifery, nutrition, child care (nursing), rehabilitation techniques and hospital management.
If counting majors that it had opened before, the schools will have a total of 12 healthcare related majors. The figure is even higher than prestigious schools specializing in healthcare majors like Hanoi or Thai Nguyen Medical universities.
In the race to open more healthcare majors, Van Lang University has opened two, raising the total number of healthcare related majors to six.
HCM City University of Technology plans to open two new healthcare majors, including nursing and medical engineering tests, during this year's enrollment season.
The Hanoi University of Business and Technology, Dai Nam University and Duy Tan University have also joined the race.
The fact that private schools are rushing to open healthcare training majors has raised concerns about training quality. People have questioned if the teaching staff and facilities of the schools can satisfy requirements for training.
According to the Ministry of Education and Training (MOET), schools open training majors to satisfy demand in the labor market. In principle, all types of higher education establishments are equal before the law. This means that if the private schools can satisfy requirements as stipulated by law, they will be equal to public schools and have the right to provide these majors.
However, the ministry stressed that the prerequisite is that schools must meet all the requirements for quality assurance. Circular No 22 released by MOET clearly shows the requirements and procedures to open new training majors.
The schools that provide healthcare majors, in addition to requirements stipulated in the circular, have to observe the regulations on curricula, and plans and contracts on practical training, as well as requirements for practical training organization.
This means that all documents applying for new healthcare training majors must be certified by the Ministry of Health as meeting conditions stipulated in Decree 111 dated in 2017. 
Thuy Nga

In 2021, Vietnam's education sector will accelerate the National Digital Transformation Program and implement digital transformation.

Autonomy in higher education in Vietnam is facing challenges, particularly accountability and finances, according to Deputy Minister of Education and Training Hoang Minh Son.