There has been a rise in cases of eye diseases lately because of weather changes along with air pollution; worse, some of them have had complications if self-medicating.
Three million Vietnamese children face amblyopia
Eye diseases becoming health burden in Vietnam as population ages
Ageing population at high risk of diabetes and related eye diseases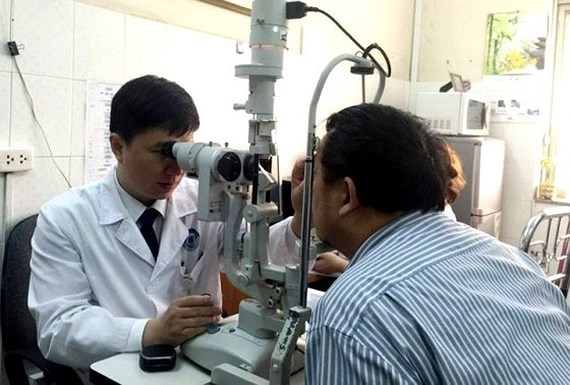 The National Eye Hospital said that more and more people having eye problems have come to the hospital for examination and treatment lately. The infirmary admits approximately 1,600 patients a day even sometimes up to nearly 3,000 doubling the number before.
Dr. Hoang Cuong from the hospital said that most common eye conditions caused due to air pollution/ smog are sore eyes, redness, dry eyes due to rising levels of toxic air pollution in the country plus weather changes. Worse, the culprit of rise in eye problems is self-medicating of patients by buying improper eye drop, Dr. Cuong pointed out.
Optometrist warned that people are at risk of having itching eye, redness, watering eye with rheum in early months of the years while people have dry eyes. Without timely treatment, their vision will be poor affecting their daily activities and impairing work performance.
To prevent eye problems, people should regularly wash their hand and eyes with clean water. When a foreign object which could be a piece of dust, grit comes in contact with the eye, the best method of removal is to wash out the eye with an eye wash solution or tap water, said Dr. Cuong.
Dr. Cuong advised people should use eye drops for daily purpose for cleaning their eyes at least twice a day to prevent dry eye; however, he warned unsafe eye drops in the market; accordingly, it would be better if people go to the hospital for examination. SGPP