High schools are expected to face a shortage of music and art teachers when the new education programme begins in the 2019-21 academic year.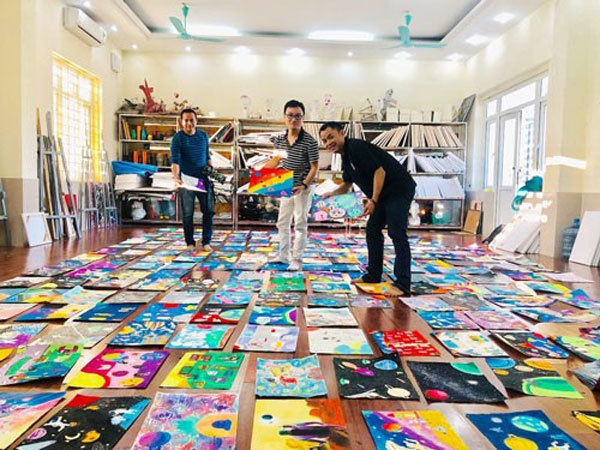 Art teachers examine paintings submitted by students at Nguyen Tat Thanh secondary and high schools. — Photo courtesy of nld.com.vn
The new education programme, which includes more music and arts courses, will be offered at all primary, secondary and high school levels.
The expansion of arts and music courses will lead to a shortage of about 10,000 teachers nationwide, according to Người Lao Động (Labourer) newspaper.
To deal with the shortage, the National University of Art Education on Tuesday (October 29) organised a seminar on training art teachers for the new education progamme, with many art schools participating.
According to the Ministry of Education and Training, of the 15,538 primary schools nationwide, there are only 13,339 music teachers, a shortage of 2,199 teachers.
The number of art teachers nationwide is 13,445, with a need for another 2,093 teachers.
The country's 10,939 secondary high schools have enough teachers for the upcoming school year, with a total of 11,424 music teachers and 11,178 art teachers.
However, at the high school level, a shortage of art and music teachers will exist as the new education programme kicks off.
Vietnam currently has 2,834 high schools. If each school needs one music teacher and one art teacher, the number of teachers required could reach up to 5,668.
Associate Professor Dang Phuong, principal of the National University of Art Education, said that secondary schools will need more than 23,700 art and music teachers in 2022, while the high school level will need more than 10,000 teachers.
Phuong said the quality of existing music and art teachers is not the same across all schools. Under the Education Law 2019, it is necessary to improve music and art teachers' teaching quality.
Training standards
Since training goals have yet to be decided, there is no standard programme set for training of new music and art teachers.
Dr Nguyen Van Dinh from the National University of Art Education said the school would train about 1,500 teachers every year. In the fourth quarter, the school will complete its curriculum for teacher training.
In the first and second quarter of 2020, the school will train about 1,000 to 1,500 art and music teachers nationwide.
And in the third and fourth quarter of next year, training will be conducted based on specific needs from certain schools, with an annual average of 1,500 teachers.
Nguyen Thi May from the National University of Art Education's Faculty of Fine Arts Education said that current and new art education programmes varied greatly.
Since the current programme only focuses on visual arts, painting and sculpture, teacher training for the new programme has to add many features, including printing, engraving, architecture and applied arts such as graphic design, fashion design and industrial design, among other content.
Dr Pham Van Tuyen from Hanoi University of Pedagogy added that current teacher training programmes were designed differently across many schools, with some focusing on arts expertise and others on pedagogical skills.
Since the current teacher training programmes have never been standardised, it is challenging to determine the quality of the teachers, he said.

The lack of teachers for students with disabilities in HCM City is posing concerns to educational experts.

The new school year is already nearly a month old, but many schools are suffering teacher shortages.
VNS