The Department of Natural Resources and Environment in Danang City said on September 20 that two firms with Chinese involvement own the rights to 21 coastal land lots in the central city.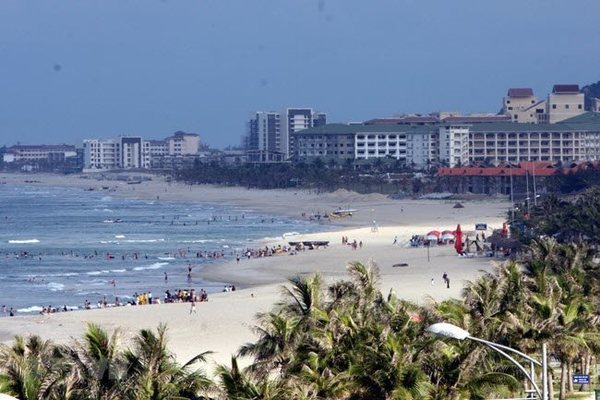 A view of My Khe Beach in Danang City. Two firms with Chinese involvement own the rights to 21 coastal land lots in the central city  
In particular, the municipal government rented out a lot covering 20 hectares in Khue My Ward, Ngu Hanh Son District, to Silver Hoang Dat international entertainment and travel firm for business operations, with a lease term of 50 years.
The city's government, on March 21, 2007, granted a land use right certificate to the firm, which is a joint venture between local firm Hoang Dat JSC and U.S.-based Silver Shoes company, with ownership of 10% and 90%, respectively. Of which, Sui Gui Nan, a Chinese national, represents for the Silver Shoes company.
The second company involved in these lots is a local firm, called V.N.HOLIDAY. The foreign ownership at the firm is 48%, held by a Chinese investor named Lijinan.
Domestic firms and individuals had earlier transferred 20 land lots near Nuoc Man military airport to V.N.HOLIDAY between 2013 and 2015. These lots were granted land use right certificates.
To Van Hung, director of the department, cited Article 4, Clause 29 regulated in the 2005 Law on Investment, saying that foreign investors are subject to the same requirements as domestic investors if their holdings at local firms are not higher than 49%, according to news site VnExpress.
V.N.HOLIDAY carried out the land use right transfers before July 1, 2015, the date that the 2014 Law on Investment took effect. Accordingly, city agencies had applied investment conditions for domestic firms to V.N.HOLIDAY, based on Article 1, Clause 169 of the 2013 Land Law, which stipulates a right to receive land use right transfers.
The department is responsible for implementing State management on land and will regularly supervise and handle violators, as well as provide full information regarding violation to local media, Hung said. SGT

China is the largest export market of Vietnam, accounting for 27 per cent of the country's total export turnover.

Foxconn (Taiwan), TLC and Lenovo (China), Hanwa (South Korea) and Yokowo (Japan) are relocating their factories to Vietnam as a shelter from the 'storm' of the US-China trade war.