Unlike in the past, many private universities have higher cut-off scores for admission this year than many public ones.
Private universities' status is changing as standards go up
Private schools to take more important role in education development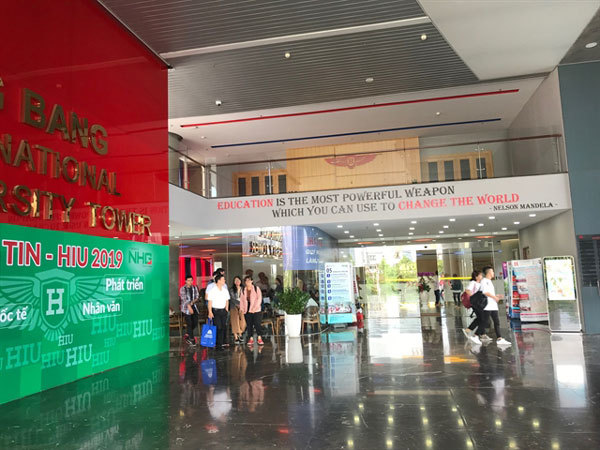 Many large companies have invested in facilities at universities and schools. — VNS Photo Gia Loc
The scores they consider are from the national high school graduation exams.
In the past, students unable to get admission to public universities would then consider private ones.
Nguyen Tat Thanh University in HCM City's District 4, for instance, has set the cut-off scores at 15 to 23.
The highest score required is for medicine followed by pharmacy with 22, preventive medicine, medical testing techniques and nursing with 18.
The scores are one to three points higher than last year.
The HCM City University of Technology, better known by its acronym HUTECH, in Binh Thanh District has set the cut-off levels at 16-22, again one to three points higher.
The pharmacy degree requires a score of 22 or more.
At Van Hien University in the city's District 3, the threshold is 15-18, with Vietnamese studies requiring the highest score.
Among public universities, the HCM City University of Transport in Binh Thanh District has four faculties requiring scores of 14 each.
Elsewhere, Bac Lieu University, Mien Trung University of Civil Engineering in Phu Yen Province and Da Nang, Mien Tay Construction University in Vinh Long Province, and others have admission scores of just 13 or 14.
Good facilities
Private universities around the country have begun to pay more attention to investing in their own facilities instead of renting buildings, unlike in the past.
A recent survey of private universities by the Ministry of Education and Training found that now their strength is in fact their facilities.
Their teaching staffs have improved in terms of both quality and numbers, with many universities having 700 to 1,000 lecturers, higher than many public ones.
At a meeting with educational experts in HCM City last May to discuss the development of private education, Assoc Prof Dr Thai Ba Can, deputy CEO for university development affairs at Nguyen Hoang Group -- which runs several universities and schools -- said many large companies have invested a lot of money in facilities at universities.
The reputation of private educational establishments has improved thanks to high admission scores and quality training, he said.
All this is enabling more people to study and acquire international standard education, which is also thanks to adopting other countries' training programmes and methodologies, he added.
Universities like FPT and Nguyen Tat Thanh were ranked three-star for their facilities under the UK's QS Stars rating system. The ranking system tops out at five stars.
Scientists from private universities like the HUTECH have been winning honours such as the Vietnam Golden Globe Award from the Ministry of Science and Technology.
Assoc Prof Dr Phan Thanh Binh, chairman of the National Assembly's Committee for Culture, Education, Youth and Children, said: "The committee has realised the importance of the private education sector. The Government regards it as one of two wings for educational development in the country."
Besides, private establishments force public universities to develop, he said.
In future, universities and schools would not be distinguished based on ownership and it would instead be on quality, he said.
By 2020, the number of students in private tertiary education establishments would increase to 40 per cent from the current 18 per cent, he said.
According to the Ministry of Education and Training, 65 out of 236 universities and institutions as of last year were private.
Can said the country remains among those with a low rate of private educational establishments because the Government has not paid much attention to them.
Dr Dam Quang Minh, rector of Phu Xuan University in Thua Thien-Hue City, said though legal documents too say what Binh said about "two wings", they are not equivalent but should be.
VNS