Over the recent past, population work in Vietnam has achieved important results, said Nguyen Doan Tu, Director General of the General Department of Population and Family Planning.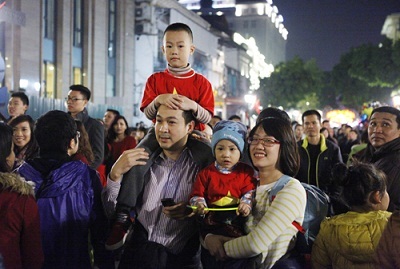 Ảnh:
The population growth has been successfully controlled, with the average annual population growth rate declining from 1.7% (1989-1999) by below 1.2% (1999-2009) and about 1% (since 2010).
The average number of births per woman in reproductive age decreased sharply from 6.39 children (in 1960) by 2.33 children (in 1999), resulting in a replacement fertility rate of 2.09 children (in 2006), which is 10 years earlier than the target set out in the resolution adopted at the 4th plenum of the 7th tenure Party Central Committee, and remains unchanged until now.
The results of the 2019 population and housing census also showed that Viet Nam has a high population density compared to other countries in the world and in the region.
With a population size of nearly 100 million, Viet Nam is a big market which is attractive to both domestic and foreign investors. In addition, a young labor force has contributed to helping the country reduce poverty in a fast and sustainable manner.
The quality of Viet Nam's population has now been improved in many aspects. The declining birth rate has significantly reduced the pressure on the number of students at all grades.
The educational level and the quality of human resources have improved considerably. Ethnic and vulnerable population groups are cared for and supported by the State to get equal access to education.
Average life expectancy in Viet Nam increased from 65.5 years old in 1993 to 73.5 years old in 2018, higher than countries with the same income per capita.
However, the stature and stamina of Vietnamese people are improving in a slow manner. During a 30-year period, the average height of Vietnamese youth only increased by 3cm. Thus far, the average height of Vietnamese youth has increased by 3cm, reaching 164cm in males and 153cm among females.
According to Director General Nguyen Doan Tu, Viet Nam's population work will continue to implement the goals set out in the ICPD Action Program in the near future, with a special focus on maintaining the current sub-replacement fertility.
Also, the population sector will make efforts to bring the sex ratio at birth back to the natural balance, effectively utilize the advantages of the golden population structure, proactively adapt to population aging, distribute population reasonably, and step by step improve the quality of population and place it in an organic relationship with socio-economic development, contributing to developing the country in a rapid and sustainable fashion. VGP
Vien Nhu