Colonel Bui Van Lua, deputy director of the General Department of Drug Control under the Viet Nam Border Guards, talks to the Government Portal about the Vietnamese border guards and the people's will to say no to illicit drugs.
Drug crime crackdown launched along Vietnam-Cambodia border
Ministry wants drug abuse treated as criminal offense
Extra efforts needed to curb flow of drugs into Vietnam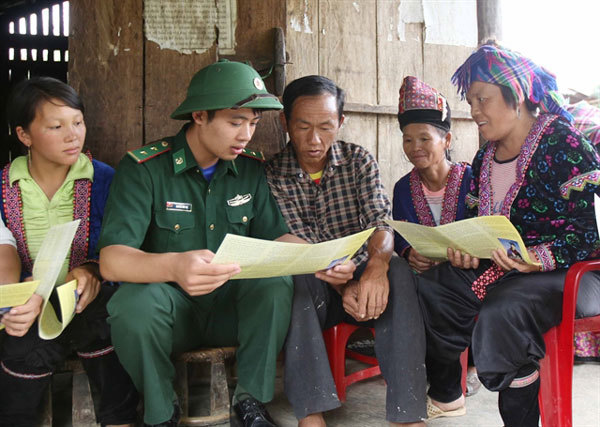 Pa Tan border guards in Phong Tho District of the northern mountainous province Lai Chau distributed pamphlets to raise awareness of local ethnic minority population on the harms of drugs. — VNA/VNS Photo Quy Trung
In the first half of 2019, it is reported that huge amounts of heroin and methamphetamine have been smuggled into Vietnam. Do these figures tell you anything?
Drug trafficking in the recent past, particularly in the last six months, seems to have reached a peak. In the period under review, we detected and seized a large quantity of illicit drugs including methamphetamine and broken up several drug trafficking gangs. Vietnam is now both a drug trans-shipment country and drug consuming country. Over 80 per cent of drugs shipped into Vietnam are transported to third countries.
In the first six months of 2019, Vietnamese border guard units launched multiple operations against drug traffickers operating in the western, central and southwestern regions, and recorded significant victories.
In co-ordination with foreign agencies, we captured 746 drug traffickers and seized some 2,190kg of various drugs – an increase of over 142 per cent compared to the same period in 2018. Vietnamese border guards also busted 362 drug trafficking cases, arrested 525 traffickers and seized 941kg of drugs.
Though the fight against drug crime remains difficult and even dangerous, we're confident that we'll come out winners.
Will you please share with us some of the challenges and dangers the Vietnamese border guards encounter?
The fight against illicit drug crime is always dangerous for Vietnamese border guards. All drug smugglers operating in border areas always carry weapons and are ready to open fire when they come under attack. That's why we consider the fight against drug crime our mission. We are very sad to say that since the establishment of the anti-drug force, we have witnessed the deaths of six of our comrades, and 14 others have been seriously wounded.
What lessons have you and your comrades drawn to keep you all safe in the fight against smugglers?
We train every day to keep fit and strictly abide by army regulations. We have adopted the saying "have great determination, excel in your profession and keep your hands clean". As soldiers we have to obey orders from the hierarchy and in the fight against drug smuggling we put our safety first.
The fight against drug criminals is always dangerous, but we have vowed to do our best in the fight against drugs.
What plans do the border guards have in the near future?
In the fight against drug crime, we are closely co-operating with agencies from our foreign neighbours. Together we will discuss detailed plans on our co-operation in the fight against drug trafficking.
At home, we'll launch campaigns to mobilise the strength of the entire nation, including the political system and the general public as well as the armed forces to fight drug addiction.
For the border guard soldiers, we vow to do our best to accomplish all the tasks assigned to us by our commanders in the fight against drug crime. In the meantime, we'll work closely with Vietnamese and foreign agencies to tackle the issue.
VNS