Many workers on Hanoi's major infrastructure projects had gone unpaid for years although the projects had been completed, Tiền Phong (Vanguard) newspaper reported.
PM urges resolution to Hanoi abandoned urban area project
Nhon-Hanoi Station metro route expected for operation by 2022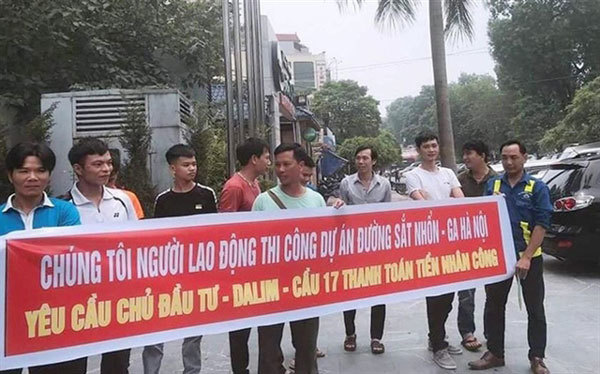 Workers hang a banner asking for Daelim Company to pay their salaries. Photo tienphong.vn
Nguyen Van T, a Construction Joint Stock Company 1 worker responsible for the maintenance at the Cat Linh – Ha Dong Metro depot in Phu Luong Commune, Ha Dong District, has not received his wages or allowances for a year.
Similarly, the overpass at the Nhon – Ha Noi Railway Station was completed in 2018 yet many workers have not been paid.
Last week, they set up stands and banners at the construction site demanding to be paid.
At several other projects including the An Duong Overpass, Dong Tru Bridge and Vinh Tuy Bridge, many workers and engineers are suffering the same delays.
Le Van Thanh, director of Construction Joint Stock Company 1, said the general contractor (from China) was still holding VND19 billion (US$817,000) of the VND80 billion construction package.
"The money will be used to pay for workers and facilities costs," he said.
Despite the company's payment demands, the contractor has kept delaying.
According to Cienco 1 Company, the constructor of the Nhon – Ha Noi Railway Station Metro Overpass, South Korea-based Daelim Company, the project's main contractor, has not paid them VND20 billion for workers' salaries.
Nguyen Cao Minh, head of Ha Noi Railway Project Management Board, said last week they had worked with Daelim and related agencies to ask them to clear wage debts.
The contractor has followed up on the request.
On the An Duong Overpass project, Nguyen Chi Cuong, deputy director of the management board of Hanoi's traffic infrastructure projects, said the investor had paid contractors, so payment delays were their responsibility.
VNS