South Korean Minister likes pho and banh my, promotes ties among youth
Minister of Foreign Affairs of the Republic of Korea (ROK) Park Jin says Vietnam and South Korea have many cultural similarities, and that he loves Vietnamese pho and banh my.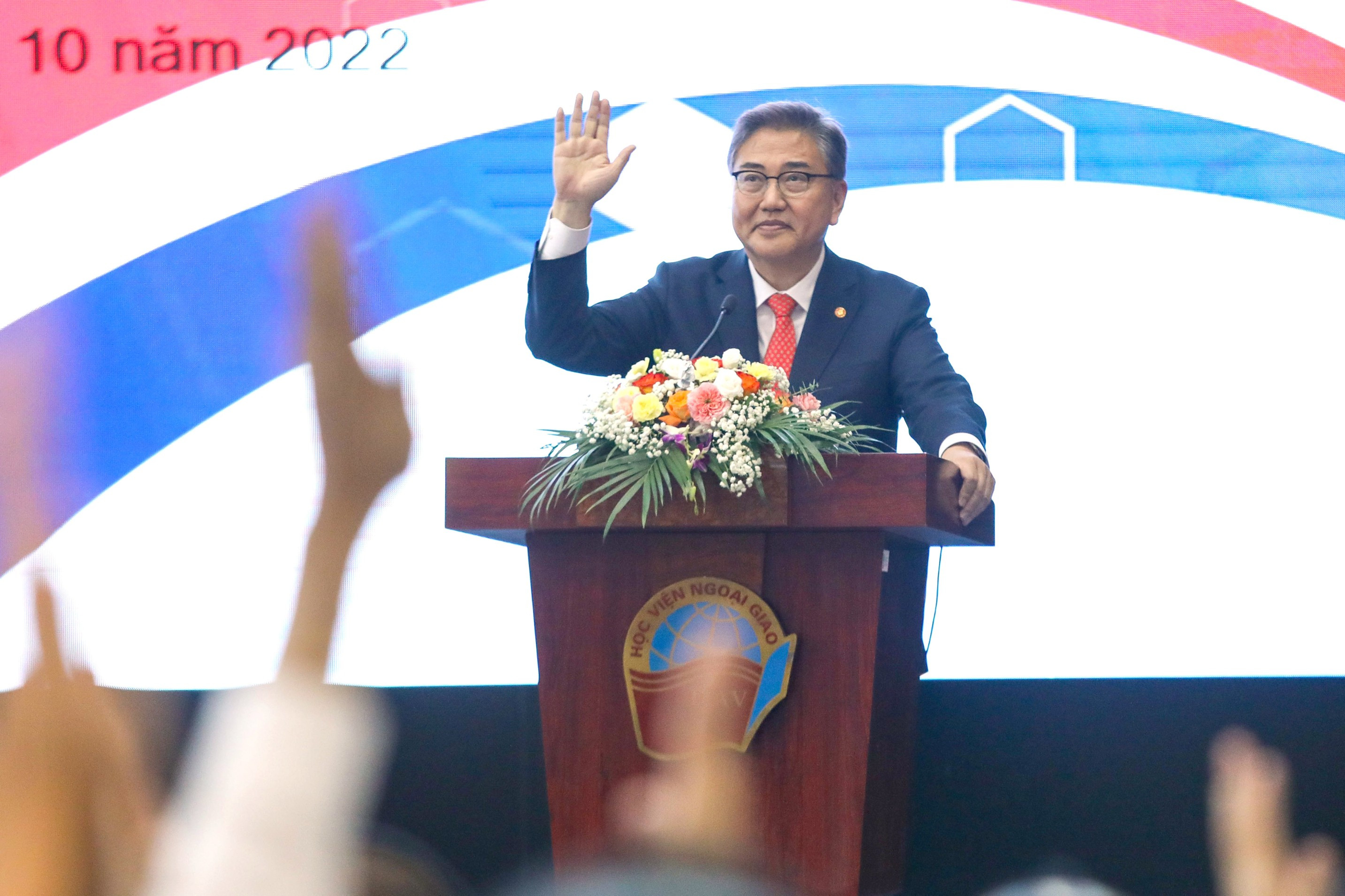 Speaking about the Kpop girl band New Jeans, he said the youth of the two countries should work together.
During his visit to Vietnam, the minister met with students of the Diplomatic Academy of Vietnam (DAV), where he delivered a 30-minute speech about the relations of the two countries with tremendous applause from students.
The auditorium of DAV was full, and included former Vietnamese ambassadors to South Korea.
This was his first visit to Vietnam as Minister of Foreign Affairs, but his ninth time in Vietnam. The number of visits shows that the politician has special affection and interest in Vietnam.
The diplomat attributed his interest to the cultural similarities between Vietnam and South Korea. The people of both countries attach importance to family, for example.
Five years ago, he delivered a speech at DAV, and exchanged views about Vietnam-South Korea relations with Vu Tung, who was then Deputy Director of DAV and is now Vietnamese Ambassador to South Korea.
Several days ago, he had lunch with Vu Tung, Vietnamese businessmen, and students, and representatives of Vietnamese-South Korean families.
Park Jin affirmed that the government and administration of President Yoon Suk-Yeol attaches importance to relations with Vietnam, and considers Vietnam a strategic partner and the center of South Korea's diplomatic policy.
"ROK, as the 10th largest economy in the world, is committed to doing its best to deserve the role and responsibility of this position. Korea will make bigger efforts to contribute more to freedom, peace and the prosperity of the global society," he said.
The diplomat cited many cultural similarities between South Korea and Vietnam. For example, the two nations use chopsticks during meals. South Korea was the champion in the consumption of instant noodles per head until last year, when Vietnam rose to number one.
Both Vietnam and South Korea attach importance to education, and people are studious and industrious. Both countries tend to become strong when they face danger.
Relations between the two countries began a long time ago, when Ly Long Tuong sought refuge in Korea in 1226.
The first Korean person visiting Hoi An in the early 17th century left notes describing HoiAn as a land of longevity, where there were many healthy old people. The people there loved reading, including those in the countryside.
The diplomat said he has been to Hoi An, a beautiful urban area with many heritage sites.
He said that he loves Vietnamese cuisine. Dongdaemun, the bustling district in Seoul, is an area with many Vietnamese restaurants, attracting many Koreans. Vietnamese dishes have become a part of Koreans' daily life.
"Personally, I love pho and banh mi. In Seoul, I often go to Vietnamese restaurants and today (October 18) I was invited by Foreign Minister Bui Thanh Son to have lunch with pho and stir-fry and I ate very well," he said.
He smiled, adding that Vietnamese iced coffee with milk is also a popular drink among young Koreans.
After introducing the boy band BTS, he noted that a girl Kpop band – New Jeans - made their debut last summer. One of the members is Hanni who has Vietnamese nationality. The songs of the band have been listed in the US Billboard for the last 10 weeks. He said he was pleased about Vietnamese and Korean youth creating cultural content admired by the world.
The relations between Vietnam and Korea have been developing rapidly since the establishment of diplomatic relations in 1992. Four years later, ROK President Kim Young-sam became the first chief of state visiting Vietnam. At that time, Park Jin, who was then Secretary to the President, accompanied the President. This was his first working visit to Vietnam.
The Minister said he was impressed by the increased cooperation in economy, trade and investment of the two countries.
Vietnam has seen remarkable growth and this has caught the attention of the world, including South Korea.
"Vietnam is positioning itself as a country with a responsibility to pursue peace in the international community. Vietnam is most clearly proving that freedom, peace and prosperity can be achieved through bold transformation and change," he said.
Tran Thuong