Starbucks, McDonald's arrival just a storm through the village
A population of 90 million with 65 percent under 35 years of age, rising incomes, increasingly busy lifestyles - these are the factors supporting the strong growth of the fast food industry in Vietnam.
VietNamNet Bridge - Subway, McDonald's, Starbucks, KFC, Burger King, Pizza Hut, Dunkin Donuts, Domino's Pizza, Dairy Queen and Papa John's are 10 well-known fast food brands around the globe, with thousands of stores and revenue reaching a few billion to tens of billions USD in 2013. Of these, only Papa John's is absent from Vietnam.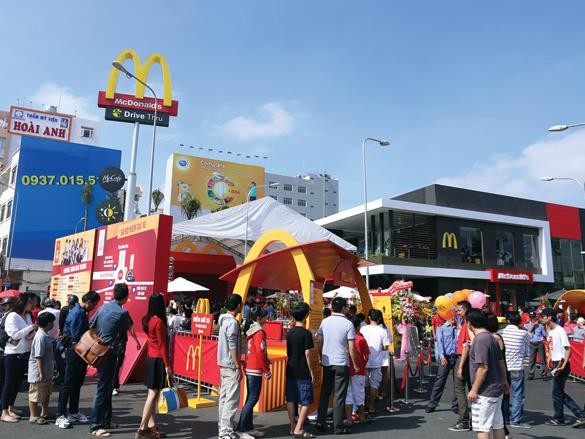 A McDonald' store in HCMC.
Vietnamese consumers, especially young people in urban areas, have been exposed to brands such as KFC, Lotteria, Pizza Hut, and BBQ for almost 20 years and have formed a new consumption style: young, dynamic and friendly. They have never been as "crazy" as they were when McDonald's and Starbucks in Vietnam in the past two years.
With the arrival of McDonald's and Starbucks, the youth became crazy expressing their "high-class style", their 'wealth" in opposition to the average income of most of the population.
Meanwhile, people at Starbucks and McDonald's in HCM City share their joy each passing moment, with many more comments appearing on their Facebook pages showing the expectation to have more stores in Vietnam.
A population of 90 million with 65 percent under 35 years of age, rising incomes, increasingly busy lifestyles - these are the factors supporting the strong growth of the fast food industry in Vietnam.
More importantly, the restaurants entered Vietnam with the belief of bringing a new style for young consumers. With global thinking and local action strategy, fast food brands have succeeded somewhat in the Vietnam market. To select the time to lay the first bricks in Vietnam, they took a lot of time to research the market, to find appropriate partners and to observe consumer tastes. An expert on marketing and brands, Vo Van Quang, said: "McDonald's entering Vietnam at this moment shows their artfulness."
"This is a nascent and growing market, and we think the opportunity is ripe for McDonald's penetration into Vietnam. We have never thought of being a latecomer in any market. We are looking for opportunities to build the brand, to meet consumer tastes in regions," Mr. Don Thompson, McDonald's CEO, told American media when the first McDonald's store opened in HCM City last year.
McDonald's currently has three stores in Saigon and has no plans to go to Hanoi. However, McDonald's hamburgers are not more favored than Starbucks coffee by Vietnamese youth. After sweeping HCM City market, early this year the storm of Starbucks flew over Hanoi, a picky market.
Within three months, Starbucks opened four stores in Hanoi, with an area of 150 to 350 m2. Three of them are located around Hoan Kiem Lake and one in Cau Giay District. Starbucks currently has a total of 12 stores in Vietnam and it aims to reach 100 stores in the next five years. Jff Hansberry, Chair of Starbucks Asia – Pacific, said Hanoi is the market that Starbucks is determined to win.
However, a quick interview with 100 young people born in 1990 or later in Hanoi and HCM City by reporters of Dau Tu Newspaper revealed unexpected results. Different from Starbucks and McDonald's expectations, 90% of respondents said they did not like fast food, like cooking at home, and they would visit these fast food stores once only.
In particular, the story of 24-year-old female Tran Phuong Linh is positive and negative for Starbucks. At the age of 15, Linh went to New Zealand to study. After the course, she tried to work at financial institutions overseas and then Linh decided to return to Vietnam.
In over 10 years living abroad, Linh was a loyal customer of Starbucks but things changed when she is returned to Vietnam. Linh said farewell to her Starbucks to return to the traditional coffee of Vietnam.
When Starbucks opened four stores in Hanoi, Linh visited all of them but she was disappointed with the coffee taste there.
"They said they are seeking ways to offer the drink that adapts to Vietnamese consumers but these things do not suit the taste of Vietnamese. If Starbucks keeps the flavor and quality in the overseas market, it may be able to retain loyal customers who are former overseas students, foreign tourists and foreigners working in Vietnam," Linh said.
For the prices, in New Zealand, Europe, and Australia, the price of Starbucks is a little higher than other drinks, so the consumers can still accept them. But in Vietnam, that price is too expensive relative to the income of Vietnamese people. The average price for a Starbucks coffee is more than VND100,000 (nearly $5), while it is only VND20,000 ($1) for a fragrant traditional black and milky coffee cup.
"I like strong coffee, it makes me more creative in life and work. If I live abroad, I will remain loyal to Starbucks, but in Vietnam, why should I have to pay three times higher for a Starbuck glass while its quality is not as good as the local one," Linh said.
Linh said that Starbucks may still exist in Vietnam because of its famous brand, but to have loyal consumers, it will be very difficult. Most consumers go to Starbucks for the nice view rather than to enjoy good coffee.
"Young Vietnamese can be obsessed with something new, but after a very short time, everything will get saturated and dissipated, to be replaced by a new movement," she added.
Bui Cong Khanh (Hanoi) who is studying in the US, in his most recent vacation in Saigon, went to a McDonald's store in HCM City but he ate only a single piece of the hamburger and threw it away.
"I was satisfied with the quality of McDonald's hamburger in many countries but the quality seems to be different in Vietnam. This is the first and also the last time I will stop at a McDonald's store in Vietnam," said Cong Khanh.
After the initial sweep, the consumption trend of Vietnamese seems to be back to normal. But like many other food and beverages brands in Vietnam, Starbucks expects to boost sales in the last three months.
"This time, the people of Vietnam and foreigners usually spend more during the Christmas and New Year holidays. This is an opportunity for us to earn higher revenue to compensate for the previously gloomy months" said a Starbucks representative.
According to Dau Tu, Starbucks stores based at the New World Hotel in HCM City and the Indochina Plaza Hanoi building are the two locations with high revenue.
The rents in Hanoi are higher than in HCM City, but sales are not as high as Saigon's because the spending style in Hanoi is more frugal.
Meanwhile, McDonald's is also very cautious in its expansion plan in Vietnam. Mr. Don Thompson admitted that it is a challenge for McDonald's to multiply its stories in Vietnam and to be sure that it can expand its quality of service, food and hygiene.
However, Nguyen Bao Hoang, CEO of Good Day Hospitality, which holds the franchise rights of McDonald's in Vietnam, expects that in the next 10 years, the company will open at least 100 McDonald's stores in Vietnam, similar to the number in many other Southeast Asian countries (Singapore has over 100 stores, the Philippines has 400, although these countries have a smaller population than Vietnam). However, McDonald's has no plans to open stores in Hanoi in the next two years.
Dautu/VNN