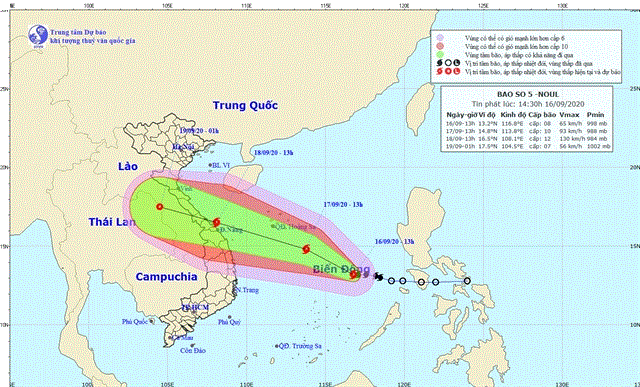 The fifth storm to enter theEast Sea this year is heading to the central region of Vietnam. — Photo kttv.gov.vn
According to Mai Van Khiem, director of the National Centre for Hydro-Meteorological Forecasting, the storm would directly affect central provinces, especially Quang Binh, Quang Tri, Thua Thien-Hue and Da Nang with wind speeds of 90-100 km per hour and sometimes hitting 135 km per hour.
Heavy rain will blanket the central provinces from Thursday afternoon to Friday night, he said, warning about high risk of flash flood and landslides in the central region.
By 1 pm on Wednesday, the storm's eye was about 680 km away to the south east of Hoang Sa (Paracels) with the strongest wind of 60-75 km per hour, sometimes reaching 90-100 km per hour.
The storm is moving west-northwest.
It's expected that by 1pm on Friday, the storm eye will be on the waters close to provinces from Quang Bình to Quang Ngai with wind at the storm eye reaching 100-135 km per hour or more.
After making landfall in central provinces from Quang Bình to Da Nang on Friday afternoon or evening, the storm would be weakened to become a tropical low pressure.
About 1am on Saturday, the heart of the tropical low pressure is on the border area of Lao and Thailand with strongest wind reducing to 40-50 km per hour.
Meeting with ministries and agencies on Wednesday morning to make preparations, Deputy Prime Minister Trinh Dinh Dung raised alert levels, calling for active and timely actions to respond to the storm's movements.
He asked localities, border guards and the transport sector to tighten control over the operation of fishing vessels and tourist ships at sea so the vessels/ships would avoid entering storm-affected areas and find safe shelter.
By 10am on Wednesday, border guards informed 285,384 people on 58,345 vessels about the storm and instructed them to keep away from possibly affected areas.
According to Border Guard Command, by Thursday morning, about 700 vessels were in the areas possibly affected by the storm. The number does not include vessels/boats/ships that are operating in coastal areas.
Dung asked localities to instruct vessels to head to shelters, ensure safety for human life and property, particularly assist people to move/reinforce aquaculture growing facilities as the central region was a hub of aquaculture production with high economic value in Vietnam.
Localities were also asked to have evacuation plans in place to ensure safety for people living in vulnerable areas like coastal areas, river mouths and landslide/flood-prone areas.
Anti-flood measures must be taken into account to protect urban areas and agriculture production.
The deputy PM asked for review and promptly fix problems at dams and reservoirs of hydropower plants.
Now, many reservoirs in the central region are dry, so their operators must closely oversee and adjust the storage of water to ensure the reservoirs' safety.
He assigned specific tasks to ministries and agencies, urging them to make use available resources for actively, effectively and timely responding to the storm.
Vice head of Central Steering Committee on Natural Disasters Prevention and Control Tran Quang Hoai said that proper attention must be paid to reservoirs because damages were found at 55 reservoirs in the central region including 16 ones Thanh Hoa, ten in Nghe An, eight in Ha Tinh, 12 in Quang Bình, six in Quang Tri and three in Thua Thien-Hue.
Another 41 reservoirs are under construction and 99 locations along key sea dyke system from Thanh Hoa to Da Nang need to be protected when the storm makes landfall.
There are also 26 dyke works including 13 carried out on sea dyke system or rivers mouths are being built.
PM urges response efforts as tropical storm heading towards central region
Prime Minister Nguyen Xuan Phuc on September 16 issued a notice, asking relevant ministries, agencies and localities to keep a close eye on the development of Storm Noul and put forth specific tasks.
People's Committees of cities and provinces need to ensure safety of activities at sea, coordinate with concerned forces to control the operation of vessels, and guide local residents to take preventive measures in order to protect crops, houses and other facilities.
Human resources and equipment should be ready for the evacuation of people in dangerous areas, with attention paid to COVID-19 prevention and control, according to the notice.
The PM has warned of flash floods and landslides in mountainous areas after heavy rains, saying measures are needed to ensure the safety of reservoirs, especially important ones or those under construction.
Meanwhile, the Ministry of Natural Resources and Environment will provide update about the storm for people and relevant agencies.
The Central Steering Committee for Natural Disaster Prevention and Control will inform vessels of dangerous areas, and instruct ministries, agencies and localities in response efforts.
Specific tasks have also been assigned to other ministries and agencies in the notice.
At 4 a.m. on September 17, storm Noul is forecast to be around 450 km to the southeast of Vietnam's Hoang Sa (Paracel) archipelago, off the central coast, with a maximum wind speed of 90 kph.
Weather forecasting centers in Japan, Hong Kong and the Philippines, and Tropical Storm Risk (TSR) - a leading forecaster and mapper of tropical storm activity - predict the storm will keep strengthening until wind speeds reach 110-120 kph and head toward central Vietnam.
Storm Noul is the fifth formed this year in the East Sea. The fourth storm, Higos, hit last month, making landfall in China.
Natural disasters like droughts, floods and landslides killed 133 people in Vietnam last year and caused losses worth around 7 trillion VND (302.6 million USD), according to the Ministry of Agriculture and Rural Development.
In the first half of this year they claimed 47 lives and caused losses worth 3.3 trillion VND.
The East Sea could see 11-13 storms and tropical depressions this year, half of them affecting the country, meteorologists have warned.
Danang prepares for Storm Noul
The central city of Danang is making preparations to respond to Storm Nodul which has been forecasted to hit central Vietnam soon.
On Wednesday, the Danang Central Steering board Committee on Natural Disaster Prevention and Control issued a dispatch on the response.  
The typhoon has been predicted to move towards north-northwest within the next 24 hours.
By 7 am on Thursday, the storm would lay centred in the area which is around 350 kilometres far from the Southeast of the Paracel Islands with the strongest wind power of 75-100 kilometres per hour in the East Sea.
Between 24-48 hours, the storm would continue strengthening. By 7 am on Friday, the storm eye would be off the central provinces from Quang Tri to Quang Nam with a wind force of 100-135 kilometres per hour.
Danang has been warned of being directly affected by the storm, so the municipal Central Steering board Committee on Natural Disaster Prevention and Control called for ships and boats to find shelters to avoid the storm.
The border force has been asked to keep contact with boat and ship owners for the rescue in necessary cases.— VNS/VNA/Dtinews