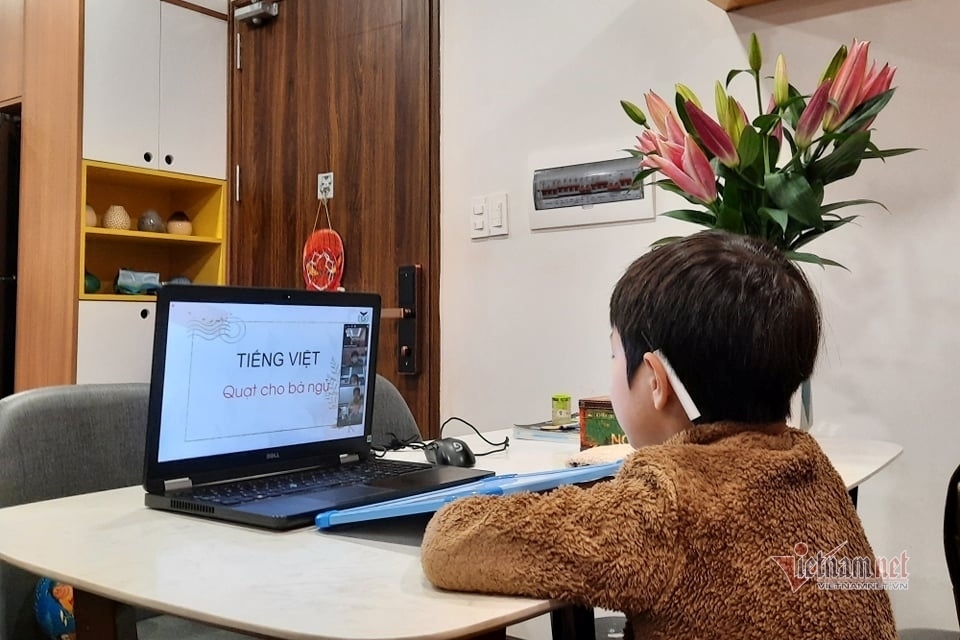 However, the boy later said he was overloaded and tired of online learning.
The same thing happened with her older son.
"It was easier to study online last year, when by sons were in fourth and eighth grades. They prefer online study because they did not have to get up early to go to school. But things are different now," she said.
"As the kids are in the final grades of primary and secondary levels, they have to do more exercises and feel stressful," she explained.
As schools have closed amid the new Covid-19 outbreak and organized online classes, Thu has had to buy one more laptop for the younger son. They also need a smartphone, in case of computer troubles.
Thu's older son plans to take the entrance exam to the high school for the gifted, majoring in foreign languages. He has three learning periods in the morning and another three in the afternoon. He also has two English, one mathematics and one literature lessons with private tutors a week.
"My son complains that he feels tired and suffers from eyestrain as he has to sit too long in front of computer. However, he has no other choice than studying hard because he will have to take one of the two most important exams in his life this summer," she said.
Thu hopes that the teachers at school will re-design their lesson plans so students don't have to look at computer screen intently for too long.
La Mai Huyen, a mother in Hanoi, also is embarrassed as her children have to study online.
"My daughter is in second grade and she could not study online without the parents' help. I have to leave a laptop at home for my son, a seventh grader, to study online and I am insecure about that. I am afraid that he would use the laptop to access the websites with bad content," she explained.
Huyen also complained that she has become busier since the children have shifted to study online.
"I have to check notices from teachers sent to my phone regularly and I have to print documents that serve my children's lessons," she complained.

Ha Van Dung, a ninth grader in Thai Binh, also complained he is tired of learning on the computer every day.
"This puts pressure on me. My mother urges me to study harder and harder all the time," he said. 
Thuy Nga

Thai Van Thanh, director of the Nghe An Education and Training Department, said if there are favorable conditions, online teaching will bring big benefits, especially in remote areas.

Vietnam has been warned of great challenges when developing online teaching, but it believes that these can be overcome.