Suits you: festival to honour tailoring trade

A festival honouring the tailoring trade will take place on October 25-27 at Van Tu Commune, Phu Xuyen District.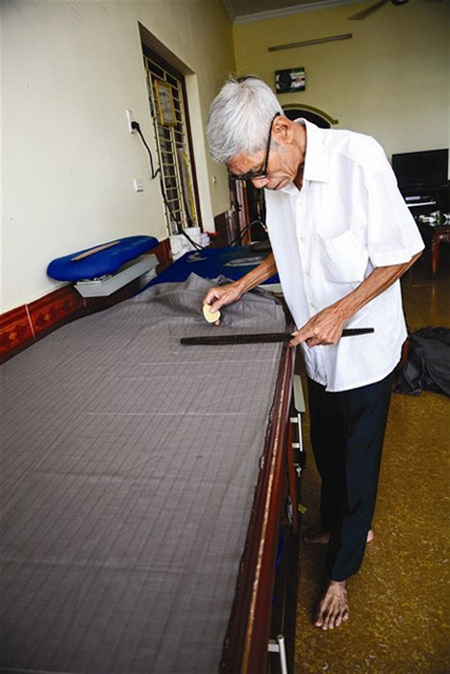 Nguyen Quang Hoa, 80, is one of the old tailors in Van Tu Commune. A festival honouring tailoring will take place on October 25-27. — Photo: VNN

Over many generations, residents of Van Tu Commune have worked as tailors, mastering Western techniques to make suits. In the past, people in the commune worked as tailors for French residents. Tailoring soon became the traditional trade for many families. The garment sector also helps people earn a better living than working in agriculture.
The highlight of the festival is a fair where artisans perform sewing skills and sell Western-style suits and traditional long dresses. A fashion show of these products will be held together with an art performance by the locals.
A seminar will be held on preserving and promoting the trade, alongside boosting tourism. In recent years, together with tailoring, tourism has helped develop the local economy, according to Nguyen Ngoc Duong, chairman of the communal People's Committee.
"We will host tours to nearby Chuyen My Village – where people make handicraft products inlaid with mother-of-pearl – Giang Pagoda, Cuu Village where traditional architecture combined with French-style villas, and the Museum of Revolutionary Fighters Imprisoned by Their Enemies," said Duong.
"Phu Xuyen District is the cradle of many trade villages, so we connect with nearby destinations to develop regional tourism and introduce interesting routes for tourists."
Nguyen Thi Hoa, a tailor from Van Tu Commune, said everyone is eager for the festival.
"We have pursued the trade for many years, but this is the first time a festival dedicated to tailoring has been organised," she said.
"My family has a traditional trade of sewing women's suits and business attire. We have regular customers and orders from around the whole country. We have prepared various products to display at the fair." VNS