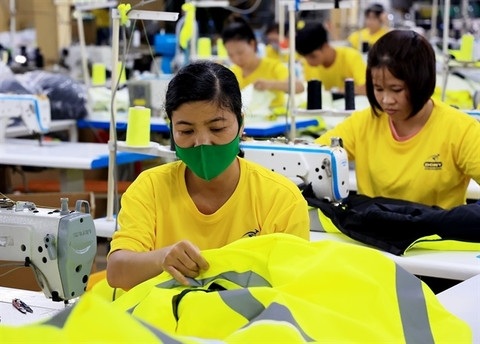 Workers of a garment company in HCM City. The sustainability requirements pose challenges for Viet Nam's fashion industry but there are opportunities from the transition to more sustainable and circular models. — VNA/VNS Photo Hong Dat
Greening the garment and textile production is no longer an option for the multi-billion-dollar industry but a must in the context of increasing requirements for sustainability around the world, experts said.
Many garment-importing countries were taking action for sustainable and circular textiles.
The European Commission was calling for an end to fast fashion by 2030 with the Strategy for Sustainable and Circular Textile which set eco-design rules, starting with textiles. Accordingly, by 2030 textiles placed in the EU, the world's largest market for garment products, should be long–lived and recyclable.
"There is no other way for the garment and textile industry of Viet Nam if it does not want to be excluded from the global game," Le Tien Truong, chairman of Vietnam National Textile and Garment Group (Vinatex), said.
According to a recent report about the garment and textile market by STS Group, the global garment and textile market was worth around US$573.22 billion in 2022 and Viet Nam was among major exporters of garment and textile products, together with China, India, Bangladesh and Turkey which altogether accounted for more than 55 per cent of the world's garment export value.
The global garment and textile market was forecast to grow at 6.6 per cent this year to reach $610.9 billion.
Despite impressive growth, the garment and textile industry was the second most polluting industry in the world, which dumped around 90 million tonnes of waste into the environment per year on average, the report pointed out.
Nguyen Thanh Ngan from Vinatex cited statistics that the global garment and textile industry consumed up to 79 billion cu.m of water per year. Around 2,700 litres of water was consumed for the production of a T-shirt, enough for a person to drink for 2.5 years.
In addition, the washing which dumped microplastics from synthetic fibres into the environment also caused pollution.
Going green is vital for Viet Nam's garment and textile industry in the context of increasing requirements for sustainability, Nguyen Huu Nam, Deputy Director of the Viet Nam Chamber of Commerce and Industry, HCM City branch, said.
Major importing countries were setting requirements for social responsibility, environmentally friendly production and circular production with the lowest energy and natural resource consumption.
However, STS Group said that the opportunities were there for those who took early steps towards sustainable and circular production and there was a huge potential market for recyclable products.
The recyclable garment market was estimated at $6.9 billion in 2022 and expected to reach $9.4 billion in 2027 with an annual growth rate of 6.4 per cent in the period.
Nguyen Hong Quan, Director of the Institute for Circular Economy Development, said sustainable development was increasingly the choice of consumers, citing a McKinsey survey in 2022 that up to 63 per cent of consumers considered the sustainability of brands when making purchasing decisions.
"The sustainability requirements pose challenges for Viet Nam's fashion industry but there are opportunities from the transition to more sustainable and circular models," he said.
Quan, however, pointed out that greening the fashion industry was not simple for Viet Nam which remained heavily dependent on imported raw materials, making it difficult for enterprises to control quality and sustainability of the supply chain.
There was also a lack of large-scale industrial zones specialised for garment and textile production with wastewater treatment system together with a shortage of high-quality human resources for the application of Industry 4.0. In addition, moving to circular production required huge capital, he said.
A number of measures must be implemented to promote the transition toward circular production in the fashion industry, according to Quan.
First, it is important to develop plantation areas for raw materials with policies to encourage investment in the research and development of new materials.
Supports must be provided to promote enterprises to establish sustainable value chains and encourage the production of environmentally – friendly products, together with developing circular production, increasing the application of information technology and building the human resources for sustainable fashion industry development.
According to Truong, it takes time and financial resource for the garment and textile industry to implement green transition. The Government needs to create a legal framework that encourages producers to implement green production as a part of the effort to reach the target of zero emissions by 2050.
Viet Nam's garment and textile export reached a record of $44 billion in 2022, making Viet Nam the third largest exporter of garment and textile export after China and Bangladesh. However, the growth slowed down significantly in the last quarter due to falling demand in major markets as an impact of rising inflation risks and global uncertainties.
The global demand for garment and textile market this year was forecast to be 5 per cent lower than 2022, at around $700 billion. Viet Nam set the target for garment export at $47 billion this year. — VNS