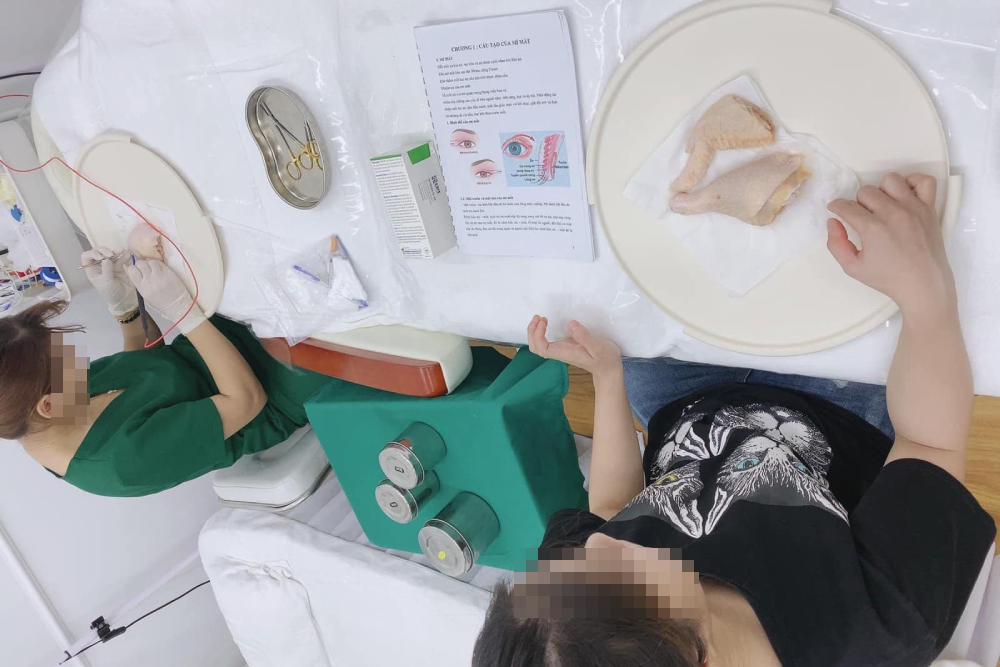 They not only teach how to conduct filler and botox injection operations, spas, skincare and hairdresser establishments also offer learners practice in more complicated surgeries such as skin tightening, nose raising and liposuction.
Associate Prof and Dr Do Quang Hung, former head of the Department of Plastic Surgery, an arm of Cho Ray Hospital, who is now vice president of the HCM City Plastic Surgery Association, has been persistent in the fight against fake plastic surgeons. However, he said that no considerable improvement has been made.
Hung said beauty services are in high demand and many beauty salons have been established, both licensed and unlicensed. There are also parlors that provide services for which they are not licensed.
For example, spas not only provide skincare services, but also act as clinics that conduct filler and botox injections, eyelid surgery, nose raising, skin tightening and other operations.
The specialist said he knows training centers that teach learners by using chicken thighs and wings.
"Just after several days of working on chickens and carrying out 'surgeries' on their wings and legs, one can introduce himself as a 'cosmetic surgery specialist'," he said.
In order to become a real surgeon, doctors have to experience many surgeries and practice many movements and techniques. Even with such extensive training, they may not be able to do eyelid surgery.
A doctor needs to study for 10 years to be able to do filler and botox injections, or stretch the skin. Trainees at training centers receive clients after just 1-3 months of training.
Real surgeons, who have to spend a long time to become practitioners, become angry when seeing barbers and skin carers introduce themselves as cosmetic surgery specialists with golden hands.
"Many real doctors have raised their voice demanding for justice, but to no avail. Real doctors are defeated by fake doctors who have advantages in marketing and advertisements," he said.
The services provided by fake doctors are more competitive in price than that from real surgeons.
An eye lift carried out at Cho Ray Hospital, for example, costs VND6 million, while unlicensed clinics offer services for just VND3 million. A standard filler injection costs several millions of dong, while unlicensed clinics collect less than VND1 million.
Experts have voiced their concern about the existence of such establishments and the false advertisements. Many establishments have been inspected and forced to shut down, and fines have been imposed. However, just after a short time, they re-join the market under other names, continuing to provide the dangerous services and false ads.
Hung said one day he witnessed the owner of a private beauty salon ordering a nurse to carry out a surgery just because the real surgeon did not turn up on time. The owner explained that the nurse had many times acted as the assistant to the main surgeon, so she had enough skills.
Hung also knows many testing technicians who claim to be dermatologists and cosmetologists, and many other young people who advertise themselves as experts just after 1-2 months of training.
Dr Pham Duy Linh from Bac Giang Hospital, said, as the legal framework remains imperfect, the control of information on the internet remains loose and false ads can exist everywhere, which confuse people about the services.
While calling on agencies to tighten control over beauty services, Hung said the Ministry of Health, heath establishments and district clinics have to set reasonable mechanisms to manage establishments, and local authorities (people's committees and local police) have to supervise them.
The practitioners who perform operations that cause accidents or fatal complications must be held criminally responsible or imprisoned, and these clinics must be permanently closed.
Phuong Thuy