The pride of agricultural backbone
Vietnam's agriculture has reaped many achievements last year. Minister of Agriculture and Rural Development Le Minh Hoan writes about how the sector will continue sailing forward in the new year.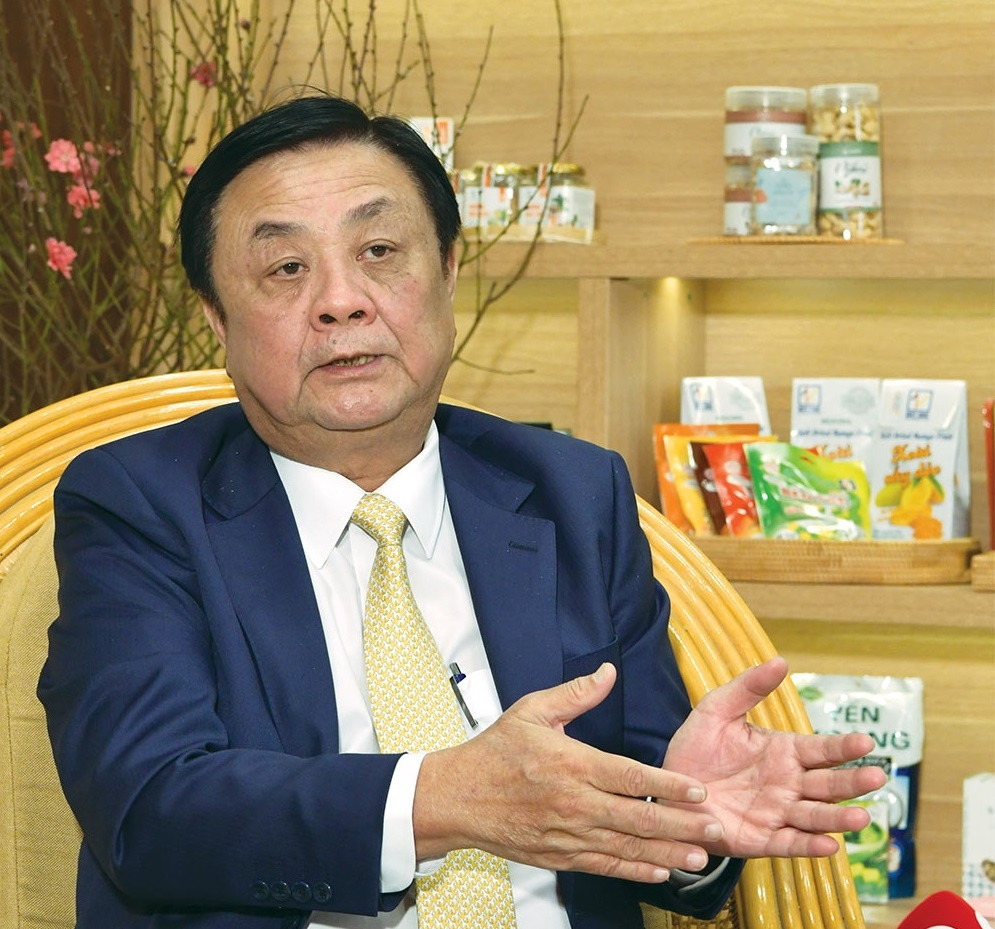 Minister of Agriculture and Rural Development Le Minh Hoan
Last year, Vietnam's agricultural industry spectacularly overcame hurdles with impressive growth. The profound meaning behind those impressive numbers is the pride in contributing to ensuring the social security of nearly 10 million farmers and the country's food security.
In 2022, the whole country faces challenges globally, such as inflation and obstacles in the production and export of agricultural products in the context the prices of domestic inputs are escalating. In addition, many key export markets are still tightening spending due to inflation.
However, Vietnam's agriculture has cemented its position as the backbone of the economy with an export turnover of $53 billion, higher by $3 billion than the initial target assigned by the government.
The sector contributed partly to the economy's general growth and to ensure social security, especially food security. The Russia-Ukraine conflict together with other crises threatened the risk of an unprecedented poverty wave, leading to economic and social chaos. In addition, the world constantly had to witness abnormal weather phenomena which have devastated farming and livestock activities, hence pushing millions to the brink of poverty.
However, Vietnam's agriculture still withstood the domination of products in many export markets. In addition, in the second half of 2022, many countries proposed to cooperate with Vietnam to ensure their food security.
Through these examples, we see that the mission is not only to solve growth problems, but also to protect the livelihoods of tens of millions of farmers and other workers in the agricultural and service industries. These examples also prove that agriculture is part of the general economic and social structure. Thus, if we just approach the industry's role via growth figures, we cannot see its impact on society.
Added values
We can see that the switch from agricultural production to an agricultural economy has begun to place roots in awareness of society, farmers, and the business community.
At present, the sector has the participation of more research by experts and scientists with specific action programmes from actions of associations, as well as farmers' organisations. All of them have the same thinking on how to create added value to create an agricultural economy.
The spirit of Resolution No.19-NQ/TW dated June 2022, for this decade and beyond to transform agricultural production thinking into economic thinking – as well as the Strategy for Sustainable Agriculture and Rural Development for 2021-2030 period with a vision to 2050 – has begun to spread through society. The awareness of the important role of agricultural development using new models is gradually being improved.
The economic trend of the world is ensuring more effectiveness from less. Accordingly, technology is the key solution to creating these added values.
For example, if we use technology to recycle all by-products in the sector, we will spend less on fertilisers; however, product values will be much higher. In other words, the circular and eco-agricultural models are the results of the application of the "less is more" approach from traditional agricultural methods.
Another added value is that Vietnam's agricultural products have conquered many fastidious export markets, even those that require very high standards such as the United States, EU and Japan, simultaneously success in diversifying products to overseas markets.
To support the business community and cooperatives to create more added value for their products, the Ministry of Agriculture and Rural Development with the Ministry of Industry and Trade have organised forums to clarify for businesses that different export markets have varying requirements for agricultural products – they have to create them for different segments.
In the long term, it is necessary to create closer links between producers, packaging manufacturers, and exporters to promote goods according to standards, and apply good agricultural practices to create high-quality and environmentally friendly items. Market risks will be minimised when producers' goods meet market standards. Export markets are open, and so the important thing is how associations, businesses, and manufacturers retain their credibility in the market. The opportunities are currently available – the problem is how to prepare export goods for the demanding markets.
Building momentum
This year is pivotal to ensure the realisation of the goals in the national socioeconomic development plan to 2025, and the implementation of the development perspective set forth at the 13th National Party Congress.
It is predicted that Vietnam will also face challenges in agricultural trade. Specifically, the price of input materials will continue to increase sharply; transportation and logistics costs have no signs of cooling down; and import policies of countries are constantly changing with increasing requirements for quality standards. Besides that, foreign consumers are tightening their spending due to inflationary pressures.
Thus, we must determine that the sector will always face problems. The importance is that when the world changes, we need to have a plan to proactively adapt.
The global food crisis will still be a worldwide concern. At COP27 in November 2022, the topic of food security received great attention from many parties in the context that climate change is getting worse, and geopolitical conflicts are also impacting manufacturing, production, and trading activities.
At the climate summit, countries discussed solutions to restore the agricultural sector, reduce food loss, improve resilience to climate change, and enhance farmers' livelihoods. It is estimated that as much as 60 per cent of animals may have lost their lives due to drought in recent decades. Over the next 30 years, it is expected that 17 per cent of cereal production will decline if the Earth's temperature continues to rise.
However, these issues are not as pressing right now as the increasingly strict market standards. At present, export markets pay attention not only to the prices and quality of products but also to the impact of these items on the natural environment, biodiversity, greenhouses emission, and climate change. In addition, applying policy to combat illegal, unreported, and unregulated fishing is also proof that the markets are not only interested in quality seafood but also issues such as how to catch it, and whether it violates international laws.
Vietnam has made commitments to both ensure production growth and protect the environment, build responsible and sustainable agriculture, participate in the global value chain, and take part in the global food supply system. These commitments need to be transformed by concrete actions and the responsibility of producers, farmers, fishermen, and businesses.
These requirements are forcing the sector to change and have specific action programmes for each field. One of the key policies that will be approved soon is a national action plan to transform a transparent, responsible, and sustainable food system for this decade. This aims to ensure access to safe and nutritious food to everyone, a transition to sustainable consumption, promotion of sustainable production, and building competitive, inclusive, and equitable value chains, among others.
Taking the initiative to change in this way will reduce risks, and simultaneously create opportunities to build the image of responsible and sustainable agriculture in Vietnam.
The implementation of these international commitments and the implementation of the sustainable agriculture and rural development strategy require great efforts, not only from the government but also from the private sector and individuals. Each stakeholder will participate in implementation at different scales and roles to unleash investment.
Women-led producers demonstrating empowerment

By supporting small local businesses in isolated and mountainous regions, the Australian government-funded GREAT (Gender Responsive Equitable Agriculture and Tourism) programme has created impressive results in strengthening local women's leadership and opportunities for local producers and service providers, especially in community-based tourism.
Ba Ria-Vung Tau's adjustment towards high-tech agriculture

Besides focusing on the core goals of developing industries, seaports, and tourism, Ba Ria-Vung Tau province has also identified high-tech agriculture as one of the key factors for the southern province's economic development over the next few years.
Outstanding achievements in agriculture in 2022

Despite the impact of the pandemic and much political unrest, the agricultural sector secured significant achievements in 2022.
Hanoi attracts nearly 1.7 billion USD in FDI in 2022

Hanoi attracted 1.69 billion USD in foreign direct investment (FDI) last year, still among the localities leading the nation in this field.