The universe is this student's oyster
Nguyen Manh Quan is a physics whiz kid, as all his trophies from international competitions show.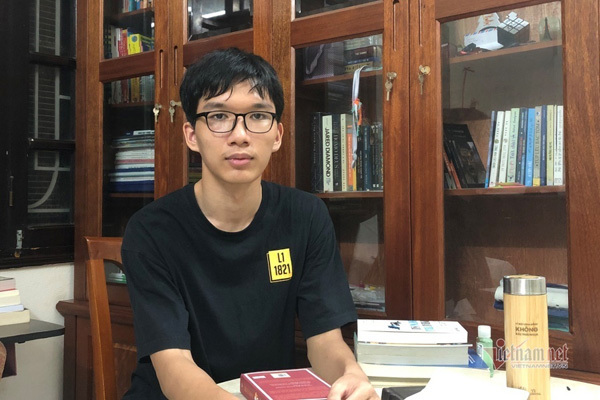 Nguyen Manh Quan. — Photo: VNN
Recently, Quan – a student at the Hanoi-Amsterdam High School for Gifted Students – was accepted to study astrophysics at the Massachusetts Institute of Technology (MIT) and Princeton University.
MIT agreed to support the 18-year-old with a financial level of more than US$64,000 per year. According to the Times Higher Education World University Rankings, MIT is the world's fifth-best university while Princeton is the ninth.
From an early age, Quan was curious about natural phenomena in the universe such as constellations and meteors.
He began to read books on science, the universe and modern physics theories and was fascinated.
In the high school entrance exam, although he became the valedictorian of the mathematics major of the Hanoi - Amsterdam High School for Gifted Students and the valedictorian for chemistry at the High School for the Gifted of Natural Sciences, Quan still decided to study physics at Hanoi - Amsterdam High School to learn more about physics and astrophysics.
Le Manh Cuong, Quan's physics teacher, saw in Quan a special love for constellations in the sky. Although astronomy and astrophysics are not subjects in the general education curriculum, he decided to assist Quan in his research. Later, it was also Cuong who got Quan on the International Astronomy and Astrophysics Olympiad team.
"I like the nights when I can watch the stars with my friends. If you are lucky on a clear, unpolluted and cloudless night, the sky will be full of stars. My friends and I will take turns using the telescope to look for objects in the sky. Evenings like that push me to learn more about the unexplainable," Quan said.
In 2019, Quan was selected to participate in the International Astronomy and Astrophysics Olympiad and won the gold medal with a perfect score.
Returning, he began to dream of a better environment to study and research in.
"Top schools like MIT, Princeton have all the conditions for students to be free to create, study and develop their own abilities, especially when there is more guidance from leading professors in the field," Quan told the Vietnamnet e-newspaper.
He realised to win a place in the schools he needed to show his academic ability. Quan did this without much difficulty by recording a perfect Scholastic Aptitude Test (SAT) score of 1600/1600 and 8.0 International English Language Testing System (IELTS). Quan also won the National First Prize in physics in grade 11 and 12.
But Quan said he struggled to arrange enough time for his studies.
"Before each exam, I have to prepare a lot of knowledge. Sometimes, I have little time to participate in extracurricular activities or connect with friends. That makes me very sad," he said.
This regret was also included in his personal statement sent to the schools, in which he mentioned trying to maintain a balance between exam preparation and other activities in life.
His achievements, Quan said, are not made of gold but from the sweat of training and determination to work hard.
"I think that skills, knowledge and good psychology are extremely important in each competition. In terms of psychological factors, I have forgotten myself quite firmly over the years. As for knowledge and skills, through competitions, there will be complements to each other. For example, by studying astronomy, you will learn more about physics and vice versa," Quan said.
"In the future, I will spend most of my time studying. But I will try to forge some other skills, read more knowledge about philosophy, literature and others to be ready for studying abroad."
The 18-year-old boy intends to pursue physics at MIT with the dream of becoming a theoretical physicist and studying the fundamental laws of the universe.  
VNS/VNN

A physics major at the Hanoi-Amsterdam High School for the Gifted has received two pieces of good news – acceptance letters from MIT and Princeton University in the US.