The Star Engineers Factory and Administrative Building in Hanoi by Indian Studio VDGA. Photo archdaily.com

The 40,000 square-foot (3,700sq.m) campus Star Engineers Factory and Administrative Building in Hanoi by Indian Studio VDGA won the award in the Business Building category.
According to Dezeen's site, the project explores the rustic and discreet material palette aligning the client requirements to site context.
The judges commented: ""Business buildings often have a worn-out approach but this project is creating an environment rather than just creating a box for people to work in."
"The typology we understand typically as 'office building' is challenged here.The sense of domesticity incorporated in a corporate setting is beneficial and innovative through layering, transparency and openness," they posted on Dezeen's website.
VTN Architects won the Civic Building of the Year for the Viettel Academy training campus near Hanoi.
The Viettel Academy training campus near Hanoi by VTN Architects. Photo kienviet.net

With a cooling microclimate, the campus buildings are surrounded by lakes and abundant green space. The educational centre consists of 12 blocks, ranging from two to five storeys high, accommodating classrooms, meeting rooms, halls and offices. These blocks are connected by multi-level circulation paths, offering views and quiet areas for studying, and are surrounded by a pool, which helps to regulate its microclimate.
Judges said that this project is "incredibly experiential, and architecturally very clever and well-calibrated."
They also added that the "juxtaposition of circulation, courtyard and building is very well articulated", and that it's "simply great architecture".
The VTN Architects also won the Highly Commended title for Urban House of the Year 2019 for its Stepping Park House in HCM City.
The house incorporates plants throughout and connects with nearby green park space.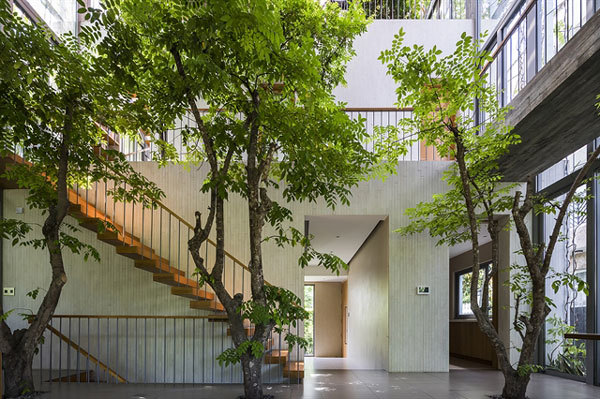 Stepping Park House in HCM City by VTN Architects was Highly Commended in the Urban House of the Year 2019 category. Photo asui.com

A large diagonal void through all three floors of the building and tropical trees feature in the common areas.
The architects wanted to create a forest environment in the house despite being indoors.
As many as 53 nominees were on the shortlist in 10 categories of the annual awards.
The Dezeen Awards are an annual awards programme, now in its second year, which aims to identify the world's best architecture, interiors and design, as well as the studios and the individual architects and designers producing the best work.
This year's entries were judged by an international panel comprised of 75 leading figures from the architecture and design world.
VNS