Thua Thien - Hue continues upgrading relics as planned

Authorities in the central province are continuing with a plan to renovate 16 historic relic sites at a total cost of VND100 billion (US$4.3 million) this year.
Thua Thien - Hue: Reconstruction of ancient pagoda under question
Noon Gate of Hue Imperial City cleaned up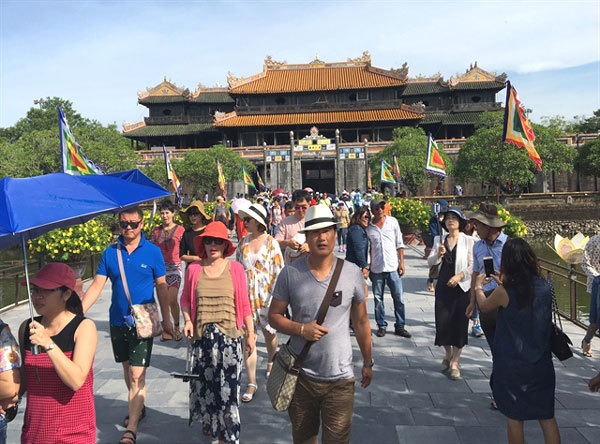 Visitors at Hue royal citadel complex. — VNA/VNS Photo Quoc Viet
Nearly a quarter of the budget has been spent on relic sites like Tho Ninh Palace, Kien Trung Palace, Ngo Mon Gate and the Hue Ancient Citadel; as well as mausoleums of kings Dong Khanh, Duc Duc, Thieu Tri, Gia Long and Minh Mang.
According to Vo Le Nhat, director of Hue Monuments Conservation Centre, the renovation work has followed the State law of Culture Heritage and international conventions on preserving and renovating relic sites.
"So far more than 170 works [buildings] in Hue ancient citadel have been renovated," Nhat said. "The renovation carried out by local agencies has helped liven up spaces in the former citadel and mausoleums."
Nhat said the centre has learned special techniques to make paint to restore walls and murals as well as skills to treat termites in wooden structures from German and Polish experts.
Nhat said a group of experts from Germany has helped restore murals at An Dinh Palace.
They researched layers of paint on the murals and created powder and solvent to renovate the paintings.
They also trained 25 Vietnamese workers on skills to renovate old walls and murals.
A group of experts from Poland has helped the centre treat termites at The To Mieu (Ancestors Temple) and other wooden structures in the citadel.
Nhat said the centre has also completed other research on floor tiles at relic sites; ancient wells in the citadel; history of constructing buildings under the Nguyen Dynasty and collecting royal promotion decrees of Nguyen Dynasty.
The centre has also issued various new tours to newly-renovated relics like a tour named "Huế - A Destination, Five Heritages", re-organised many royal games; organised calligraphy performances at Thai Hoa Palace; hosted royal music at The Mieu; traditional martial arts at Thai Hoa Palace; and lion dances at Can Chanh Palace to lure tourists.
Local authorities have organised various night-time activities for tourists like regular light shows at the Citadel Flag Pole; cannon firing at the flag pole; opened the inner citadel at night for tourists, where they can enjoy royal music shows at ancient Duyet Thi Duong royal theatre as well as light system from Ngo Mon Gate to Thai Hoa Palace.
The authorities are upgrading two websites in Vietnamese and English linking with the website of the Viet Nam National Authority of Tourism, other localities' sites and cities abroad that Hue has close relationships with like cities of Newhaven, Honolulu (US); Rennes, Blois, Nord Pas de Calais (France) and Shizuoka (Japan).
This year, the province aims to receive 4.5-4.7 million visitors, a 8-10 per cent against last year, of which international visitors account for 40-45 per cent.
The province hopes to get total revenue of VND4.7 billion (US$203 million), a 10 per cent increase against last year.
VNS