If you are looking for an escape from urban life, the Mekong Delta province of Dong Thap offers a bounty of rural pleasures including national parks, flower markets, bird sanctuaries, and farming activities.
Sa Dec Flower Village in full bloom
Photos: Sa Dec floating flower village
Gao Giong eco-tourism area in Dong Thap province
Bamboo trees across the road from the entrance to Gáo Giồng eco-tourism area. VNS Photos Van Chau

You can visit Tràm Chim National Park, home to rare birds such as the Burmese Sarus crane; the Sa Đéc Flower Village, one of the biggest flower villages in the country; or eco-tourism areas such as Gáo Giống and Xẻo Quýt, where you can experience the typical day of a farmer.
Located in Dong Thap Province's Tam Nong District, the park is the fourth Ramsar site in Vietnam and the 2,000th worldwide.
The park has a special-use forest with distinctive wetland ecosystems spanning more than 7,300 hectares.
Visitors can spot over 231 species of aquatic birds, including 16 rare breeds such as the Burmese Sarus crane, greater adjutant, black-headed ibis, black-faced spoonbill, and great-billed heron.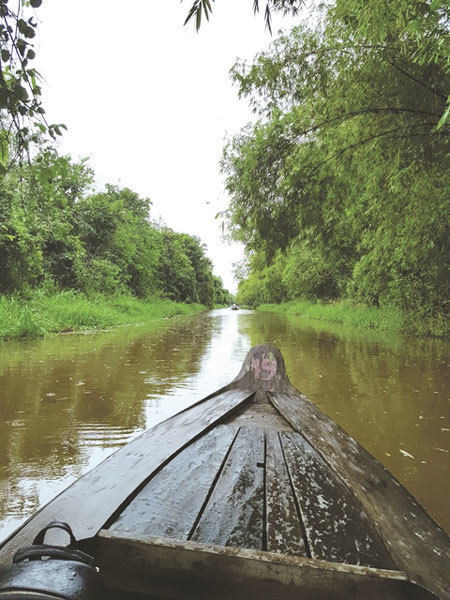 Gáo Giồng has more than 100 bird species, including the little egret, little cormorant, painted stork, heron, black-crowned night heron and purple swamp hen.
The natural state of the park is preserved through regular inspections, rescue teams for baby birds, and stocks of fish to attract birds to nest.
The park has 130 types of precious plants and 130 kinds of freshwater fish.
Pink lotus fields, bright green acacias and thousands of white storks form a beautiful sight in the flooding season. Here and there, birds sing while others swing by the water surface to catch fish.
Taking advantage of the flooding season, the tourism authority in the province offers visitors a chance to work as regular fishermen, and enjoy local food and beverages.
Each visitor, guided by locals, is given a maximum number of three fishing tools to use in an area where they sleep overnight on a bamboo mat or hammock.
For flower lovers, Sa Đéc Flower Village is a must-see. About 150 kilometres from HCM City, the village is now a hotspot for tourists and a popular place for locals to buy flowers.
Covering 500ha, the village is home to 2,300 households involved in flower cultivation.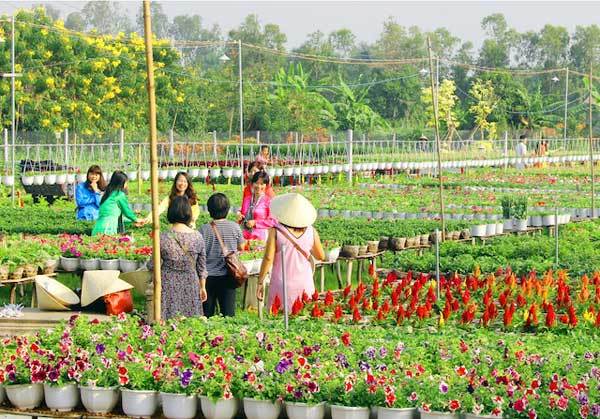 Covering 500ha, Sa Đéc Flower Village is home to 2,300 households involved in flower cultivation.

Sa Đéc is one of the biggest flower providers in the south, delivering different types of flowers to many regions of Việt Nam, including HCM City, Can Tho, An Giang and the central and northern provinces.
Visiting at any time of the year, tourists will feel lost in a fairyland full of colours and aromas of diverse flowers and plants, including dahlia, hydrangeas, orchids, areca, wrightia religiosa, Hibiskus rosa-sinensis and African marigold.
The village boasts several varieties of roses with colours of red, violet, pink, white and orange. One of the most typical features of Sa Đéc, which is different from other flower growing villages, is that the flowers are grown all year round on shelves or trellises.
According to Tran Van Tam, owner of a flower garden, this tradition began in the past during flood season when the villagers had to move flower pots to higher positions or shelves to protect them from water.
You can see farmers rowing boats on canals tending flowers grown on trellises above their heads, an activity that can only be seen in this area.
Thanks to a favourable climate and fertile soil together with the great passion of the locals for flowers, the trade has strongly developed and turned the village into the largest flower growing area in the south, bringing great economic benefit.
Residents can earn a stable income from growing flowers with annual profit of over VND200 million (US$8,680) per hectare.
The village is also an attractive destination for both international and domestic tourists, especially during Tết (Lunar New Year).
For those who want to experience a day of being a Mekong Delta farmer, the Gáo Giồng eco-tourism area in Cao Lãnh District has a beautiful and charming landscape. It is considered a miniature of the Plain of Reeds in the southwestern region of Vietnam.
The green oasis is divided into four zones with over 70km of canals. The mangrove forest in Gáo Giồng has a wild beauty. This is a habitat for water birds such as whistling ducks, wild ducks, and tens of thousands of white egrets, making the area the largest habitat for white egrets in the country.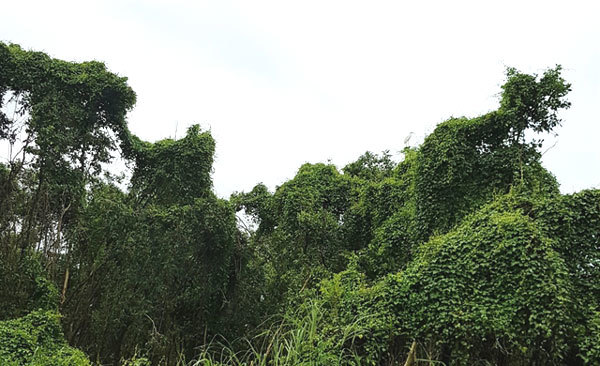 Dong Thap has high tourism potential due to its abundance of historical sites, cultural values and rich eco-systems.

Gáo Giồng has more than 100 bird species, including the little egret, little cormorant, painted stork, heron, black-crowned night heron and purple swamp hen.
Covering 1,600ha, Gáo Giồng has 1,200ha of cajeput forests used for producing cajeput oil and wood.
In the middle of the flooding season, water overwhelms the canals.
After light rain, the air clears. The sound of bìm bịp (moorhen) calling to each other echos through a forest of tram (myrtle) trees full of white flowers with a sweet scent.
Visiting the bird sanctuary in the early morning or late afternoon, tourists will be amazed at the animated scene of thousands of birds hovering above a corner of the forest.
In the dry season, visitors can go camping or fishing, visit mangrove forests by boat, or go bird watching.
Tourists should not miss local specialties like grilled snakehead fish with lotus sprouts, honey wine, and cá linh (small carp) with điển điển (river hemp) flower hotpot, a delicacy of the region in the flood season.
Entry is VND20,000 (US$ 0.8) for the Gáo Giồng eco-tourism area and VND120,000 – VND150,000 (US$ 5.1 – US$6.5) for one-way boat tours.
Dong Thap is about 160km from HCM City. Visitors can get to Dong Thap by bus for VND115,000 ($5) or drive a motorbike. It will take about three to four hours.
The best way to travel around Dong Thap is a motorbike which can be rented for about VND200,000 to 250,000 per day ($8.5 to $10.5).
For accommodation, if you are want to understand farmer life in Dong Thap, the best choice is a homestay. The homestay owner will show you how to harvest rice, catch fish with nets, tend vegetables, and catch ducks.
The price for a night at a homestay is from VND500,000 to VND1 million ($21- $42) which includes farming activities and local dishes. Dong Thap also has many hotels with prices starting at VND400,000 ($17).
VNS