In 2019, CNN will broadcast 15 clips of 60 seconds each about Hanoi on its international channel.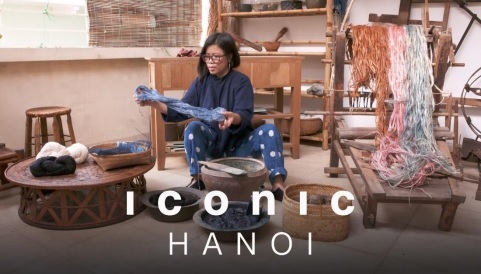 The 30-min show will explore Hanoi in numerous aspects
The show "Iconic Hanoi", among cooperation programs between Hanoi and the US Cable News Network (CNN), will be on the air this month. 
Hanoi is the gateway to Vietnam, one of Southeast Asia's fastest growing economies. In Iconic Hanoi, CNN explores Vietnam's capital through the realms of style, business, technology and the environment – capturing elements iconic to the city and looking at how they have evolved.
Highlights of the 30-min show include:
Sustainable fashion
Vu Thao is the founder and head designer of Kilomet109 – a sustainable fashion house in Hanoi. Thao often visits ethnic minorities across Vietnam and draws inspiration, techniques and materials to incorporate into her creations, combining Vietnam's style, history and heritage with contemporary design.
The future of electric
VinFast is the automotive arm of the Hanoi-based Vingroup – one of Vietnam's largest corporations. Last year, VinFast launched its first electric scooter, Klara – with hopes to find a more environmental alternative for the roads and giving the iconic motorbike a greener spin.
Bkav and "Made in Vietnam"
Software developer Bkav is Vietnam's leading smartphone company, using 20 million dollars and around six years to develop the very first Bphone in 2015. Bkav is now expanding its horizons with over 300 stores across the country and entering the Myanmar market earlier this year.
Sustainable, agricultural architecture
Farming Architects is incorporating the traditional Vietnamese industry of agriculture into urban living, creating a more sustainable environment for the future. Embedding elements of aquaponics in their urban projects, founder An Viet Dung believes architecture is about more than just design, it's a way of living.
Hanoi's first recognized social enterprise
"Know One, Teach One" is the name and motto of Hanoi's first recognized social enterprise, KOTO. It runs restaurants and a training school where underprivileged youth go through a two-year vocational program to learn skills necessary for careers in hospitality.
Airtimes for 30-minute special:
Saturday, November 2nd at 2030 HKT and 2330 HKT
Sunday, November 3rd at 0430 HKT and 1030 HKT
Monday, November 4th at 1130 HKT and 1630 HKT
Wednesday, November 6th at 0130 HKT
In 2019, CNN will broadcast 15 clips of 60 seconds each about Hanoi on its international channel, the Hanoi Department of Tourism cited CNN's announcement letter.
The program includes five episodes of "The Keepers", five episodes of "Iconic Hanoi", three episodes of "60 Second Vacation", one episode of "5 Reasons to Love Vietnam" and one episode of "Sporting Moments Vietnam". Hanoitimes
Tu Anh

The publicity campaign on Hanoi conducted by the US Cable News Network (CNN) under an MoU with the city has helped attract international holiday-makers to the Vietnamese capital, according to Hanoi's Department of Tourism.

The US Cable News Network (CNN) has conducted an estimated 703 broadcasts promoting Vietnamese capital city of Hanoi from June 3 to August 31, reported the Hanoi Department of Tourism.