Spiny lobster is a required dish for me when I visit the coastal city of Nha Trang because it's always fresher than elsewhere.
British chef introduces Vietnamese food to the world
Imported king crab, lobster selling well in Vietnam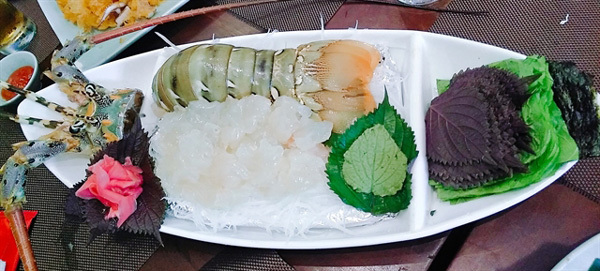 FRESH: Spiny Lobster Sashimi makes a twist with wasabi and soy sauce. VNS Photo Minh Thu
I've now found an easier way to eat spiny lobster – just go to Ngon (literally means delicious) Garden, a restaurant in the heart of the city.
It's situated by a crowded street but all noise is blocked inside the confines of Ngon Garden.
Entering the garden, the greenery and water ponds full of lotus and water lilies immediately contribute to the relaxed atmosphere. It's a rare place in the city centre which is spacious and has many trees and flowers.
Ngon Garden is more than a restaurant, it's a place where people find tranquillity and delicious food.
We reserved seats outdoors, where the tables are arranged between the plants to create privacy. If you go in a group, you can reserve a table indoors or a separate room in the French-style villa.
To start the culinary experience, I ordered Ngon Garden Salad which is a mix of rocket and romaine lettuce, strawberry, grapes, orange, kiwi and beansprouts. You can choose passion fruit dressing or mustard sauce. I chose the sweeter option with passion fruit. The vegetables and fruits are refreshing and deliciously blended.
I couldn't wait to dig into the lobster so I quickly moved to the main course. There aren't many options for lobster but all dishes served here are remarkable. You can choose lobster sashimi, grilled lobster with butter and garlic and baked lobster with cheese.
The lobster sashimi is impressive with transparent white flesh arranged around the spiny lobster shell. I was told that the flesh was washed in iced water to remove the innards. It's crunchy, sweet and nutritious. In sashimi, we can feel the authentic taste of fresh lobster, not influenced by any spices. Wrapping the flesh pieces in green and purple perilla leaves and dipping them in the wasabi and soy sauce makes the dish scrumptious and delectable.
The leaf is not only a garnish but it also adds a strong peppery flavour.
When the big plate of lobster baked with cheese was presented, our mouths dropped open. Indeed, the decoration was delightful. The red shell of the lobster was arranged beside baked flesh covered in the golden layer of cheese. I believe that is the best way to cook lobster.
I was irritated by my friends taking photos of the plate before letting me tuck in, although I could sympathise because the dish looks really impressive. And we haven't had a lobster feast like this in a long time.
The lobster flesh was really delicious with a charming scent and buttery taste. The dish is served with mashed potato, so it also satisfied the children. We were also offered a French baguette to have with the cheesy sauce. At the end, the plate was scraped clean.
We couldn't be more satisfied with the meal. For a perfect ending, we ordered Ngon Garden's bird nest soup served in a papaya. The sweetness is something I haven't tried elsewhere. At a price of VND450,000 (US$20) each, it's a really decadent choice. For this price, we could order a hotpot for four at other restaurants.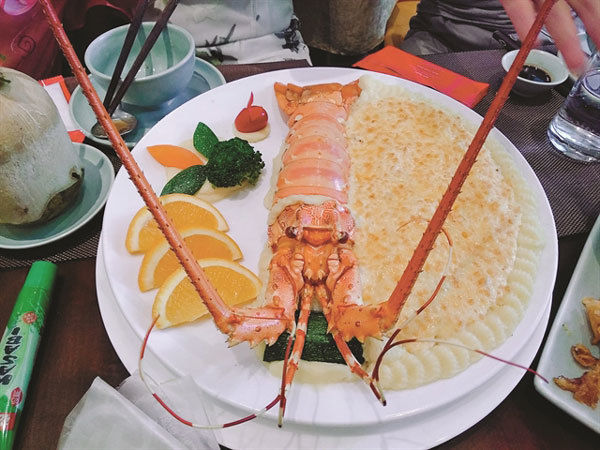 TOP DISH: Spiny lobster baked with cheese, a wonderful main course served with mashed potato. VNS Photo Minh Thu
However, it's worth it as bird nest is known for its nutritious qualities, especially for pregnant women, the elderly and children. A long time ago, people had to harvest natural bird nests on cliffs over the sea, but now people can raise this speciality on farms.
Ngon Garden has become a favourite place for dining out. The diverse menu offers an amazing culinary experience from East to West. We will return to discover that fusion.
VNS