Mau Son mountain range is the highest place in the northern province of Lang Son, with the lowest average year-round temperature in the country at 15.5 degrees Celsius.
Discover Lang Son - the multi-cultural land
Ten most magnificent destinations in Lang Son
Mau Son: A magnet for tourists
Mysterious houses atop Mau Son Mount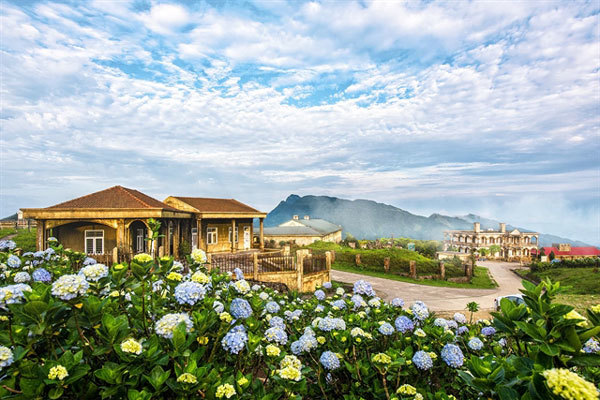 Cool temperature all year round on Mau Son offers a favourable condition for flowers. Photo toquoc.vn
The range has become known as a famed tourism destination and is considered a second Sa Pa and a Da Lat of the north.
To reach Mau Son from Lang Son City, one should go along National Highway 4B about 30km before turning left onto Provincial Highway ĐT237B and start the 15km route to Mau Son.
The road leading to Mau Son is stunningly beautiful. The asphalt road bends around hills covered with pine trees, giving a feeling like being on the cool roads of the Central Highlands city of Da Lat.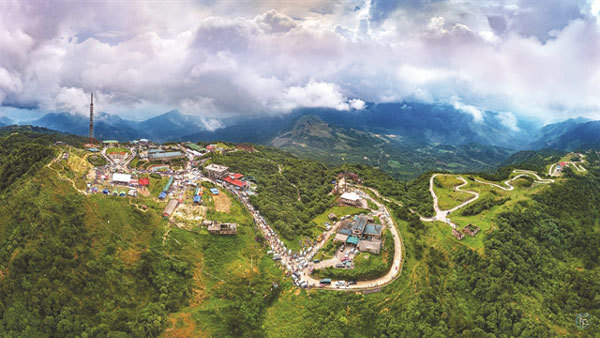 An aerial view of the crange. — Photo toquoc.vn

The higher one goes, the smoother the road seem to be. However, the road is rather small and contains a lot of sharp turns. Drivers should keep a moderate speed while watching for vehicles coming the other way.
The 15km route goes round various mountains and hills, running in the middle of a green valley. The area consists of 80 mountains one after another.
The area is an average of 1,000m above the sea level. The highest peak is Phia Po Peak, at 1,541m high, in Cao Loc and Loc Binh districts, 30km from Lang Son City.
Mau Son covers a total area of 550sq.km and is home to the ethnic minority groups of Dao, Tay and Nung, though the population is small.
Many Dao people have maintained their traditional customs and wear traditional clothes every day.
Women wear black trousers with broad legs and hems are embroidered with yellow patterns, while men wear black coats decorated with embroidered with thick wool thread lines of light green colour.
"I like travelling to the area in winter, when it snows," said tourist Tran Minh Hieu, from Hanoi. "In Khuoi Cap Village, Dao people still preserve their customs and tradition."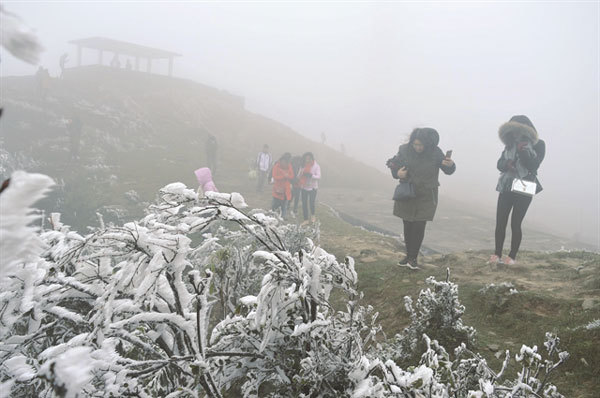 Mau Son attracts many more tourists in winter. — hoto vietnamplus.vn
"The Lap Pia primitive forest is suitable for adventure sport lovers," he said.
Mau Son is dubbed an area of clouds as due to its height and the cold weather, it's covered with fog and clouds for up to two thirds of the year.
So while it may be sunny and warm in Lang Son City, locals know the same won't be true on Mau Sơn. The mountain even gets snowy and icy in the winter.
The mountain area also boasts rich flora and fauna with 1,500 wild plants and animals.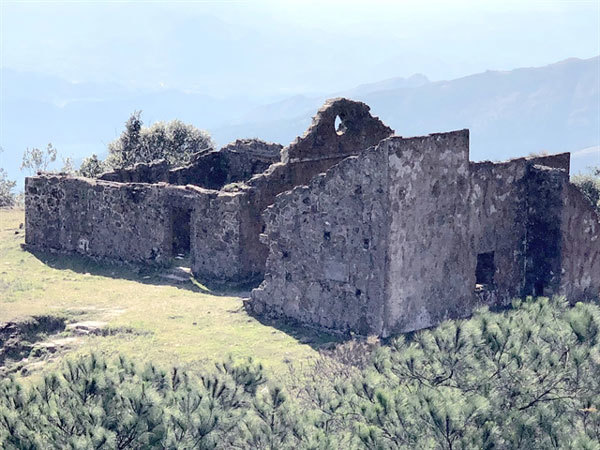 A remnant of French architecture on the mountain. — VNS Photo Tran Mai Huong
On the way to Mau Son, visitors will come across many deserted villas, resorts and wine cellars built by the French in 1930s.
After a long, cold trek up the Mau Son mountains, the best way to warm back up is with a drink or two.
Visitors may see a sign saying: Hợp tác xã rượu Mau Son (Mau Son Wine Collectives) on the way to the peak, where they can see the whole wine-making process of a Dao family.
The wine is made from a fermentation of more than 30 kinds of leaves taken from the forest. The wine is fermented in big jars for eight months and served piping hot.
The wine is not expensive, so it's a great gift to bring home.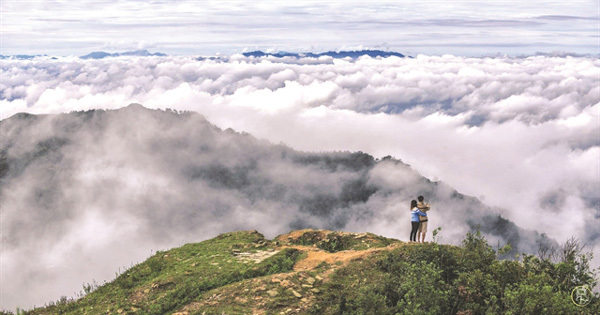 The province plans to set up Mau Son as a centre for culture, spiritual and ecological tourism of the northern region. — Photo toquoc.vn
Though the infrastructure for tourism including restaurants and services has yet to develop, the area is a popular destination.
The province plans to set up Mau Son as a centre for culture, spiritual and ecological tourism of the northern region and receive some 1 million visitors annually by 2030.
Be Cao Chuyen, deputy director of Mau Son Tourism Management Board, said the area has potential to be a national tourism site.
"We're just waiting for proper investment to develop the site," he said.
Duong Xuan Huyen, vice chairman of Lang Son Province's People's Committee, said authorities host a tourism festival every year to attract visitors.
"The festival in June this year gathered thousands of visitors to the site," he said.
Themed 'Green Tourism', various activities highlighted the area's ethnic culture, natural beauty and agriculture products.
by Tran Mai Huong
VNS