The Vietnam National Administration of Tourism (VNAT) will organize a roadshow to promote tourism in two big cities of Russia, Moscow and Vladivostok, from May 21 to 28, local media reported.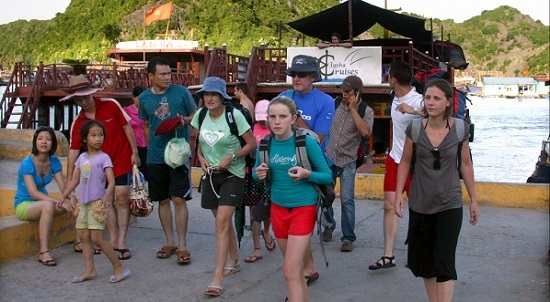 Russian tourists in Vietnam.
The event aims to roll out the 2019 national tourism promotion program and attract more visitors from Russia to Vietnam. Accordingly, the VNAT will introduce policies, destinations and tourism products of Vietnam to Russian visitors.
The roadshow is expected to draw more than 300 travel companies from Vietnam and Russia to join meetings to intensify cooperation opportunities as well as measures to draw more Russian tourists to Vietnam and vice versa.
Russia is considered a potential source market of Vietnam, generating 80% of 1.35 million air passengers between the two countries in 2017. In 2018, 600,000 Russian people visited Vietnam, ranking sixth among all countries in terms of tourist arrivals.
In the first four months of 2019, Vietnam welcomed more than 273,000 Russian visitors, a 4.5% increase from the same period last year. According to the VNAT, the number of Russian tourist arrivals in Vietnam grows by 30% annually on average, with the total number of arrivals expected to reach 1 million by 2020.
Earlier, the VNAT, National flag carrier Vietnam Airlines and several local tour and hotel operators took part in the 2019 Moscow International Travel & Tourism Exhibition (MITT) in Russian capital city from March 12 to 14.
The Vietnamese space at the MITT featured promotion publications, images and maps on Vietnam's island and sea tourism in Russian and English, and drew a large turnout of visitors. Hanoitimes
Mai Nguyen