Many tour operators operating in the Japanese market have expressed interest in taking their customers to Phu Quoc Island due to its beauty but have voiced concern over the pollution there.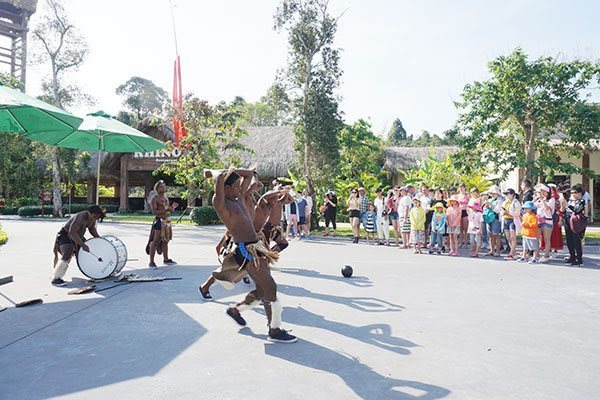 Tourists enjoy a dance performance on Phu Quoc Island. Many tour operators operating in the Japanese market have voiced concern over the pollution on the island
Representatives of some Japanese travel firms said at the meeting between the Vietnam National Administration of Tourism and 13 tour operators and airlines doing business in Japan that Japanese visitors are interested in travelling to many tourist destinations in Vietnam, according to Nguyen Thi Thanh Huong, deputy general director of the administration.
Due to Japanese travelers' rising demand for tours to Vietnam, these firms have conducted surveys across a range of localities to diversify the available destinations for their customers.
They concluded that Phu Quoc Island off Kien Giang Province in the southern region could become their latest tourism destination in Vietnam.
The attractiveness of the island may be considered on par with Hawaii in the United States, which attracted over 1.5 million Japanese holidaymakers last year, the firms' representatives noted.
On the other hand, Phu Quoc Island has a severe problem with garbage disposal and untreated wastewater.
"The travel firms said it is necessary to urgently handle the problems related to the environment to make Phu Quoc Island more attractive to them and their Japanese customers," Huong said.
She added that the administration would collaborate with the Kien Giang government and the Phu Quoc authority to discuss the issue and adopt appropriate solutions to attract more tourists.
Commenting on the goal of attracting Japanese visitors to Vietnam, representatives of these firms pointed out that the limited quality of tourism services at multiple tourist sites in Vietnam, the weak service capacity of airports and poor tourism promotion programs have discouraged Japanese travelers to Vietnam.
In addition, the lack of tour guides who can speak Japanese and complicated immigration procedures have prevented Japanese tourists from visiting Vietnam.
Huong said that Japan is Vietnam's third largest source market. Some 827,000 Japanese tourists traveled to Vietnam last year, up 3.6% against the figure seen in 2017.
The country welcomed more than 302,000 Japanese arrivals in the first four months, rising by 8.2% year-on-year. In recent years, the growth rate of arrivals from the market has reportedly been low but stable. VIR
Dao Loan