U Hoa Restaurant – a tranquility for enjoying Vietnamese food

U Hoa Restaurant is located in a French-style villa with a beautiful garden where birds sing all day. Even at first sight, it offers an escape from the noisy streets and hectic life.
Hoa Lu's rare goat meat
Goat hotpot
'Com chay' - a tasty dish of Ninh Binh
Five must-try dishes in Hue City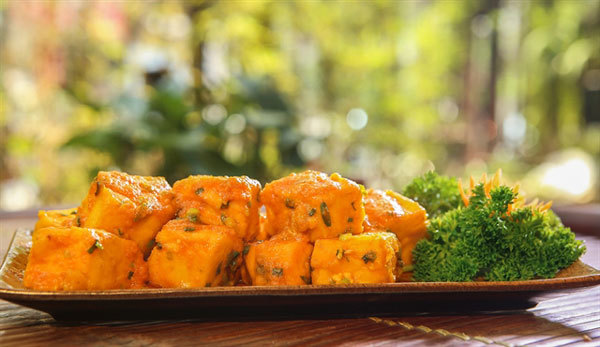 Đậu chiên trứng muối (fried tofu with salted eggs)
Wooden furniture, ceramic tableware and decorative objects embrace images of Hanoi's landscape and flowers.
I visited the restaurant on a summer day with my family for lunch. The cool space with excellent food and smiling staff left me feeling more than satisfied.
U Hoa Restaurant was founded by Ms Hoa. I don't know her full name and I didn't get the chance to meet her, but the name of the restaurant is endearing as "U" (pronounced "woo") is the way Vietnamese people in the north affectionately address their mums or older women.
Hoa started the business from a small food shop where customers all called her "U Hoa". She has been cooking traditional Vietnamese food for more than 30 years. That's why you can really experience the authentic taste of the dishes here.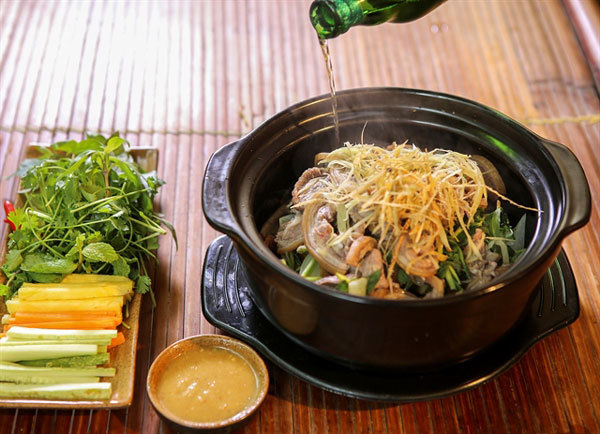 Steamed goat meat
We started the meal with hến xúc bánh đa (baby clams with rice crackers) which originates from the former royal city of Hue. It's among the signature dishes of the ancient capital. Only fresh baby clams are selected for dish. The chef prepared the clams carefully because just one dead clam can ruin the dish.
The baby clams were cleaned and fried at a high heat with sliced onions, chopped coriander and other aromatic herbs. The way to enjoy the dish is as amazing as the taste. We used crispy rice crackers to scoop the tasty clams instead of using chopsticks.
U Hoa Restaurant also has a menu of goat dishes from Ninh Binh. The steamed goat meat impressed me the most.
Goat meat is popular in the north of Vietnam, especially in the province of Ninh Binh. Goats raised naturally on the limestone mountains taste better than in other regions thanks to the climate and location. They climb all day eating the leaves and grass, which makes their meat low fat, firm and sweet. The meat is nutritious, especially for the pregnant women because of its coolness.
The meat was marinated with spices and herbs, then laid on a hot rock and steamed for several minutes with draught beer provided by our friendly waiter.
For the full experience, the dish can be served with various herbs, pineapple, green banana, and cucumber. All the ingredients are wrapped in rice paper and dipped in a special soya sauce. The sweetness of the meat, the fragrant herbs and the yeast from the beer work in harmony and captivate the senses.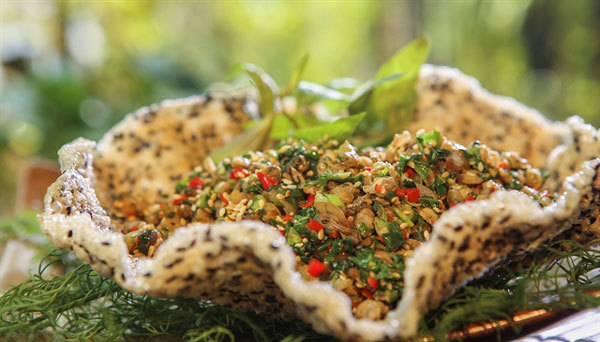 Hến xúc bánh đa (baby clams with rice crackers)

U Hòa Restaurant
Add: 17-19, Lane 61, Thái Thịnh St, Đống Đa Dist, Hà Nội
Open: 9am – 10pm
Price: VNĐ50,000 – 250,000
Comment: nice place, friendly staff, Vietnamese food and specialities nationwide
Tel: 024 3562 2299
 Whenever I visit U Hoa Restaurant, I order đậu chiên trứng muối (fried tofu with salted eggs). It is a popular dish and available at many restaurants. However, the one at U Hoa is very special. It's an eye-catching dish with a yellow and crispy coat from the salty egg sauce. The dish preserves the softness inside like jelly.
We choose to end the meal in a very popular way with rice and canh cua đồng (field crab soup with vegetables). The simple dish reminded us of our childhoods, as all Vietnamese people love it.
If you go in a big group, you can order various kinds of hotpot. The long list of specialities at U Hoa Restaurant means I can't wait to return many times in the future.
By Ngo Minh
VNS