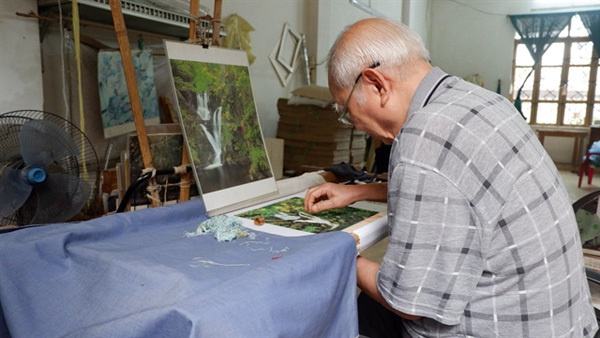 Nguyen Quoc Su has been an embroiderer for more than 60 years. — VNS Photos Minh Thu
Since 2020, like many others, his business has taken a big hit due to travel restrictions and economic slowdown.
With demand down, his embroidery frames, sewing scissors, lap frames, and floor stands are gathering dust.
For the 80-year-old embroiderer, however, the impact is just temporary and he's thinking about how to preserve this traditional craft that young people lack interest in. The craft has been passed down from generation to generation but is slowly fading away.
"The pandemic has had catastrophic impacts on embroiderers like me. Due to the slowdown in the economy, we have lost both domestic and international buyers. Our orders have decreased by half compared to normal years. Many of our staff have had to shift to new jobs to earn money," Su said.
Only a few senior staff who have worked with him for 30-40 years chose to stay in the business.
"The impacts of the pandemic may be huge but it's temporary. What is more concerning is that this craft is fading and forgotten," he said.
Su's embroidery business has taken a big hit due to the COVID-19 pandemic. 
Born in Khoai Noi Village in Thuong Tin District, Hanoi, which is known as the cradle of embroidery with more than 400 years of history in the tradition, Su started to learn the craft at the age of 13.
In just three years, he became the youngest staff member of the area's embroidery co-operative.
More than six decades later, he now owns a small company that provides artisanal embroidery products to both local and foreign clients, including those from Japan and South Korea.
He has participated in many competitions and exhibitions in Vietnam and abroad. In 1980, he was awarded a prize at an exhibition in Russia for his piece of embroidery about President Ho Chi Minh. In 1983, he won a gold medal in a competition in Vietnam and was given the 'People's Master Artisan' title.
His embroideries are a combination of colours and styles along with creativity and ingenuity. Mastering this craft requires patience as well as knowledge of painting, according to the artisan.
Making portrait embroidery piece is the most challenging as it requires precision.
"It's like doing mathematics and requires precision to convey the personality and spirit of the person featured," he said.
One of his most special works is a beautiful piece featuring Mona Lisa, which took him two years to finish. He refused to sell the embroidered portrait and has kept it as his own treasure.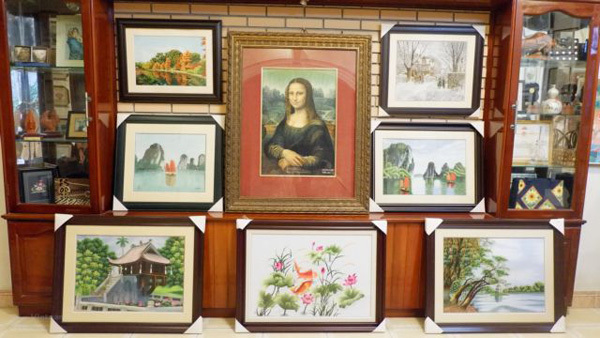 A beautiful piece featuring Mona Lisa takes him two years to finish.
In the 1990s, most people in Khoai Noi Village, old and young, pursued embroidery.
Su opened his workshop in 1975 and has provided jobs for hundreds of employees in the village.
In modern times, people are not so interested in traditional hand embroidery and this craft has faded away. What the master artisan is most concerned about is that fewer people choose to learn about this craft while skilled workers are getting old.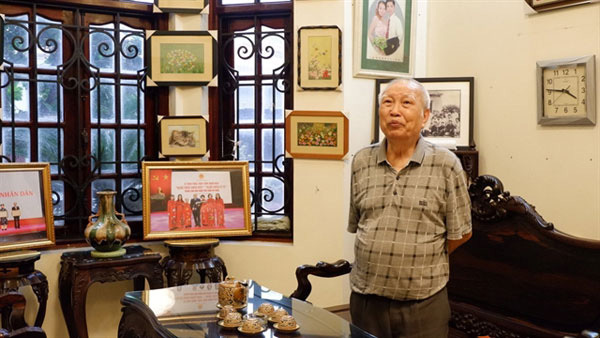 He has participated in many competitions and exhibitions in Vietnam and abroad and won several awards for his works of art. 
Dao Thi Nhi, an embroideress, said those who stay involved in the craft had worked in it for a long time.
"Many have done this for more than 10 years, some have worked since the launch of Su's business. Despite the difficult situation due to COVID-19, old people like me still don't want to quit. But for the young people, they have other options to work in big companies," she said.
An embroider spends nearly a month to finish their work and earn VND6 million a month, a slow rate of work and low pay that puts young people off.
In recent years, Su has been finding ways to support his staff to preserve this craft.
He offers free training for those who want it and provide hands-on guidance. He also arranges accommodation and payment while they are being trained.
"If this craft falls into oblivion, we would be making a big mistake," he said.
Source: Vietnam News

Nguyen Bi Village in Quat Dong in Hanoi was once a well-known embroidery craft village which produced high-quality embroidery products for sale the export market

In the feudal time, Dong Cuu village in Hanoi's suburban Thuong Tin district was famous for its embroidery profession.