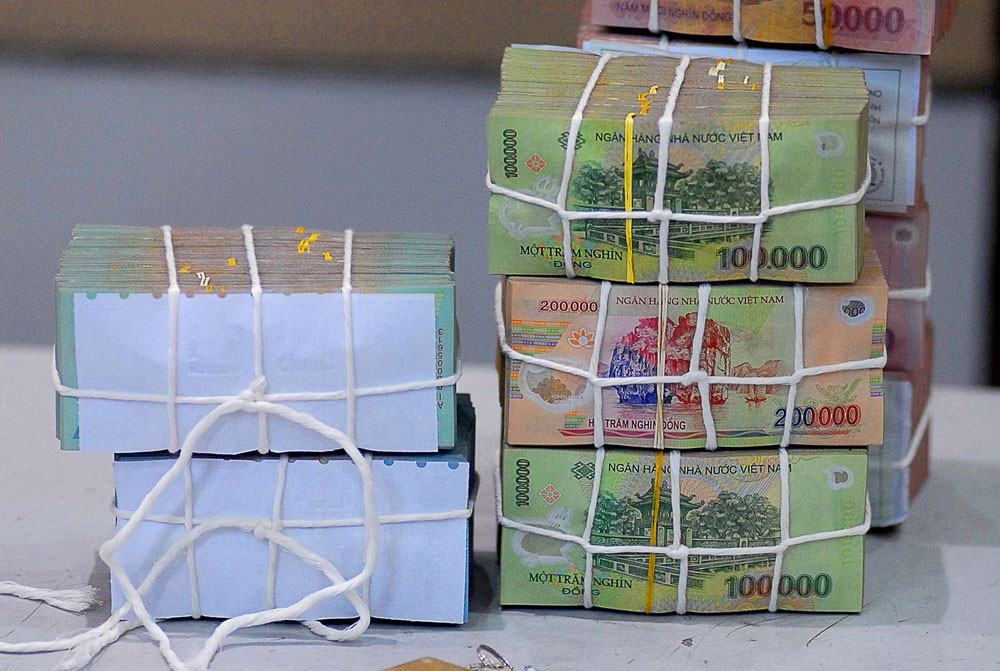 At the October 26 session, SBV withdrew nearly VND30 trillion from 11 banks which attended the T-bill auction. The interest rate is stable at 6 percent per annum. This was the seventh consecutive session in which the bank made a strong withdrawal. As such, on October 10-26, SBV withdrew VND138.84 trillion.
The US dollar on October 26 began depreciating. The official exchange rate was lowered by SBV from the historic peak of VND23,703 per dollar at the previous session to VND23,698 per dollar.
The exchange rate quoted by the Bank for Foreign Trade of Vietnam (Vietcombank) on October 26 also fell from VND24,608 per US dollar (buy) and VND24,888 (sell) to VND24,602 and VND24,882 per US dollar, respectively.
In the past two weeks, the dollar appreciated strongly. Vietcombank's US dollar price surged from VND24,080 per dollar (sell) on October 12 to VND24,888 on October 25, which meant an increase of 3.36 percent. From early 2022 to October 26, Vietcombank's dollar price increased by 8.56 percent.
On the free market, the USD also fell to VND25,450 per dollar (sell) from VND25,500 in late afternoon of October 25 and morning of October 26.
September's inflation rate was reported at 4.01 percent (compared to earlier this year).
The SBV on October 25 raised operating interest rates for the second time this year. The re-discount interest rate was raised from 3.5 percent per annum to 4.5 percent, and the refinancing interest rate from 5 percent to 6 percent.
The ceiling interest rate applied to deposits with terms from one month to under 6 months has been raised from 5 percent to 6 percent per annum.
One day later, some commercial banks raised short-term deposit interest rates (1-6 month deposits) to 5.8-6 percent. Some others raised long-term deposit interest rates (12-36 month) to 7.8-9.3 percent.
The SCB quotes interest rate of 9.3 percent for 18-36-month deposits while VPBank offers 8.7 percent, CBBank 8.9 percent and BacABank 8.9 percent. However, the four state-invested banks have not joined the interest rate race. Vietcombank, Agribank, BIDV and VietinBank still pay 6.4 percent for 12-month deposits.
In the inter-banking market, the interest rate tends to increase after decreasing before. The overnight interest rate fell from the peak of 8.44 percent on October 5 to 3.02 percent on October 19 before rising to 7.16 percent on October 25.
Manh Ha