Vietnam has opportunity for energy transition towards green growth
Vietnam boasts substantial potential for wind power, particularly offshore wind power, providing an opportunity for the country to fulfill its energy transition target towards green growth.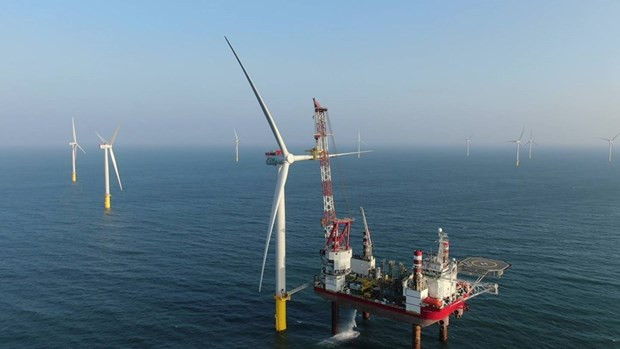 Vietnam boasts substantial potential for wind power, particularly offshore wind power (Photo: VNA)
Vietnam Wind Power (VWP) is an official industry event organised by the GWEC since 2018. It provides a platform for the Government and the industry to discuss pressing issues around the development of wind energy in Vietnam.
Pham Nguyen Hung, Deputy Director of the General Electricity and Renewable Energy Authority at the Ministry of Industry and Trade, said the Vietnamese Government has adopted various policies and mechanisms to facilitate renewable energy development.
As of the end of 2021, Vietnam's total installed capacity of renewables reached 20.7 GW, accounting for over 27% of the accumulative installed capacity of the electricity system, making Vietnam a leading country in this regard. The percentage is expected to hit 59% by 2050.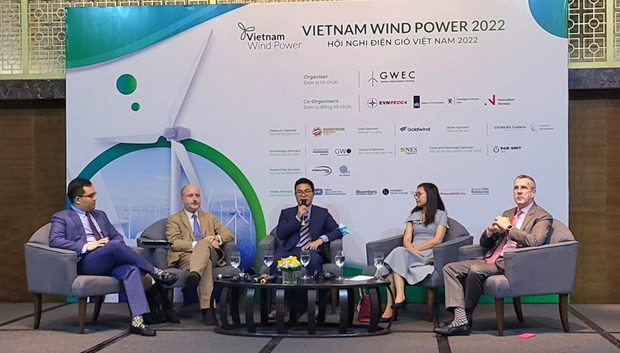 Speakers at Vietnam Wind Power (Photo: VNA)
Renewable power, especially wind power, both onshore and offshore, is forecast to grow strongly, serving as a foundation to ensure national energy security in the long term, Hung said.
He emphasised that developing wind power, particularly offshore wind power, and gradually forming the domestic renewable energy industry specialising in installation, construction and manufacturing to improve the country's self-reliance and reduce production costs are major orientations set out by the Vietnamese Government for the coming years.
The official also pointed to challenges to these efforts such as high construction costs, explaining that offshore wind power development requires synchronous infrastructure and better personnel quality.
Sharing Hung's view, Director of the Centre for Energy and Green Growth Research Ha Dang Son noted Vietnam's weak financial capacity, suggesting the country put forth a suitable wind power development roadmap along with mechanisms and policies to attract private investment.
The Politburo issued Resolution No. 55-NQ/TW dated February 11, 2020 on strategic orientations for national energy development by 2030 with a vision towards 2045.
The document highlights the need to devise breakthrough mechanisms and policies to encourage and promote the development of renewables to replace fossil fuels, with priority given to wind and solar power./. VNA