Vietnamese tourism industry to grow amidst Industry 4.0
2018 – Successful year for Vietnam's tourism industry
Vietnam's tourism growing strongly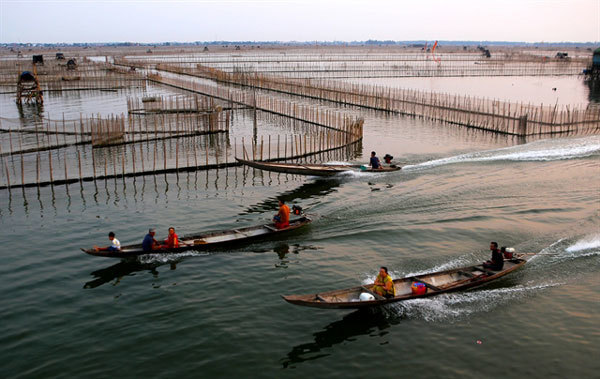 Chuon lagoon part of the Tam Giang lagoon in Thua Thien-Hue has recently been recognised as an ecotourism destination by the central province's authorities. — VNA/VNS Photo Ho Cau
The Vietnam tourism industry has developed rapidly, however, many national and foreign tourists have complained its products are oftenly dull or not up to their expectations, while linkages between regional provinces and different service supply value chain severely lacking. How do you respond to such a complaint?
Recently, tourism activities have been booming in Vietnam, particularly in coastal areas which have tremendous potential for tourism development. However, many tourists have complained that Vietnamese products have not met their expectations, due to either low quality or diversity.
Tourism development, in some localities, is done with little to no planning, with seasonal and event-based campaigns that lack long-term viability. Adding to that many tourism enterprises have not paid due attention to market research or their tourists' desires. These are some reasons Vietnam's tourism development has fallen behind neighbouring countries like Thailand, Malaysia or Singapore.
However, quite a few localities have excelled in tourism development, like the old town of Hoi An in central Vietnam. Despite being a relatively humble location in size, tourists flock to the town year-round, because the tourism authorities and local people know how to effectively capitalise on their diverse and rich traditional products, including their traditional clothes and cultural activities at night time.
What are the main reasons hindering tourism development in many localities?
There are various reasons. A part of it is poor tourism development planning, which prevents tourism companies from growing properly.
Adding to that many tourism companies have not paid due attention to training their staff on essential knowledge or skills they should have in performing their day-to-day duty, with the priority given to customers' satisfaction.
Summertime is high season for tourists to come to Vietnam, many locations just chose to make money during this season without long-term vision or properly catering to tourists' needs. In the coming time, the decisive factor in tourism industry is to establish linkages between agencies, companies and tourism authorities to renovate and diversify their products.
What should concerned agencies, enterprises and people do to boost tourism?
What they need is good co-ordination and co-operation. For example, in Thailand, there is a very strong linkage among service providers. This is a key reason why many tourists coming to Thailand and willing to spend a lot of money.
This is a good lesson for Vietnam to learn from Thailand.
To develop and diversify our tourism services, what does the tourist sector need to change and focus on?
At present, the tourism sector is developing a strategy for Vietnam tourism development and our Institute for Tourism Development Research is assigned to write that strategy. We have already completed the draft strategy and it has been approved by the Ministry of Culture, Sports and Tourism.
A salient solution in that strategy is the diversification of tourism products based on the potentials and characteristics of the nature, culture and advantages of Vietnam, in order to bring about a range of unique and highly competitive products.
Notably, in 2020, Vietnam will host a F1 Grand Prix in Hanoi and many other international events. They will be important occasions for Vietnam to attract more tourists to come.
Looking over the past five years, Vietnam's tourism has gained a lot of positive changes. Many of our hotels or resorts are on par with those in other countries. We are confident Vietnam will become a choice destination for many foreign tourists.
However, other issues including visa procedures or transport, shopping all need to be factored in and improved as part of the whole that is tourism.
VNS