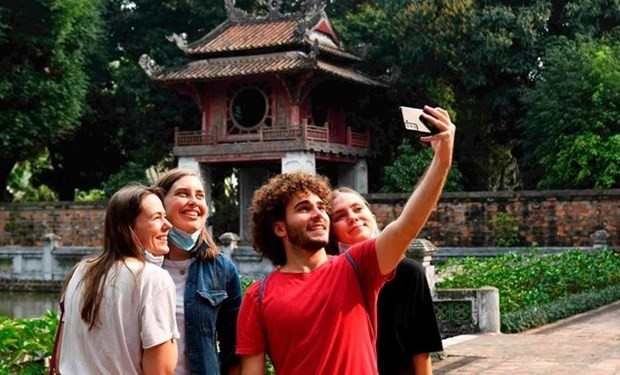 Foreign tourists visit Temple of Literature (Photo: VNA)
In the first four months of this year, nearly 3.7 million foreign tourists travelled to Vietnam, and the number of domestic tourists was 38 million. Total revenue from tourists was estimated at 196.6 trillion VND (8.3 billion USD).
Revenues from accommodation and catering services between January and April were estimated at 214.8 trillion VND, representing a year-on-year increase of 25%. Meanwhile, thanks to exciting cultural and tourism activities taking place in many localities in the early months of the year across localities, travel revenue was estimated at 9.1 trillion VND, nearly 2.1 times higher than the same period last year.
In April alone, the country welcomed 984,000 international travellers, the highest figure from the beginning of this year and an increase of 9.9% from the previous month. It served 10.5 million domestic tourists in the month.
The Republic of Korea remains Vietnam's biggest tourism market in the first four months with 1 million visitors, followed by the US with 263,000 and China with 252,000.
The number of Chinese tourists to Vietnam in April was 112,000, up 61.5% from the previous month thanks to China's border reopening to group tours from March 15.
The VNAT said that the main growth driver for the international tourism market is currently China.
Nguyen Le Binh, Deputy Director of the Vietnam tourism desk under the Guangxi Overseas Travel Service Co., Ltd. in Nanning city of China's Guangxi province, forecast that the number of Chinese tourists to Vietnam will surge in summer.
The VNAT also predicted that the number of tourists from China will recover at a faster rate than those of other markets due to its population, with demand growing day by day since the country resumed outbound travel. Its recovery is expected to increase pace after summer and accelerate in October and the final months of this year.
Australia and India are now well-positioned to increase the number of tourists to Vietnam as Vietnam Airlines and Vietjet recently opened direct flights connecting many major cities between the two countries. In Southeast Asia, Thailand and Cambodia are recovering well, equivalent to the pre-pandemic levels, and are forecast to maintain growth thanks to their proximity to Vietnam.
In its meeting in May, the National Assembly is scheduled to adopt a resolution on new policies related to visas, immigration, and entry, including extending the e-visa validity period from no more than 30 days to no more than 3 months, for single or multiple entry. They will grant e-visas to citizens of all countries and territories, and increase the duration of the temporary residence certificates at the border gate for people subject to unilateral visa-free entry from 15 days to 45 days. This will be an important driving force contributing to attracting foreign tourists to Vietnam in the coming time.
This year, Vietnam is striving to serve 110 million tourists, and earn around 650 trillion VND from tourism services./. VNA