Vietnam needs to create national social network to replace Facebook: Minister

Vietnam needs to have its own social network and search engine to replace foreign platforms Facebook and Google, said Minister of Information and Communications Nguyen Manh Hung at a recent meeting with IT firms in HCMC.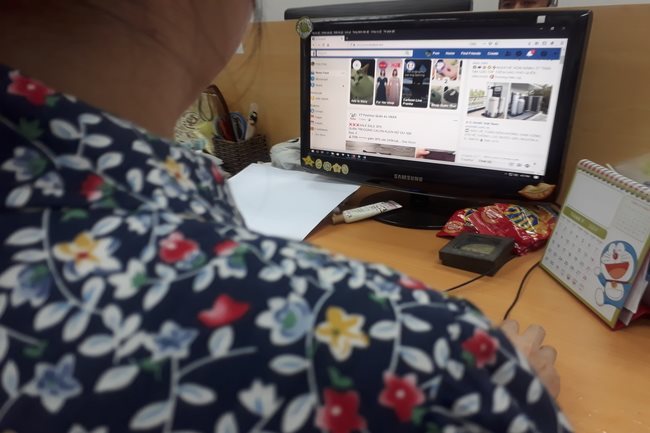 An individual surfs Facebook on a computer. Vietnam tentatively plans to create its own social network
Digital transformation will help Vietnamese firms expand, according to Minister Hung.
"Vietnam wants to be powerful, so it must rely on technology. This responsibility rests with IT firms," he is quoted in news site Zing.vn as saying, stressing the need for a Vietnamese social network and search engine.
"The social network Facebook runs on contributions from its users, so they (these users) must have a voice in deciding the rules for that platform. The social network reflects real life, so basic moral values must be respected. At the same time, the platform must comply with the laws of the host country," he explained.
According to the minister, the users have helped boost the value of Facebook to hundreds of billions of U.S. dollars. However, its rules are not made by its users.
"It is high time we develop a new social network that is more humanitarian and really values its clients," he stated while calling for local IT firms to create a unique social network that can compete with the likes of Facebook.
Search engines were also a topic under discussion at the meeting. According to the minister, a search engine gathers millions of different answers, but it needs to bring up reliable results, especially for people who do not have professional knowledge related to their searches.
"We used to think Google was great. But when an ordinary person asks a question, Google gives millions of very different answers, and (the user) may not know which is right or wrong. Google depends on the money paid to them to put the (paid) results first," he said.
He noted that shortcomings in the operations of Facebook and Google open up space for new social networks and search engines. Therefore, local IT firms and startups have a great opportunity to develop a new ecosystem, philosophy and business model for not only Vietnam but also the wider world.
He revealed that the Ministry of Information and Communications is drafting a set of community standards for local IT firms to create home-grown social networks that must fulfill three criteria: sharing value with users, allowing users to make contributions and acting within the national laws.
The number of Facebook users in Vietnam is expected to reach 45.3 million this year, up from 41.1 million in 2017, according to Statista, a Germany-based statistics company.
As of the second quarter of 2017, the social network was accessed by two billion users on a monthly basis. Vietnam is ranked seventh among the countries with the largest number of Facebook users. Overall, the country has a 40% active social media penetration rate. SGT