VIETNAM NEWS HEADLINES DECEMBER 5
HCYU's 7th National Congress to be held next week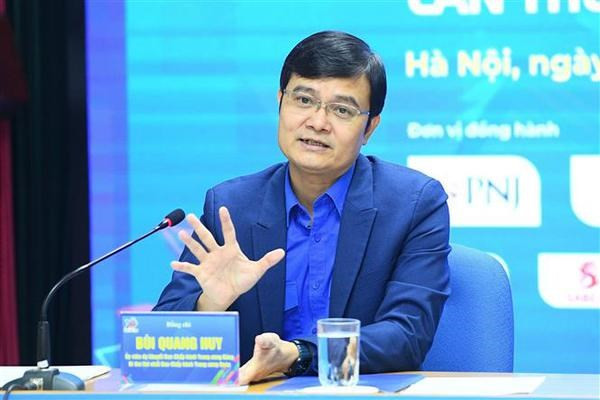 Bui Quang Huy, First Secretary of the HCYU Central Committee, speaks at the press conference. (Photo: VNA)
The 7th National Congress of the Ho Chi Minh Communist Youth Union (HCYU) will take place in Hanoi from December 14-16, the HCYU Central Committee announced at a press briefing on December 5.
Themed "Aspirations - Solidarity - Mettle - Pioneering - Creativity", the congress is expected to saw the participation of 980 delegates representing 22 million HCYU members inside and outside the country, along with about 200 guests.
The two day-and-a-half congress will have five major sessions, focusing on youngsters' desire to devote to the country, measures to strengthen the organisation of the Youth Union and Children's Union and promote Vietnamese youth's international integration.
Participants will also discuss a political report by the HCYU Central Committee in the 2017-2022, and elect members of the new HCYU Central Committee for the 2022-2027 tenure.
Prior to the opening of the congress, the delegates will pay tribute to President Ho Chi Minh at his mausoleum and offer incense to martyrs at the Monument for Heroic Martyrs in Hanoi.
They will also visit a photo exhibition and a number of historical relic sites in the capital city.
Right after the congress, a Youth Day will be launched in the HCYU in all 63 provinces and cities across the country, and Laos, with various activities including a fund-raising race, activities to assist people in registering for ID codes, ID cards and passports, tree planting, and other voluntary activities.
Vietnam wins big at International Mathematics and Science Olympiad
Vietnamese students won a total of 19 medals at the 2022 International Mathematics and Science Olympiad (IMSO), which was recently held in Indonesia in an online format.
They claimed three golds, 10 silvers, and six bronze medals. The winners all came from high-quality primary and secondary schools, including Hanoi Amsterdam School, Newton Grammar School, Ngoi Sao (Star) School, Giang Vo Secondary School, and Cau Giay Secondary School.
IMSO 2022 is an annual competition specifically for students under the age of 13 and brings together contestants from 15 countries and territories worldwide.
Previously, IMSO 2021 saw Vietnamese students bring home two golds, five silvers, and four bronzes in maths, as well as five silvers and four bronze medals in science.
Foreign Ministry has two new Deputy Ministers
Prime Minister Pham Minh Chinh has decided to appoint two new Deputy Ministers of Foreign Affairs.
Accordingly, Do Hung Viet was promoted to the new position from his previous role as the Assistant to the Foreign Minister cum Director of the Department of International Organizations.
Le Thi Thu Hang was promoted to the new position from her previous role as the Assistant to the Foreign Minister cum head of the Press and Information Department.
Homeland Spring 2023 to be held in Fukuoka
The annual Homeland Spring, a run-up to the Lunar New Year Festival, will be held at Maizuru Park in Fukuoka, on January 7 and 8, 2023, serving as a get-together for Vietnamese people living in Japan in general and Fukuoka and its surrounding prefectures in particular.
The programme, the fourth of its kind, is expected to have the largest scale and the biggest number of participants.
It will be a highlight among the first activities in celebration of the 50th founding anniversary of Vietnam-Japan diplomatic ties next year.
The programme will include a forum on trade and investment connectivity between Vietnamese businesses at home and Japan, and Japanese enterprises, and the final rounds of Kyushu Got Talent 2023 and Miss Vietnam-Japan Friendship 2023.
President Nguyen Xuan Phuc meets Vietnamese community in RoK
President Nguyen Xuan Phuc met with staff of the Vietnamese Embassy and representatives of the Vietnamese community in the Republic of Korea (RoK) in Seoul on December 4, part of his ongoing State visit to the Northeast Asian country.
The leader informed them about Vietnam's socio-economic situation, particularly the implementation of many measures for economic reopening and development after the COVID-19 pandemic.
He said the Vietnam - RoK relations are flourishing and now at their prime, noting that the mutual understanding and trust between the two peoples are increasingly intensified while bilateral cooperation have seen fruitful outcomes in all spheres, especially politics and economy.
Describing the Vietnamese community in the RoK as young and highly potential, he expressed his hope that they will continue upholding fine traditions and actively improve their language skills, knowledge, and capacity to better integrate into the local society, contribute to the RoK's development, help strengthen the two peoples' friendship, and gain a deserving position in society.
The State leader called on the community to stay united, seriously comply with laws of Vietnam and the RoK, and make more contributions in terms of science, technology, and other fields for the sake of a prosperous Vietnam.
He also took this occasion to appreciate the practical and effective donations by Vietnamese people in the RoK to the pandemic fight in the homeland.
At the meeting, President Phuc applauded efforts by the Vietnamese Embassy to fulfill duties, asking it to keep coordination to effectively implement agreements reached between the two countries' leaders, carry out cooperation activities, step up technology transfer, and make the most use of resources from the RoK to help with national industrialisation and modernisation, thereby helping develop strong and fruitful bilateral cooperation.
He also told the embassy to keep a close watch on the local and regional situation, properly make forecasting, better carry out citizen protection and support for Vietnamese people in the RoK, especially as the number of Vietnamese here is rising, and increase communications to improve the community's adherence to the host country's laws.
Vietnamese National Assembly delegation visits Iran
A delegation of the Vietnamese National Assembly led by its Vice Chairman Senior Lieutenant General Tran Quang Phuong is paying a working visit to Iran from December 2-6.
The delegation held talks with Iran's First Deputy Parliament Speaker Ali Nikzad, who affirmed that Iran has attached importance to fostering relations with countries in Asia, especially nations in Southeast Asia, including Vietnam.
He briefed the guests on achievements Iran has recorded in health care, science-technology and infrastructure construction, and suggested the two countries activate a trade remedy mechanism, hoping for support from the two governments.
For his part, Phuong highlighted the Vietnam-Iran friendship, cooperation and mutual support in their causes of national defence, construction and development, as well as their similarities despite geographical distance.
Vietnam and its legislature always treasure the relationship with Iran, and wish it to grow stronger in all government, parliament and people-to-people exchange channels, he said.
The two sides agreed to coordinate in organising activities celebrating the 50th founding anniversary of diplomatic ties, step up the exchange of delegations and people-to-people diplomacy, and boost twinned relations between localities.
Phuong said the two countries should facilitate the penetration of their goods into respective markets, organise trade promotion activities and business forums, and strengthen collaboration in telecommunications, IT, digital transformation and other areas where Iran has strengths like nanotechnology, satellite research and space orbit, along with culture, education, tourism and sports.
Regarding Iran's nuclear issue, the legislator noted his support for the disarmament of weapons of mass destruction, including nuclear weapons, and respect for rights of countries to use nuclear energy for peaceful purposes, in line with obligations prescribed in the Treaty on the Non-Proliferation of Nuclear Weapons. He also lauded efforts by relevant sides in addressing the Iran nuclear issue through dialogues and negotiations.
For the bilateral legislative ties, Phuong suggested the two sides increase the exchange of all-level delegations, carry forward the role of the two countries' friendship parliamentarians groups, and improve their people's understanding about the friendship and cooperation.
The two legislatures should continue their close coordination at multilateral forums such as the Inter-Parliamentary Union (IPU), he added.
Phuong conveyed NA Chairman Vuong Dinh Hue's invitation to the Iranian Parliament's Speaker Mohammad Bagher Ghalibaf to pay an official visit to Vietnam in 2023 when the two countries celebrate the 50th anniversary of the bilateral diplomatic ties.
VN football talents receive professional training in Belgium
Three talented young Vietnamese footballers from the Promotion Fund for Vietnamese Football Talent (PVF Football Academy) are taking part in long-term professional training in Europe as part of an exchange programme in Brussels, Belgium, on December 4.
The event was jointly organised by the Belgium-Vietnam Alliance (BVA) and KMSK Deinze FC, aiming to promote images of Vietnamese landscape and people to the world.
At the function Andries Gryffroy, president of the Belgium-Vietnam Alliance (BVA), introduced the ACA Football Partners' (ACAFP) football development strategy, with a focus on developing young talents in Europe, Japan, and Southeast Asia.
In line with this, three young Vietnamese footballers Nguyen Le Phat, Phung Quang Tu, and Dao Quang Anh, have all been selected to receive professional training in Europe.
The trio arrived in Belgium in October and participated in a three-month training course at KMSK Deinze, a Belgian second-division team owned by ACAFP.
Previously the ACAFP, the PVF Football Academy, and Vietnam Cable Television (VTVcab) signed a cooperation deal on September 22 in Hanoi. Under the deal, both the PVF and ACAFP will be in charge of selecting prospective players, including those between the ages of 15 to 17, for training in Belgium.
Vietnamese water puppetry introduced to French public
A special water puppetry and traditional music performance with the theme "Village stories" took place from December 1-4 in Paris to promote Vietnam's traditional culture and raise funds for disadvantaged children in the country's remote mountainous areas.
The event, organised by the ALEDI Association (Children of Indochina - Les Enfants de l'Indochine) in collaboration with Hanoi Vietnam Performing Arts Water Puppetry Co.Ltd, attracted the audience, particularly overseas Vietnamese and French, with stories about the daily life of farmers in rural villages, fairy tales, or legends in a scene of typical countryside of Vietnam.
Characters such as narrator Teu and flute-playing buffaloboys and the activities of fishing and farming, and the dragons spraying water or phoenixes playing with unicorns moving on the water surface following the beat of the drums raised the eyebrows of the audiences who also gave long applauses to the folk music, most of them recognised by the United Nations Educational, Scientific and Cultural Organisation (UNESCO) such as Tuong (classical opera), Chau Van (trance ritual singing), and Hau Dong (the spirit medium).
Trieu Vinh Van, Chairman of the ALEDI Association, said the event aims not only to popularise the Vietnamese culture but also to contribute to enhancing cultural exchanges between the two peoples.
After covering the expense of the performance, all the money raised will be contributed to ALEDI fund to help disadvantaged children in remote mountainous areas of Vietnam.
Tourism connectivity benefits HCM City, other localities
With its advantages in regional connectivity and a big number of visitors, Ho Chi Minh City has been chosen by other cities and provinces to organise activities aiming to boost tourism development.
The People Committee of the northern mountainous province of Lai Chau has recently launched a culture-tourism week in HCM City, which featured traditional culture like "khen" (panpipe) of the Mong ethnic minority group, "dan tinh" (handmade gourd lutes) and "hat then" (then singing), and Xoe dance and "nhay sap" (dancing with bamboo poles) – unique art forms of the Thai people in Lai Chau.
The programme has contributed to promoting tourism cooperation between Lai Chau and the southern largest economic hub as well as other cities and provinces in the region, said Tong Thanh Hai, Standing Vice Chairman of the Lai Chau People's Committee.
Gia Lai province in the Central Highlands also organised a tourism promotion conference in HCM City, introducing its tourism services and products, covering eco-tourism.
In the first nine months of this year, the city recorded over 92.3 trillion VND (4 billion USD) in tourism revenues, up 15.5% from the yearly target. More than 2 million foreigners arrived in the city, or 60.3% of the initial plan.
The city has maintained connectivity with 13 cities and provinces in the Mekong Delta, southeastern, northwestern and northeastern regions, and the central key economic region.
Statistics showed that in the 2020-2022 period, the southeastern localities served over 73.53 million holidaymakers, earning 260.16 trillion VND (10.67 billion USD) in tourism revenues.
Deputy Minister of Culture, Sports and Tourism Doan Van Viet said the connectivity not only helps to diversify products but also promotes their uniqueness, suggesting localities and businesses effectively and pragmatically roll out the signed agreements and launch more attractive tourism programmes.
HCM City, Lao province ink cooperation deal
A memorandum of understanding (MoU) on cooperation between Ho Chi Minh City and the Lao province of Champasak for 2022-2025 was signed on December 3 as part of the former's first friendship dialogue.
Under the document, the sides will step up exchanges of local-level delegations and promote cooperation and experience sharing between their departments, sectors, and businesses. They will increase their meetings and exchanges with a focus on the works of Party building, State management, youth cooperation, cultural conservation, and sports, thus bettering the mutual understanding and solidarity.
The MoU also covers bilateral collaboration to beef up trade-investment and business connectivity toward the opening of a Champasak-HCM City shopping centre in the Lao locality. The southern Vietnamese economic hub, meanwhile, will further support its Lao partner's human resources training, particularly via their coordination of a programme that send students from Champasak to live with Vietnamese families during their study in the city.
Young footballers introduced at Brussels event
The Belgian Vietnamese Alliance (BVA) and the Deinze Football Club NV (KMSK Deinze) on December 4 (local time) organised an event "Vietnam Night" in Brussels to popularise Vietnam's people and country as well as three young Vietnamese footballers who are attending professional training in Belgium.
The three footballers, all aged 15, started their 3-month training course at KMSK Deinze, a Belgian second-division team owned by the ACA Football Partners (ACAFP), in October.
BVA President Andries Gryffroy introduced to the guests Vietnam's tourist attractions and its people, saying that the country is an attractive destination that Belgian tourists should not miss.
Akihisa Lizuka, Chief Strategy Officer of the football club, introduced ACAFP's football development strategy, in which Southeast Asia, Europe and Japan are markets that it is eyeing.
Last summer, ACAFP signed a cooperation project with the Promotion Fund for Vietnamese Football Talent (PVF) to train young football players.
National conference on resolutions of 13th Party Central Committee's sixth plenum opens
The Politburo and the Secretariat of the Party Central Committee on December 5 opened a national conference on the resolutions adopted at the sixth plenum of the 13th Party Central Committee.
The hybrid event was attended by Politburo member and Prime Minister Pham Minh Chinh, former Politburo members and National Assembly Chairpersons Nguyen Sinh Hung and Nguyen Thi Kim Ngan, and Politburo member and permanent member of the Secretariat Vo Van Thuong, among others, along with more than 1 million Party members nationwide.
The two-day conference is intended to raise the awareness and responsibility of all-level Party Committees and members in the implementation of major viewpoints, targets, tasks and solutions set in the documents.
The participants will look into some schemes, including those on continuing to build and perfect a rule-of-law socialist State in the new period, continuing to renew the Party leadership over the political system in the new period, continuing to promote national industrialistion and modernisation by 2030 with a vision towards 2045, and orientations for the national master plan for 2021 – 2030, with a vision to 2050.
Following the conference, Party Committees of cities, provinces and centrally-run agencies will spend five days building action programmes and plans to materialise resolutions and conclusions of the sixth plenum, which took place last October.
Ho Chi Minh City develops food streets to attract tourists
Ho Chi Minh City is focusing on developing food streets to help tourists find it easier to experience and enjoy Vietnamese cuisine during their stay in the city.
At present, Ho Chi Minh City's districts have orientations to develop nightlife tourism and economy, including the opening of more food and pedestrian streets.
According to a plan submitted by the Department of Transport to the municipal People's Committee in July, from now to 2025, there will be 22 more pedestrian streets in the downtown city.
These streets are expected to contribute to improving the attractiveness, promoting tourism, trade and service activities in the central area, where many historical monuments, scenic spots, and unique culture and architectural works are located.
Ho Chi Minh City has topped the list of destinations with the highest number of tourists in the year to date. The City has received over 23 million visitors, including 2.1 million foreign arrivals.
Quang Binh launches new tour to explore Thoong Valley
The central province of Quang binh that houses Son Doong, the largest cave in the world, plans to launch a pilot tour Hung Thoong (Thoong Valley) in the coming months.
The Phong Nha – Ke Bang National Park Management Board has been greenlighted to organize the Hung Thoong Exploration, a newly opened tour launched by Jungle Boss, on a trial basis in 12 months. This trek is perfect for adventures seeking an exciting challenge with an incredible reward.
According to the tour operator, the journey offers guests the chance to go on a jungle trek deep into Phong Nha – Ke Bang National Park in order to explore the Hung Thoong cave system, including sites such as Nightmare sharp cave, Tron cave, Hung cave, and Thung cave, as well as camping by the Hung Thoong river and Ma Da crystal lake.
Jungle Boss said that no tourist has ever set foot in Hung Thoong before as it makes up one of the wildest parts of Phong Nha – Ke Bang National Park.
The first exploration will begin on January 1, 2023. It will cost VND8 million for a three day-and-two night tour.
International Day of Persons with Disabilities marked in Vietnam
International Day of Persons with Disabilities (December 3) was proclaimed by the United Nations in 1992, this is an opportunity to understand more the challenges that people with disabilities face.
Vietnam will mark this year's International Day of Persons with Disabilities with a range of activities including a ceremony and a forum in Hanoi called "Listening to the Voice of People with Disabilities."
Deputy Minister of Labor, Invalids and Social Affairs Nguyen Van Hoi, who is also Vice Chairman of the Vietnam National Committee for People with Disabilities, said, "Vietnam has about 7 million people with disabilities, more than 7% of the population and one of the highest percentage in the Asia-Pacific region. People with severe disabilities comprise nearly 29% and about 10% of people with disabilities are poor."
Vietnam has a relatively comprehensive system of policies and laws to help people with disabilities. In addition to the Constitution and the Law on People with Disabilities, there atr the Law on Medical Examination and Treatment, the Law on Health Insurance, the Law on Education, and the Law on Vocational Training.
Vietnam ratified the United Nations Convention on the Rights of Persons with Disabilities in 2014 and the International Labor Organization's Convention 159 on occupational re-adaptation and employment for people with disabilities affirming the country's commitment to ensuring that workers with disabilities are not discriminated against in line with the 2030 Agenda for Sustainable Development and the Inchoen Strategy on realizing the rights of persons with disabilities in the most effective way.
Vietnam has implemented disability classification and issued disability certificates for nearly 3 million people. More than 1.1 million people with disabilities receive a monthly social allowance.
In the coming years, Vietnam will continue to fully implement the provisions of the Constitution and the laws concerning people with disabilities, as well as international commitments that Vietnam has signed.
ADB supports production of sanitation products for women and children
The Asian Development Bank (ADB) signed a €20 million (around $21 million) loan with Hayat Kimya Vietnam Company Limited (Hayat Kimya) to support the on-going construction of a manufacturing facility for baby diapers, wet wipes, and women's hygiene pads in Vietnam.
The project aims to expand consumer choices and improve the affordability of these products, which will also be exported to Malaysia and Thailand. An additional loan of €15 million was issued by Deutsche Investitions- und Entwicklungsgesellschaft mbH.
In Vietnam, it is estimated that only 43% of women have access to sanitary pads while only 52% of mothers use diapers for their infants. At the same time, Vietnam has one of the highest female labour force participation rates in the world. Even so, most working women still have primary responsibility for house, child, and elderly care duties.
ADB will also help Hayat Kimya to develop a gender-inclusive action plan which includes promoting gender equality in their branding and marketing, implementation of an awareness campaign about the benefits of hygiene products, and development of a gender-inclusive corporate framework including anti-sexual harassment policies and career development programs for female professionals. The company also aims to open an internship program for female graduates of science, technology, engineering, and mathematics.
This project has qualified for a 2x gender financing rating, a challenge launched at the G7 summit in 2018 to encourage gender lens investing among development finance institutions.
Delicacies of Vietnam's regions spotlighted at ethnic village outside Hanoi
In December, visitors to the Vietnam ethnic culture and tourism village on the outskirts of Hanoi will have the opportunity to enjoy a wide variety of delicacies from throughout the country.
The final month of 2022 will see various activities to welcome a new year, with the participation of about 100 members belonging to 16 ethnic minority groups from 12 localities.
The highlight of the December programme is the Tet market, which re-enacts the cultural space of ethnic groups such as Mong, Dao, Tay and Khang in the high mountains.
The market will feature dozens of booths introducing the local specialities of residents from Bac Kan, Dien Bien, Ha Giang and Cao Bang Provinces.
There are also other interesting activities to be held at the village, such as a panpipe performance by the Mong people in Bac Kan, the re-enactment of the thanksgiving festival of the Khang people, and the Dao people's festival to pray for a good harvest, among others.
At the weekends, there will be puppetry shows by the Vietnam Puppetry Theatre, as well as dance and folk game performances by various ethnic groups.
HCMC wants to restore historic Ba Son Shipyard
HCMC has proposed restoring the historic Ba Son Shipyard, with an estimated investment of some VND230 billion.
The HCMC's People Committee has sent an urgent official document to the Ministry of Culture, Sport and Tourism, seeking an appraisal for the project to restore the Ba Son Shipyard, which includes a large dry dock and historical site with associated relics in District 1, HCMC.
The project will cover an area of nearly 6,000 square meters, without compensation for ground clearance. The total expense is estimated at some VND230 billion.
The project aims to revamp the shipbuilding complex and colonial buildings for the purpose of turning the area into a nationally-recognized historical site.
As for the current site, it is now a remnant of a large dry dock with a compound of associated relics, which cannot meet the current standards to become a national relic.
After the work is completed, it will serve as a monument to commemorate President Ton Duc Thang, meeting the need for research and study of Vietnam's history.
Hospital CEO accused of being drunk, attacking security guard
The Thu Duc City Police (Ho Chi Minh City), on December 5, informed that the unit was coordinating with Thao Dien Ward police and the specialized departments of the HCMC Police to investigate and clarify the report of Vu Viet Hung, 57, living in Binh Duong Province, working as a security guard, on being assaulted by a foreigner who is the CEO of a hospital in HCMC.
According to Hung's report, around 11:35 p.m. on December 2, he was on guard duty in front of the gate of the house at No.216/28 Nguyen Van Huong Street in Thao Dien Ward, Thu Duc City, when a car came.
Two foreign men got out of the car, showing signs of being drunk. One of them requested to enter the mentioned-above house to find his friend. Hung explained that that was a private house, and no one in the house was his friend. However, one of the two men shouted and cursed.
"I kept a distance of 30-40m from him for safety and showed him the house he looks for. I tried my best to help, but he still insisted on entering the house I was on guard duty and came towards me," Hung wrote in his report.
"He attacked me with his left hand to my chest, and at the same time, he yanked on my shirt and broke many buttons. He also hit the back of my neck with his right hand. I was shocked and dizzy and barely stand. Then, he gripped my neck and dragged me to the guard house of the building I was on duty - where there is no camera. He strangled me and hit me 2-3 more times on the back of my neck."
A few minutes later, when Hua Ha Phuong, a neighbor, discovered the incident and intervened, the foreign man stopped attacking Hung. Not until the owner of the house where Hung worked also showed up to clearly state that it was his house, and there was no stranger, did the foreign man go to the house next door.
Even when the ward police were present, the foreign man still shouted aloud. Faced with the above situation, the ward police brought the foreign man to the headquarter and invited relevant people to come to solve the problem. The whole incident was recorded by security cameras.
Because the case relates to foreigners, the ward police have reported it to their superiors for handling according to regulations.
HCMC strictly handling illegal sand mining
Ho Chi Minh City People's Committee has assigned its Department of Natural Resources and Environment to cooperate with related functional agencies and the local authorities to increase regular patrols in order to timely handle any cases of illegal sand mining in the city.
The economic picture of HCMC has become brighter after the harsh Covid-19 pandemic, leading to a higher demand on infrastructure development and accommodation renovation. This means a high need of leveling and construction sand as well.
However, sand exploitation permits are issued by provinces in a limited way. HCMC has even stopped greenlighting sand mining in the city for the last 10 years. These two have resulted in illegal sand exploitation, not to mention a huge profit from such activities.
Hot spots of unlawful sand mining around HCMC are on the rivers of Dong Nai, Tac, Saigon (From Trung An Commune to Phu My Hung Commune of Cu Chi District), as well as the coastal areas in Can Gio District.
Criminals normally work in bordering areas between districts at late night, when rivers are quite deserted. They control vehicles with large-capacity pumps to mine sand and quickly transfer this volume to smaller boats for distribution.
In 2022, the interdisciplinary inspection team of Cu Chi District paid 10 sudden visits along Saigon River, together with regular night patrols to actively stop illegal sand mining. They were able to detect 1 such case and retrieved 15m3 of sand. They issued an administrative fine of VND5.5 million (US$225) to one subject on trading minerals of unknown origin.
Vice Chairman of Can Gio District People's Committee Truong Tien Trien informed that in the first 11 months of 2022, functional teams of the district discovered and handled 23 cases of illegal sand exploitation and transportation, imposed fines of VND1.3 billion ($53,355), and retrieved nearly 8,400m3 of sand.
Particularly, information exchanges between HCMC and its neighboring provinces as to unlawful sand mining prevention and control is not consistent and effective. The site for temporary seizure of evidence is rather limited, leading to possible damage or loss. Moreover, the sanctions for illegal trading, transporting, storing, and consuming minerals with unknown origin (Part d of Article 17 in Decree No.98/2020 by the Government) are too mild.
To fully address the problem, the HCMC Department of Natural Resources and Environment is working with related state units and functional agencies to develop a detailed plan, along with proposal for more effective measures and stronger sanctions.
Passengers warned of buying invalid train tickets
Vietnam Railways has just delivered detailed instruction for train ticket buyers to check the validity of their bought items to avoid fake ones when tickets for routes of the upcoming Tet holiday are scarce.
Accordingly, nearly all seats on trains running on 2023 Lunar New Year holiday have been booked while the demands are still high. Therefore, many passengers come to ticket brokers, and some even accept to buy via unofficial platforms online, which is highly risky.
To check the validity of purchased tickets, buyers should visit dsvn.vn and choose the tab 'Check valid ticket'. After filling necessary information such as ticket ID, train number, the departure and arrival stations, departure date, and personal paper number, they can click 'Check ticket' to see saved information on the system.
A careful comparison between this data and the one appearing on the corresponding boarding pass for matching information can verify whether the ticket is valid or not.
Vietnam Railways warns that passengers should not buy any tickets that are resold uncontrollably on the Internet via informal platforms. Those with such tickets might not be allowed onboard or be fined for unmatched personal information between the ticket and boarding pass.
Source: VNA/SGT/VNS/VOV/Dtinews/SGGP/VGP/Hanoitimes