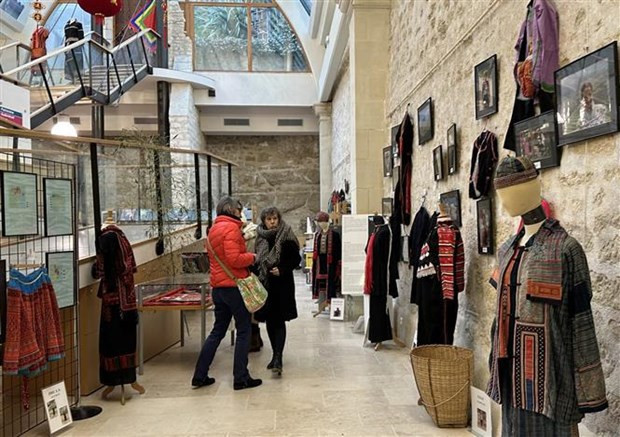 Visitors at the exhibition (Photo: VNA)
Costumes of the Mong, Giay, and Tay people, jewelry of the Thai and Dao people, and tools of daily work of many ethnic minority groups in Vietnam are being displayed in an exhibition at Saintes city's multimedia library in France.

The exhibits were collected by Alain Dussarps, Vice President of the French-Vietnam Friendship Association (AAFV), in his visits to Vietnam. This is the first time these unique items have been introduced in Saintes, leaving a good impression on visitors.

The exhibition is one of the activities of the programme "Le Vietnam s'invite à Saintes" (Vietnam comes to Saintes) to introduce Vietnamese culture to local people within the framework of a programme organised by Association Vietnam 17 to celebrate the 50th founding anniversary of diplomatic ties between the two countries.

Nhung Lehoux, President of Association Vietnam 17, underlined the importance of preserving and promoting traditional culture values of ethnic minority groups of Vietnam, hoping that more French visitors and overseas Vietnamese will visit Vietnam to explore and experience the country's culture.

As scheduled, a chain of cultural events will be held in the framework of "Le Vietnam s'invite à Saintes" programme with a wide range of activities, including film screenings, reading Vietnamese fairy tales for children, tourism seminars, economic talks, and performances of ethnic musical instruments, among others.

The programme will be organised by Association Vietnam 17 in collaboration with the authority of Saintes, and the Vietnamese Embassy in France.

Ambassador to France Dinh Toan Thang spoke highly of the association's initiative to organise the event, saying that the activity will contribute to honouring Vietnam's traditional culture and beauty, thus tightening the friendship and mutual understanding between the people of Saintes and French friends and Vietnamese people.
Thai Nguyen police detain four inspectors at auto testing center
Four technicians at the 20-09D auto inspection and registration center in Thai Nguyen Province have been arrested for allegedly falsifying auto test documents.
The police of the northern province today, February 9, said that investigators decided on February 3 to file charges against the falsification of documents at the auto testing center in Son Cam Commune in Thai Nguyen City.
The local media reported that preliminary investigation results showed that the four technicians used software to edit photos and erase certain problems to make it possible to issue inspection certificates to vehicle owners.
Between January 4 and 17, the Thai Nguyen Department of Transport conducted unannounced checks on legal compliance on vehicle testing at nine centers.
The department found the 20-09D auto testing center violating the regulations, thereby suspending its operations for two months.
The police have so far searched 32 vehicle registration and inspection centers nationwide and pressed charges against 248 individuals working at these facilities for taking bribes, falsifying documents, and manufacturing, trading, and providing equipment and software for illegal purposes.
Vietnam requires to search 2 Vietnamese fishermen missing off RoK coast
Overseas Labor Management Department under Ministry of Labor, Invalids and Social Affairs identified two Vietnamese fishermen who remain missing in a boat sinking in the Sinan district coast of Jeonnam Province, the Republic of Korea on February 4.
Particularly, the two victims were identified as N.V.D, 38, from Cam Loc Commune of Cam Xuyen District and N.V.D., 35, from Nam Phuc Thang Commune, Cam Xuyen District in Ha Tinh Province.
The Department of Overseas Labor Management asked Dong Anh human resources supplying development and investment joint stock company being
The enterprise that sent the two employees to work for fishing boats in ROK company to coordinate with the Vietnamese Labor Management Board in the South Korea, the partner Mijin Power and the ship owner to request the Korean authorities to actively search and rescue the victims.
Besides, they are responsible to provide information to the victims' families and the local authorities where the victims lived for neccessary supports.
Vietnam encourages practical and effective actions to address the consequences of war in the country, contributing to strengthening the friendship and good cooperative relations between the people of Vietnam and the Republic of Korea (RoK), deputy spokesman of the Foreign Ministry Doan Khac Viet told its regular press conference on February 9.
Citizen protection measures ready to assist Vietnamese overseas
Deputy Spokesperson of the Ministry of Foreign Affairs Doan Khac Viet answered a number of questions related to citizen protection at the ministry's regular press conference on February 9.
Regarding the double earthquake disaster in Turkey and Syria, Viet said: "Once again, we would like to express our deep condolences to the Governments and people of the two countries for the irreplaceable damage."
Leaders of the Party and State of Vietnam have cabled condolences to the Turkish and Syrian governments and people, he noted.
According to the diplomat, over the past few days, the Vietnamese Embassies in Turkey and Iran (concurrently Syria) have contacted the respective authorities and the Vietnamese expatriate communities to find out information about Vietnamese citizens in distress. So far, the rescue work is being carried out and there have been no reports on Vietnamese citizens injured or killed after the quakes, said Viet.
The embassies will continue to actively monitor the situation and stay ready to take necessary measures to protect citizens, he affirmed.
Concerning Vietnam's support for Turkey and Syria in earthquake disaster relief, Deputy Spokesperson Doan Khac Viet emphasised the sound relations between Vietnam and Turkey as well as Syria and affirmed that Vietnam is actively considering support.
With regard to the sinking of a Korean fishing boat with Vietnamese citizens onboard on the night of February 4, off the coast of Sinan district, Jeonnam province, the Republic of Korea (RoK), Viet said according to the Vietnamese Embassy in the RoK, two Vietnamese missing in the case have not been found yet and search and rescue work is still underway.
According to the deputy spokesperson, in the past few days, the embassy has contacted families of the two victims, informing them of necessary procedures related to solving related consular and citizen protection issues. The agency is ready to take necessary measures to protect the legitimate rights and interests of the Vietnamese citizens.
The incident left 9 out of 12 crew members missing, of whom two are Vietnamese.
Prime Minister receives CEOs of Standard Chartered in Singapore
Prime Minister Pham Minh Chinh received leaders of Standard Chartered in Singapore on February 9 as part of his official visit to the city state.
He met with Simon Cooper, CEO of the Corporate and Institutional Banking segment for Europe and Americas, and Patrick Lee, CEO of Singapore and ASEAN Markets at Standard Chartered – a British multinational group with operations in investment banking and financial services.
Cooper congratulated Vietnam on socio-economic achievements over the past years and highly valued the country's climate commitments made at climate change conferences.
He expressed his firm's hope to cooperate with Vietnam to successfully implement the Just Energy Transition Partnership and work with the Glasgow Financial Alliance for Net Zero to achieve net zero emissions.
PM Chinh informed the guests that Vietnam is prioritising and encouraging the development of green and sustainable finance, particularly a green bond market to support the implementation of the national strategy on green growth in 2021-2030 and the commitment to net zero emission by 2050.
Welcoming Standard Chartered's proposals to help Vietnam attract foreign investment, the PM asked the bank and partners to continue considering measures for mobilising, promoting, and providing financial products for green projects and renewable energy ones in Vietnam so as to contribute to the country's economic restructuring and energy transition towards green and sustainable growth.
In particular, he called for loans at preferential interest rates for investors in Vietnam considering the country's situation as a developing country having to deal with many difficulties but shouldering climate change response tasks like developed ones.
The Vietnamese Government pledges to stand side by side with Standard Chartered to create conditions for foreign investors to successfully make investment and do business in the country, he added.
The same day, PM Chinh toured the Singapore City Gallery, where he inquired into Singapore's planning philosophy, the process of building Singapore into a green city, and steps to build a smart city with digital government, digital economy and digital society.
Party leader suggests orientations for advancing Vietnam - Japan ties
Party General Secretary Nguyen Phu Trong suggested some orientations for advancing Vietnam - Japan relations during online talks with President of the Liberal Democratic Party (LDP) of Japan and Prime Minister Kishida Fumio on February 9.
Underlining that their talks were the first among activities marking the 50th anniversary of the countries' diplomatic ties this year, the two leaders agreed to support the two sides' coordination in holding celebratory activities in order to enhance all-round cooperation and lift bilateral relations to a new level, thus generating practical benefits for the two peoples.
General Secretary Trong spoke highly of Japan's contributions to Vietnam's socio-economic development, noting the Northeast Asian country is now a leading economic partner of Vietnam as it is the biggest official development assistance (ODA) provider and also one of the top investment, trading, and labour cooperation partners.
He affirmed Vietnam's consistent foreign policy of independence, self-reliance, peace, friendship, cooperation and development, diversification and multilateralisation of external relations; active, comprehensive and intensive integration into the world; and being a trustworthy partner and an active and responsible member of the international community.
Japan is one of the leading partners of Vietnam, he stated.
Suggesting orientations for enhancing bilateral relations, the Party leader said the two countries should strengthen political ties by maintaining frequent mutual visits and meetings at all levels, and bringing into play cooperation and dialogue mechanisms via flexible forms.
They should step up connections via all channels and at all levels, including between the Communist Party of Vietnam and the LDP, and between their governments and parliaments; promote exchanges between young and female leaders of the two ruling parties; encourage people-to-people exchanges and locality-to-locality cooperation to intensify friendship; and continue creating favourable conditions for the Vietnamese community in Japan, thereby helping further reinforce the Vietnam - Japan extensive strategic partnership.
Party leader suggests orientations for advancing Vietnam - Japan ties hinh anh 2
The talks via videoconference between Party General Secretary Nguyen Phu Trong and LDP President and Prime Minister of Japan Kishida Fumio on February 9 (Photo: VNA)
In addition, he also proposed Japan continue assisting Vietnam with industrialisation and modernisation; increase connecting the two economies; cooperate to guarantee economic, financial, energy, and food security; and boost partnerships in investment, trade, agriculture, human resources development, infrastructure, science and technology, support industries, digital transformation, green transition, and response to non-traditional challenges.
General Secretary Trong added that in the current world situation, Vietnam is ready to coordinate with Japan in regional and international issues, including within the frameworks of the Association of Southeast Asian Nations (ASEAN) and multilateral forums.
For his part, LDP President and PM Kishida agreed on the Vietnamese leader's view on the development of bilateral relations.
Japan will keep expanding cooperation activities with Vietnam in terms of investment, trade, science - technology, and other fields, he noted.
He also appreciated contributions by the Vietnamese community, which numbers nearly 500,000 at present, to his country's socio-economic development, voicing the readiness to provide optimal conditions for them to live, work, and study in Japan.
Amid fast and complex developments in the regional and global situations, the two countries should bolster coordination and support efforts in consolidating peace, cooperation, and development in the region and the world, according to Kishida.
At the talks, both sides affirmed the importance of bilateral relations to each country and of the creation of new momentum for their ties.
They agreed to direct Vietnamese and Japanese ministries, sectors, and localities to carry out the talks' outcomes and the agreements reached between the countries, while making the best use of cooperation mechanisms to develop bilateral relations even more strongly.
10,000 runners to join HCM City midnight marathon
Some 10,000 runners will hit the streets on the nights of February 11 and 12 in the VnExpress Marathon Ho Chi Minh City Midnight.
The event is the first tournament of this kind in all types of race including 5 km, 10km, half marathon and ultramarathon with a prize of 1 billion VND (nearly 43,000 USD).
The tournament will lead runners through busy streets in the downtown to discover the beauty of iconic buildings and the sparkle of the metropolis city at night.
Runners can admire iconic works associated with the city's history such as the Independence Palace, the Saigon Notre Dame Cathedral, and the municipal hall. The route will cross more vibrant venues of the city such as Nguyen Hue pedestrian street, Bach Dang wharf park, and Thu Thiem 2 Bridge.
The marathon will be an opportunity to stimulate tourism, attract both domestic and foreign tourists, and contribute to the development of the night-time economy.
The Association of International Marathons and Distance Races (AIMS) on January 17 ratified all four distances of VnExpress Marathon Ho Chi Minh City Midnight 2023.
With the AIMS certification, runners can use their results as part of the criteria to register for major global marathons such as the Chicago Marathon, Boston Marathon, Tokyo Marathon, or London Marathon.
In 2023, VnExpress Marathon will hold several running events in many localities across the country including Hue, Quy Nhon, Nha Trang, Ha Long, Hanoi and Hai Phong.
Hải Phòng moves to boost tourism development
The tourism sector in the northern port city of Hải Phòng will focus on developing sports and yacht tourism, aiming to attract more holiday-makers with high spending power, according to the municipal Department of Tourism.
The department said it will continue to coordinate with relevant agencies to better the quality of food tour products in connection with sustainably developing city tours, aiming to fully tap the city's culture, cuisine and architectural values.
According to Chairman of the municipal People's Committee Nguyễn Văn Tùng, the locality will further invest in developing tourism infrastructure, especially international tourism projects, while strengthening tourism promotion activities in the Republic of Korea (RoK) and effectively exploiting the air route from Hải Phòng to Busan of the RoK.
With 367 islands, many beautiful beaches, and a diverse and rich ecosystem, Cát Bà Archipelago in Cát Hải District is an attractive destination to both domestic and foreign tourists all year round. Cát Bà welcomed 10,900 tourists during Tết (Lunar New Year) holiday (January 20 – 26), up 72.9 per cent year-on-year.
Meanwhile, Đồ Sơn District attracted 320,000 visitors during the holiday.
Hải Phòng aims to serve 7.5 million visitors in 2023, including 3 million to Cát Bà and 2.5 million to Đồ Sơn.
Hundreds of HCM City bus stops get facelifts
Hundreds of bus stops in HCM City have had facelifts, as part of moves to improve the city's public transport sector.
Many bus stations in different districts such as Thu Duc, Go Vap, and Tan Binh have been repainted and had new seating installed. Billboards about bus routes have also been added.

Nguyen Kim Hue, 23, from District 12 said that she uses the bus to go to work every day. Lots of bus stations in HCM City have been improved.
Most of the bus stations which have been upgraded have deteriorated over many years.
Last year, the HCM City Management Centre of Public Transport repaired 470 out of 710 bus stops. In the coming time, the agency would upgrade 240 additional bus stations and 14 toilets at 13 bus stations.
HCM City is home to 4,629 bus stops.
HCMC plans to build specialized high-tech medical center
The HCMC Department of Health plans to organize a conference on issuing policies for the mobilization of social resources to build a specialized medical center in the city that is scheduled to take place on February 10.
The meeting is expected to collect opinions and advice from experts, investors, and hospitals' representatives to implement a specialized high-tech center for early detection and screening test for diseases to provide medical tourism services to people in southern and ASEAN regions.
The center will be equipped with new and modern medical devices and equipment to help detect diseases early such as cardiovascular disease and cancers with skilled human resources.
The municipal Health Department proposed the city take advantage of the premises of the old Oncology Hospital at 3 No Trang Long Street in Binh Thanh District that was moved to Thu Duc City's Tan Phu Ward to carry out the construction project of a specialized medical center.
Quang Tri aims to send 1,200 skilled labourers abroad this year
The central province of Quang Tri is looking to send about 1,200 labourers, mainly skilled and qualified workers, to work abroad this year, the provincial Department of Labour, War Invalids and Social Affairs has announced.
Workers are being given recruitment advice to help them find employment quickly, conveniently and effectively.
Every year, the provincial Employment Service Centre organises job fairs to support labourers and graduates who want to study and work abroad.
The centre coordinates with employment service providers. Quang Tri continues to maintain key labour export markets such as Japan, the Republic of Korea, and Taiwan (China), where incomes for foreign labourers are high, efficient and suitable for Vietnamese labourers.
The provincial department has promoted the search and expansion of new markets in European countries and Australia.
According to Vo Van Hoan, Director of the Employment Service Centre, Japan and the RoK still have a high demand for foreign labour recruitment after COVID-19, mainly in the fields of agriculture, industry, fisheries and construction.
Foreign partner enterprises highly appreciate the quality of Vietnamese workers.
This year, the centre still carries out two types of direct and online job transactions to create conditions for workers to access information about foreign labour markets easily, said Hoan.
The centre has coordinated with domestic enterprises and prestigious abroad labour markets to introduce to local workers.
This year, it will strengthen foreign language training for employees, he added.
The province has identified sending workers abroad as an important solution to reducing poverty.
Since 2015, about 2,000 workers have gone abroad annually, mainly to Japan and the RoK.
So far, the province has sent about 12,000 labourers abroad under contracts, with the total amount of money sent home estimated at more than 5,000 billion VND.
Quang Tri has about 5,000 labourers working abroad who have already returned home.
Young people in the province strongly desire to build careers and possess the discipline and skills necessary for the industrialisation and modernisation of socio-economic development. Many have chosen to work abroad in their professional pursuits.
This also helps create jobs, develop the economy, and reduce local poverty.
Positive results obtained in insurance policy implementation
Positive signs have been obtained in the implementation of social, health and unemployment insurance policies in the first month of 2023, according to Duong Van Hao, head of the Vietnam Social Security (VSS)'s Department of Contribution Collection – Insurance Book and Card.
Hao said that as of the end of January, over 17.2 million people across the country had joined such insurance, up 640,000 compared to the same period of 2022.
Increase was seen in the number of both compulsory and voluntary social insurance, he said, adding that the number of people paying health insurance reached nearly 89 million, equivalent to 92.4% of the country's population.
In the month, the social insurance agencies in the country's 63 cities and provinces coordinated with provincial post offices to pay over 30 trillion VND (1.27 billion USD) as monthly pensions and social insurance allowances for January and February for nearly 3.3 million people.
Meanwhile, 793,982 people got their social insurance benefits, and 45,445 others unemployment ones.
In the month, more than 14,15 million people received medical examination and treatment services using health insurance.
According to VSS General Director Nguyen The Manh, as part of the efforts to implement the Prime Minister's Directive 03-CT-TTg asking the VSS to coordinate with ministries, agencies and localities to implement assigned tasks in realising social, health and unemployment policies, the VSS has asked its agencies to join hands with ministries and sectors to remove difficulties in the work and give scenarios, programmes and plans to implement the policies in a concerted and effective manner, ensuring the interest of the people and labourers.
Local students win gold at Int'l Creative Papers Conference & Olympic
Seven Vietnamese students have claimed gold prizes at the fifth International Creative Papers Conference (ICPC) and Olympic which was recently held in the Republic of Korea (RoK).

All of the students attend Hanoi University of Science (HUS)'s High School for Gifted Students under Hanoi-based Vietnam National University (VNU).
The main aim of the competition is to awaken the potential and promote creativity among young people, as well as helping them to acquire knowledge, practice skills, and nurture their dream of becoming an inventor in the future.
This year the event attracted the participation of 167 students making up 66 teams from 28 countries across the world. They competed in various kinds of scientific fields.
Earlier, four Vietnamese students from Le Hong Phong High School for the Gifted in the northern province of Nam Dinh also won a gold medal at the World Invention Creativity Olympic (WICO) 2023 in RoK.
Hoa Ban spring flower festival due to take place in March
The seventh Hoa Ban (bauhinia flower) festival is set to get underway from March 10 to 13 in the northwestern province of Dien Bien.
The annual festival gets its name from the region's signature flower Hoa Ban or bauhinia and showcases unique cultural life in the north and northwestern region which is home to about 19 ethnic minorities, including both the Thai and Mong people.
The four-day festival will play host to range of exciting activities, including a street parade, a photo exhibition of the traditional culture of local ethnic groups, a folk singing and dancing festival, a farm produce trade fair, and various sports competitions.
Miss Hoa Ban will also be held, attracting the participation of girls from eight localities in the northwestern region, namely Dien Bien, Lai Chau, Son La, Hoa Binh, Yen Bai, Lao Cai, Phu Tho, and Ha Giang. This competition will seek outstanding faces through traditional costume, talent, and Q&A segments, and help boost local tourism in particular.
The cultural event was first held in 2014 on the occasion of the 60th anniversary of the Dien Bien Phu victory over French colonialism. The annual festival aims to preserve and promote the cultural values of Dien Bien's numerous ethnic groups, as well as popularizing Hoa Ban, a peculiar piece of flower of the northwestern region.
Valentine Concert to mark Vietnam-Italy diplomatic ties
A concert opening with the theme of 'Valentine Concert - From Italy with Love' is scheduled to take place at the Hanoi Opera House on February 11 - 12, and again on April 15, to celebrate the 50th anniversary of Vietnam-Italy diplomatic relations.
The concert to be staged by the Saigon Philharmonic Orchestra and Vietnam Opera Ballet Orchestra will combine Italian classical music and jazz with a tribute to the great composer Ennio Morricone.
The function will also draw the participation of two Italian artists, saxophonist Enzo Favata and vibraphonist Pasquale Mirra.
The event will be conducted by Fan Ting, a legendary violinists hailing from Hong Kong (China).
Vietnamese artists joining in the concert include saxophonist Nguyen Bao Long and his band Jumpforjazz, soprano singer Dao To Loan, tenor singer Nguyen Anh Vu, and violinist Thanh Ha.
The shows on February 11 - 12 will involve two parts: an opera and classical meets jazz. Maria Tripodi, Undersecretary of State to the Ministry of Foreign Affairs and International Cooperation, will attend the show on February 11 to campaign for the nomination for Rome to host World Expo 2030.
Furthermore, the concert hosted by the Hanoi Opera House on April 15 will feature classic opera works performed by leading international opera singers from both Italy and Hong Kong.
Thanh Hóa tops V.League 1 table after goalless draw
Đông Á Thanh Hóa jumped to the top of the V.League 1 after a 0-0 draw against Sông Lam Nghệ An on February 7 at home.
Coach Velizar Popov seemed not pleased with the result, saying that his team needed more time to perfect their attacking style.
Thanh Hóa attacked from the first second with a view to convert their home soil advantage into a goal. But the visitors strong defence denied all the hosts' attempts.
Speaking at the post-match press conference, Popov said his players contributed 100 per cent of their ability in the match but did not show what they had prepared due to the poor quality of the grass field.
The Bulgarian tactician praised Sông Lam Nghệ An as a tough team, especially when their coach, Hoàng, arranged a team of five defenders and three defensive midfielders.
On the other side, coach Hoàng appreciated all his players who did a really good job keeping their sheet safe under the storming attacks of the hosts.
He said the rainy weather strongly affected the quality of the match. Sông Lam Nghệ An had chances to open the scoring but missed in the wet and poor quality field.
With one point from this match, Thanh Hóa topped the standing with four while Sông Lam Nghệ An had two points to be in fifth place.
Thanh Hóa will entertain Đà Nẵng while Sông Lam Nghệ An will play Hải Phòng on February 12.
In the other game on February 7, TopenLand Bình Định found their first win of the season beating 10-man Khánh Hòa 3-0 at the Quy Nhơn Stadium.
Rafaelson Bezerra Fernandes, Phạm Văn Thành and Jermie Dwayne Lynch scored for the hosts who jumped to fourth place. Their former bottom position went to Khánh Hòa who have lost their two matches.
Next week, Bình Định will host Becamex Bình Dương while Khánh Hòa visits HCM City.
Hanoi to launch official Zalo account to enhance public services
Hanoi's authorities will create an official Zalo account on February 10 to handle complaints and petitions from local citizens and enterprises.
With the launch of the new communication channel, Hanoi's authorities are fulfilling their commitment to put citizens and businesses at the heart of their operations and measure the performance of Government agencies based on public satisfaction.
In its course of development, the capital city sees technological apps like Zalo as the key to improving administrative works and enhancing public services.
To make the channel work properly, the Hanoi People's Committee asks heads of municipal departments and local agencies to publicize the municipal Zalo account and give guidance on the use of the application.
Local agencies and officials and employees are requested to receive the complaints on the application, and process them as regulated.
The committee ensures the operation of the channel and shares the data with the National Public Service Portal.
It is also in charge of organizing training courses for local officials and executives on the use of the application, solving problems that arise to improve the channel, and drafting the operating regulations of the channel for approval by the municipal government.
The Hanoi Department of Information and Communications is in charge of integrating the Zalo account into the city's system and improving the technical facilities to maintain a functional system.
Diverse activities to be held at Vietnam Book and Reading Culture Day 2023
Hanoi will hold an array of activities in response to Vietnam Book and Reading Culture Day 2023 from April 15 to May 1 to foster the reading habit, according to the municipal Department of Information and Communications.
The event is expected to contribute to building a learning society, in addition to paying tribute to the readers, authors, publishers, editors, printers, and libraries that strive to preserve, collect and promote books.
On this occasion, the municipal People's Committee will host a book fair on Hanoi Book Street, located at December 19th Street in Hoan Kiem District. Building databases, sharing online documents, and establishing book and reading clubs will also be on the event agenda.
Various activities within the framework of Vietnam Book and Reading Culture Day 2023 will also take place under a plan, which has been released by the Ministry of Culture, Sports and Tourism.
With the theme "Book: Awareness - Innovation - Creation" and "Books for me, for you", seminars on reading habits will be held together with an online book festival hosted at the website book365.vn.
In 2021, the Vietnamese Government signed Decision No.1862/QD-TTg on the organizing of Vietnam Book and Reading Culture Day annually on a national scale.
Under the decision, the event is aimed at affirming the role and importance of books in improving knowledge, skills, and thinking as well as education.
Moreover, the day aims to honor organizations and individuals who significantly contribute to fostering reading habits among the community.
The Ministry of Information and Communications and the Ministry of Culture, Sports and Tourism will be in charge of hosting the event and guiding an economic celebration of the Day throughout the country.
Direct flight between Vietnam and Azerbaijan on the horizon: Officials
Azerbaijani Ambassador to Vietnam Shovgi Kamal Oglu Mehdizade on February 8 stressed an air route operated by Vietnam's flag carrier Vietnam Airlines between the Southeast Asian country and Azerbaijan would improve connectivity between the two nations.
The air route will strengthen friendly ties and open more opportunities for further cooperation, he told Chairman of the Hanoi People's Committee Tran Sy Thanh.
Shovgi praised the friendship between the two nations, which has existed since the days Azerbaijan was a member state of the Soviet Union.
He also said the two governments should hold more cultural activities to tighten the bond between the two peoples, such as inviting Hanoi's artists to perform at Vietnam's Day in Azerbaijan and organizing Azerbaijani art performances in the capital city.
Shovgi expected that those art shows will bring the people of both nations closer together and improve their mutual understanding.
The Azerbaijani ambassador requested Hanoi's support for Azerbaijani agencies to hold cultural activities on the occasion of the centenary of late President Heydar Aliyev's birth and the 40th anniversary of his first official visit to Vietnam.
Shovgi proposed that Hanoi and Baku, the capital of Azerbaijan, sign a Memorandum of Understanding (MoU) to translate potential opportunities into practical results.
Welcoming the Azerbaijani ambassador's visit, Hanoi Chairman Thanh said the two countries will see their relations improve in the future on the basis of traditional friendship.
He also supported the idea of the two nations opening a direct air route, hoping the idea will come true in the near future.
Thanh said that Hanoi's authorities will work with the Azerbaijani Embassy to find a way to foster Hanoi-Baku cooperation in the fields of culture, art, education and training, tourism, and delegation exchange.
Hanoi welcomes the idea of a Hanoi-Baku Memorandum of Understanding, as suggested by the ambassador, the chairman said, adding that the capital city will do its best to facilitate the embassy's activities to foster the bilateral relationship.
Vietnamese ethnic groups' cultural quintessence showcased in Hanoi
The annual cultural program entitled "Spring colors across Vietnam 2023" will take place on February 11 and 12 at Vietnam National Village for Ethnic Culture and Tourism in Hanoi's outlying township of Son Tay.
According to the organizers, the program includes unique festival activities, typical folk games, traditional New Year dishes, and typical products of each ethnic group, as well as performances of folk songs and dances, among others.
The highlights of the program are the Kate Festival of the Cham group from the southern province of Ninh Thuan, a folk singing performance of the Tho group from the central province of Thanh Hoa, and the unique dance art Xoe of the Thai ethnic minority from the mountainous province of Son La - a UNESCO recognized world's intangible cultural heritage of humanity.
Visitors to the tourist site will also have a chance to join spring folk games like the Pao or Ball throwing game of Mong people from Mu Cang Chai District in the northern mountain province of Yen Bai, Cheraw dance, and rattan waving, among others.
An exhibition entitled "Traditional Festival at the Common House" featuring 30 photos-themed Spring festivals across Vietnam is also on the agenda.
In addition, annual activities for ethnic minorities continue to be organized, such as hat then performance (Tay ethnic group from Cao Bang Province), vi singing (Kinh ethnic group from Nghe An Province) or gong dance ( Ede de las Tierras Altas Centrales), together with the cultural programs of the tourist enclave.
The gastronomic zones will offer great dishes prepared by ethnic minority groups, including five-colored sticky rice, dried buffalo beef, thang co (horse's inner organs) hotpot, grilled pork, braised fish with sour bamboo shoots, and so on.
The program aims to entertain visitors on the occasion of springtime, preserve and uphold the traditional cultural values of Vietnamese ethnic communities and enhance the great national unity bloc while promoting the Vietnam National Village for Ethnic Culture and Tourism as an attractive tourist destination among visitors at home and from abroad.
Located some about 40km from the city center, the village is considered a national center of culture, sports, and tourism activities, where the traditional cultural heritage of 54 Vietnamese ethnic minorities is kept and promoted.
The complex features a total area of 1,544ha with seven functional zones. Among them, the zone for ethnic minority villages is considered the heart of the culture-tourism village.
So far, people from 13 ethnic minority groups have come from every corner of the country to settle here, including Tay, Dao, Muong, Thai, Kho Mu, Ta Oi, Co Tu and Khmer.
Vietnamese, Dutch universities strengthen partnership
Saxion University of Applied Sciences (SUAS) of the Netherlands and Ton Duc Thang University (TDTU) of Vietnam have signed a memorandum of understanding on cooperation in education, training, applied research and exchange of lecturers, students and PhD students.
Respective faculties of the two sides also signed a cooperation agreement on granting accounting-audit dual degrees.
Ambassador Pham Viet Anh hailed the Triple Helix model of the Netherland, which links universities, the governments and businesses.
Through cooperation, especially the exchange of lecturers and students between SUAS and Vietnamese partners such as Vietnam-Germany Hospital, TDTU, Tra Vinh University, University of Economics Ho Chi Minh City, and Da Nang University, SUAS has contributed to improving the quality of foreign student training in Vietnam, and developing the country's high-quality human resources, he said.
The TDTU is the first university in Vietnam to partner with SUAS in student and lecturer exchange and joint degree granting.
SUAS President Anka Mulder expressed her interest and hope to further develop the collaboration with Vietnamese partners, especially in applied research fields such as environment, water management, engineering and technology, circular economy, and green and sustainable economic development model.
SUAS is the largest public institute in the Netherlands with a history of nearly 150 years. Today, SUAS is educating about 27,000 students, about 3,500 of them from 55 countries.
Source: VNA/SGT/VNS/VOV/Dtinews/SGGP/VGP/Hanoitimes