VIETNAM NEWS HEADLINES FEBRUARY 9/2023
PM offers flowers at Ho Chi Minh Statue in Singapore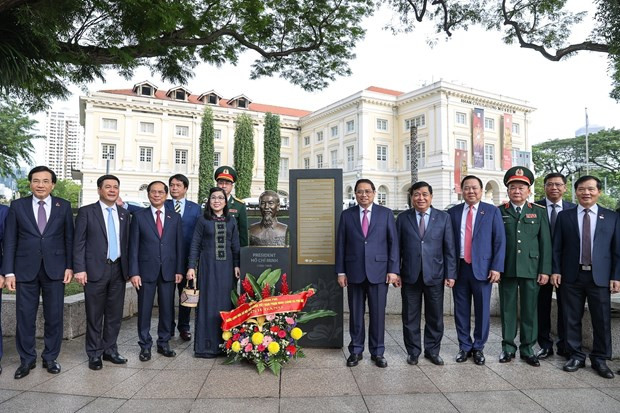 Prime Minister Pham Minh Chinh and his spouse on February 9 offer flowers in tribute to President Ho Chi Minh at his Statue in the Asian Civilizations Museum (ACM) in Singapore. (Photo: VNA)
Prime Minister Pham Minh Chinh and his spouse on February 9 offered flowers in tribute to President Ho Chi Minh at his Statue in the Asian Civilizations Museum (ACM) as part of their ongoing official visit to Singapore.
The museum, located on the bank of the Singapore River, is the only museum in Asia devoted to exploring the rich artistic heritage of Asia. It focuses on the many historical connections between cultures and civilisations in Asia, and between Asia and the world.
The Statue of President Ho Chi Minh is placed along with the statues of many other Asian leaders and celebrities at the museum.
On the same day morning, the Vietnamese leader and his wife visited the Singapore Botanic Gardens which serves research and preservation of more than 30,000 species of plants.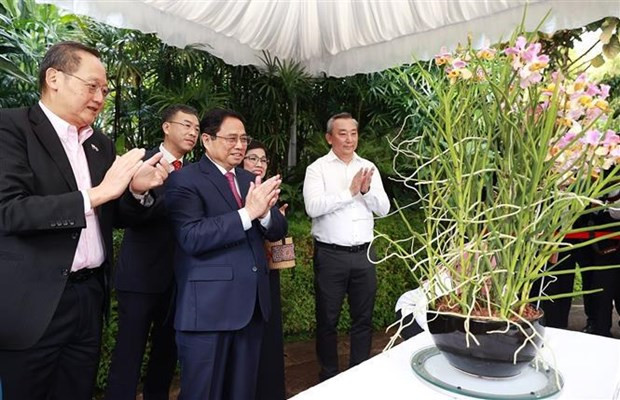 PM Chinh attends a ceremony to name a new orchid species "Pham Le Tran Chinh", the hybrid orchid symbolises a strong vitality. (Photo: VNA)
PM Chinh attended a ceremony to name a new orchid species "Pham Le Tran Chinh", the hybrid orchid symbolises a strong vitality.
Representatives of the garden said that this new orchid species was hybridised from a species of orchid in Vietnam and a species in Singapore.
The PM said he hoped the two countries' relations would develop strongly and last as long as the beauty of this new orchid species.
The 74-ha garden is famous in the world with the National Orchid Garden - the world's largest display of tropical orchids, where over 1,000 orchid species and 2,000 hybrids are showcased.
Rare langur found in Danang for the first time
A rare yellow-cheeked gibbon has been spotted in the central city of Danang's Hoa Vang District for the first time.
According to Hoa Vang District's forest management board, the animal was found at a residential area in Nam Yen Village, Hoa Bac Commune on February 4. It is now in stable health and weighs around three kilos.
The yellow-cheeked gibbon (Nomascus gabriellae) belongs to the primate species. It is listed among endangered rare species.
The animal has been handed over to the Danang Forest Management Board to be released back into the wild.
According to the Wildlife Conservation Society, around 2,500 yellow-cheeked gibbons can be found at Cambodia's Wildlife Sanctuary.
Dak Lak tourist area stops elephant ride service
The Cau Treo Tourist Area in the Central Highlands Province of Dak Lak's Buon Don District has just announced that they would stop its elephant ride service.
Le Duc Huy, director of the Simexco Dak Lak Company which manages the tourist centre said that the service would end from February 10.
The move was made following coverage by some newspapers showing elephants at this site having to work hard transporting many visitors during the recent Tet Lunar New Year Holiday.
Authorities in the province have approved more than VND 55.40 billion (USD2.2 million) to adopt elephant-friendly tourism.
The project, which will be conducted in Buon Don and Lak districts, is scheduled to be conducted from November 2022 to December 2026 with sponsorship from the Animal Asia Foundation.
The project aims to replace elephant riding tourism with a friendly tourism model. Under the project, elephant herds will be preserved and looked after, while elephant owners will be compensated for their lower income.
VN expects to send 10,000 guest workers to RoK this year
Since mid-2022, Việt Nam's relevant agencies stepped up training in an effort to increase the number of workers sent to the Republic of Korea (RoK).
The Korean Ministry of Employment and Labour said the country had plans to employ about 110,000 migrant workers this year at farms and factories, but some businesses believed even more would be needed.
Apart from raising the number of guest workers under the Employment Permit System (EPS), Việt Nam has also discussed with Korea loosening conditions to make it easier for shipbuilders to enter the RoK.
Việt Nam's labour management board in the RoK has also coordinated with the Việt Nam EPS Labour Management Office and support centres for guest workers to diversify communication and support activities.
Last year, Việt Nam sent nearly 9,000 workers to the RoK under the EPS programme, out of 70,000 set for 16 selected countries.
Head of the EPS Việt Nam Office in the RoK Phạm Minh Đức said up to 10,000 Vietnamese guest workers were expected to be sent to the RoK this year.
The office would coordinate with the labour management board and the Vietnamese embassy in the RoK to provide training for the workers, helping them quickly integrate into the host society.
Joint efforts would also be made to popularise the Korean laws among the guest workers, and more measures would be taken to support them, he said.
After the Tết (Lunar New Year) holiday, the Việt Nam Centre for Overseas Labour helped send 138 workers to the RoK, and received dossiers of nearly 6,000 others that satisfy Korean language requirements.
Seven more customs officers face charges in Thuduc House case
Investigators at the Ministry of Public Security have proposed pressing charges against seven more customs officers in the HCMC Customs Department for their alleged lack of responsibility and supervision, causing heavy losses for the State budget in the Thuduc House tax fraud case.
Investigators issued a conclusion on their second probe into the case in the Thuduc House Development JSC (Thuduc House), the HCMC Tax Department and other relevant units yesterday, February 8.
So far the number of people allegedly involved in the case has soared to 67.
Among those, 18 are leaders and officers of the HCMC Tax Department, including Nguyen Thi Bich Hanh, former deputy director of the department; Pham Minh Tuan, former head of the department's tax declaration and accounting division; and Cao Van Thu, former head of the department's tax inspection office No.5.
The 67 suspects face nine charges, namely smuggling, smuggling of money and goods, appropriation of assets, bribery, trading and production of fake goods, breaches of regulations on accounting, and dereliction of duty.
The expanded probe found that Trinh Tien Dung, who was allegedly the mastermind of the case and whose present whereabouts is unknown, worked with many executives of Thuduc House to sign multiple business deals with eight foreign firms between February 2018 and June 2019.
They illegally exported electronic parts worth US$158 million, or VND3.6 trillion, to the United States, Cambodia, UAE and Singapore, among others, with a value-added tax of 0%.
Dung and his subordinates forged and sent 17 documents to the HCMC Tax Department to claim VAT refunds and appropriate over VND365 billion.
The investigators determined that customs officers at the Customs Sub-Department of Saigon Port Zone 1 under the HCMC Customs Department failed to detect four shipments worth over VND8.2 billion, which did not match the declarations.
Ao Dai online photo contest 2023 launched
The Ho Chi Minh City Women's Union launched an online photo contest on February 8 to honour the Ao Dai, the nation's traditional long dress.
The contest is open to both local people and foreigners living in Ho Chi Minh City. Entries should be sent in to the organising board before February 28 through the website http://lehoiaodaitphcm.com.vn.
Participants can either take a photo of individuals or of a group. Submissions should be original works and should not have been submitted in previous competitions or exhibited publicly. The works should be in black-and-white or colour, and must be submitted without editing.
Entries may be submitted as a single photograph, including captions. The awards ceremony will be organised in the final night of the Ho Chi Minh City Charming Ao Dai contest on March 5.
The contest is being held as part of the Ho Chi Minh City Ao Dai Festival which was first held back in 2014 and is one of the typical cultural and tourist activities of the southern city which takes place annually in March.
This year, the city's Ao Dai Festival will kick off on March 3 and will feature a wide range of activities such as an Ao Dai street parade, art performances, the Charming Ao Dai contest, a painting contest on the theme of Ao Dai, an Ao Dai online photo contest, and inspirational programmes about the Ao Dai.
Hanoi to launch official Zalo account to enhance public services
Hanoi's authorities will create an official Zalo account on February 10 to handle complaints and petitions from local citizens and enterprises.
With the launch of the new communication channel, Hanoi's authorities are fulfilling their commitment to put citizens and businesses at the heart of their operations and measure the performance of Government agencies based on public satisfaction.
In its course of development, the capital city sees technological apps like Zalo as the key to improving administrative works and enhancing public services.
To make the channel work properly, the Hanoi People's Committee asks heads of municipal departments and local agencies to publicize the municipal Zalo account and give guidance on the use of the application.
Local agencies and officials and employees are requested to receive the complaints on the application, and process them as regulated.
The committee ensures the operation of the channel and shares the data with the National Public Service Portal.
It is also in charge of organizing training courses for local officials and executives on the use of the application, solving problems that arise to improve the channel, and drafting the operating regulations of the channel for approval by the municipal government.
The Hanoi Department of Information and Communications is in charge of integrating the Zalo account into the city's system and improving the technical facilities to maintain a functional system.
Zalo is a communication app launched in 2012 by a group of Vietnamese developers, including VNG. The app offers a wide range of functions, including chat, video calls, and conference calls. The app has experienced rapid development in the last 10 years and become one of the most popular communication channels for Vietnamese people.
OVs in Hungary celebrate Lunar New Year
The Vietnamese Embassy in Hungary has hosted an art prgramme to celebrate the Lunar New Year (Tet) with the participation of representatives of the Vietnamese community, Hungarian officials and foreign friends.
The event also aimed to mark the 93rd founding anniversary of the Communist Party of Vietnam (February 3, 1930 - 2023), the 73rd anniversary of the establishment of diplomatic relations between Vietnam and Hungary (February 3, 1950 - 2023), and 5 years of their Comprehensive Partnership (2018 - 2023).
Addressing the event, Vietnamese Ambassador to Hungary Nguyen Thi Bich Thao praised the outstanding achievements Vietnam has made in 2022 as well as the development of the comprehensive partnership between Vietnam and Hungary in all spheres over the past years, including politics, economy, culture and people-to-people exchanges.
The diplomat noted collaboration among ASEAN countries has been strengthened, while the Vietnamese community has held several practical and meaningful activities to well integrate in the host country, she said.
The event showed the Vietnamese Party, State and government's affection and attention to the Vietnamese community abroad - an indispensable part and an important resources for the homeland's development.
Airlines asked to ensure flight safety as Northern airports suffer foggy weather
The Civil Aviation Authority of Vietnam (CAAV) has recently requested to strengthen the safety of flights in the weather condition of dense fog and low clouds that is happening in the Northern region.
Currently, some airports in the North are affected by fog and low clouds. Many flights have had to wait, cancel, and change direction, affecting the operating plans of airlines and service quality for passengers.
Facing this situation, the CAAV has requested airlines to actively monitor closely the weather situation to adjust plans or change flight schedules accordingly and ensure absolute safety for flight operations.
Airlines also need to direct pilots and flight operators to follow the operating procedures strictly, pay attention during the flights, and promptly contact the flight operators when they need help to ensure flight safety.
In conditions of dense fog and low clouds over a large area, airlines must choose a backup airport located outside the area affected by bad weather.
In case the flights have to wait, delay, cancel, or change direction due to weather reasons, airlines need to promptly notify passengers, fulfill the carrier's obligations, and ensure the interests of passengers.
For the flight operators, the CAAV notes that if the weather is not favorable, the air traffic controllers must issue a command to divert the plane to the appropriate alternate airport and promptly detect situations threatening flight safety to warn and take timely handling measures.
According to airlines, on February 7 and 8, dozens of flights to and from Vinh City of Nghe An Province and Tho Xuan District in Thanh Hoa Province and some other airports in the Northern region had to delay and cancel flights or change airports.
One dead, three critical due to food poisoning in An Giang
Among 84 people suffering food poisoning after eating free bean soup in An Giang Province, one person died and three others are in critical condition.
The victim is a 63-year-old woman from Chợ Mới District who died three days after being treated at the province's general hospital.
On February 4, as many as 84 people in Chợ Mới's Long Điền Commune suffered a range of health diseases including stomach ache, vomiting and fever after eating white bean soup delivered for free by a local woman.
Among them 53 people recovered after taking medicine and 31 were sent to health facilities for treatment, of which four were transferred to the general hospital due to the severity of their conditions.
The woman delivering charitable soup said she prepared 20kg white bean, 8kg sticky rice, 10kg of coconut flesh and 24kg sugar to make soup on February 3 and deliver it for free to local residents and passersby.
An Giang's authorities are further investigating the incident.
Vietnam, Singapore need to boost cooperation in digital economy: regional media
The Business Times, a Singaporean financial daily, and Asia Times, Hong Kong–based news platform, have recently run articles highlighting Vietnamese Prime Minister Pham Minh Chinh's official visit to Singapore from February 8-10.
In its article posted on February 8, The Business Times quoted Singaporean Foreign Minister Vivian Balakrishnan as saying that even as Singapore and Vietnam strengthen cooperation in traditional areas like trade and investment, there are many opportunities to work closer together in new growth areas.
These include the digital economy, renewable energy, carbon credits, green financing, cybersecurity and sustainable infrastructure, he said in an interview granted to the Vietnam News Agency.
The FM encouraged interested parties to explore collaboration in these areas and to establish mutually beneficial partnerships that advance the interests of both countries. He also stressed the need to give a priority to accelerating cooperation in the digital economy, which encompasses many new areas such as cybersecurity, cross-border data flows, smart cities, innovation, artificial intelligence and digital payments, the article wrote.
Balakrishnan also noted that Singapore and Vietnam have to do more together on sustainable development, adding that Singapore is keen to work with Vietnam in renewable energy, carbon credits and sustainable infrastructure with the ambitious goal of achieving net-zero carbon emissions by 2050.
He described the two ASEAN member states as "long-standing friends and close partners", with Chinh's three-day visit to Singapore coinciding with the 50th anniversary of diplomatic relations and the 10th anniversary of the bilateral strategic partnership.
Bilateral trade has grown steadily over the past decade, reaching 31.3 billion SGD (23.6 billion USD) last year, up from 26.9 billion SGD in 2021. Singapore was the second-largest cumulative investor in Vietnam after the Republic of Korea, with about 70 billion USD invested in 3,600 projects as of June 2022, added The Business Times.
Meanwhile, in its article posted on February 5, Asia Times said that PM Chinh's Singapore visit will celebrate the 50th anniversary of the establishment of bilateral relations and promote bilateral cooperation.
Closer relations between these two member countries of the Association of Southeast Asian Nations (ASEAN) will contribute to the development momentum for the ASEAN community in the face of great challenges ahead, as both are dynamic economies, and fervent supporters of multilateralism.
PM Chinh once said that the more difficulties and challenges ASEAN faces, the more it needs to promote the spirit of community thinking, community action, standing shoulder to shoulder, self-reliant and proactive, to meet any challenge, it wrote. Therefore, intra-regional solidarity is considered the most necessary key for ASEAN to stand firm in the face of the changing world situation.
In addition, both Vietnam and Singapore recognise that development is the key to many problems, thus the two countries will contribute the growth engine so that ASEAN can effectively address challenges.
The Vietnamese Government leader's visit, as well as effective bilateral cooperation, will be a driving force for ASEAN solidarity, and resilience against pressure from big countries in a changing world, the article wrote.
NA Chairman condoles with Turkey, Syria over quake damage
Chairman of the Vietnamese National Assembly Vuong Dinh Hue has sent letters expressing his deepest sympathy to Speaker of the Grand National Assembly of Turkey Mustafa Sentop, Speaker of the People's Council of Syria Hammouda Youssef Sabbagh, legislatures and people of the two countries over serious damage caused by the recent devastating earthquake there.
In his letters sent on February 8, Chairman Hue expressed his belief that the Turkish and Syrian States and people will overcome this difficult and challenging period soon, and stabilise their socio-economic lives.
He affirmed that Vietnam is ready to join hands with the international community to help Syria and Turkey overcome consequences in its ability.
The death toll from the disaster in the two countries surpassed 11,200 the same day, CNN has reported.
As one of the world's most active earthquake zones, Turkey experienced several strong earthquakes in the past, including the one with a magnitude of 7.4 in 1999 that was the most severe in decades, resulting in over 17,000 fatalities. The most recent 7-magnitude earthquake occurred in October 2022 in Aegean, causing 114 deaths and over 1,000 injured.
Germany highly values development cooperation with Vietnam
The German Government has stated that it highly values development cooperation with Vietnam, highlighting the efficiency and quality of bilateral coordination.
In reply to German lawmakers' questions about bilateral development cooperation, the German Government said it has chosen Vietnam as one of the eight global partners, along with Brazil, China, India, Indonesia, Mexico, Peru and South Africa, which altogether account for 45% of the global population.
The partnerships are significant to find common solutions to global issues in the future for sustainable and inclusive development with carbon neutrality and resilience, it noted.
In development cooperation, Germany is also stepping up the use of "triangular cooperation" model, known as trilateral cooperation, in order to boost joint work more strategically toward protecting global public goods such as climate or tropical forests.
The German Government highly evaluated Vietnam's strong economic development over the past three decades. If in 1993, 80% of the country's population lived in poverty, this figure was reduced to 5% in 2020. This positive outcome was attributed to the reform and opening of the market to foreign investors and the adoption of private property rights.
With its outstanding economic development and its role as an influential member of the Association of Southeast Asian Nations (ASEAN), the German Government considers Vietnam to have global and regional importance.
It is necessary to cooperate with Vietnam to provide goods and solve future global problems, such as combating climate change, protecting forests, conserving biodiversity, and maintaining sustainable supply chains and economic development.
Regarding cooperation with Vietnam, the German government said that it has provided over 1.5 billion EUR (1.6 billion USD) in official development assistance (ODA) to Vietnam under the "triangular cooperation" since 2018. In 2021, the German Government committed to providing 152 million EUR in development and technical cooperation aid to Vietnam.
Seven bilateral projects within the framework of the International Climate Initiative are being implemented with a total value of about 25.4 million EUR, focusing on climate-related policy consultancy on greenhouse gas reduction, adapting to the impacts of climate change and conserving biodiversity.
The Federal Ministry for the Environment, Nature Conservation, Nuclear Safety is funding a 11-million-EUR project on combating marine waste in Vietnam. In addition to three bilateral projects with a total planned capital of 39 million EUR under preparation, Vietnam will receive a total funding of about 64 million EUR from Germany for three regional projects and two global projects.
Overall, the German Government regarded development cooperation with Vietnam as "successful", and the quality of cooperation and the effectiveness of the "triangular cooperation" with Vietnam as "very good".
The German development policies play an important role in strengthening political ties with ASEAN in areas including environment-climate-and-energy policy, good governance, vocational training, connectivity, international law, rules-based international order, and human rights.
Germany also advocates further promoting economic cooperation with Vietnam, through existing mechanisms such as the Vietnam-Germany Joint Committee for Economic Cooperation, especially since the EU-Vietnam Free Trade Agreement (EVFTA) took effect in 2020.
Vietnam is also a key destination when Germany seeks to diversify its supply chain. Vietnam's energy transition is supported in a socially equitable manner.
The German Government also assessed that Germany's development cooperation has contributed to supporting Vietnam's economy opening over the years, helping the country with sustainable development, sustainable energy transition, resilience to climate change and disease prevention and control.
During his Vietnam visit in mid-November 2022, German Chancellor Olaf Scholz hailed Vietnam's role and position in Germany's strategy on Indo-Pacific.
He also wished to help Vietnam achieve net zero emissions, adding that Germany also supports Vietnam in ASEAN's activities, thus further propelling the cooperative partnership between Germany and the bloc.
Undersea internet cable repairs to only start from late March
Repairs to Vietnam's submarine internet cables have been scheduled to begin in late March or early April.
The IA (IA-Intra Asia), APG (Asia Pacific Gateway), AAG (Asia America Gateway), and AAE-1 (Asia - Africa - Europe 1), are simultaneously facing issues.
Repairs to Vietnam's submarine internet cables have been scheduled to begin in late March or early April.
The repair of APG has been slated to last from March 23 to March 27. Work on AAG and IA-Intra Asia is expected to start by late March and be finished by early April.
Meanwhile, the repair of AAE-1 has not yet been scheduled.
Currently, only the Southeast Asia-Middle East-Western Europe 3 (SMW-3) is operating normally, affecting internet connections in Vietnam over the past few weeks.
The problems facing Vietnam's submarine cables have been attributed to fishing vessels, strong ocean flows, or undersea creatures.
Hanoi to partly remove fences at Thu Le Zoo
Hanoi will continue to remove fences at Thu Le Zoo following the city's plan to make public parks free to visitors, according to the municipal Vice Chairman Duong Duc Tuan.
Speaking at a working visit to the zoo on February 7, Tuan said that he has asked for an upgrade plan for Thu Le Zoo, Thong Nhat Park, and the Botanical Gardens by March.
Meanwhile, managers at the zoo proposed to expand the zoo at the main gate on Buoi Street and build a 800-square-metre aquatic animal area.
Built in 1975 on an area of 18.70 hectares in the central Ba Dinh District, Thu Le Zoo is home to nearly 600 animals belonging to 88 species, including 32 rare species. The zoo borders some crowded streets like Kim Ma, Dao Tan.
Earlier, local authorities removed more than 400 metres of fence from Thong Nhat Park to connect it to Tran Nhan Tong Street which was recently turned into a walking area during weekends. Admission to the park has also been made entirely free.
The city is going to open three more parks this year including Thien Van Hoc, Mai Dich, and CV1 Cau Giay.
MoIT acts in response to climate change
The Ministry of Industry and Trade recently issued the sector's action plan on climate change response and green growth to 2030, with a vision to 2050.
Accordingly, the ministry considers climate change response an important and long-term task, and the achievement of the net zero emissions an opportunity to develop towards a low-carbon direction in accordance with national conditions and international trends.
Measures to respond to climate change will be included in strategies for the development of the industry and trade sector.
This move aims to ensure the flexible adaptation to short-, medium- and long-term impacts of climate change, as well as the sector's stable development and growth. These actions will also minimise losses caused by natural disasters, and consequences of extreme weather and climate.
Under the plan, the ministry targets the proportion of renewable energy sources in the total primary energy supply to 15-20% by 2030 and to 25-30% by 2045. Greenhouse gas emissions from the electricity production sector are to be maintained at about 42 million tonnes of carbon dioxide equivalent by 2050.
In addition, attention will be paid to promoting production and business models towards green growth. The focus will be on applying solutions for the economical and efficient exploitation and use of natural resources and energy. There is also an aim to apply digital technology and digital transformation, and developing infrastructure sustainability to improve growth quality, promote competitiveness and minimise negative impacts on the environment.
Urban planning, management – a focus in 2023: construction minister
The Ministry of Construction will pay attention to urban planning and management in 2023, according to Minister Nguyen Thanh Nghi.
Specifically, the ministry will focus on improving the quality of planning to match the mindset, vision, and forecasting while ensuring feasibility.
It is necessary to exercise strict control in the stages of planning appraisal and adjustment, as well as strengthen local inspection and guidance activities, and rectify local authorities' capacities and conduct in planning issues.
At the same time, legal regulations and management tools will continue to be perfected to strictly control the process of synchronous urban development – one that goes in tandem with industrialisation, modernisation, rural development, enhancing the competitiveness of urban areas, effectively using resources, especially resources from land, from urban space development, stated Nghi.
According to the minister, in 2023 and the coming years, the construction industry will continue to focus on three key breakthroughs identified for the 2021-2026 term of the industry. They are perfecting the legal institution on construction to strengthen state management, creating a favourable and open environment for people and businesses, and furthering decentralisation to remove bottlenecks that hinder the development of the industry and the operation of enterprises.
Regarding the growth of the sector last year, Minister Nghi said that the industry recorded a growth rate of 8.17%, significantly higher than the objective of 5-5.6% The urbanisation rate nationwide hit 41.7%, 1.2% higher than 2021. The proportion of the urban population having access to clean water through a centralised water supply system reached 94.2%, up 2.2% compared to the previous year.
The average floor space for each person in the country reached 25.5sq.m., up 0.5sq.m compared to that in 2021.
While the construction material market has seen serious fluctuations, especially a spike in costs in the early half of 2022, the market has stabilised from the third quarter of 2022 thanks to many efforts from the Ministry of Construction and localities.
Nghi stated that the real estate market logged growth in the first months of 2022, but slowed down in the second half of the year due to many difficulties, especially the shortage of supply, lack of social housing, housing for low- and middle-income people, difficulties in mobilising and accessing capital sources, while corporate bonds in real estate began to reveal serious shortcomings and risks.
Construction authorities and the Government are proposing many sets of measures to develop a healthy, stable real estate market in 2023, the minister added.
Source: VNA/SGT/VNS/VOV/Dtinews/SGGP/VGP/Hanoitimes