VIETNAM NEWS HEADLINES FEBRUARY 3/2023
CNTraveler picks Con Dao one of best island vacations globally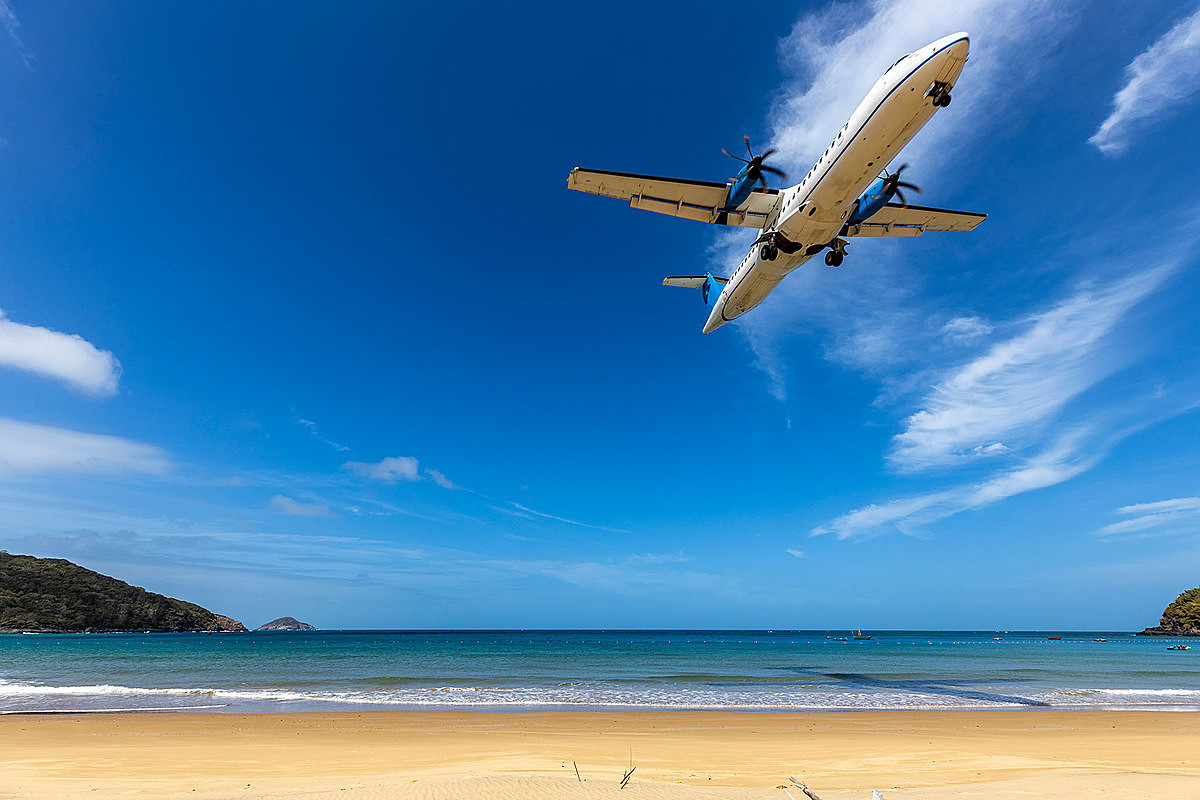 Viet Nam's Con Dao island has been named among the top 16 best island vacations in the world, as compiled by U.S.-based magazine Condé Nast Traveler (CNTraveler).
Con Dao is a small island with very little commercial development in the southern province of Ba Ria - Vung Tau.
"With this, the beaches are quiet and the few resort options allow for a special retreat," says Condé Nast Traveler.
The beaches are typically long with soft sand, making them perfect for light water sports like SUP and kayaking.
The downtown area boasts a quaint seaside atmosphere with small restaurants, whilst there are also plenty of historical connections for visitors to explore.
According to the magazine, a visit in August can allow holiday goers to have the chance to watch turtles hatch.
"Stay through the morning when the turtle sanctuary supports the release of the hatchlings and watch them find their way to the big blue sea," it suggested.
From those visitors interested in history, they are recommended to pay a visit to Con Dao Prison, a site built during the French colonial era.
Other best island vacations in the world include Big Island of Hawaii, Mallorca of Spain, Koh Samui of Thailand, Vancouver Island of Canada, the Andaman and Nicobar Islands of India, the Galápagos Islands of Ecuador, and Vega Island of Norway.
Police tracking vehicle in deadly accident on Trung Luong- HCMC expressway
The police forces under the Ministry of Public Security is coordinating with Chau Thanh District Police, Tien Giang Province to investigate the crash between a passenger car and another vehicle resulting in two deaths and others injured.
The 16-seat passenger car is seen with wrecks and severe damage in the front bumper at the scene.
According to initial information, a 16-seat passenger car was driven by Nguyen Hong H, 51, living in Phu Long Commune, Phu Tan District of An Giang Province, traveling on Trung Luong- Ho Chi Minh City expressway from the Mekong Delta to HCMC at 1 a.m. on February 2.
The car suddenly collided with another vehicle being suspected as a container truck from behind at Tan Hoi Dong Commune of Chau Thanh District. The vehicle was reportedly to leaving the scene after the collision.
The driver of the passenger car died from the severe rear-end collision, and around seven to eight passengers in the car were injured and taken to the emergency room of the General Hospital of Long An Province.
At the scene, the 16-seat passenger car was seen with wrecks and severe damage in the front bumper.
After receiving information about the crash, the functional forces coordinated with the Police of Chau Thanh District to examine the scene, investigate the reason for the deadly accident and urgently track down the vehicle involved in the accident.
The Police of Chau Thanh District informed that by this afternoon, there were two dead including the driver and an unidentified passenger, and two severe injured.
Leaders pay tribute to President Ho Chi Minh on Party's founding anniversary
A delegation of the Communist Party of Vietnam (CPV) Central Committee, the Presidency, the National Assembly, the Government and the Vietnam Fatherland Front (VFF) Central Committee on February 3 paid floral tribute to President Ho Chi Minh at his mausoleum in Hanoi on the occasion of the 93rd founding anniversary of the CPV (February 3, 1930).
The delegation included Prime Minister Pham Minh Chinh, NA Chairman Vuong Dinh Hue, permanent member of the CPV Central Committee's Secretariat Vo Van Thuong, VFF President Do Van Chien, and Acting President Vo Thi Anh Xuan.
They paid respect to President Ho Chi Minh, who founded and led the CPV – the vanguard of the working class and the nation at large.

The past 93 years have proven that the Party's leadership is the leading factor decisive to every victory of the Vietnamese revolution. Under the Party leadership, the Vietnamese army and people are joining hands to successful implement the resolution adopted at the 13th National Party Congress, and build a Vietnam of peace, unity, independence, democracy and prosperity, firmly moving towards socialism.
The delegation then laid a wreath at the Monument to Heroes and Martyrs in Hanoi.
The same day, representatives from the Central Military Commission and the Central Public Security Party Commission also paid their respect to President Ho Chi Minh, heroes and martyrs.
French passenger has coat and money returned from Noi Bai Airport
A French passenger was handed back a coat which contained EUR2,300 (USD2,530) that he had left at Noi Bai International Airport in Hanoi.
On January 30, the man had left his coat at the airport's Terminal 1 after finishing his check-in procedures for budget carrier VietJet Air's flight VJ513 to the central city of Danang.

A female staff member from Ha Linh Services JS Company found the coat and reported the problem to the airport's security.
Meanwhile, the French passenger informed the airline that he had lost his coat. On the same day, he received his coat with the money in from the airport's security. The traveller expressed his great thanks to the airport's management board.
The airport has also proposed Ha Linh Service JS Company commend its female employee for reporting the found coat.
Last year, 2,688 passengers had their personal items they had left at Noi Bai International Airport returned.
Eight injured in for-repair cargo ship blast
A total of eight workers were injured following an explosion that occurred on February 2 during repairs being carried out on a cargo ship in Tien Phong commune, Quang Ninh province.
This accident happened at around 8:45 a.m. when the ORIENTAL GLORY cargo ship of Phuong Dong Shipping and Trading Jsc., which has a deadweight tonnage of 68,000 tonnes, was docking at the port of ship maintenance company Nosco ShipYard.
The explosion took place when workers were repairing the vessel.
Eight people were injured and immediately transferred to the Vietnam–Sweden Hospital for medical examination and treatment.
Competent authorities are examining the vessel in order to determine the cause of the accident.
350kg wartime bomb tackled in northern Vietnam
The Military High Command in the northern mountainous province of Son La and competent agencies have transported a wartime bomb recently unearthed by residents to a site for safe detonation.
The explosive device was detected in Hua La commune of Son La city on February 1 by a group of workers when an excavator was used at the location.
The bomb, about around 1.2 metres in length and 350kg in weight, was left over during the war of resistance against US imperialists and the detonator remained intact.
Alongside the disposal of the bomb, competent forces also conducted a search of the surrounding area as they sought explosives still underground in order to ensure the safety of local people.
2022's land, water surface rents reduced for COVID-19-affected people
Land and water surface rents in 2022 will be reduced by 30% for lessees that were affected by the COVID-19 pandemic under a decision recently signed by Deputy Prime Minister Le Minh Khai.
Under Decision 01/2023/QD-TTg, the 30% reduction is applicable for organisations, units, enterprises, households and individuals that directly lease land and water surface from the State under a decision or contract or certificate of land use rights, ownership of houses and other land-attached assets of competent state agencies in the form of land rental with annual payment.
This regulation is not applied for land and water surface rents owed in the years before 2022, or late payment.
Hanoi tightens food safety management after Tet
Hanoi is strengthening the food safety management of organizations throughout the city.
Local authorities will strengthen supervision of collective kitchens in industrial parks, government agencies, and schools to ensure food safety standards are met, said Hanoi Food Safety Sub-department chief Dang Thanh Phong.
"Students, particularly kindergarten and elementary kids, are the most vulnerable and their meals need special attention," he said.
"Twenty schools across the city have agreed to join a municipal program to meet all food safety standards and improve their monitoring of food qualities," Phong said.
Food safety control is among the hardest tasks in a densely populated city.
In particular times like Tet and post-Tet period, Hanoi endures heavy pressure to maintain food safety standards as people return to their normal life, students come back to schools, and cultural festivals open to the public.
The public worry about the quality of food as Hanoi-based organizations, companies, and schools reopen after Tet resulting in thriving catering businesses whose food safety needs stricter control, Dang Thanh Phong said.
The capital has inspected local producers and vendors to ensure food safety during the New Year and spring holidays in 2023, focusing on the most consumed foods in the market, and food safety management in schools, industrial parks, hotels, restaurants, grocery stores, and slaughterhouses, Phong added.
In January 2023, Hanoi authorities checked more than 5,000 facilities of all types and detected 520 cases of food safety violations. The authorities also fined nearly 300 facilities more than VND1.3 billion (US$55,437).
However, there are some obstacles that have hindered food safety control, Phong said.
Complicated and overlapping regulations set out in the Food Safety Law have made it difficult for food producers and sellers to seek certification for their products, he said.
In addition, the incomplete regulatory framework has also troubled local authorities in carrying out their duties, Phong said.
Most producers and sellers are unaware of the necessary requirements for their operations, said the food safety management officer.
"Their products are manufactured and sold through a wide network of distributors without any kind of certification," he said.
"In particular, many facilities are unaware of public health concerns and often adopt unethical production measures," Phong added.
In addition, individual slaughterhouses continue to exist in the city, causing environmental pollution and aggravating the risks of food poisoning, while market demand is rising strongly, he said.
Senior officials discuss preparations for ASEAN Foreign Ministers' Retreat
Senior officials of the Association of Southeast Asian Nations (ASEAN) gathered in Indonesia's capital Jakarta on February 2 to discuss preparations for the 32nd ASEAN Coordinating Council (ACC) Meeting and the ASEAN Foreign Ministers' Retreat (AMMR).
Acting head of SOM ASEAN Vietnam, Ambassador Vu Ho, actively exchanged views on ASEAN cooperation as well as Vietnam's contributions to the group in 2023, such as organising activities to disseminate information about ASEAN and its cooperation with partners.
He proposed organising several conferences related to ASEAN-China cooperation in the implementation of the Declaration on the Conduct of Parties in the East Sea (DOC).
The Vietnamese representative also expressed his belief that Indonesia will successfully assume its role of ASEAN Chairmanship 2023.
Participants also discussed specific proposals to promote cooperation among member states and between ASEAN and its partners, including building the post-2025 ASEAN Community Vision, improving the capacity and effectiveness of the group's agencies, and promoting maritime security and cooperation.
The 32nd ACC Meeting and the AMMR will take place in Jakarta on February 3-4. Foreign Ministers of ASEAN member states are expected to meet with Indonesian President Joko Widodo on this occasion.
PM chairs Government's monthly law-building meeting
The Government considered proposals on the building of several laws at its monthly thematic meeting chaired by Prime Minister Pham Minh Chinh in Hanoi on February 2.
The proposals suggested amending and supplementing some articles of the law on the guard force, and revising the Employment Law and the draft Law on Water Resources.
The meeting also looked into proposals on the Government's law and ordinance building programme in 2024, adjustments to the 2023 Law and Ordinance Building Programme, and the building of a national database centre, among others.
The participants shared their view on the need to issue such laws as well as their compatibility with other legal documents and international practice.
PM Chinh asked ministries that submitted the proposals to seriously consider opinions raised by Cabinet members, and complete the proposals, noting that feedback from experts, scientists, activists and affected individuals should continue to be collected during the building and perfection of laws and institutions.
The leader also emphasised the communication work before and during the law building, and after the issuance to create public consensus.
Buffalo fighting festival in Vinh Phuc reopened
The Hai Luu Buffalo Fighting Festival held in the northern province of Vinh Phuc's Hai Luu Commune has been reopened after a long suspension due to the Covid-19 pandemic.
The festival in Song Lo District will be held on February 5-7 at the community's stadium with the participation of 20 buffaloes compared to the previous 32 in proceeding years.
The event is expected to attract between 40,000-50,000 visitors.
"The festival plan has been carefully prepared to ensure traffic and the safety of the participants," said a local representative.
The organising board will arrange separate entrances for visitors and buffaloes. Firm fences will also be used in the fighting area.
The Hai Luu buffalo fighting festival, an annual event in Vinh Phuc, is among one of the country's oldest folk festivals.
German organisation, state grant water filters to Vietnam
The World University Service of Germany (WUS), with the support of Sachsen-Anhalt state, has recently presented 30 portable membrane water filters to schools in Vietnam's mountainous and far-flung areas.
Of the total, 17 PAUL (Portable Aqua Unit for Livesaving) filters were donated by the German state, and the rest by WUS.
All of these devices, which will be presented to 30 schools, were transported free of charge by Vietnam's national flag carrier Vietnam Airlines from Frankfurt to Hanoi.
To date, the German nonprofit organisation has delivered 301 devices, including 91 donated by Sachsen-Anhalt state, to Vietnam.
This act has helped more than 120,000 students and teachers gain access to clean drinking water.
According to WUS President Dr. Kambiz Ghawami, clean drinking water is essential, especially for schools in mountainous and remote areas of Vietnam, to help prevent serious diseases on stomach, diarrhea, typhoid and cholera.
Hoi An gears towards creative city
The UNESCO-recognised ancient city of Hoi An in the central province of Quang Nam has advantages and opportunities to join the UNESCO Creative Cities Network (UCCN), heard an event held by the municipal People's Committee on February 2.
At the event, the committee presented a report themed "Hoi An: From a heritage city to a creative city," aiming to call for joint efforts in turning Hoi An into a creative city of the global level.
Hoi An is among the seven cities selected by the Ministry of Culture, Sports and Tourism for a project on developing a network of creative cities as part of the UCCN, said Vice Chairman of the municipal People's Committee Nguyen Van Lanh.
The UCCN was created in 2004 to promote cooperation with and among cities that have identified creativity as a strategic factor for sustainable urban development.
The 246-member network covers seven creative fields - crafts and folk arts, media arts, film, design, gastronomy, literature and music.

By joining the network, cities commit to sharing their best practices and developing partnerships involving the public and private sectors as well as civil society in order to: strengthen the creation, production, distribution and dissemination of cultural activities, goods and services; develop hubs of creativity and innovation and broaden opportunities for creators and professionals in the cultural sector; improve access to and participation in cultural life, in particular for marginalised or vulnerable groups and individuals; fully integrate culture and creativity into sustainable development plans.
Hoi An will bring crafts and folk arts – its core advantages - to the network , Lanh said, adding that Hoi An is working to preserve and promote crafts and folk arts and spur tourism development in tandem with increasing livelihood and improving living standards of local residents sustainably.
On this occasion, Hoi An city launched the website "Hoi An - creative city" and handed over the project on promoting Hoi An's image to Bizverse, a Metaverse world for business activities.
Vietnam among top best places to go for budget honeymoon
Vietnam has been listed among the top 10 best places to go for a budget honeymoon in 2023 by prestigious global travel website Lonely Planet.
The website suggested newlyweds can spend their unforgettable honeymoon in the "pearl island" of Phu Quoc, the ancient town of Hoi An or Ha Long Bay - the UNESCO World Heritage Site without hurting their wallet.
According to the website, the top 10 budget-friendly getaways allow visitors to count their pennies without compromising on the once-in-a-lifetime experience. Indeed, they can experience a dynamic culture and delicious cuisine during their first adventure as newlyweds.
Lonely Planet stressed that Vietnam is something of a street-food heaven, adding that that visitors must sample the country's signature dishes, such as Pho bo (beef noodle soup), Bun cha (a type of barbecued pork with rice noodles), and Banh mi, a local type of baguette.
"A mid-range trip won't break the bank either, but will buy more characterful guesthouses, a better Ha Long Bay cruise and memorable experiences (a cookery class, a cycle around Hoi An) with change left for a beach stay on beautiful Phu Quoc Island," it noted.
The magazine also recommended that foreign couples pay a visit to the country outside of the high season of July and August as they will have the best chance possible to find budget accommodation.
Apart from Vietnam, three other Asian countries were also named in the list, including India, Cambodia, and Indonesia.
Vietnam attends meeting of ASEAN National Tourism Organisations
A Vietnamese delegation headed by Deputy Director General of the Vietnam National Administration of Tourism (VNAT) Ha Van Sieu attended the 57th meeting of the ASEAN National Tourism Organisations (NTO) as part of the ongoing ASEAN Tourism Forum (ATF) 2023 in Indonesia.
Addressing the event, Sieu said member countries' tourism reopening last year signified a strong recovery of the sector. Vietnam welcomed 3.5 million international visitors in 2022, with ASEAN named the country's leading tourist market in terms of recovery speed, he added.
The official affirmed that Vietnam always welcomes proposals from ASEAN member states to learn, share and explore the potential for further cooperation in the field of festival tourism.
In the second half of this year, Vietnam plans to organise a regional conference on festival tourism, he unveiled.
The conference focused on reviewing reports of the bloc's four tourism cooperation committees, and approving a number of documents including the final drafts of standards and toolkit for the MICE (Meetings, incentives, conferences and exhibitions) and event organisation professions, among others.
Participants also discussed preparations for a series of functions such as the 26th ASEAN Tourism Ministers' Meeting; the 42nd ASEAN 3 NTO meeting; and the 22nd ASEAN 3 Tourism Ministers' Meeting.
Nghe An man hands over two red-faced monkeys
A man in the northern central province of Nghe An has just handed over two red-faced monkeys to local forest rangers.
Director of Pu Hoat Nature Reserve Management Board, Nguyen Van Sinh announced on Thursday that they had coordinated with forest rangers in Que Phong District to release two red-faced monkeys into the wild.
"The monkeys were handed over by a local man who was persuaded by local forest rangers to release them after they had been kept in a cage at his house," Sinh said. "We've also widely announced that keeping wild animals without clear origins was risky and illegal."
According to the official, the two monkeys were given a health check which showed that they had a total weight of 16 kilos and were in stable condition.
"After finding them in good health, we decided to release them back into a local forest right after receiving them from the resident," he said.
Red-faced monkeys belong to group IIB in the list of critically endangered, rare species.
HCMC displays nearly 100 publications related to Communist Party of Vietnam
Nearly 100 publications related to the Communist Party of Vietnam are being displayed and introduced to readers at Ho Chi Minh City Book Street from now until the end of this week.
All publications focus on contents related to the history of formation and development of the Communist Party of Vietnam, the role of President Ho Chi Minh in Party founding and development, guidelines and policies of the Party through 13 congresses, important milestones and achievements of the country under the leadership of the Party from 1930 to now.
Besides, works on Party building and the process of formation and development of the Party Committee of Ho Chi Minh City are also being introduced.
Thousands of visitors flock to Lim Festival in Bac Ninh
Thousands of visitors flocked to Tien Du District, Bac Ninh Province to attend the traditional Lim Festival, which opened on February 2, the 12th day of the first lunar month.
The two-day event features various activities, including incense offering at Hong Tan Temple on Lim Hill; a procession from Dinh Ca communal house to Lo Bao communal house; and a firework display in the Van Tuong Lake area.
Visitors to the festival can enjoy the beautiful melodies of 'Quan Ho' (love duet singing), which was recognised in UNESCO's intangible cultural heritage of humanity list in 2009.
They can also play folk games and sample delicious local dishes.
The festival aims to promote traditional cultural value in Tien Du District and advertise the land and people of Bac Ninh to visitors from both at home and abroad.
Vietnam to further contribute to strengthening ASEAN solidarity: ambassador
Foreign Minister Bui Thanh Son's attendance at the ASEAN Foreign Ministers' Meeting Retreat (AMM Retreat) in Jakarta on February 3-4 will contribute to enhancing solidarity and consensus in the ten-member grouping, thus elevating Vietnam's role and position in ASEAN and international forums, a Vietnamese diplomat has said.
In an interview granted to the Vietnam News Agency ahead of the AMM Retreat, Ambassador Nguyen Hai Bang, Permanent Representative of Vietnam to ASEAN, said given the current complicated circumstances, the meeting is expected to offer an opportunity for ASEAN FMs to discuss and reach consensus on the bloc's orientations.
The ministers are expected to propose initiatives and solutions to cope with challenges in the region and the world, strengthen the bloc's solidarity, enhance ASEAN's centrality in the region, and facilitate recovery of the entire association and each member nation, the ambassador continued.
According to Bang, on the sidelines of the AMM Retreat, Son and his counterparts in ASEAN will pay courtesy calls to Indonesian President Joko Widodo, and hold many bilateral meetings.
Since joining ASEAN, Vietnam has proven its role as an active, responsible member that is willing to lead and contribute to building rules for the bloc, the ambassador stressed.
At the upcoming retreat, Vietnam will propose initiatives aiming to improve institutional capacity and operational efficiency of ASEAN agencies and review the implementation of the ASEAN Charter for timely adjustment and supplements, towards ensuring that ASEAN Community building efforts are made in an effective and coordinated manner across all three pillars.
Also as part of the community building framework, Vietnam will join in finalising Timor Leste's observer status and and contributing to building a roadmap for Timor-Leste to secure the ASEAN membership, he said.
According to the ambassador, another important issue at the upcoming retreat meeting is measures to materialise the Five-Point Consensus on Myanmar, and Vietnam stands ready to engage in the process.
Other issues to be tabled for discussion include orientations to boost cooperation between ASEAN and its partners in the spirit of ensuring and promoting the centrality of ASEAN as well as mechanisms and initiatives of or led by ASEAN, including the ASEAN Outlook on the Indo-Pacific, and how to continue urging major countries to soon join the Treaty on the Southeast Asia Nuclear Weapon-Free Zone (SEANWFZ).
The present emerging international and regional issues will also be of great concern as they directly affect ASEAN, he said, noting that the task of the Vietnamese delegation is to raise initiatives in order to build a common stance, helping to ensure ASEAN solidarity and unity.
Speaking of priorities set by Indonesia as ASEAN Chair 2023 that are maintaining ASEAN's position and consolidating its centrality in the region and the world, and comprehensively spurring economic recovery and growth, turning ASEAN into bright spot of the global economy, Bang affirmed Vietnam's support for and readiness to contribute to these efforts this year.
Vietnam focuses on investment, consumption, export: regular Government press conference
In February and following months, Vietnam will focus its resources on three growth drivers of investment, consumption and export, said Minister-Chairman of the Government Office Tran Van Son at the regular Cabinet press conference on February 2 following its monthly teleconference with localities.
Son said that at this conference, all Government members agreed that in the coming time, there are more difficulties and challenges than opportunities and advantages.
Therefore, Prime Minister Pham Minh Chinh asked ministries, sectors and localities to proactively address arising problems and step up three strategic breakthroughs namely institutions, infrastructure and human resources.
He requested giving priority to maintaining macro-economic stability, controlling inflation, propelling growth and ensuring major balances of the economy. "It is necessary to ensure the balanced, rational and effectively management of the exchange and interest rates as well as harmonise inflation control and growth, monetary and fiscal policies, and domestic and foreign situations," the PM stressed.
The Government leader also stressed the importance of the adoption of a sound, flexible and effective monetary policy in close and synchronous combination with fiscal and other policies.
According to the minister, in January, the macro-economy continued to be stabilised, inflation was controlled and major balances maintained. State budget revenue increased by 12.3% compared to the estimate, and 8.1% year-on-year, and trade surplus hit 3.6 billion USD.
Total retail sales of goods and services in the month rose by 20% against 2022 and 34.2% compared to 2019.
Work begins on bridge linking Hai Phong and Quang Ninh
The northern port city of Hai Phong held a ceremony on February 2 to commence construction on Lai Xuan Bridge, connecting it with Quang Ninh Province across Da Bach River.
The 1,334 billion VND (56.9 million USD) project also includes the upgrade and expansion of a 14-kilometre-long provincial road linking Hai Phong's Thuy Nguyen District and Quang Ninh's Dong Trieu Town.
The project is the realisation of a cooperation programme on comprehensive development between the two localities signed in 2009.
Lai Xuan Bridge will be 840 metres long and 12 metres wide while provincial road 352 will have its width expanded to 12 metres to match the bridge.
According to Hai Phong officials, Lai Xuan Bridge and the upgraded road will enhance transport connectivity between Hai Phong and Quang Ninh and promote local socio-economic development.
To ensure the progress of the project, Hai Phong Vice Chairman Nguyen Duc Tho asked Thuy Nguyen District and Dong Trieu Town to accelerate site clearance.
The project is scheduled for completion in 2024.
Young Vietnamese have chance to study fashion design with professional designers
A fashion design course with the participation of local professional designers will be held for young Vietnamese people.
Young people will be able to create and build core values for fashion brands at a two-year course - Fashion Design Full Course Spring 2023 of The Fashion Design Academy (or Face).
Face's teaching staff are graduates from prestigious schools such as Parsons School of Design, London College of Fashion, Fit, Lasalle College of The Arts, and Raffles College of Design & Commerce. They will provide students with practical knowledge and application so that students can complete designs from drawings to collections by themselves after graduation.
In addition to practical knowledge and training in fashion techniques, Face also has other extracurricular activities including exploring traditional craft villages, visiting monuments - museums, and working with professional fashion designers in the country. Anyone who is interested in the course should arrive at 292/15 Dien Bien Phu Street in Ward 17 in HCMC's Binh Thanh District or phone 0866072292.
The course will start on February 9.
Lao, Cambodian Parties extend congratulations to CPV on 93rd anniversary
The Central Committees of the Lao People's Revolutionary Party (LPRP) and the Cambodian People's Party (CPP) have sent messages of congratulations to the Communist Party of Vietnam (CPV) Central Committee on the occasion of the CPV's 93rd anniversary (February 3).
In its message, the LPRP Central Committee praised the CPV for initiating and leading the cause of Doi moi (Reform) in Vietnam, which has reaped great, comprehensive achievements, contributing to ensuring political stability, strengthening national defence and security, and fulfilling the dual goals of COVID-19 prevention and control, and socio-economic development and recovery.
The CPV has also played a role in building an independent, self-reliant economy that is integrating into the world intensively, extensively and effectively, helping to push the economic growth to a record and improving people's living standards, according to the committee.
The Lao Party called the traditional friendship and special solidarity between the two countries a priceless common asset and a factor decisive to the victory of each country's revolution, saying the relationship has been constantly cultivated and deepened in all aspects, bringing pragmatic interests to both peoples.
The Lao Party, State and people will continue to work with Vietnam in preserving and developing the special solidarity, for peace, friendship, cooperation and development in the region and the world, it pledged.
The Lao side wished that the great friendship, special solidarity, and comprehensive cooperation between the two Parties, States and peoples will be sustainable forever.
In its message, the CPP Central Committee congratulated the Vietnamese Party, State and people on the great achievements they have recorded over the past time, and noted with pleasure the continuous developments of the friendship, traditional solidarity and comprehensive cooperation between the two Parties, States and peoples, affirming its determination to further advance the bilateral relationship.
The CPP expressed its belief that under the sound leadership of the CPV, headed by Party General Secretary Nguyen Phu Trong, the Vietnamese people will gain more achievements and soon beat the targeting of turning Vietnam into a high-income developed nation by 2045.
On this occasion, head of the LPRP Central Committee's Commission for External Relations Thongsavanh Phomvihane and Lao Ambassador to Vietnam Sengphet Houngboungnuang also extended congratulations to head of the CPV Central Committee's Commission for External Relations Le Hoai Trung.
Dongxing delegation visits Mong Cai to attend CPV's 93rd anniversary celebrations
A delegation of the Communist Party of China (CPC) Committee of Dongxing city in the Guangxi Zhuang Autonomous Region of China on February 2 visited Mong Cai city in Vietnam's northeastern border province of Quang Ninh to attend activities marking the 93rd founding anniversary of the Communist Party of Vietnam (CPV).
This was the first in-person exchange between Dongxing and Mong Cai after a nearly-three-year hiatus caused by the COVID-19 pandemic.
Secretary of the Dongxing CPC Committee Peng Shaoguan offered congratulations on the CPV's 93rd anniversary (February 3, 1930 - 2023) and presented gifts to the CPV organisation, administration, and people of Mong Cai.
He expressed his wish for continued enhancement of comprehensive and sustainable cooperation between the two localities and their countries, especially in trade, tourism, services, culture, and sports.
For his part, Secretary of the CPV Committee of Mong Cai city Hoang Ba Nam underlined the long-standing friendship and cooperation between Vietnam and China. He noted that the two cities have been making ceaseless efforts to promote friendship and all-round cooperation under the motto of "friendly neighbourliness, comprehensive cooperation, long-term stability, looking towards the future" and the spirit of "good neighbours, good friends, good comrades, and good partners" between the two countries.
Nam highlighted both sides' moves to foster ties amid the pandemic, especially in the COVID-19 response and cross-border trade. He added that customs clearance between Vietnam and China, including between Mong Cai and Dongxing, has gradually returned to normal since January 8, a positive sign for bilateral trade and services.
The achievements have laid a stepping stone for the two cities to strengthen friendship to become a role model of bilateral cooperation, contributing to the Vietnam - China comprehensive strategic cooperative partnership, Nam added.
On this occasion, leaders of Mong Cai and Dongxing held talks to discuss measures to enhance cooperative relations in different fields.
Three monkeys released to nature in Quang Ngai province
Three northern pig-tailed macaques were returned to the protection forest in Minh Long district, the central province of Quang Ngai on February 2.
Earlier, the border station in the district received the primates from a company.
The macaque, known as Macaca leonina, is of a vulnerable species in the subfamily Cercopithecidae. It is found in Bangladesh, Cambodia, China, India, Laos, Myanmar, Thailand, and Vietnam.
The monkey belongs to a species listed in Group IIB of the Vietnam Red Book.
On this occasion, Minh Long district authorities also called on local people to raise their awareness of protecting the biodiversity of the nature.
Phong Nha tops the list of 10 friendliest cities in Vietnam for 2023
Phong Nha and Dong Hoi are two landmarks of Quang Binh province that are in the top 10 friendliest destinations in Vietnam for 2023 (1st and 8th respectively).
On February 1, the world's leading digital travel brand Booking.com announced the recipients of its eleventh annual Traveller Review Awards, including 2023's Most Welcoming Places on Earth and in Vietnam.
Based on a pool of over 240 million verified customer reviews on Booking.com, the Traveller Review Awards recognises travel providers from across 220 countries and territories, including Vietnam, for their commitment to providing consistently excellent service and hospitality over the course of the year.
For 2023, Booking.com has revealed the Most Welcoming Cities in Vietnam for travellers to experience the best in hospitality and friendliness, for a truly memorable travel experience. Beach cities continue to be the most favoured place for holidays, with 6 out of 10 cities being beach destinations.
Hotels continue to take the top spot as the most-awarded property type in Vietnam, with 4190 partners being recognized for their efforts. Apartments claim the second spot with 1587 properties being awarded, followed by homestays (1,467), guest houses (411) and aparthotels (439).
Globally, apartments take the top spot for the sixth year in a row,as the most-awarded property type, with a total of 629,421 partners being recognized for their efforts, followed by holiday homes, hotels, guest houses and bed and breakfasts, rounding out the top five.
When it comes to the different aspects of the stay that Vietnamese travellers valued the most across the properties awarded, friendly staff (8.9) followed by comfort (8.7), cleanliness (8.7) and location (8.7),received the highest score. Value for money (8.6) of the property continued to hold importance in the minds of the travellers, along with services offered (8.5).
Varun Grover, Country Head, Vietnam at Booking.com, commented: "These awards are our way of expressing gratitude to our partner's hard work in making everyone feel welcomed and going beyond boundaries, to make our customers' experiences extraordinary with a personal touch. Our partners have shown immense trust and have time and again shown up for our visitors in multiple ways, by demonstrating personalized attention to detail, while checking in or offering our assistance to explore the destinations like a local. Every trip is made more memorable by our devoted partners, whether it is a warm welcome from the taxi driver at the airport or a thoughtful note left in the room."
Lam Dong Province discovers 19 illegal deforestation cases in January
The Lam Dong Province Department of Agriculture and Rural Development informed that in January, it discovered 18 cases of illegal deforestation on a surface area of 1.74ha.
Among the 18 cases, 5 are violations on forest product management, 4 on forest exploitation, and 9 on logging. Compared to this time last year, the number of cases increased by 3, the affected surface area by 1.4ha, and the damaged forest products by 8.04 cubic meters.
In particular, on January 20, the Forest Protection Unit of Duc Trong District cooperated with the Management Board of Dai Ninh Protection Forest and the contracted forest protection force to pay a sudden inspection. They detected many people felling trees in sub-zone 275 (sited in Lien Hiep Commune). Inspection results revealed that three trees had been logged, with a total damage of nearly 6 cubic meters.
Three days later, the functions force discovered another case happening in sub-zone 263A (sited in Me Linh Commune of Lam Ha District). The affected surface area was 570 square meters, with 54 three-needled pine trees being felled and creating a damage of over 13 cubic meter.
Lam Dong Province People's Committee has asked the provincial police to direct corresponding its professional units to collaborate with the local police to urgently investigate, verify necessary information, and strictly handle these illegal deforestation cases.
India's Republic Day marked in HCM City
A get-together was hosted by the Ho Chi Minh City Union of Friendship Organisations (HUFO) on February 2 to celebrate the 74th anniversary of India's Republic Day (January 26, 1950 – 2023).
Addressing the event, President of the Vietnam – India Friendship Association of HCM City Huynh Thanh Lap highlighted the significance of the historic date of January 26, 1950, when the Constitution of India with basic political principles took effect, creating a foundation for India to develop into a power as it is today.
Since the establishment of diplomatic ties in 1972 which were upgraded to a strategic partnership in 2007 and then a comprehensive strategic partnership in 2017, the Vietnam – India relations have been growing strongly, and recording great achievements across cooperation pillars such as politics – diplomacy, defence – security, trade- investment, science – technology, culture, and people-to-people exchange, he stressed.
Lap took this occasion to thank the Indian Consulate General in HCM City and the Indian Business Association in Vietnam for their coordination in organising activities to mark the 50th founding anniversary of the Vietnam – India diplomatic ties in 2022, expressing his hope to continue receiving support from the agency in people-to-people diplomatic events, thus deepening the bilateral relations.
Meanwhile, Indian Consul General in HCM City Madan Mohan Sethi expressed his delight at the fruitful development of the India-Vietnam relations in recent years, and thanked HUFO for hosting the get-together, and other people-to-people exchange events which have contributed to strengthening cooperation, solidarity and friendship between the two countries' people.
He hoped that HUFO and the India - Vietnam Friendship Association of HCM City will enhance coordination with the Consulate General to connect Vietnamese and Indian businesses, towards expanding cooperation in trade, investment, health care and education.
Party members in Hong Kong show pride celebrating CPV anniversary
Party members in Hong Kong (China) show their pride when joining celebration of the 93rd founding anniversary of the Communist Party of Vietnam (CPV), as they are living and studying in the place where the CPV was born.
The CPV was founded on February 3, 1930, in Hong Kong at the dawn of the struggle for national liberation, independence, and construction.
One year ago, a Party cell of Vietnamese students in Hong Kong and Macao (China) was established with seven members who are post-graduates at Hongkong's universities.
Nguyen Hoang Long, Secretary of the cell, said that all Party members there are proud of joining Party activities there.
Over the past year, the cell consolidated its organisation, Party affairs and activities. It regularly develops topics on political activities and education for Party members.
The cell and the Vietnamese Consulate in Hong Kong and Macau directed the establishment of the Vietnamese Students' Association in Hong Kong which was a turning point in the Vietnamese student movement in Hong Kong and proved the growth of the Vietnamese student community there in recent years.
Long said that changes in the policies of Hong Kong and Vietnam have created developments in educational cooperation between the two sides.
He said that the Party cell will organise activities to promote Vietnamese culture, people and wisdom. Moreover, it will also further introduce life and education in Hong Kong and attract Vietnamese students to study there.
It will also link the students' activities with the political and ideological education, towards the homeland, Long said.
Source: VNA/SGT/VNS/VOV/Dtinews/SGGP/VGP/Hanoitimes