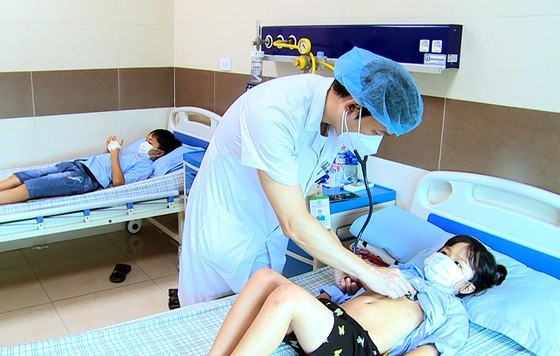 Hundreds of students in the Northern Province of Lao Cai's Bao Yen District recently had to leave school due to cough, fever, and fatigue, physicians in Bao Yen District Health Center said that rapid testing showed they were infected with influenza A.
Seasonal flu is an acute respiratory infection caused by influenza viruses such as influenza A and influenza B. The disease occurs all year round but usually peaks in the winter-spring or the season change. Seasonal flu is transmitted directly from an infected person to a healthy person through contact.
According to the authorities, in the past week, 237 students of schools comprising No. 1 Bao Yen High School, No. 1 Pho Rang Secondary School, and No. 1 and 2 Pho Rang Primary Schools had to miss school because they had coughing, fever, and fatigue.
Meanwhile, the figure of child patients in Hanoi-based National Children's Hospital, the Military Hospital 108, the Saint Paul Hospital, Thanh Nhan Hospital, showed an increase in the number of hospitalized children due to influenza A.
Doctor Pham Thi Thuan, who is in charge of the 108 Military Central Hospital's Department of Pediatrics, said that for the past two weeks, the department's doctors have received visits to dozens of children with influenza A every day; worse, 10 percent were hospitalized due to persistent high fever or pneumonia.
In particular, at the Hanoi-based National Children's Hospital, from the beginning of March until now, the number of children with cough and fever coming to the clinic due to influenza A has also increased very high. Many children with bronchopneumonia complications had to be hospitalized.
Influenza is a common infection that can cause widespread flu outbreaks. It can cause fever, body aches, chills, fatigue, and other symptoms.
Influenza — also known as the flu — is a contagious viral infection that attacks your respiratory system. Influenza viruses that infect humans can be classified into three main groups A, B, and C. Type A influenza infection can be serious and cause widespread outbreaks and disease.
Common symptoms of type A infection can be confused with other conditions. While in some milder cases, the flu can resolve on its own without significant symptoms, severe cases of type influenza can be life-threatening.
Painting exhibition of Korean and Vietnamese artists opens in Hanoi
A painting exhibition introducing artworks by female Vietnamese and Korean painters Van Duong Thanh and Julia OH recently opened in Hanoi as part of efforts to tighten cultural diplomacy that exists between Vietnam and the Republic of Korea.
Addressing the opening ceremony on March 18, Nguyen Phu Binh, former Deputy Minister of Foreign Affairs, praised Van Duong Thanh for her great contributions to strengthening the friendship between the Vietnamese people and those in other countries.
Visiting the exhibition, Romanian Ambassador to Vietnam Cristina Romila said she highly respects painter Duong Thanh for her tireless devotion to painting and strengthening cultural connectivity among nations, especially with Romania.
Thanh works as a cultural ambassador to help promote ties between Vietnam and Romania, the ambassador said, recalling the painter's solo exhibitions at famous museums in Romania, attracting large numbers of visitors.
Van Duong Thanh is considered to be one of the special artists of Vietnamese contemporary painting. Through 2,000 paintings and 100 solo exhibitions she has inspired art lovers both at home and abroad, becoming the first Vietnamese national to be selected into the International Excellence of Arts of CFM - Snecma, USA – France.
Along with the impressive contemporary paintings produced by the local female artist, the exhibition offered audiences a view of typical works by Julia OH, a talented oil painter from the Republic Korea.
Julia OH is renowned for her bright and inspiring oil painting style. Through a combination of talent and passion, she creates unique and vibrant paintings.
Vietnamese walkers finish in top 10 at Asian championship
Vietnamese athletes did not earn a ticket to the Olympic Games, although they completed better than expected and reached the top 10 at the Asian 20km Race Walking Championship in Nomi, Japan, on March 19.
SEA Games champion Nguyễn Thị Thanh Phúc finished sixth in the women's category with a time of 1hr 45.45min. Teammate Nguyễn Thị Vân was fourth in the women's open at 1:56.35.
The winner was Gao Lan of China who walked 1:29.25. She was followed by Ayane Yanai of the host (1:30.58) and Indian Priyanka Priyanka (1:32.27).
None of them qualified for the Paris Olympics as the standard time is 1:29.20.
On the men's side, Nguyễn Thành Ngưng came seventh with a time of 1:30.27 while SEA Games champion Võ Xuân Vĩnh was seventh in the men's open clocking in at 1:33.08.
Ngưng cut seven minutes from his time compared to what he did last May to take a SEA Games bronze medal. Vĩnh meanwhile did not reach his best after he switched to compete in triathlons for months and just practised walking recently. He walked 0.76sec slower than in the SEA Games.
Indian Akshdeep Singh (1:20.57), South Korean Choe Byeongkwang (1:21.20) and Chinese Wen Yongjie (1:22:44) were the top three finishers.
The Olympic standard to beat for the men is 1:20.10.
"It was my first Asian tournament since 2019. I met with strong rivals, I had not seen and walked against most of them before," Phúc told Việt Nam News.
"In this fifth continental tournament, I found that many walkers were powerful but young. At my age of 31, I think that the result of 1:45.45 is really good. It makes me still on top of ASEAN," she said.
The four athletes flew back home to continue training for the May SEA Games in Cambodia. Walk races will be held in Siem Reap on May 16.
Quang Ninh to improve locals' housing with funding from economic sectors
The northern province of Quang Ninh is planning to use capital mobilised from different economic sectors to build new houses and upgrade all temporary houses in the locality.
The provincial Department of Construction reported that 279 families in Quang Ninh are in temporary accommodations, of which 205 should be granted with new houses and 74 others need home upgrades.
Acting Chairman of the provincial People's Committee Cao Tuong Huy asked the department to coordinate with other departments, agencies and localities in reviewing all cases to propose specific plans, expected to be completed on the occasion of the 60th anniversary of the province.
Since 2011, nearly 5,000 poor households in Quang Ninh have benefited from many housing programmes and policies.
Quang Ninh is the first locality in the country to have completed the National Target Programme on Sustainable Poverty Reduction, three years ahead of schedule. It is shifting towards the building and implementation of new multidimensional poverty standards, higher than the national average.
As of the end of 2022, Quang Ninh's multidimensional poverty rate dropped to only 0.067%, only after HCM City and Ba Ria-Vung Tau.
The province now counts 2,454 near-poor households, making up 0.63% of the local total, and no poor households.
It has put forth poverty standards for 2023-2025 which are higher than the national, and match its socio-economic conditions, striving to reduce the poverty rate in line with the multidimensional standards to below 0.05%.
10 fishing boats remove monitoring systems off Ca Mau
Authorities in Ca Mau Province are investigating a case in which 10 fishing boats removed their vessel monitoring systems (VMS) while at sea.
The Ca Mau Provincial Department of Agriculture and Rural Development has asked owners of the 10 boats including seven from Ca Mau Province and three from neighbouring Kien Giang Province to recall their boats within 10 days for an investigation into the removal of their VMS while fishing at sea.
"Local naval and military forces have also been asked to look for the boats and ensure they return to shore," the ministry said, adding that fishing boats with lengths of 15 metres or more operating without VMS was a serious violation.
Earlier on March 15, local authorities checked a fishing boat operated by captain Tran Phuoc Nghiem and found 10 sets of vessel monitoring systems hidden inside. Nghiem said that he was asked to keep the VMS devices for some other boats and received fuel in return. Nghiem was given between 30-60 litres of diesel for keeping each set of the VMS.
Installing VMS equipment on fishing boats with a length of 15m or more is one of the main solutions to end illegal, unreported and unregulated (IUU) fishing practices, particularly illegal fishing in foreign waters.
Towards the goal of having the European Commission's yellow card on IUU removed, the Vietnamese Directorate of Fisheries has urged the administrations of coastal localities to speed up the installation of VMS equipment and effectively use the equipment to monitor the operation of their fishing fleets at sea closely.
As of June 30, 2022, some 93.40 percent of fishing boats nationwide had been installed with VMS.
Nghe An Park seeks place to release crocodiles
Vinh City Central Park is finding a place to release more than 10 crocodiles as they no longer are a home for wild animals.
The 26-hectare park, the largest in Nghe An Province, opened to visitors in 2005 in the city centre. With a vast area of trees and dozens kinds of wild animals, the park was expected to be a recreation place for local people and help regulate the temperatures of the city.
However, the park has failed to attract visitors and many facilities have deteriorated in recent years.
The park's investor, Trung Long Company, recently decided to open the park for free.
Since that decision, it has become more popular with locals.
After stopping selling tickets at Vinh City Central Park, the investors released nearly all the animals into the wild. There is now only a group of over 10 crocodiles left.
The crocodile cages have been damaged, posing danger to park visitors
Deputy director of Trung Long Company, Nguyen Huu Thang, said that they had proposed to Nghe An's authorities to release the crocodiles into the wild but have yet to receive a reply.
There are also complaints that the crocodile cages have been damaged, posing danger to park visitors, however, Thang said that they had checked the cages regularly and there were no safety concerns.
Vietnamese boxer knocks out former world champion in India
Vietnamese fighter Nguyen Thi Tam defeated former world champion Kzyaibay Nazym in the opening fight of the International Boxing Association (IBA) Women's World Boxing Championships held in New Delhi, India, on March 19.
Nazym is a Kazakh light flyweight and flyweight amateur boxer who is most notable for winning the light flyweight world title in 2014 and 2016. In contrast, Tam is the less experienced fighter, although she did achieve success by becoming the Asian Women Boxing Champion in 2022.
The Vietnamese boxer entered the bout full of confidence, but was outplayed by the Kazakh opponent who put on a strong performance in the first round.
Making use of the left hook helped Tam to score more points in the second round which ended in favour of the Vietnamese fighter.
Moving into the final round, the Kazakh fighter put strong pressure on Tam, who was able to dodge attacks effectively and fought back with extremely powerful counterpunches to ultimately win the bout.
Tam is now set to face Lethabo Bokamoso Modukanele of Botswana in the next round.
The IBA Women's World Boxing Championships is getting underway in India from March 15 to 31, gathering together 380 boxers from 77 countries and territories worldwide.
Nine Vietnamese boxers are competing in different weight categories ranging from 48kg to over-81kg.
The winners will walk away with US$100,000 each and will qualify for the 2024 Paris Olympics in France next year.
Hanoi Tourism Festival 2023 to lure travelers
The Hanoi Tourism Festival 2023 is set to get underway from March 23 to 26 in the city centre to introduce local attractive tourist destinations, products, and services to international visitors.
At a recent press conference, Nguyen Thi Mai Anh, deputy director of the Hanoi Centre for Investment, Trade and Tourism Promotion, said the event due to take place at the pedestrian zone around the Hoan Kiem (Restored Sword) lake aims to promote cultural exchanges, honour cultural heritage, and ramp up tourism promotion activities.
With 150 booths displaying products from nearly 100 travel businesses, including Vietnam Airlines and Vietravel, it is hoped that these will serve as a magnet to attract visitors.
Travel businesses will launch a range of stimulus programmes, along with organising mini-game shows to attract visitors.
Most notably, products of the capital's craft villages such as Bat Trang, Van Phuc, and Duong Lam will be showcased as part of the festival.
Special tours aimed to explore heritage sites throughout Hanoi including Co Loa citadel, Thang Long imperial citadel, and Vinh Nghiem pagoda will also be introduced to visitors.
How to develop heritage tourism products will be discussed at a conference slated for March 23. In addition, a cyclo parade to re-enact the traditional wedding of Hanoians will be held on March 25.
Practical effective activities urged to mark World Water Day
The Ministry of Natural Resources and Environment has asked other ministries, agencies, sectors, localities, and organisations to take practical and effective activities to mark the World Water Day (March 22), the World Meteorological Day (March 23), and the Earth Hour 2023 (March 25).

This year, the World Water Day's theme is "Accelerating Change" which aims to raise awareness and provide education about the global water crisis.
Meanwhile, the World Meteorological Day is themed "The future of Weather, Climate, and Water across Generation" and the Earth Hour 2023 "The Biggest Hour for Earth" emphasises the stronger changes that the world need to take to ensure global goals on environmental preservation and biodiversity.
A campaign to respond to the Earth Hour 2023 will be launched across Vietnam from 8:30 p.m. to 9:30 p.m. on March 25, sending out a message of saving energy, protecting the environment, and adapting to the threat of climate change.
During the Earth Hour campaign, citizens nationwide are encouraged to take a simple but meaningful act of turning off lights and other unnecessary devices in their homes and at their workplaces.
Earth Hour is an initiative launched by the World Wildlife Fund (WWF) and is the largest social event globally. So far it has been observed in 7,000 cities and towns across 172 countries and territories globally.
Vietnam first joined the Earth Hour campaign in 2009. Last year, the country saved 309,000 kWh of electricity, equivalent to VND576.1 million (over US$24,400).
Vietnam tops Southeast Asian Karate Championships
Vietnam ranked first at the 2023 Southeast Asian Karate Championships, which concluded in the Philippines on March 19.
Vietnamese athletes secured 23 gold, 20 silver and 23 bronze medals from tournaments for both seniors and juniors during the seven days of competition in Manila.
Prominent among the winners is Asian champion Hoang Thi My Tam who secured a double title after beating Chokprasertgul Sirigamolnate of Thailand in the women's U21 55kg class and Montalvo Jenelle of the Philippines in the senior pool.
Thailand finished second with eight golds, 10 silvers and 18 bronzes, while Indonesia ranked third with eight golds, five silvers and 11 bronzes.
The regional tournament lured more than 280 athletes from 10 countries, competing in both kata (performance) and kumite disciplines. Vietnam sent 73 competitors to the Manila event, which was considered their last warm-up for the 32th SEA Games in May in Cambodia.
At the previous Games, Vietnam topped the medal tally with seven golds, two silvers, and six bronzes.
Northern region gets hotter this week
The first heatwave facing the north this year has arrived, affecting mostly the northwestern area, with the highest temperature on March 21 reaching 34-36 degrees Celsius, even higher in some other places.
According to the National Centre for Hydro-Meteorological Forecasting (NCHMF), it will be hottest on March 22 when the mercury in Hanoi will hit 36 degrees Celsius. Coupled with low humidity, the heat will remain until the end of March 24, possibly followed by thunderstorms and falling temperatures at weekend.
At the same time, the southeastern region is forecast to continue experiencing hot weather for several days, with temperatures hovering around 35 – 36 degrees Celsius, even higher in specific places.
The meteorological agency said in the second half of March and into April, the frequency of cold waves tends to gradually reduce and the heat will begin to appear, concentrating in the northwest and the central region's western area. The intensity of the hot weather will then increase and gradually expand to other parts of the north, north-central, and central regions in April and May.
Experts predict that this summer's heat will be more frequent than in 2022, both in terms of frequency and severity. The average temperature is also higher than that of the previous year.
Binh Thuan ready for opening of Visit Vietnam Year 2023
The central coastal province of Binh Thuan has completed preparations for the opening of Visit Vietnam Year 2023 with the theme "Binh Thuan - Green convergence," which will officially be held on March 25 night, heard a meeting held by the provincial People's Committee on March 20.
According to Director of the provincial Department of Culture, Sports and Tourism Bui The Nhan, the province has completed all necessary conditions for the event, including the stage for the opening ceremony, traffic regulation and security protection plans, as well as accommodations for visitors, medical and fire rescue services.
Chairman of the Binh Thuan People's Committee Doan Anh Dung asked relevant agencies, departments and localities to coordinate closely to ensure a successful and safe opening ceremony of Visit Vietnam Year 2023, leaving a good impression on visitors.
The opening ceremony of Visit Vietnam Year 2023 will be held at NovaWorld Phan Thiet in Phan Thiet city of Binh Thuan. Nearly 600 artists, actors, and actresses will perform in an artistic musical show at the ceremony with the script written by Meritorious Artist Tran Ly Ly, Director of the Department of Performing Arts under the Ministry of Culture, Sports and Tourism, and writer Hoang Cong Cuong.
The 85-minute show has three parts, namely the "Convergence of earth and sky", the "Green Tour", and the "Green convergence - Binh Thuan destination of friendship". The ceremony is expected to draw 5,700 visitors.
According to the Vietnam National Administration of Tourism (VNAT), Visit Vietnam Year is a both a national and international cultural, economic, social, and tourist event. It is also the biggest annual tourism event in Vietnam, offering opportunities to attract domestic and international tourists through the promotion of images, tangible and intangible cultural values, natural resources, as well as the development of linkages between localities.
The opening ceremony of the Visit Vietnam Year 2023 is expected to draw 5,700 visitors.(Photo: binhthuan.gov.vn)
Visit Vietnam Year 2023 "Binh Thuan - Green convergence" includes more than 200 events and activities.
With 192km of coastline, Binh Thuan province is home to islands, islets, coves, bays, and white sand beaches with clear blue water, which form famous tourist attractions. The province has many tourism resources with many historical-cultural relics and traditional festivals. Currently, the province has nearly 900 accommodation establishments with over 17,000 rooms, including 45 hotels and resorts from three to five stars with nearly 5,000 rooms. The province has 13 travel agencies, including eight international travel agencies.
Before the COVID-19 pandemic, in 2019, Binh Thuan welcomed over 6.4 million visitors with tourism revenue of 15.2 trillion VND (644.54 million USD). The province's tourism sector contributes 10-12% to the GRDP each year.
In 2022, the province welcomed over 5 million visitors, getting tourism revenue of 12.8 trillion VND. It aims to attract about 6.5 million visitors, including more than 200,000 international visitors this year.
Vietnamese FM suggests expanding cooperation in areas of UK's strength
Vietnamese Minister of Foreign Affairs Bui Thanh Son hosted a reception in Hanoi on March 20 for British Ambassador to Vietnam Iain Frew, during which he hailed the latter for actively promoting bilateral activities over the past years.
Son said the signing and enforcement of the UK-Vietnam Free Trade Agreement has made the UK the third largest trade partner in Europe and the ninth largest export market of Vietnam and the most important European investor in the country despite impacts from the COVID-19 pandemic.
He asked Frew to continue facilitating the exchange of all-level delegations, effectively implement bilateral cooperation mechanisms and work closely with Vietnamese partners to hold activities celebrating the 50th founding anniversary of Vietnam-UK diplomatic ties this year.
The host suggested both sides maintain effective cooperation in traditional areas such as trade - investment, education - training, national defence - security while expanding collaboration in new fields where the UK has strength and Vietnam has development priorities such as green growth and climate change adaptation.
Son spoke highly of the UK's role in promoting the building of a Just Energy Transition Partnership framework between Vietnam and international partners. He proposed the UK continue assisting Vietnam in terms of experience, technology transfer, green finance and human resource development in this field.
Frew, for his part, affirmed that with its policy towards the Indo-Pacific region, the UK attaches great importance to developing its relations with Vietnam on the basis of political trust, close cooperation at multilateral and regional forums, solid economic relations and rich potential for cooperation in the future, especially in new fields and development trends of the world, including sustainable energy transition and climate change response.
To improve the effectiveness of bilateral cooperation, the ambassador vowed to work closely with the Vietnamese Ministry of Foreign Affairs, and other ministries and agencies to build practical cooperation plans in the coming time.
Vietnamese, Dominican foreign ministers hold talks
Vietnamese Minister of Foreign Affairs Bui Thanh Son held talks with Dominican Minister for Foreign Affairs, International Business, Trade and Energy Vince Henderson in Hanoi on March 20, discussing orientations and measures to strengthen the friendship and cooperation between the two nations.
Henderson is on a five-day visit to Vietnam at Son's invitation from March 18 as Vietnam and Dominica are celebrating the 10th founding anniversary of diplomatic relations this year (November 1, 2013 – 2023).
At the talks, Son affirmed that Vietnam always attaches importance to its relationship with Dominica and expects that the two sides will continue to explore possibilities to strengthen the ties on the basis of their respective potential and strengths, especially in the fields of economy-trade, agriculture, tourism and people-to-people exchange.
The top Vietnamese diplomat suggested the two countries increase the exchange of delegations between their ministries, sectors and businesses, as well as meetings between their leaders at all levels on the sidelines of international conferences and multilateral forums.
It is also necessary to beef up the bilateral cooperation at the United Nations (UN) and other multilateral forums, he added.
For his part, Henderson said Dominica always treasures and wishes to strengthen its relations with Vietnam.
Expressing his admiration for Vietnam's achievements in foreign affairs and socio-economic development, he lauded the Southeast Asian nation's growing position in the region and the world, notably its successful past tenures as a non-permanent member of the UN Security Council and a member of the UN Human Rights Council.
The Dominican minister said he believed that the nation will continue to succeed in its current post as a member of the UN Human Rights Council for the 2023-2025 term.
Agreeing with the Vietnamese side's proposals, Henderson recommended Vietnam to share its experience in national construction and development with Dominica and the two countries to step up collaboration in farming, fishing, and response to climate change and sea level rise.
Both ministers agreed to continue expand cooperation both bilaterally and multilaterally for the sake of their people and for peace, stability, cooperation and development in the two regions, including the enhancement of cooperation between Vietnam and countries in the Caribbean Community and Common Market (CARICOM) as well as between Dominica and Southeast Asian nations.
At the talks, the host and guest also exchanged views on regional and international issues of mutual concern.
Earlier, as part of his trip to Vietnam, Henderson met with leaders of VinFast, a subsidiary automaker of Vietnamese private conglomerate Vingroup; and toured several tourism and cultural destinations in the capital city of Hanoi.
Prosecutor General answers questions at NA Standing Committee's Q&A session
The National Assembly Standing Committee raised questions to Prosecutor General of the Supreme People's Procuracy of Vietnam Le Minh Tri during a Q&A session of the ongoing 21st meeting in Hanoi on March 20.
Their questions revolved around solutions to improving the quality of prosecution and judicial activities in handling criminal cases, inspecting the execution of criminal, civil, and administrative judgments; and strengthening the review of the handling of denunciations and reports on crimes under the jurisdiction.
Tri said preventing criminals from evading justice and fighting wrongful convictions are a consistent policy and top political task of the procuracy sector.
According to the official, the settlement of criminal cases has get better year on year, with annual targets assigned by the legislature being met or surpassed. The rate of wrongful convictions has also decreased steadily over the years and NA's tenures, which accounted for a very small ratio compared to the number of defendants who faced trials.
The People's Procuracies at all levels fulfilled their duties and responsibilities, thus minimising the risk of criminals evading justice, he said.
In order to strengthen the fight against corruption, Tri suggested fine-tuning mechanisms and policies, improving transparency and openness in the social and State management system, especially in sensitive areas where corruption is likely to occur while increasing effectiveness in administrative reform.
It is also necessary to perfect a synchronous and uniform legal system, the Prosecutor General added.
Vietnam beefs up defence cooperation with Laos, Cambodia
Deputy Minister of National Defence Sen. Lieut. Gen Hoang Xuan Chien hosted separate receptions in Hanoi on March 20 for Colonel Vongxay Inthakham, Defence Attaché of Laos to Vietnam, and Colonel Rem Kann, Military Attaché of Cambodia to Vietnam.
Receiving Vongxay, Chien highly valued the close coordination between the two Ministries of National Defence in organising activities during the "Vietnam-Laos, Laos-Vietnam Friendship and Solidarity Year 2022".
On the foundation of its cooperation plan for 2023, the Vietnamese Ministry of National Defence has assigned specific tasks to agencies and units in strengthening collaboration with their Lao peers, he said, noting that the partnership has been fruitful so far.
For his part, Vongxay expressed his delight at the development of the great friendship, special solidarity and comprehensive cooperation between Laos and Vietnam over the years, including defence collaboration.
He affirmed that in his role, he will work hard to implement activities and tasks for 2023, contributing to promoting the defence ties between the two countries.
Receiving Rem Kann, Chien spoke highly of the Cambodian official's efforts to coordinate with agencies and units of the Vietnamese Ministry of National Defence in effectively implementing bilateral defence cooperation activities over the years, including those within the framework of the "Vietnam-Cambodia, Cambodia-Vietnam Friendship Year 2022".
He told the guest that at his meeting with General Neang Phat, Secretary of State of National Defence of Cambodia, on the sidelines of the 12th ASEAN-Japan Deputy Defence Ministers' Meeting in Tokyo recently, the two sides discussed bilateral defence cooperation orientations in the future.
Chien expressed his belief that Cambodia will successfully organise important political and diplomatic activities in 2023, including the general election, the 32rd Southeast Asian Games (SEA Games 32), and the 12th ASEAN Para Games.
Rem Kann agreed with the host on the efficiency of the bilateral defence cooperation over the years. He affirmed that he will continue to work closely with agencies and units of the Vietnamese Ministry of National Defence in promoting the ties in the future.
Partnership forum discusses digital transformation in justice sector
Deputy Minister of Justice Nguyen Thanh Tinh, European Union Ambassador to Vietnam Giorgio Aliberti, and UNDP Resident Representative in Vietnam Ramla Khalidi jointly held the 2023 Legal Partnership Forum on Digital Transformation in the Justice Sector in Hanoi on March 20.
Addressing the event, Tinh said that digital transformation is a major policy of the Vietnamese Party and State in recent years. In that context, the Ministry of Justice identifies it as an important task that contributes to improving the validity and efficiency of its State management as well as the quality of public services.
The ministry has issued digital transformation programmes and set out goals to implement the Government's relevant policies. To date, all administrative procedures under the management of the ministry have been connected to the National Public Service Portal. This helps to create favourable conditions for people and enterprises and improves the management and administration capacity of all-level authorities, thus contributing to promoting economic growth and increasing national competitiveness, he said.
Ramla Khalidi stated that digital transformation can contribute to achieving the objectives of building a modern and professional justice system that is transparent, accountable, and accessible to everyone.
When being well conceived and designed, electronic justice initiatives can effectively expand access to justice for vulnerable individuals and communities.
Ambassador Giorgio Aliberti stressed access to justice needs to keep pace with social developments, including digital transformation. And coordinated efforts are needed to fully benefit from digital technologies in judicial proceedings, including cross-border judicial cooperation.
Vietnam-RoK cooperation should continue to focus on economy: NA official
Economic cooperation should continue to be the focus of bilateral ties between Vietnam and the Republic of Korea, National Assembly (NA) Vice Chairman Nguyen Duc Hai said at his talks with Deputy Assembly Speaker of the RoK Chung Woo-taik in Seoul on March 20.
Hai, who is making an official visit to the RoK, noted that the political trust between the two countries has been continuously strengthened, and they have maintained a regular exchange of delegations at all levels.

The most recent visit to Vietnam by Speaker of the National Assembly (NA) of the RoK Kim Jin-pyo in January opened practical and effective activities between the two nations in 2023, he stressed.
The NA Vice Chairman said the two sides need to work closely to effectively implement the Vietnam - Korea Free Trade Agreement (VKFTA) and the Regional Comprehensive Economic Partnership (RCEP) agreement. The goal is to lift two-way trade to 100 billion USD this year and 150 billion USD by 2030 in a sustainable and balanced direction.
Vietnam welcomes Korean businesses to expand their investment in Vietnam, especially in priority fields such as high technology, innovation, green economy, digital transformation, clean energy, and development of smart and ecological cities and green industrial parks.
Vietnam hopes that RoK firms will boost connection with and support Vietnamese businesses in joining supply and production chains, contributing to turning Vietnam into a centre in regional and global value chains, and helping Vietnam build an independent and self-reliant economy, the Vietnamese legislator said.
He suggested the RoK continue providing official development aid (ODA) for Vietnam, including increasing preferential loans for Vietnam from its Economic Development Co-operation Fund (EDCF). Vietnam is also looking to promoting new forms of labour cooperation, and hopes that the RoK will expand professions and fields for receiving Vietnamese labourers, he said, urging the two sides to early implement the social insurance agreement between the two nations to ensure the rights of workers in each country.
Relations between localities of the two countries should also be promoted in the coming time through investment, trade, culture and tourism promotion activities, Hai added.
Vietnam is willing to work with the Rok to strengthen cooperation in international and regional issues of mutual concern, Hai stressed. He said Vietnam will coordinate closely with the RoK to successfully fulfill its role as the coordinator for the ASEAN-RoK relations in the 2021-2024 tenure.
Vietnam is always interested and ready to make active contributions to the process of denuclearization of the Korean Peninsula, and supports efforts to maintain peace in Northeast Asia through dialogue, he said, adding that the Southeast Asian nation also supports the RoK to host the World Expo 2030 in Busan.
For his part, the guest spotlighted the significance of the exchange of high-level delegations between the two countries, including their legislative delegations, in promoting the bilateral cooperation.
Chung Woo-taik underlined the important role of the NAs of the two countries in promoting bilateral exchange and cooperation. He expressed his hope that the two sides will share experience in law-making and the procedures for drafting and issuing legal documents while stepping up bilateral cooperation in potential fields, and in solving arising problems in citizen protection and supporting businesses.
He thanked Vietnam for helping the RoK to overcome the crisis of urea supply in 2022, and suggested Vietnam back the RoK to host the World Expo 2030 in Busan.
A day earlier, on March 19, the Vietnamese delegation had a meeting with representatives of the Korea-Vietnam Economic and Cultural Association (KOVECA), during which the association's Chairman Kim Kil-soo said KOVECA will continue its objective of promoting economic, cultural, and social service exchange based on a common understanding of the culture and history of both countries.
Various activities to be held in "Ca Mau – Destination 2023" Programme
The People's Committee of the southernmost province of Ca Mau is planning a wide range of activities within the framework of the "Ca Mau – Destination 2023" Programme to promote the locality's tourism potential.
Vice Chairman of the provincial People's Committee Nguyen Minh Luan said that the programme aims to create chances for businesses to meet, connect and cooperate in developing trade and tourism. The plan aims to help Ca Mau boost socio-economic growth, develop tourism associated with trade and services, and stimulate the sale of local products, particularly local specialties and OCOP (One commune-one product) products.
Accordingly, the province will organise a ceremony to mark the death anniversary of Hung Kings, the legendary founders of Vietnam (the 10th day of the third lunar month), a Ca Mau Cape Marathon, and a southern traditional cake festival, and a Ca Mau shrimp festival.
A hot-air balloon festival is scheduled to be held on the occasion of the 48th National Reunification Day (April 30) and May Day (May 1).
Activities of the "Ca Mau – Destination 2022" Programme attracted a total of over 159,000 visitors and brought about combined revenue of 108 billion VND (4.58 million USD).
Famous composer Rachmaninov's works to be performed in HCM City
The Ho Chi Minh City Ballet Symphony Orchestra and Opera has announced a Sergei Rachmaninov music night will take place on March 26 at the city's Opera House to mark the 150th birthday of the Russian famous romantic composer (1873 - 2023).
The guest artist this time is pianist Nguyen Viet Trung who will return from Poland. Trung and the city's orchestra will perform under the baton of Meritorious Artist Tran Vuong Thach.
The audience will enjoy two famous works of Rachmaninov - Rhapsody on a Theme by Paganini for Piano and Orchestra and Symphony No. 2 in E minor.
Pianist Trung was trained at Bydgoszcz Academy of Music (Poland) and was one of the outstanding students of world famous pianist Dang Thai Son. He has won many prestigious competitions, including the 17th "Chopin Interpretations of the Young" contest in 2021.
Sergei Vasilyevich Rachmaninov was a Russian composer, virtuoso pianist, and conductor. He is widely considered one of the finest pianists of his day and, as a composer, one of the last great representatives of Romanticism in Russian classical music.
International Day of Happiness observed in Vietnam
A wide range of activities have been held across Vietnam to mark International Day of Happiness (March 20), reported Radio The Voice of Vietnam (VOV).
Many localities have launched information and communication campaigns to inform the public of the history and meaning of International Day of Happiness, as well as the Government's policies on social security, aiming to build a prosperous, progressive, civilised, and happy family.
A workshop specifically on happiness was recently organised at the Ho Chi Minh City Women's Cultural House, helping participants gain a better understanding of what happiness is and how to achieve it.
Authorities of Quang Ngai, Binh Dinh, and Nghe An provinces also held workshops on ways to build and maintain family happiness for everyone.
Elsewhere, a range of contests, art and cultural programmes, and sport games were held nationwide to enhance public awareness of the significance of the event and call for more practical actions to be taken to bring happiness to each person and each family.
The UN originally designated March 20 as International Day of Happiness in 2012, and the event has been since celebrated worldwide annually. As many as 193 member countries, including Vietnam, have pledged to work together in order to build a merrier world.
International Day of Happiness 2023 is running with the theme of "Be Mindful, Be Grateful, Be Kind". By incorporating mindfulness, gratitude, and kindness into your daily life, it is hoped that people can develop a more positive and fulfilling mindset and improve their overall well-being.
Vietnam shares experiences in corruption fight
A delegation of the Supreme People's Procuracy of Vietnam, led by Nguyen Huy Tien, Permanent Deputy Prosecutor General, attended the 15th International Meeting on Criminal Science and the 3rd conference on the rule of law, law and society, organised in Havana on March 15-17.
In his presentation, Tien emphasised that corruption is a negative social phenomenon that still exists in many countries around the world, adding that the scale of these types of crimes is expanding and their methods are becoming more sophisticated, causing damage to the State's property.
The official affirmed that the Communist Party and the Government of Vietnam determine that the fight against corruption is an important, urgent and complicated task that plays a vital role in the construction and development of the country.
He suggested promoting institutional building, strengthening the power control mechanism and discipline, perfecting the legal system, especially overcoming loopholes and inadequacies in legal regulations, and ensuring they are compatible with the development of the market economy.
It is necessary to review and issue regulations on publicity and transparency of assets and income, and adopt solutions to limit the use of cash in economic and civil transactions, contributing to the handling of corruption and economic crimes, he went on.
The Vietnamese official pointed out that international solidarity and cooperation are an important foundation for mutual development and building a just and civilised world.
The International Meeting on Criminal Science is an annual activity hosted by Cuba. It has become a prestigious forum in Latin America to exchange experiences on anti-criminal policies, with the participation of a large number of prosecutors, lawyers, judges, forensic doctors, professors, and leading researchers.
During its stay in Cuba, the Vietnamese delegation held talks with the head of the Cuban Supreme People's Procuracy Yamila Peña Ojeda and the Russian delegation on the sidelines of the event.
HCM City leaders receive heads of Vietnam's overseas representative bodies
Leaders of Ho Chi Minh City called for support from heads of Vietnam's overseas representative bodies for local development, during a meeting on March 17.
Politburo member and Secretary of the municipal Party Committee Nguyen Van Nen appreciated opinions by the new ambassadors of Vietnam and highly valued their sense of responsibility and aspiration to dedicate to the country.
He asked the HCM City People's Committee to soon devise a mechanism of coordination with Vietnam's overseas representative bodies so as to contribute to local development.
Stressing that the ambassadors and heads of overseas representative agencies are representatives of Vietnam in the eyes of foreign friends and partners, Nen wished them good health; steadfastness in their stance, thought, and revolutionary ethics; and success in performing the tasks assigned by the Party, State, and people.
Chairman of the municipal People's Committee Phan Van Mai thanked the Ministry of Foreign Affairs and Vietnam's overseas representative bodies for their considerable contributions to the city's development.
He called on the agencies to continue advising HCM City about development trends in the world, introducing urban management experiences and economic development models, and connect the southern metropolis with resources to support local development.
HCM City always attaches great importance to the role of external affairs in building its image, attracting development resources, and enhancing its international integration capacity, the Chairman noted, pledging support for the agencies and asking for their close coordination.
On behalf of the heads of overseas representative bodies, Deputy Foreign Minister Pham Quang Hieu said the ambassadors and heads of agencies are always aware of their role in contributing to the development of HCM City, an economic locomotive and growth engine of Vietnam.
He added they will do their utmost to help with local development, and that they also hope for receive coordination and assistance from HCM City for completing their duties.
Source: VNA/SGT/VNS/VOV/Dtinews/SGGP/VGP/Hanoitimes