The Japanese Government has announced its invitation to Vietnamese leaders to the G7 Summit in Hiroshima scheduled for May 20-21, deputy spokeswoman of the Vietnamese Foreign Ministry Pham Thu Hang told the ministry's regular press conference in Hanoi on March 23.
Regarding foreign media's analysis that Japan's invitations to Vietnam and Indonesia to the event shows its appreciation for ties with ASEAN and its desire to upgrade the relationship to a comprehensive partnership, Hang affirmed that Vietnam highly values the strong and substantial progress in ASEAN-Japan relations, making positive contributions to the common goal of peace, security, stability and prosperity.
Vietnam welcomes and stays ready to work with ASEAN countries and Japan to promote bilateral relations to a new height, toward celebrating the 50th anniversary of ASEAN-Japan relations in 2023, she noted.
No running water in nine HCMC districts this weekend
The Saigon Water Corporation (Sawaco) has announced that nine districts in HCMC would not have running water for two days this weekend due to the maintenance of water pipelines.
The city's water supplier said Tan Hiep water plant's scheduled maintenance will last from 10 p.m. on March 25 to 4 a.m. the next morning.
Most of the wards in districts 8 and Binh Chanh will be impacted. Many areas in the districts of Tan Binh, Go Vap, Tan Phu, 12, 6 and Binh Tan may see low-pressure water for a while.
Sawaco said that it was prepared to deliver and distribute water through water tank trucks and to deal with issues that may arise during this time.
Environment ministry calls for participation in Earth Hour
The Ministry of Natural Resources and Environment has called for a joint effort to switch off lights and unplug unnecessary electrical devices in response to this year's Earth Hour event.
The symbolic lights-out hour will begin from 8:30 p.m. to 9:30 p.m March 25.
Extreme weather is on the rise as a result of climate change's severe impacts, said Deputy Minister of Natural Resources and Environment Vo Tuan Nhan during a ceremony to launch the national Earth Hour campaign.
The event, held in the mountainous province of Hoa Binh, also demonstrated the country's support to two other United Nations annual observances, World Water Day on March 22 and World Meteorological Day on March 23.
The Earth Hour initiative launched by the World Wildlife Fund is one of the largest global social events, with the participation of 7,000 cities and towns in 172 nations and territories. It began in Sydney, Australia in 2007.
The event is expected to promote efficient energy use and raise social awareness and responsibility on climate change and environmental protection.
Vietnam first joined the campaign in 2009. The country saved roughly 309,000 kWh during last year's participation.
Insects blamed for skin disease outbreak in Ha Tinh
More than 100 people in a village in the central province of Ha Tinh are struggling with allergic dermatitis which is suspected to be caused by insects. The information was given by the provincial Centre for Disease Control.
Seven of Dong Xuan Quyen's family became affected by itching two weeks ago. They were itched so much that they had scratches all over their body.
They took medicines based on medical advice, but their situation has not yet improved.
To date, 46 households in the village, including 126 people have faced the same disease.

Local authorities have investigated Phuc Thanh, detecting insects that often fly into houses. The insects, which are small with six legs and wings, have not yet been identified.

The province's health sector has supported the village with chemicals to kill the insects.

The affected people have been told to come to Thach Ha District's medical centre for examinations and treatment.
Vietnamese cueists to take part in prestigious US Open Pool Championship
Five Vietnamese cueists have earned their berths to compete at the US Open Pool Championship 2023.
Nguyen Anh Tuan, Dang Thanh Kien, Luong Duc Thien, Nguyen Hoang Phong and Duong Quoc Hoang received the organisers' confirmation on March 22.
They are among 256 athletes to play at the 47-year-old tournament from September 25-30 at Harrah's Resort, Atlantic city, New Jersey, the US.
A total of 125,000 USD will be delivered to high-ranking athletes with the champions bagging 50,000 USD.
Last year, five Vietnamese also successful bagged their slots. Hoang had the best performance as he entered the round of the final 16.
The US Open Pool Championship is an annual professional men's nine-ball pool tournament that began in its current form in 1976.
Quang Ninh announces many new tourism products
The northern province of Quang Ninh has launched 38 new tourism products this year.
Among those, there will be eight events for Ha Long City, including night and pedestrian streets, the tour to climb Bai Tho Mountain and a yacht race on Ha Long Bay.The tour to climb Bai Tho Mountain is among the most anticipated. The mountain has been closed since late 2017 after a fire. Despite the ban, many visitors, including foreigners, climbed over the iron fence to the mountain peak to view Ha Long Bay.
The mountain is scheduled to be reopened in May 2023.
The yacht race is slated to be held on Ha Long Bay in April, which is expected to attract international yacht clubs.
Five other tourism products will be for Mong Cai City, consisting of a Chinese-Vietnamese food festival scheduled to take place this month. At the event, visitors have a chance to enjoy special Chinese and Quang Ninh dishes.
Co To Island District will have three new tourism products, including diving tours to see coral to be launched in April.
Hot-air balloon festival draws tourists to Binh Thuan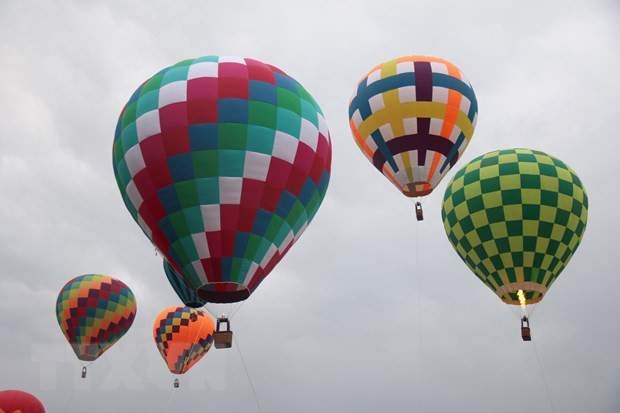 A hot-air balloon festival was held on Doi Duong beach, the south-central province of Binh Thuan, on March 24 morning to celebrate the National Tourism Year 2023 themed "Binh Thuan – Green Convergence".
Thousands of locals and tourists gathered on the beach to admire the 25 balloons and took photos with them.
Many were delighted to see many balloons flying in the sky for the first time.
With 192km of coastline, Binh Thuan is home to islands, islets, coves, bays, and white sand beaches with clear blue water, which form famous tourist attractions. The province has tourism resources with many historical-cultural relics and traditional festivals. Currently, the province has nearly 900 lodging facilities with over 17,000 rooms, including 45 hotels and resorts from three to five stars with nearly 5,000 rooms. It has 13 travel agencies, including eight international travel agencies.
The province strives to attract over 6.7 million tourists this year and turn tourism into one of the three pillar economies. Last year, it served over 5.7 million visitors.
Overseas Vietnamese commemorate fallen soldiers in Laos
The Vietnamese Association of Oudomxay province in Laos's northern region on March 23 evening held an incense offering ceremony to commemorate four Vietnamese martyrs who laid down their lives when performing international missions there.
The identities of the martyrs are still unknown.
Representatives of the Vietnamese community in Oudomxay offered incense and flowers to express their gratitude for the sacrifices of the martyrs.
During the 2022-2023 dry season, a team from Military Region 2 will continue to search, verify information, and repatriate remains of Vietnamese volunteer soldiers and experts who died during international missions in northern Laos.
Military Region 2 has carried out such work since 1994, contributing to the verification of 4,300 pieces of information about martyrs' graves, finding and repatriating remains of nearly 1,800 martyrs.
Russia's Republic of Sakha leader affirms closer ties with Vietnam
Russia's Republic of Sakha (Yakutia) clearly understands the relationship with Asian partners, sees opportunities for new mutually beneficial ties, and actively promotes relations with many ASEAN member states, including Vietnam, its head Aisen Nikolaev told foreign reporters during a press conference on March 23.
The reporters arrived in the capital city of Yakutsk to attend the International Conference on Climate Change and Melting of the Permafrost held from March 22-24 during Russia's alternate chairmanship of the Arctic Council for the 2021-2023 tenure.
Nikolaev believed that the strategic geo-political location of the Republic of Sakha in the Far East will positively step up such relationships. In particular, he mentioned a project to establish a transportation corridor that could connect Yakutia with Asia and bring Yakutia's products to ASEAN countries and vice versa. He also outlined possible areas of cooperation, including mineral exploitation.
He said a Yakutia delegation had visited Vietnam and identified several areas for positive cooperation with Vietnam, from tourism to mineral export from Yakutia.
This year, Yakutia will join international exhibitions held in Vietnam, he said, adding that he is delighted at welcoming Vietnamese businesspeople to Yakutia to explore opportunities.
According to him, investment climate in Russia and Yakutia in particular has significantly improved. Yakutia leaps to the 13th place from 50th in 2018 in the rankings of investment-friendly localities in Russia.
Regarding the development of cultural and sports ties with Yakutia, he revealed that Yakutia will host the Summer Games "Children of Asia" next year, one of the largest sports events for children in Asia, and invited ASEAN member countries, including Vietnam, to join this major event.
Vietnam calls for efforts to protect water infrastructure for civilians amid armed conflicts
Vietnam highlighted the significance of water security as a foundation for stability and development of each country, in the United Nations (UN) Security Council's Arria-formula meeting on March 22 on achieving a better protection of water-related essential services and infrastructure for the civilian population during armed conflicts.

The meeting was attended by Executive Director of UNICEF Catherine Russell, Director-General of the International Committee of the Red Cross (ICRC) Robert Mardini, UN High Commissioner for Refugees (UNHCR) Filippo Grandi, and representatives from nearly 50 countries.
Speaking at the event, Counsellor Le Thi Minh Thoa, Deputy Permanent Representative of Vietnam to the UN, said that in the context of the current complicated conflicts in the world, it is more important than ever to promote the observance of the principles and obligations of the parties amid conflict.
Accordingly, the parties engaging in the conflict should have primary responsibility for the protection of civilians as well as the infrastructure providing essential services in the territory or area under their control.
The UN Security Council should take a stronger role against attacks targeting civilians and take the necessary measures to prevent such violations, she said.
She underlined that the UN, international and regional organisations also need to strengthen cooperation and coordination in supporting awareness raising, capacity building, humanitarian and technical assistance to promote the implementation of humanitarian law in countries.
Participants shared concerns about the serious consequences of infrastructure destruction that disrupts access to basic services providing clean water during armed conflict, as well as the negative and long-term effects of this problem on the environment and people's lives.
Many countries and international organisations highly valued the council's Resolution 2573 (2021) initiated by Vietnam on the protection of essential infrastructure for people's lives, while calling for the strengthening of the implementation of obligations under international humanitarian law, and emphasising the need for a deeper involvement of the council in this regard.
Vietnam, UK look to boost immigration cooperation
Ambassador to the UK Nguyen Hoang Long and the UK Home Office's Secretary of State for Immigration Robert Jenrick have discussed the possibility of expanding legal immigration opportunities for workers in a number of industries that Vietnam has strengths and the UK is in great demand.
During their working session in London on March 23, the two sides spoke highly of the bilateral cooperation in immigration and crime prevention, agreeing that this is one of the important pillars in the strategic partnership between the two countries.
Both sides said they consider promoting legal immigration channels as an effective and long-term way to achieve this goal.
They also reviewed the implementation of the outcomes of the first Migration Dialogue between Vietnam and the UK in August 2022, and discussed the preparation for the second event of this kind slated for this year in London.
Ambassador Long thanked officials of the UK Home Office for their attention to promoting the friendship and comprehensive cooperation between the two nations.
He suggested the UK side continue to create favourable conditions for the Vietnamese community in the UK to live, work and study in the country in a stable manner, thus significantly contributing to the bilateral relations.
For his part, Jenrick called for coordination between the two sides to organise meaningful activities in celebration of the 50th founding anniversary of the Vietnam – UK diplomatic relations.
He affirmed the willingness to support the embassy in implementing specific measures to further step up the bilateral strategic partnership.
Vietnam to play Australia, Iran, Lebanon in U20 Woman's Asian Cup 2024
Vietnamese women's football team is in Group A, together with Australia, Iran, and Libanon, for the second qualifying round of the Asian Football Federation (AFC) U20 Women's Asian Cup 2024, according to the result of the draw that took place on March 23 afternoon.
Meanwhile, Group B includes China, Myanmar, Nepal, and Chinese Taipei.
In the round, set for 3-11 June 2023, the teams will play in a round-robin format, with the winners and runners-up from each group qualifying for the AFC U20 Women's Asian Cup Uzbekistan 2024 Finals.
They will be joined by the three highest-seeded teams from the AFC U-19 Women's Championship Thailand 2019 – Japan, the Democratic People's Republic of Korea, the Republic of Korea, and the hosts Uzbekistan.
Coach Akira Ijiri said Vietnam's rivals are very strong, and the coaching panel plans to improve the defence on the basis of lessions drawn from the first qualifying round.
Australia are said to be clearly superior in the group and highly likely to win a ticket to the next round, leaving the competition for the second to the competition among Vietnam, Iran and Lebanon. Vietnam will play Iran and then Lebanon before facing Australia.
Ocean dialogue dicusses offshore renewable energy potential
Offshore renewable energy was the centre of discussion at the 10th Ocean Dialogue in the central province of Khanh Hoa on March 23.
The event, entitled "Offshore Renewable Energy: Opportunities and Challenges to Green Transition", drew the virtual and in-person participation of more than 200 domestic and foreign experts. It was jointly organised by the Diplomatic Academy of Vietnam (DAV) and the Konrad Adenauer Stiftung Foundation (KAS).
In his remarks, Assistant to the Foreign Minister Nguyen Minh Vu expressed optimism about the development of renewable energy in general and wind power in particular.
In the long term, offshore wind power will be cheaper than current fossil fuel-based energy sources, he said, adding that other types of offshore renewable energy are also becoming indispensable elements of the modern, blue economy.
Vietnam is committed to joining the common effort of mankind to promote clean energy, as demonstrated through its commitments at the 26th UN Climate Change Conference of the Parties (COP26) and the Just Energy Transition Partnership (JETP), the official said.
Vietnam is an attractive market for investment in this field and hopes to attract the participation and support of foreign partners through investment, technology, finance and capacity building to realise the goal of building a low-carbon and climate-resilient economy, he went on.
The dialogue, which consisted of four sessions, focused offshore renewable energy and geopolitics; the United Nations Convention on the Law of the Sea (UNCLOS) and offshore renewable energy; regional and international practice on offshore renewable energy; and policy recommendations on offshore renewable energy development in the East Sea (internationally known as South China Sea).
Participants said that while offshore renewable energy plays an increasingly important role in the world and regional economy, it still faces a lot of challenges such as pandemics, conflicts and trade disputes which adversely affect the development of offshore renewable energy in particular and the transition to greener and cleaner energy in general.
They also discussed the legal framework governing the exploitation of offshore renewable energy, particularly wind power.
Giulia Cretti, a research fellow at the EU and Global Affairs Unit of Clingendael - the Netherlands Institute of International Relations, said that the East Sea has abundant offshore wind energy potential.
The region can serve the Association of Southeast Asian Nations (ASEAN) in its ambition to increase the proportion of renewable energy to 23% by 2030, she said.
Some speakers said that transnational cooperation is the "key" to the development of offshore renewable energy in the East Sea.
They suggested that countries should have policies to encourage the use of new technologies, support infrastructure development, train high-quality human resources and launch appropriate financial support packages for the development of offshore renewable energy in general and offshore wind power in particular, contributing to the region's efforts to reduce emissions to zero.
JICA Chief Representative honoured with insignia
Shimizu Akira, Chief Representative of the Japan International Cooperation Agency (JICA) Vietnam Office, was honoured with the insignia "For the development of Vietnam's transport sector" by the Ministry of Transport (MoT) on March 23.
Addressing the event, Minister of Transport Nguyen Van Thang thanked Japan for its support for transport infrastructure development in Vietnam.
The minister thanked and acknowledged the efforts of Akira, who has made great contributions to Vietnam - Japan cooperation, especially in the field of transportation, during his tenure in Vietnam, noting that the Japanese official has helped remove difficulties in the implementation of many infrastructure projects using Japanese ODA in the Southeast Asian country, such as Da Nang - Quang Ngai and Ben Luc - Long Thanh Expressways.
For his part, Akira thanked the MoT and relevant Vietnamese agencies for closely work with the JICA Vietnam Office and himself in carrying out Japanese-funded projects in Vietnam.
He expressed his belief that his successor - Sugano Yuichi - will continue to support and cooperate closely with the MoT in the coming time.
Vietnam, Laos hold defence policy dialogue
The Vietnamese and Lao defence ministries held the third deputy ministerial-level defence policy dialogue in the Lao northern province of Houaphane on March 23.
The Vietnamese delegation was led by Deputy Defence Minister Sen. Lieut. Gen. Hoang Xuan Chien while the Lao delegation was headed by Deputy Defence Minister Lieut. Gen. Vongkham Phommakone.
They shared the view that ASEAN-led mechanisms continue playing a central role in the region, promoting diplomacy and cooperation among member countries and with external partners, for the sake of regional peace and stability.
Stressing that the East Sea is still an area that holds uncertainties, they said maintaining an environment of peace, stability, cooperation and development in the East Sea is a crucial issue in the region and the world, not only for coastal but also for landlocked countries.
About bilateral defence cooperation, they expressed their delight that their defence cooperation mechanisms have been resumed since COVID-19 was under control in each country. Military Zones and Border Guard Command of Vietnam worked closely with their Lao counterparts to hold various cooperation activities, such as exchanging information, promoting the efficiency of exchange and twinning models, fighting crimes and organising border friendship exchanges, contributing to the Vietnam-Laos borderline of peace, friendship, cooperation and development.
This year, they agreed to bolster coordination between border guards through diverse and practical forms, accelerate the signing of a Memorandum of Understanding on border guard cooperation between the two ministries, raise awareness of officers, soldiers, and people of both countries about the great friendship, special solidarity and comprehensive cooperation between the two Parties, States, armies and peoples.
They will continue attaching importance to personnel training which is an important strategic area for relationship between the two countries armies, hold the defence friendship exchange at the ministerial level between Vietnam, Laos and Cambodia, the annual meeting of the three defence ministers and a joint exercise later this year.
NA Chairman commits transparent legal framework for foreign enterprises
The Vietnamese National Assembly (NA) vows to create a stable, transparent and favourable legal framework for foreign enterprises, including those from the US, to continue their long-term operations in Vietnam, especially in fields of the US's strength and Vietnam's demand, said the top Vietnamese legislator.
During a reception in Hanoi on March 23 for a delegation of over 40 businesses from the US-ASEAN Business Council (USABC), NA Chairman Vuong Dinh Hue said their working trip is a vivid demonstration of the development of Vietnam-US ties on the occasion of the 10th anniversary of bilateral comprehensive partnership this year.
Two-way trade hit a record 123 billion USD last year, making Vietnam one of the eight biggest trade partners of the US.
Hue said Vietnam will continue listening to feedback from the business community and creating favourable conditions for them to do business successfully in the country.
A USABC representative said the US enterprises hold high trust in Vietnam's development prospects in the future and commit to doing long-term business in health care, green growth, renewable energy in tandem with environment protection.
They also offered suggestions related to digital transformation, renewable energy, taxation, bidding, logistics and health care, among others.
Chairman Hue said the Vietnamese National Assembly will pass several laws in the near future to facilitate digital transformation and wished that the USABC would give opinions to the Vietnamese legislature to complete legal framework for the field.
According to him, the Vietnamese NA is also focusing on perfecting institutions for just energy transition.
Taking note of the USABC's suggestions, the host said the Vietnamese Government and NA will thoroughly mull over the draft revised Law on Pharmacy and pledge to issue the best draft law up to international practices that matches Vietnam's conditions for the benefit of the people and business community.
Welcoming win-win policy dialogues, he suggested the USABC and its member enterprises help the Vietnamese firms access advanced technology and new solutions, join the global supply and value chains, carry forward cooperation in fields of Vietnam's priority and the US's strength such as hi-tech, innovation, green growth, digital economy, circular economy, intellectual economy, finance-banking, health care, hi-quality personnel training, infrastructure and environment.
They were also urged to offer financial and expertise assistance to start-up, hi-tech, added value and competitive projects, as well as come up with solutions to environment protection.
On the occasion, Hue wished that the USABC, with its prestige and networking, would further uphold its role as a bridge strengthening cooperation between the US Government, Parliament and the Vietnamese Government and National Assembly, prioritise cooperation initiatives involving the theme and priorities of APEC Year 2023 hosted by the US, and regularly update Vietnamese partners on market information and business connectivity activities.
50th anniversary of Vietnam-Italy diplomatic ties marked
The Italian Embassy in Vietnam held a ceremony in Hanoi on March 23 to mark the 50th anniversary of Vietnam-Italy diplomatic ties.
Speaking at the event, Italian Ambassador to Vietnam Antonio Alessandro said numerous activities will be held this year to honour mutual understanding and cooperation between the two peoples.
The logo marking the occasion, designed by a student from the Ho Chi Minh City University of Social Sciences and Humanities, will be present in activities with the name "Italy - Viet Nam 2023" in Italian language and "Vietnam - Italy Year 2023" in Vietnamese language, he said.
Deputy Foreign Minister Le Thi Thu Hang said Vietnam and Italy have become reliable cooperation partners in many fields ranging from politics, diplomacy, investment, business to culture, tourism, education and training in both bilateral and multilateral aspects.
The upgrade of bilateral ties to strategic partnership in 2013 was a historic milestone in their relationship, she said, adding that Italy is one of the top European Union partners of Vietnam while Vietnam is the biggest ASEAN trade partner of Italy.
She expressed her belief that bilateral diplomatic ties will keep thriving, especially in investment and trade when both nations fully tap opportunities from the EU-Vietnam Free Trade Agreement and the EU-Vietnam Investment Protection Agreement.
A number of high-level visits and special cultural events will be held in both nations this year, thus further promoting their relationship in the future, she said.
Vietnam, US cultivate sci-tech, innovation cooperation
Vietnamese Deputy Minister of Science and Technology Bui The Duy held a working session in Hanoi on March 23 with a business delegation of the US-ASEAN Business Council (USABC) led by the council's President and CEO Ted Osius who are on a working visit to Vietnam from March 21-23.
Duy said the Vietnamese Party and State consider sci-tech and innovation one of strategic breakthroughs and a driving force of growth pace and quality, turning Vietnam into a modern industrialised nation by 2030 and a high-income and developed country by 2045.
In May and June last year, the Vietnamese Government and National Assembly passed a strategy on science, technology and innovation development till 2030 and the Law on amendments and supplements to several articles of the Intellectual Property Law. These documents will open up increasingly favourable policy and legal corridors to promote the strong development of innovation ecosystem and intellectual property ownership in Vietnam, contributing to creating a healthy business environment and delivery of commitments in trade agreements and international conventions to which Vietnam is a member, he said.
He added that the gap in science and technology between Vietnam and other countries in the region has significantly narrowed as Vietnam has made considerable progress in global competitiveness, innovation rankings and several of its strong science fields.
Since the signing of the Vietnam-US framework agreement on science and technology cooperation in 2000, their coordination in sci-tech and innovation has been launched in many areas within bilateral and US-ASEAN multilateral frameworks, he said.
Osius, for his part, pledged to continue assisting Vietnam in stepping up cooperation activities in science, technology and innovation within bilateral and US-ASEAN multilateral frameworks.
Representatives of the delegation shared issues related to sci-tech in various fields, including health care, transportation and information technology. They believed that in order to boost Vietnam's exports to the world, it is necessary to develop deeper partnerships with the Vietnamese Government's laboratories such as QUACERT, QUATEST 1, 2, 3, and improve Vietnam's testing and certification capabilities.
The USABC promised to step up bilateral partnerships and believed that with mutual support, national laboratories can serve the global market and thereby turn Vietnam into an export hub in ASEAN.
They also wished to fortify cooperation with the Vietnamese Ministry of Science and Technology in fields of shared interest and strength.
Vietnam consistent with protecting, promoting human rights
Deputy spokeswoman of the Vietnamese Foreign Ministry Pham Thu Hang has said protecting and promoting human rights is Vietnam's consistent policy.
She made the statement during the ministry's regular press conference in Hanoi on March 23 in response to the US Department of State's March 20 announcement of the annual Country Reports on Human Rights Practices for 2022, which mentioned that some Asian countries, including Vietnam, had "seriously and systematically violated human rights".
Hang said Vietnam always considers human beings the centre and driving force of national renovation and development, always strives for the goal of improving people's lives, ensuring their right to enjoyment and leaving no one behind. The fundamental rights and freedom of human beings are enshrined in the Constitution of Vietnam, protected and promoted by specific legal documents, and enforced in practice.
Vietnam regrets that the US Department of State's 2022 Annual Human Rights Reports have made biased assessments based on inaccurate information about the actual situation in Vietnam, she said.
She added that Vietnam is always ready to talk about differences with the US straightforwardly and openly in a constructive spirit to enhance mutual understanding and contribute to the development of comprehensive partnership between Vietnam and the US.
Deputy spokeswoman: Vietnam ready to cooperate with US
Deputy spokeswoman of the Vietnamese Foreign Ministry Pham Thu Hang has said Vietnam wishes and stays ready to cooperate with US President Joe Biden's administration to continue deepening bilateral ties in an effective and sustainable manner, for the sake of peace, stability, cooperation and development in the region and the world.
Commenting on Vietnam-US ties at the ministry's regular press conference in Hanoi on March 23, Hang said since its establishment a decade ago, the Vietnam-US comprehensive partnership has developed extensively, effectively and substantially in bilateral, regional and international aspects. The two countries have maintained contacts, dialogues and exchange of delegations at all levels, especially high-level visits.
In joint statements and meetings between the two countries' leaders, Vietnam and the US consistently affirmed their commitment to respecting the United Nations Charter, international law, as well as independence, sovereignty, territorial integrity and political regime of each other. The US repeatedly expressed its support for a strong, independent and prosperous Vietnam. Economic, trade, and investment cooperation has been a notable bright spot, with two-way trade reaching 123 billion USD in 2022, four times higher than that in 2013. The US has become Vietnam's first export market surpassing 100 billion USD in turnover while Vietnam has become the eighth largest trade partner of the US, she said.
According to her, the US's foreign direct investment in Vietnam reached 11.4 billion USD, placing the US at the 11th place among countries investing directly in Vietnam. Recently, a big US business delegation visited Vietnam. In addition to economy, trade and investment, positive progress has also been seen in other areas like COVID-19 response, post-pandemic recovery, sci-tech, education and environment. The US continues working with Vietnam in dealing with war consequences, improving legal enforcement capability at sea, and joining United Nations peacekeeping operations.
The two sides have been working more and more effectively at multilateral forums such as ASEAN, the United Nations, APEC, the Mekong sub-region to address regional and global issues of common concern related to sustainable development and climate change, she said.
Deputy spokeswoman: Peace, stability, development – common goal of countries
Peace, stability, cooperation and development are the common goal of all nations, to which countries have the responsibility to contribute, Deputy Spokeswoman of the Vietnamese Foreign Ministry Pham Thu Hang said at the ministry's regular press conference in Hanoi on March 23.
Hang made the remarks in reply to reporters' queries about Vietnam's stance on the nuclear submarine agreement within the framework of the UK-Australia-US Security Pact as well as attitudes of several ASEAN member states.
According to her, nuclear energy needs to be used and developed for peacefull purposes and socio-economic development of countries. The use and development of nuclear energy must ensure absolute safety of humans and the environment.
She said Vietnam wishes that countries would take responsibility for positively contributing to this common goal, for the sake of peace, stability, cooperation, and development in the region and the world.
Regarding the information that the US Federal Bureau of Investigation is seeking a Vietnamese engineer for his alleged involvement in money laundering, Hang said that the relevant Vietnamese agencies are verifying and investigating the case.
She affirmed that Vietnam is a country with responsibility for the fight against cyber and transnational crimes. All acts of using cyberspace to infringe upon the legitimate rights and interests of agencies, organisations, and individuals will be investigated and punished in accordance with the law.
Workshop looks to promote oveaseas Vietnamese intellectuals' potential
Vietnamese intellectuals are an important workforce in the country's industrialisation and modernisation, and international integration as well as building a knowledge-based economy, Phan Xuan Dung, President of the Vietnam Union of Science and Technology Associations (VUSTA) said on March 23.
He made the remarks at a workshop held by VUSTA which aims to seek ways to promote the potential of overseas Vietnamese (OV) intellectuals for national construction and development, especially in science and technology capacity development and building national innovation and start-up ecosystems and digital transformation.
Along with the rapid development of the modern scientific and technological revolution, intellectuals have become a particularly important resource, creating the strength and position of each country, Dung said, adding that OV intellectuals are an integral part of the nation who make important contributions to the national construction and defence.
Pham Viet Hung, head of the Department for Economic Relations, Science and Technology under the Ministry of Foreign Affairs' State Committee for Overseas Vietnamese said OV intellectuals have been participating directly and extensively in cooperation processes and accompanying the Government in realising the goal of building a government that serves people and businesses as well as meeting the country's demand in innovative start-ups and issues relating to the fourth Industrial Revolution.
About 300 overseas experts and intellectuals join science and technology activities in Vietnam a year, he said, adding that many OV experts are collaborating or working as advisors to ministries, agencies and localities.
These should be encouraged in the context that the private economy has become an important driving force of the national economy, Hung said.

According to him, it is necessary for ministries, agencies and localities to study and develop a common mechanism for receiving and responding to suggestions from OV experts and intellectuals.
Shortcomings in mobilising OV intellectuals' participation in the country's development and solutions to encourage them to return home were also touched upon by participants at the workshop.
Congratulations sent on 50th anniversary of Vietnam-Italy diplomatic ties
Italian President Sergio Mattarella has sent a letter of congratulations to President Vo Van Thuong and Vietnamese people on the occasion of the 50th anniversary of diplomatic relations between the two countries.
In the letter, the Italian President emphasised that March 23, 1973 marked the connection between Rome and Hanoi. Since then, the two countries have realised the potential of a relationship which strongly rooted in history and at the same time directed with confidence towards the future.
The bilateral relationship has deepened in all areas of mutual concern. The signing of the strategic partnership agreement between the two countries in 2013 has expanded the scope of cooperation and opened up opportunities for growth, development and mutual understanding, he wrote.
The positive outcomes have prompted the two countries to continue renewing their commitments to tightening the relationship within the bilateral, regional and multilateral frameworks.
President Mattarella expressed his hope to soon welcome Vietnamese President Thuong for an official visit to Italy in the coming time.
Vietnamese, Italian leaders exchange greetings on diplomatic ties
Vietnamese President Vo Van Thuong and Italian President Sergio Mattarella on March 23 exchanged congratulations on the occasion of the 50th anniversary of bilateral diplomatic ties (March 23, 1973-2023).
Prime Minister Pham Minh Chinh and his Italian counterpart Giorgia Meloni, also exchanged congratulatory messages.
On this occasion, Foreign Minister Bui Thanh Son also exchanged greetings with his Italian counterpart Antonio Tajani.
Vietnam strives to ensure global goals on weather, climate, water resources
The Ministry of Natural Resources and Environment (MoNRE), in collaboration with the People's Committee of Hoa Binh province, held a national-level ceremony in a hybrid format on March 23 in response to the World Water Day (March 22), the World Meteorological Day (March 23), and the Earth Hour 2023.
Speaking at the event, MoNRE Deputy Minister Vo Tuan Nhan said that climate change is considered a serious challenge for humanity in the 21st century with negative impacts and threats to sustainable development activities.
Climate change is causing more extreme weather and climate phenomena, prolonged heat waves with greater intensity, greater rainfall and more severe droughts, he stressed.
This year, the theme "Accelerating change" of the World Water Day, "The future of weather, climate, and water across generations" of the World Meteorological Day, and "The biggest hour for earth" of the Earth Hour are closely linked with one another in aspects of environment, resources, ecology, Nhan stated, adding that weather, climate and water cycle know no borders.
The above messages emphasise that it is time for changes to ensure global goals on weather, water resources, and climate change; call on the international community to act and show their roles and responsibilities in face of impacts of natural disasters and climate change; and create a difference by changing the way water is used, exploited and managed in the daily life to minimise impacts of environmental degradation.
To spread these messages, the deputy minister proposed ministries, sectors and localities unify actions; review and perfect the law and policy system on resource management, environmental protection, and climate change response; and codify the contents of international treaties and agreements to which Vietnam is a member.
It is necessary to step up dissemination of laws related to hydro-meteorology, especially in areas vulnerable to extreme weather phenomena; manage the exploitation and effective use of water resources; and ensure water security and safety of reservoirs and dams in service of socio-economic development, he stressed.
UNDP Resident Representative in Vietnam Ramla Khalidi said that it pledges to maintain effective cooperation with the MoNRE, other ministries, sectors, local authorities, the media and development partners to boost the implementation of necessary actions, contributing to building a prosperous country in which no one is left behind.
Multimedia installation exhibition celebrates Vietnam-Australia diplomatic ties
As part of celebrations to mark the 50th founding anniversary of Australia-Vietnam diplomatic relations, the Australian Embassy in Vietnam on March 22 opened a multimedia installation exhibition named "Walking through a Songline" in Ho Chi Minh City.
The remarkable work invites visitors to enter a space of immersive light projections, following in the footsteps of the Seven Sisters as they traverse the Western and Central deserts of Australia.
Songlines (or Dreaming) are central to the existence of Australia's First Nations' (Aboriginal and Torres Strait Islander) peoples, mapping the routes of Ancestral beings as they travelled across Australia, creating the land and its people. They are a way of holding and passing on knowledge to new generations.
Australian Consul-General Sarah Hooper said that the exhibition is an opportunity to learn about and celebrate the cultures of Australia's First Nations people.
An explanatory video featuring Margo Neale, Senior Indigenous Curator and Head of Indigenous Knowledges at the National Museum, can be viewed on the Australian Embassy Facebook page.
The exhibition is free to enter and is opened to the public at The Factory Contemporary Arts Centre, 15 Nguyen U Di in Thu Duc City every day until April 16. It will then move to the Vietnamese Women's Museum in Hanoi from April 28 to May 21.
AI to fuel development of modern agriculture: workshop
Artificial intelligence (AI) has an important role to play in the development of modern and sustainable agriculture as it will help with farm automation and optimisation, from weather forecasting, plant and livestock health monitoring to product quality improvement, heard a workshop in Hanoi on March 23.
Ho Xuan Hung, Chairman of the General Council of Agriculture and Rural Development of Vietnam, said AI-based equipment and machinery are becoming popular in the technology era, including in agriculture.
He noted AI can help improve crop productivity; control pests, diseases, and cultivation conditions; and promote the performance of farming-related tasks across food supply chains. Farmers around the globe are applying AI to minimise impacts of chemical use on the environment. Advances in the manufacturing of AI-controlled robots are also helping farmers use less land and manpower while still boosting production.
In Vietnam, AI application to agriculture is still new but grabbing attention from the Government and businesses due to its advantages over traditional farming method, Hung went on.
Echoing the view, Tran Quy, Director of the Vietnam Institute of Digital Economy Development, said the importance of AI to the development of modern agriculture is undeniable, adding that AI can help farmers increase productivity, reduce production costs, improve product quality, ensure food safety, and forecast and reduce climate and disease risks, which also means less fertiliser, pesticide and negative impacts on the environment.
However, he also pointed out a challenge to AI application to agriculture in Vietnam - the high prices for both hardware and software of AI systems. Besides, farmers also needs training to use new technology while relevant parties, including technology producers, the Government, and agriculture organisations, need to cooperate in developing suitable AI applications meeting farmers' conditions and demand in the market.
Noting some bottlenecks in digital transformation in agriculture, Nguyen Quoc Toan, Director of the Centre for Informatics and Statistics at the Ministry of Agriculture and Rural Development, said the awareness of and regulations on digital transformation in agriculture remain limited. Without regulations paving the way, all non-compulsory applications will not be used widely in reality.
To boost digital transformation in general and AI application to agriculture in particular, he held that it is necessary to raise farmers and businesses' awareness, issue guidance on digital production processes, develop digital infrastructure, enhance cyber security, and build the sector's database.
Source: VNA/SGT/VNS/VOV/Dtinews/SGGP/VGP/Hanoitimes