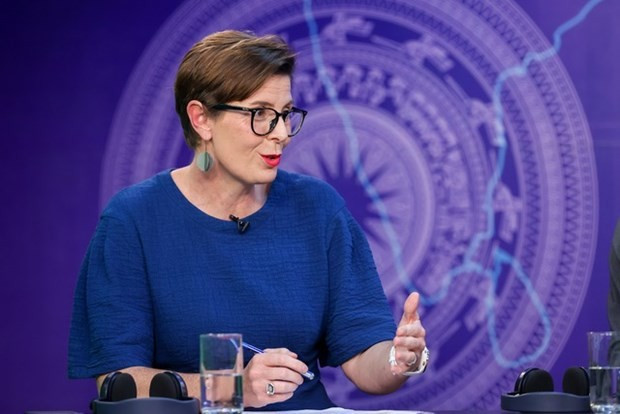 WHO representative in Vietnam Dr Angela Pratt. (Photo: Ministry of Health)
The situation of Covid-19 pandemic continues to stabilize with a very low number of reported daily cases, and importantly no reported deaths in over two months.
In an interview granted to the Vietnam News Agency, the official said that now in the fourth year of the pandemic, Vietnam and the world are in a much better place than they were even 12 months ago.
"The tools and vaccines we have are proven to protect lives and significantly reduce risk of severe illness and death and also, in most places, to enable health systems to function more normally again," she said.
She added it is hoped that 2023 will be the year in which Covid-19 can be said to be over as a public health emergency of international concern.
Assessing Vietnam's response to the Covid-19 pandemic for each stage of the pandemic, Angela said that from the start, Vietnam had well-calibrated and strong public health and social measures in place.
These included a strong capacity for early detection and response, robust surveillance measures, strong border measures, and social restrictions, community adherence to personal protective behaviours; and healthcare capacity.
Vietnam did an incredible job rolling out the primary series of Covid-19 vaccines in 2021 and 2022, she said, adding that the speed and scale of the rollout, including efforts to ensure vaccines reach every corner of the country, is one of the great success stories of the country's Covid-19 response, and the region more broadly.
She said the Government of Vietnam, particularly the Ministry of Health, health workers, businesses, communities, and partners are all to be commended for their efforts.
However, she said with the pandemic unfortunately not over yet – the world must remain vigilant, keeping up strong surveillance, ensuring everyone eligible, especially those most vulnerable, are vaccinated and boosted, and also continuing to encourage people to be mindful of their risk.
The WHO official said that if Vietnam maintains preparedness for worsened pandemic development, with its experience of the past three years and the National Pandemic Preparedness and Response Plan continuing to be reviewed, the country is well placed to respond to future outbreaks.
She noted that it's really important to continue to strengthen the health system to ensure it can cope with a surge in cases; sustain and build up healthcare workforce capacity; keep up-to-date with vaccinations for eligible populations and prepare for mass vaccination if needed; and enhance multi-source surveillance, testing, and sequencing, to detect possible genomic changes and mutations.
According to the WHO, three years after WHO Director-General Dr. Tedros Adhanom Ghebreyesus declared Covid-19 as a global health emergency of international concern, there have been over 760 million confirmed cases and almost 7 million deaths reported globally.
From the beginning of the pandemic to March 24, 2023, Vietnam reported nearly 11.53 million Covid-19 infections, of that more than 10.61 million cases have recovered from the disease. Covid-19 killed 43,186 people in Vietnam, accounting for 0.4% of total infections. Nearly 266 million Covid-19 vaccine doses have been administered in the country.
Vietnamese Level-2 Field Hospital No.4 receives UN medals
Vietnamese peacekeepers operating the Level-2 field Hospital No. 4 in South Sudan have been honoured with UN Peacekeeping medals in recognition of their outstanding contributions during the year-long mission in the East African country.
The awards ceremony was held in the presence of Jane Lanyero Kony, acting head of the UN Peacekeeping mission's Field Office in Bentiu, and Lieutenant General Mohan Subramanian of India, force commander of the UN Mission in South Sudan.
At the ceremony, the pair spoke highly of the dedication and professionalism shown by Vietnamese officers, adding that the awards are recognition from the UN for the hospital's efforts during their mission in South Sudan, and serve as a testament to Vietnamese contributions to global peace and stability.
For his part, Lieutenant Colonel Vu Minh Duong, director of the hospital, affirmed that he and his team will continue to provide the best possible healthcare services and treatment for both UN staff and local people.
The field hospital was launched in November 2021, comprising 63 members. The Vietnamese delegation departed for the UN Interim Security Force for Abyei (UNISFA) on April 27, along with Military Engineering Unit No.1, to perform duties at the UN Mission in South Sudan (UNMISS).
VMARK Vietnam Design Award 2023 launched
The VMARK Vietnam Design Award 2023 organised by the Vietnam Design Association Ho Chi Minh City (VDAS) Design Association has been launched with the theme of "Shaping Vietnam's creative image".
The contest has been designed to honour initiatives that support environmental friendliness, energy-saving technology, as well as designs that combine both Artificial Intelligence (AI) trends and Vietnamese culture, the organisers VDAS said at a press briefing in Ho Chi Minh City on March 23.
​The contest is to be open to all Vietnamese and international interior designers, as well as architects, they said.
The organisers will present the professional design award to projects to be completed over five years, and the concept design award to design concepts and ideas for Vietnam.
The winners are set to be announced in September as part of VMARK Vietnam Design Week 2023.
Entries will have to progress through two rounds of screening by judges comprising internationally renowned experts, design professors, and presidents from prestigious design and architectural organisations worldwide.
The VMARK Design Annual Award will be given to entries that make use of design to solve problems for a better life.
Finland seeks Vietnamese talent
Business Finland, a Finnish government body for trade, tourism and foreign investment promotion, has launched a Talent Boost programme in Vietnam to attract local, high-quality human resources.
The introduction of the program was part of a conference on Finland's employment held in Ho Chi Minh City recently. The event saw the participation of the Finnish Embassy in Vietnam and some 50 representatives from local businesses and universities.
Talent Boost is a national program of Finland to attract international talent, both students and professionals.
The endeavor is part of the Finnish government's efforts to address a lack of suitable employees in the 5.5-million-people country.
Commerce, transport, education and health services are among the sectors employing the largest number of workers in Finland, according to the European Commission.
Employment in the service industry is expected to surge in the future.
Finland offers several opportunities for professionals to build their careers, said Laura Lindeman, senior director of the Work in Finland unit at Business Finland.
"We place a high value on work-life balance because happy workers are more productive and innovative as a result," added Lindeman.
Vietnam's young and dynamic workforce could meet the rising demand of Finland, particularly in the agricultural and healthcare sector, said Deputy Minister of Labor, War Invalids and Social Affairs Le Tan Dung during a meeting with Ambassador of Finland to Vietnam and Laos Keijo Norvanto last October.
In addition to Vietnam, the program also seeks high-quality human resources from Brazil, Turkey and India.
More trains to be put into service during upcoming holidays
The railway industry will operate more trains from April 28 to May 3 to serve the increasing travel demand during the Reunification Day and International Labor Day holidays.
Saigon Railway Transport JSC will operate 10 more trains on the HCMC-Nha Trang and Nha Trang-Danang routes during the holidays on April 30 and May 1.
There will be an additional nine trains in service, apart from the daily SNT1/SNT2 trains on the HCMC-Nha Trang route from April 28 to May 3.
At the Saigon Railway Station, the five trains of SNT4, SNT6, SNT8, SNT10, and SNT12 will take turns serving travelers from April 28 to 29.
At the Nha Trang Railway Station, the four trains of SNT3, SNT5, SNT7, and SNT9 will be in service on May 1 and 2.
The railway industry will also run more trains on the Nha Trang-Danang, HCMC-Quang Ngai, HCMC-Dieu Tri, and HCMC-Quy Nhon routes from April 28 to May 3.
There are also pairs of Thong Nhat trains in service on the North-South route to drop off and pick up passengers at the stations of Nha Trang and Danang, including the Thong Nhat SE1/SE2, SE3/SE4, SE5/SE6, SE7/SE8 trains and Saigon-Danang SE21/SE22 trains, and Hanoi-HCMC SE11/SE12 trains.
Hanoi Railway Transport JSC will sell train tickets for the NA1/NA2 train pair on the Hanoi-Vinh route and the SE19/SE20 train pair on the Hanoi-Danang route.
The company will run the additional SP1 train on the Hanoi-Lao Cai route on April 28 and 29, as well as the LP9, LP10, and HP4 trains on the Hanoi-Haiphong route on April 29 and May 3.
On the Hanoi-Vinh route, the additional SE35, NA3, NA9, and NA7 will depart at Hanoi, while S36, NA4, NA14, NA8, and NA12 will run from Vinh. Meanwhile, an additional pair of trains, TH1/TH2, will run between Hanoi and Thanh Hoa.
Dong Thap to provide expy projects with 7.4 million cubic meters of sand
The Mekong Delta province of Dong Thap has said it will supply 7.4 million cubic meters of sand to expressway projects that are facing shortages of building materials.
Of the amount, 5.5 million cubic meters of sand will go to Cao Lanh-An Huu and My An-Cao Lanh expressways in the province. The remainder will be allocated to the Can Tho-Ca Mau section of the North-South expressway project.
The My An-Cao Lanh expressway project connects Dong Thap's districts of Thap Muoi and Cao Lanh with a total length of roughly 26 kilometers. The four-lane road will allow a top speed of 80 kilometers per hour in the first phase.
Cao Lanh-An Huu expressway links Dong Thap with neighboring Tien Giang Province, with a length of around 27.4 kilometers in the first phase.
Dong Thap has proposed the prime minister assign other Mekong Delta provinces to supply sand to expressway projects.
Many cross-country expressway sections in the Mekong Delta have lagged behind schedule due to the undersupply of sand.
Lê Thanh Hoà introduces summer fashion collection
Famous fashion designer Lê Thanh Hoà has introduced his summer collection in HCM City called Resort 2023.
The collection's theme is sea, sun and women.
It features ready-to-wear designs for women in Vietnamese and foreign materials, such as silk, chiffon, taffeta, linen and organza.
Handmade crochet designs are also included.
Hoà used white, pastel pink and blue to highlight his designs.
The collection will be displayed on the catwalk on March 31 in Thủ Đức City. Top fashion models, including Miss Grand International 2021 Nguyễn Thúc Thùy Tiên, will be featured.
Hoà, 38, graduated from the HCM City University of Architecture's industrial arts school. He also studied fashion design at the Raffles Design Institute in Shanghai, China.
He began his career after winning top prizes at fashion design contests of local organisations in 2007.
Hòa has participated in major Vietnamese fashion shows, including Đẹp Fashion Show, Elle Show, and Việt Nam International Fashion Week.
He has shops in Hà Nội and HCM City.
Many of Hòa's designs have been chosen by international celebrities, such as Paris Hilton, Halle Bailey, Jordan Chiles, and Sevyn Streeters.
President of Academy Motion Picture Arts and Sciences Janet Yang chose a creation by Hoà to shine on the red carpet at the 95th Academy Awards on March 12.
In February, Vietnamese-born TV host Jeannie Mai wore a fishtail dress at an event in Atlanta, Georgia.
American movie actress, dancer and fashion model Bella Thorne chose a see-through dress from Hòa's collection for her appearance at the 2023 Sundance Film Festival in January.
"Through my fashion, I hope to raise awareness among people worldwide for the beauty of my country's culture and lifestyle," Hoà said.
Vietnamese language taught on TV, targeting children living abroad
"Chao tieng Viet" – a set of books on Vietnamese language teaching, is televised for the first time, marking the success of efforts to spread the love for this language to all over the world.
This initial achievement came from collaboration and creativeness of the Vietnam Television (VTV), the Vietnam Education Publishing House and the author Dr. Nguyen Thuy Anh, who has rich experiences in teaching Vietnamese language in Moscow and European countries like Poland, France and Germany.
Broadcast on VTV4 – a channel designed mainly for Vietnamese people living abroad, the Vietnamese language teaching programme targets children and adolescents who are just learning and getting used to the Vietnamese language.
In addition to lessons taught by Anh herself, there are also interactions with children, and small stories featuring the country's traditional culture.
Multimedia exhibition honours Australia's first peoples
A multimedia exhibition, which tells the story of the Aboriginal and Torres Strait Islander peoples as they created life in Australia, is being held in HCM City.
The "Walking Through a Songline" installation exhibition, which was opened on Wednesday, invites visitors to enter a space of immersive light projections, following in the footsteps of the Seven Sisters as they traverse the Western and Central deserts of Australia.
Songlines (also called Dreaming) are central to the existence of Australia's First Nations' (Aboriginal and Torres Strait Islander) peoples, mapping the routes of Ancestral beings as they travelled across Australia, creating the land and its people. They are a way of holding and passing on knowledge to new generations.
The exhibition is free to enter and will be open at The Factory Contemporary Arts Centre in Thủ Đức City every day from 9am to 9pm until April 16.
The event will then move to the Vietnamese Women's Museum in Hà Nội from April 28 to May 21.
Sarah Hooper, Australia's Consul-General, said: "The exhibition is an excellent opportunity to learn about – and celebrate - the cultures of Australia's First Nations people."
The exhibition was held as part of the celebrations to mark the 50th anniversary of Việt Nam-Australia diplomatic relations.
Lotus paintings to be displayed at Quan Su pagoda
An exhibition displaying 75 lotus paintings by Buddhist follower, artist Kim Duc will be opened at Quan Su pagoda in Hanoi on March 25.
The exhibition themed "Vietnamese lotus 2023 – The art of purity" will be jointly held by the United Nations Educational, Scientific and Cultural Organisation (UNESCO) and the Executive Council of the Vietnamese Buddhist Sangha (VBS).
According to the VBS, the week-long exhibition aims to honour the lotus - a symbol of purity, power, and brainpower as well as the artist's creativity and dedication.
Throughout thousands of years, the lotus has become a symbol of the Vietnamese soul and character. In Buddhism, the lotus is the ultimate spiritual symbol, expressing the Buddha nature inherent in every human being. Understanding these beautiful symbolic meanings, Kim Duc has created many paintings of the flower. One of his paintings "Lien Hoa Tinh Canh" was exhibited at the 9th National Buddhist Congress in 2022.
Venerable Thich Nguyen Chinh, Deputy Head of the Office of the Vietnam Buddhist Sangha, said that the exhibition is expected to spread the Buddha's message of peace, honour artistic creation activities, and practice from the pure beauty of the lotus.
Vietnam National University, Hanoi maintains position in world rankings
The Vietnam National University (VNU), Hanoi continues to maintain its position in key subjects with six ranked in the QS (Quacquarelli Symonds) World University Rankings by Subject 2023 freshly released by the world's leading provider of services, analytics, and insight to the global higher education sector, according to the university.
Specifically, in the broad subject area of "Engineering and Technology", the VNU Hanoi has three subjects rated, including Computer Science and Information Systems (501 – 550), Mechanical, Aeronautical & Manufacturing Engineering (501-520), Electrical and Electronic Engineering (501-520).
In the subject area of "Natural Sciences", two subjects rated are Mathematics (351-400), and Physics & Astronomy (551-600).
Meanwhile, in "Social Sciences & Management", VNU Hanoi's Business & Management Studies subject was ranked in the list of 501-550.
The QS World University Rankings by Subject 2023 cover a total of 54 disciplines, grouped into five broad subject areas.
The rankings are compiled annually to help prospective students identify the leading universities in a particular subject. Academic reputation, employer reputation, research citations, International Research Network and H-index are used to rank universities.
Rehabilitation model for AO/dioxin victims spread nationwide
The Health Ministry's Department of Health Examination and Treatment Management held a conference in Hanoi on March 13 to review a project on health care and rehabilitation for Agent Orange (AO)/Dioxin victims for 2018-2022.
The event aimed to continue spreading the health care and rehabilitation model for AO/dioxin victims nationwide in the near future.
The project was carried out in Hai Phong city and Lao Cai, Thai Nguyen, Quang Ninh, Thanh Hoa, Nghe An, Ha Tinh, Quang Nam, Binh Dinh, Dong Thap and Ben Tre provinces. The ministry assigned the department to work closely with six centrally-run and relevant units on the project.
So far, all 35,817 AO/Dioxin victims and their children have been listed for health monitoring. Up to 11,973 victims and their children have been regularly screened to detect health problems early.
Over 31,500 children aged below 6 were screened and had their functional disabilities restored. As many as 1,290 autistic children were examined, diagnosed and identified with the need for rehabilitation intervention while 478 families of autistic children were instructed on both theoretical and practical intervention methods.
Vietnam has developed a rehabilitative service network, with two hospitals and rehabilitation centres, 38 provincial rehabilitation and traditional medicine hospitals, and 550 rehabilitation departments of general hospitals, and central, provincial and district hospitals.
More than 9,000 out of the 11,000 communes with medical staff have been trained in rehabilitation and about 25% of communes can provide rehabilitation services in the commune and community-based rehabilitation.
HCM City fine arts association honours painter Tri
The HCM City Fine Arts Association is hosting an exhibition showcasing paintings by Đào Minh Tri, its former deputy general secretary, to mark his 50-year career.
The exhibition titled Ngược Dòng (Rise Again) includes 60 paintings in different materials such as colour powder, oil paint and lacquer, which are chosen from thousands of works created during his career.
Tri's paintings reveal his inner mind and voice featuring a wide range of styles from abstract and expressionism to impressionism and surrealism.
On display works are colour powder paintings from 1970s and 1980s which are introduced to the public for the first time, depicting daily life such as a portrait of a boy, and cat and fish.
Veteran painter Ca Lê Thắng said despite being a longtime friend of Trí, he was still surprised at his paintings. His works were a diary of a sensitive soul carrying thoughts of life and feelings of people and society.
Meanwhile, Tri used Vietnamese traditional material lacquer to turn into his own art language, expressing the connection between human beings and the world, and among things and phenomena.
Tri, 73, graduated from the Việt Nam Fine Arts University in 1976.
In the early 1990s, he joined Nhóm 10 Người và Triển Lãm Tác Phẩm Mới (Group of Ten and New Works) in HCM City who contributed to the "renewal" of Vietnamese art.
He worked as an art lecturer at the HCM City University of Fine Arts.
He took participated in several solo and group exhibitions in Việt Nam and abroad.
In 2007, Tri had a serious illness, but still kept his passion for painting.
The Ngược Dòng exhibition marking his comeback will open until March 28 at 218A Pasteur Street in District 3.
Tay Yen Tu Cherry Blossom Festival to get underway in Bac Giang
The Tay Yen Tu Cherry Blossom Festival is scheduled to take place on March 19 at the Tay Yen Tu spiritual - ecological tourist area in Son Dong district in the northern province of Bac Giang, according to details provided by the Bac Giang provincial People's Committee.
Through the event, Bac Giang province will organise a programme aimed at planting cherry trees and holding cultural exchanges between Vietnam and Japan at the Tay Yen Tu spiritual-ecological tourist area.
The scheme is part of a wider series of activities aimed at marking the 50th anniversary of the original establishment of diplomatic relations between the nation and Japan.
Furthermore, visitors will have the opportunity to experience a peach garden through augmented reality (AR) technology, enjoy viewing Japanese Yosakoi dancing and Vietnamese folk songs, trying on traditional Japanese and Vietnamese costumes, as well as sampling typical Japanese and Bac Giang cuisine at the function.
Moreover, there will be pavilions set up to introduce the one Commune One Product (OCOP) products of the Vietnamese locality.
The highlight of Vietnam-Japan cultural exchange will be a ceremony held to receive 10 large and 110 small cherry blossom trees which have been donated by representatives of the Japan - Vietnam Friendship Association.
Since 2015, the Japan - Vietnam Friendship Association in Chukyo region has presented Bac Giang province with more than 700 cherry blossom trees.
Transport Debate Competition promote green movement
The Green Transport Debate Competition concluded earlier this week, raising awareness and provide more knowledge for students about green transportation, low-carbon emissions, sustainable directions to minimize the impact of climate change in Việt Nam.
The United Nations Development Programme (UNDP) in collaboration with the Ministry of Transport, the Association of Vocational Education and Social Work of Việt Nam organized the final round of the competition in Hà Nội, on March 20, 2023.
The competition took place from February 8, 2023, with 28 teams of students from 21 universities, colleges, and academies nationwide participating. After the Preliminary and Regional rounds, the judges selected 6 outstanding teams to participate in the Final Round.
The First Prize was awarded to the BK-AUTO team from the Hanoi University of Science and Technology. The Second Prize was awarded to the CTC UEH A team from the University of Economics Hồ Chí Minh City. The Third Prize was awarded to the GBK team from the Ho Chi Minh City University of Technology. The Encouragement Prize was awarded to the Nữ Hoàng Công Nghệ team from the University of Languages and International Studies (Vietnam National University, Hanoi), the Banking Academy, and FPT University. Two People's Awards were given to the Green Knight team from Nguyễn Tất Thành University and the Mứt Bí team from the University of Sciences (Huế University).
"This is our first time participating in such a large-scale competition. We are very happy and surprised to be awarded the First Prize. After this competition, we will establish a debating club on green transportation to debate and exchange the latest information, and have new perspectives on this field together. Besides winning the prize, we also received a lot more, which is encouragement and support from friends and family. From now on, I can confidently speak in front of the public, something I couldn't do before," said Le Dang Kien, captain of the BK-AUTO team.
Dao Xuan Lai, Head of Climate Change and Environment Division, United Nations Development Programme (UNDP) in Việt Nam, said, "Young people will be the owners of the country in the future. Young people are also the ones who will create responsible consumption and new markets contributing to the development of a green and sustainable country. We need to encourage and create conditions for students and young people to participate, contribute opinions, initiate and spread the message of green transportation."
Tran Anh Duong, Deputy Director of the Department of Science, Technology and Environment (Ministry of Transport), added, " To guide the transportation industry towards achieving net-zero emissions by 2050, the Prime Minister has approved Decision No. 876, which outlines a roadmap for transitioning to electric vehicles for buses, taxis, and government vehicles, in order to encourage the public to switch to electric-powered personal transportation. According to the roadmap, public transportation vehicles will gradually shift to electric vehicles, with all buses transitioning by 2025 and all taxis by 2030".
Residents in Ninh Thuận suffer from high intensity of dust from sugar factory
Residents of Đô Vinh Ward in the south-central province of Ninh Thuận have been living among clouds of dust released from a nearby sugar factory.
Tonnes of burned sugarcane pulp from Biên Hòa-Phan Rang Sugar Factory have not been transported for treatment and discharged without cover to the residential area.
Although residents close the doors all day long, they can't prevent the ash from entering into their houses.
Nguyễn Thị Cát, a local resident, said: "We have to clean up the dust all the time. Just by slightly touching floors or furniture, our hands get dusty from the factory ashes."
Many families have to use towels to fill all the window and door cracks in an attempt to keep their homes dust-free. Some installed dust nets but it still doesn't keep their homes clean.
Ash has also affected public health, especially among the elderly and children. Some people have red eyes, itchy skin, rhinitis or suffer from watery eyes and coughing.
Sixty households in residential area No 8 of Đô Vinh Ward are directly affected, Vietnam News Agency reported.
Bùi Công Tiến, head of the residential area's management board, said locals have reported dust pollution and asked for solutions from local authorities and the factory many times.
The pollution has become severe in the past month, he said.
Nguyễn Đình Nhàn, vice chairman of Đô Vinh People's Committee, said the ward's authorities have proposed the provincial People's Committee make a plan to relocate the factory far from the residential area.
Lê Khắc Huy Anh, deputy director of Ninh Thuận Province's Department of Natural Resources and Environment, said local authorities have inspected the factory and monitored dust and waste intensity levels.
The Biên Hòa-Phan Rang Sugar JS Company has admitted violations and shipped the sludge, ash and bagasse to the microorganic fertiliser factory.
They have also sprayed water, covered the ash storage area and installed automatic sprinkler system in the factory to reduce dust.
Dozens of factory workers have been mobilised to clean up roads, houses and gardens affected.
The company committed to finishing the clean-up by March.
Trần Đình Phúc¸ director of Biên Hòa-Phan Rang Sugar JS Company, said factory workers visit local houses to clean up dust three to four days a week.
Environmental monitoring made by the local Department of Natural Resources and Environment showed the pollution level of the factory is within the limits permitted by the national technical regulation.
However, in order not to cause environmental pollution, the provincial Department of Environmental Protection asked the factory to maintain clean-up work.
The company will face penalties if they continue to release dust and do not follow environmental protection regulations.
Local authorities also show determination to impose punishments on the factory for any violations.
By the end of the production season in 2022-23 (expected at the end of March 2023), the Department of Natural Resources and Environment proposed Biên Hòa - Phan Rang Sugar Company review production lines for upgrading in order to meet environmental standards.
Hanoi considers removing ban on taxis from 11 streets
The Hanoi Department of Transport has just decided to remove the ban on taxis from Cat Linh Street while considering allowing taxi services back on some other streets including Le Van Luong, Lang Ha, Giang Vo, Kham Thien, and Chuong Duong Bridge.
The decision was announced following a meeting between the ministry with local police and representatives of the people's committees of districts following a proposal from the local taxi association.
At the meeting, representatives from concerned departments agreed to keep the taxi ban on some streets including Hang Bai, Tran Hung Dao, Hai Ba Trung, Phu Doan, and Lane 897 on Giai Phong Street.
Meanwhile, the ban would be removed from Cat Linh Street. In the meantime, local authorities would also consider removing the ban on some other streets including Le Van Luong, Lang Ha, Giang Vo, Kham Thien, and Chuong Duong Bridge.
Hanoi started banning taxis and vehicles belonging to ride-hailing services on 11 streets during peak hours in 2019 to ease congestion.
Vehicles with fewer than nine seats are not allowed on those streets between 6 am and 9 am and 4 pm and 7 pm. The ban will not apply on weekends and holidays.
Drivers entering the banned streets could be fined between VND800,000 to VND1.20 million and have their licenses revoked for one to three months.
Việt Nam carries out measures for healthy forests
Việt Nam has been taking practical steps to manage, protect and promote the multi-use value of forest eco-systems and effectively respond to climate change, said Phạm Hồng Lượng, chief of office of General Department of Forestry.
The role forests play is clear in all aspects of our lives, from production to economy and society.
At a forum on the International Day of the Forest on Tuesday in Hà Nội, Lượng stressed the importance of raising awareness about the role of forests in human life to work together in forest protection and sustainable forest exploitation.
This year's International Day of Forest 2023 is themed "Forests and Health" with the message "Healthy Forests for Healthy People".
Planting new forests, preserving existing forests, and expanding forest coverage are signs that a country is achieving sustainable development in terms of natural resources, environment, and overall development.
Climate change, degradation of arable land, and unpredictable floods and storms tend to increase the risk of forest destruction.
The decreasing rate of the forest has been seriously affecting the rapid and sustainable global socio-economic development.
Every year, more than 13 million hectares of forests are lost worldwide, and Việt Nam is no exception.
Over the years, climate change's impact has become increasingly obvious.
The weather is complicated, and natural disasters have become more and more severe and frequent, significantly affecting forest resources and forestry activities.
According to scientists, the project of one billion trees, of which 690 million trees are in urban and rural areas and 310 million trees in protection forests, special-use forests and planting new production forests, is one of the important prerequisites for Việt Nam to move towards sustainable development, bringing environmental and economic benefits.
As a forestry management agency, the General Department of Forestry has advised the Ministry of Agriculture and Rural Development to submit to Government the Forestry Development Strategy for the 2021-2030 period; the Programme for Sustainable Forestry Development for the 2021-2025 period; and Action Plan of implementing the Glasgow Declaration on forests and land use, Lượng said.
While implementing the project of one billion trees, in 2021 and 2022, Việt Nam planted 450 million new trees, including 227 million trees, equivalent to 130,000ha of new plantations, and 223 million trees in urban and rural areas, 7.6 per cent higher than the plan.
According to the National Strategy on Climate Change for the period to 2050, Việt Nam sets a net emission target of "zero" by 2050.
Among five fields contributing to the national target of reducing greenhouse gas emissions, forestry is the only industry that emits negative emissions due to its huge capacity to absorb CO2, Lượng said.
By 2030, the forestry and land use sectors are expected to reduce emissions by 70 per cent and increase carbon absorption by 20 per cent compared to the normal development scenario, with total emissions and absorption reaching at least minus 95 million tonnes of CO2 equivalent.
By 2050, emissions will be reduced by 90 per cent while carbon absorption will increase by 30 per cent and total emissions and absorption will reach at least minus 185 million tonnes of CO2 equivalent, Lượng said.
Nguyễn Song Hà, assistant FAO-Việt Nam's Representative, said the Food and Agriculture Organisation (FAO) pledged to be a long-term partner of the Vietnamese Government, continuously supporting healthy forests in Việt Nam while ensuring equal opportunities for everyone and leaving no one behind.
Over the years, FAO has worked closely with the Vietnamese Government to support activities to promote a healthy and sustainable forestry sector, Hà said.
Since 2009, together with UNDP and UNEP, FAO has supported the reduction of deforestation and forest degradation through local-level planning to reduce emissions in the forestry sector, improve land use regulation, control carbon emissions, and carry out sustainable forest management through community forestry and forest certification and governance, especially in land allocation and land use rights, Hà said.
In addition, to help small-scale farmer households find ways to increase their incomes and use forest resources sustainably, the FAO Farm Forests Programme (FFF) has collaborated with the Việt Nam Farmers' Union (VNFU) to support farmers to establish life-changing co-operatives, Hà said.
Source: VNA/SGT/VNS/VOV/Dtinews/SGGP/VGP/Hanoitimes