Chairman of the National Assembly Vuong Dinh Hue held online talks with Chairman of the Standing Committee of the National People's Congress (NPC) of China Zhao Leji on March 27.
The talks took place right after the first session of the 14th NPC, and it is also the first contact between key leaders of the two countries so far this year.
Chairman Hue conveyed wishes and regards of Party General Secretary Nguyen Phu Trong, President Vo Van Thuong and Prime Minister Pham Minh Chinh to Party General Secretary and President of China Xi Jinping and Premier Li Qiang.
He extended his congratulations to China on the success of the 20th National Congress of the Communist Party of China (CPC) and the first session of the 14th NPC.
He also congratulated Zhao on his election as Chairman of the NPC Standing Committee, noting his belief that under the leadership of the Chinese Party and State in the new tenure led by Xi, Chinese people will fulfil set targets and tasks.
Zhao, for his part, said the talks aim to consolidate the traditional friendship between the two Parties, States and peoples, expressing his willingness to work together with the Vietnamese legislature to materialise common perceptions and agreements reached by high-ranking leaders of the two Parties and countries.
He thanked Vietnam for inviting Xi and other senior Chinese leaders to visit the country this year, and informed that he stands ready to visit Vietnam at an appropriate time. He also invited Hue to visit China.
At the talks, both sides affirmed that they treasure the long-standing friendship – a valuable asset shared by the two Parties, States and peoples, and agreed to persistently cooperate in realising development targets and visions under the common perceptions.
The two sides will continue with all-level contacts and people-to-people exchanges, promote the bilateral trade cooperation in a balanced and sustainable fashion, satisfactorily control disputes at sea, ensure peace and stability in the region, and optimise existing mechanisms to speed up collaboration across spheres.
The two legislatures should cooperate substantively in all fields to implement such common perceptions, and serve as a friendship bridge of the two countries' peoples, they shared the view.
Hue suggested China expand the import of goods, especially agricultural products that are of Vietnam's strengths, and create optimal conditions for Vietnamese goods to transit through third country via the Asia-Europe railway.
The two countries should work to soon launch large-scale, high-quality investment projects, remove obstacles to some industrial cooperation projects, coordinate to push ahead with China's non-refundable aid projects, enhance road, rail, maritime and aviation links, and step up exchanges between their citizens, especially youngsters, he continued.
The Vietnamese leader also highlighted the communications work that helps to raise public awareness of achievements by each country as well as the traditional friendship between the two Parties and countries.
He suggested the two sides maintain peace and stability, and satisfactorily control and settle issues emerging at sea in line with the common perceptions and agreements, including the Agreement on basic principles guiding the settlement of sea-related issues, respect the legitimate and legal interests of each other, and persistently address disputes and disagreements by peaceful measures in accordance with international law, especially the 1982 United Nations Convention on the Law of the Sea (UNCLOS), effectively and fully implement the Declaration on the Conduct of Parties in the East Sea (DOC), and soon reach an effective and substantive Code of Conduct in the East Sea (COC).
Zhao said the two sides should intensify contacts and exchanges via the Party channel, especially strategic exchanges between senior leaders in order to put forth orientations for the relations between the two Parties and countries.
He suggested continuously deepening the bilateral comprehensive strategic cooperative partnership by carrying forward the role and operational efficiency of the Vietnam-China Steering Committee for Bilateral Cooperation, and promoting investment and transport projects.
China is willing to facilitate the penetration of Vietnamese agricultural products into its market, contributing to boosting the bilateral trade ties, he pledged.
Regarding the legislative ties, Hue suggested the two sides continue implementing the cooperation agreement signed in December 2015, and invited young Chinese parliamentarians to attend the ninth Inter-Parliamentary Union (IPU) Forum of Young Parliamentarians slated for September in Hanoi.
The top legislators reiterated their commitments to coordinating closely to strengthen the legislative ties practically and effectively, contributing to strengthening the bilateral comprehensive strategic partnership.
Defence minister visits RoK to deepen ties
Minister of National Defence Gen. Phan Van Giang is leading a delegation to pay an official visit to the Republic of Korea from March 27-29 at an invitation of his counterpart of Republic of Korea (RoK) Lee Jong-sup.
The visit aims to implement the common perceptions reached between the two countries' high-ranking leaders; exchange ideas on the world and regional situations, contributing to enhancing mutual understanding, trust and support at international forums; and orienting major defence cooperation contents between the two militaries, bringing about practical outcomes, and serving security interests of both sides.
Hanoi creates favourable conditions for heritage conservation activities: official
The Hanoi government always supports and creates favourable conditions for heritage conservation activities, affirmed Chairman of the municipal People's Committee Tran Sy Thanh while hosting a reception for visiting Director of the UNESCO World Heritage Centre Lazare Eloundou Assomo on March 27.
Such conservation is among important goals of the capital to foster traditional and cultural value and pass on patriotism to the next generations, Thanh notes.
The leader said he hopes the city and the centre soon set up cooperation targets for mutual development in the time to come.
Highlighting the Imperial Citadel of Thang Long, notably its Kinh Thien Palace relic, as a key site in the local conservation plan, the official told his guest that Hanoi is very cautious and respects the comments and recommendations from experts in the field, especially those at the UNESCO and its World Heritage Center.
In response, Assomo affirmed that based on the municipal authorities' attention and facilitation, UNESCO will accompany Vietnam in general and Hanoi in particular in preserving and promoting cultural heritages via further assistance and collaboration in the near future.
First constructed in 1011 under the reign of King Ly Thai To of the Ly dynasty, the Imperial Citadel of Thang Long is a complex of historic imperial buildings located in the centre of Hanoi. Its Central Sector, where the Kinh Thien Palace is situated, was inscribed on the World Heritage List by UNESCO's World Heritage Committee in 2010.
Vietnam's U23 footballers ready for last match at Doha Cup
Coach Philippe Troussier has encouraged the U23 team of Vietnam to show their best possible performance in the last match at Doha Cup 2023, against Kyrgyzstan, on early March 29 (Vietnam time).
In the last training session ahead of the match, Troussier instructed his players to address the weaknesses revealed in the two previous games and gave them spiritual support.
He admitted that the losses of 3-0 to Iraq and 4-0 to the UAE at the friendly tournament gave the team precious lessons during the preparation for the 32nd Southeast Asian Games (SEA Games), slated for this May in Cambodia.
The French coach said the players have been training hard to gear up for the 32nd SEA Games, adding that they performed well in the first half of the game against UAE, one of the six strongest teams in Asia, on early March 26 (Vietnam time).
Such matches showed that Vietnam's U23 team are able to narrow the gap with others in the near future, he noted.
The game between Vietnam and Kyrgyzstan is scheduled to kick off at 0:30am on March 29 (Vietnam time), or 8:30pm on March 28 (Doha time).
Vietnam's U23 footballers used to beat Kyrgyzstan 3-0 in a friendly in 2021 and 1-0 at the 2014 Asian Games (ASIAD).
Lang Son considers building four routes for panoramic geopark touring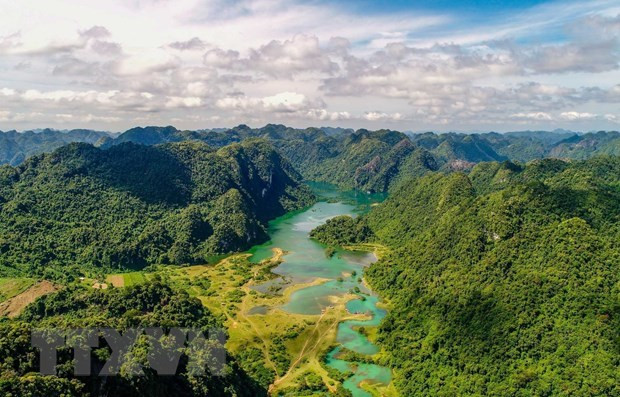 The Dong Lam meadow in Huu Lung district, Lang Son. (Photo: VNA)
The northern mountainous province of Lang Son is working to complete a report on the addition of tourist attractions to the four sightseeing routes planned for its geopark area ahead of March 30, heard a working session on March 27.

The session took place between the Lang Son authorities and a delegation of consultants for developing the geopark into a global one, led by Guy Martini, chairperson of the UNESCO Global Geoparks Council.

Chairing the meeting, Permanent Vice Chairman of the provincial People's Committee Duong Xuan Huyen took into account recommendations of the experts. He assigned localities involved to coordinate with the management board of the geopark to complete the report.

On March 11-15, the delegation examined the current status of geological heritage, biodiversity, cultural heritage and tourism products in Lang Son city and the six districts of Loc Binh, Huu Lung, Chi Lang, Binh Gia, Van Quan and Cao Loc. To meet UNESCO's criteria, the experts emphasised that there must be three to four routes serving panoramic geopark tours for visitors.

They then selected a number of potential sites in the districts and city to build four sightseeing routes consisting of 41 attractions. For these routes, they suggested an early arrangement of associated parking areas and building of information centres in the localities.

Established in 2021, the Lang Son geopark encompasses the five districts of Bac Son, Binh Gia, Chi Lang, Huu Lung and Van Quan. Its total area is over 3,800 sq.km with a population of 375,656, accounting for some 46.3% of the province's area and 48.1% of its population.

Archaeologists discovered remains of Homo Sapiens, the first modern humans, evolved from their early hominid predecessors 470,000 years ago, and Hoiosapiens, 30,000 years ago, and other signs of early humans in the park, proving that the Lang Son geopark is one of the cradles of ancient Vietnamese.
Vietnam always values relations with Chile: FM
Vietnam always attaches importance to the traditional friendship and solidarity with friends and important partners in Latin America, including its comprehensive partnership with Chile, said Minister of Foreign Affairs Bui Thanh Son on March 27.
Son made the remark at a reception for visiting former President of Chile Michelle Bachelet Jeria and a delegation from Cerro Navia district in the South American nation's capital of Santiago.
He commended the two nations' increasing political and diplomatic relations via regular dialogues at all levels and growing economy-trade ties, and their strong coordination at international organisations and multilateral forums.
The top diplomat recommended the sides further coordinate closely in promoting the exchange of high-level delegations, and effectively implementing such bilateral cooperation mechanisms as free trade council and political consultation between the foreign ministries.
Improved mutual support at international organisations and multilateral forums is also important, Son noted.
He thanked the Chilean district for creating conditions to preserve the statue of late Vietnamese President Ho Chi Minh located there and appreciated its friendship and cooperation activities with Vietnamese localities in the coming time.
For her part, Bachelet expressed her willingness to share with Vietnam experience she gained while working at multilateral organisations, especially when both countries are members of the UN Human Rights Council for the 2023-2025 term.
She vowed to continue her support for the promotion of Vietnam-Chile ties and the close relationship between their peoples in any positions she might take.
At Son's invitation, Bachelet is in Vietnam from March 25 to April 3 for the celebration of the 52nd anniversary of the nations' diplomatic relations (March 25, 1971-2023).
Foreign Minister meets UNESCO World Heritage Centre Director
Minister of Foreign Affairs Bui Thanh Son hosted a reception in Hanoi on March 27 for Director of the UNESCO World Heritage Centre Lazare Eloundou Assomo, who is paying a visit to Vietnam.
Son stressed UNESCO's important role in maintaining and consolidating peace, sustainable development and prosperity of countries worldwide, and in preserving and promoting heritage and cultural values of humankind in particular.
Vietnam has worked to contribute to major UNESCO mechanisms to which it is a member such as the Executive Board, the Intergovernmental Committee for the Safeguarding of Intangible Cultural Heritage and the Convention for the Protection and Promotion of the Diversity of Cultural Expressions, he said.
The minister noted that Vietnam always attaches importance to culture, considering it a spiritual foundation of the society, a target and momentum of national development.
He appreciated the support of Assomo himself and the centre for the recognition, conservation and promotion of cultural and natural heritages of Vietnam, saying he believes that the world heritages in Vietnam have significantly contributed to raising living standards of local residents as well as national socio-economic development.
For his part, Assomo expressed his good impression on Vietnam during his first visit, and lauded the country's efforts in managing, conserving and promoting world heritage values.
He also highly valued Vietnam's approach in ensuring the balance and harmony between heritage preservation and development, and called the country a model in heritage conservation and promotion.
Vietnam's experience in this regard should be shared with other countries, he said.
Assomo affirmed that the centre always accompanies and provides the best support for Vietnam in the conservation and promotion of world heritages; and commits to supporting Vietnam's world heritage nomination documents in the near future.
The centre will provide consultations for and assist the country in management, conservation and promotion of its eight global heritage sites and back its bid for a seat in the World Heritage Committee in the 2023-2027 tenure, he said.
Earlier on March 24, Assomo was received by Deputy Foreign Minister and Chairman of the Vietnam National Commission for UNESCO Ha Kim Ngoc, who underscored Vietnam's commitment to the conservation and preservation of world heritages for future generations.
Asomo, for his part, appreciated the attention of Vietnamese leaders and communities to the management, conservation and promotion of world heritage values. Vietnam is one of the typical countries with the effective implementation of the 1972 UNESCO Convention concerning the Protection of World Cultural and Natural Heritage, he said.
The UNESCO official was on a Vietnam trip from March 24 to 27 at the invitation of Ngoc.
Ancient lithophones return to Khanh Hoa
A ceremony to handover two sets of Khanh Son ancient lithophone was held in the south - central province of Khanh Hoa on March 27 by the Vietnam National Sub-Institute of Culture and Arts Studies in Ho Chi Minh City and Khanh Hoa Department of Culture and Sports.
Speaking at the ceremony, Dang Quoc Van, deputy director of the provincial Department of Culture and Sports, acknowledged that the sets lithophone hold precious musical values, presenting cultural life of ethnic minority groups in the province.
After the reception, the sets were handed over to the provincial museum for display and further preservations. Besides, the museum will study and compile a dossier to recognise the instruments as national treasures.
In 1977, in Doc Gao (To Hap, Khanh Son District), a man named Bo Bo Ren discovered 12 pieces of stones in different sizes and shapes which could produce musical notes when hit. Afterwards, archaeologists unearthed and discovered more tools used to make lithophone, stone axes, stone hammers, etc.
Based on the artifacts discovered, they concluded that the set of lithophone dated from 2,000 to 5,000 years ago. In 1979, information about Khanh Son lithophone was officially made public, both at home and abroad. Since then, lithophone has become a pride of Raglai ethnic people living in mountainous areas in Khanh Hoa.
In 2020, Khanh Son district plans to restore three systems of stone slabs placed at the streams to protect crops of Raglai people. Each system consists of nine to 15 slabs which are long, big, and can produce sounds. These systems will be put at natural water flow in three locations.
Dialogue discusses wildlife conservation efforts
Improving policy and communication strategies on wildlife protection and management was the main theme of a high-level policy dialogue taking place in Hanoi last week.
The event, under the framework of the USAID-funded Saving Threatened Wildlife project, was jointly organised by the Management Board for Forestry Projects - MARD, WWF and TRAFFIC in collaboration with the Training Centre for Elected Representatives under the Board of Deputy Affairs-Standing Committee of the National Assembly.
The dialogue saw the participation of fifty high-level leaders and officials from relevant ministries, agencies and National Assembly deputies, discussing efforts on wildlife demand reduction across the Party and Government network.
At the event, discussions brought a better understanding of the existing national wildlife protection efforts and associated legal frameworks.
Representatives from the Party and ministries' agencies also presented their roles and communication strategies to reduce wildlife demand and how to integrate social behaviour change interventions to help the Government comply with the demand reduction resolution of CITES, of which Vietnam is a member State.
Experts were invited to propose ideas and solutions to strengthen wildlife conservation and Social Behavior Change Communication in the country. Actions the Government should take, such as increasing the penalty for consumption of illegal wildlife products in the current law, were discussed with deputies, focusing on applying demand reduction effort tools within government networks and society.
The event highlighted the leadership of the National Assembly in tackling wildlife trafficking as a serious and organised crime and the desire for a responsible and legal social norm in Vietnamese society. The dialogue's outcome on implementing wildlife conservation, especially demand reduction initiatives, will be documented and disseminated within the Government network to feed further action.
In Vietnam, the unsustainable consumer demand for wildlife products like rhino horn, pangolin scales, or elephant ivory is considerable and a leading cause of the threats faced by the species worldwide. To reduce the demand for consumption, TRAFFIC has gathered National Assembly members, representatives of relevant ministries, and international experts to bring more attention to wildlife protection and management efforts and the delivery of demand reduction interventions.
Public security ministry, JICA step up cooperation
Minister of Public Security Gen. To Lam hosted Sugano Yuichi, new Chief Representative of the Japan International Cooperation Agency (JICA) Vietnam Office, and his predecessor Akira Shimizu in Hanoi on March 27.
Lam said his ministry has received active cooperation from Japanese partners in information sharing and exchange, criminal fighting and prevention, human resources training, and non-refundable aid, among other activities.
The Vietnamese body has been assisted by JICA through a series of police capacity training courses and programme, he said, believing that such joint work will thrive in the time to come based on the countries' extensive strategic partnership for peace and prosperity in Asia.
The minister suggested JICA pay further attention to increasing funds helping develop the public security force in fields of Japan's strength such as high technology, digital transformation, supply of anti-terrorism equipment and means, coastal law enforcement, fire prevention, save and rescue, and personnel training.
He pledged the ministry's close cooperation with JICA in ensuring security and safety for events celebrating the 50th anniversary of the two countries' diplomatic relations, and for Japanese businesses and citizens living, working, and studying in Vietnam.
Lam expressed his belief that the joint work will continue achieving successes and contribute to fortifying the nations' ties.
Underscoring the growing Vietnam-Japan relations across sectors, particularly economy, human resources, science-technology, and supply chain, the JICA representative vowed to do his best in promoting the relationship between the agency and the ministry.
President Vo Van Thuong hosts former Chilean President
President Vo Van Thuong appreciated former Chilean President Michelle Bachelet's special sentiments on consolidating and promoting the traditional friendship and cooperation between Vietnam and Chile, at their meeting in Hanoi on March 27.
The President also lauded Bachelet, in her capacity as UN High Commissioner for Human Rights, for her contributions to UN affairs and the international community.
According to him, the maintenance of all-level delegations is significant to enhancing cooperation between Vietnam and Chile as well as their people.
For her part, Bachelet, who is in Vietnam for the celebration of the 52nd anniversary of the bilateral diplomatic ties (March 25, 1971-2023), said during her stay in the Southeast Asian nation, she will visit the southern province of Binh Duong and the central province of Nghe An to foster cooperation between localities of the two countries and people-to-people exchange activities.

The guest expressed her special sentiments for Vietnamese land and people, and her admiration for the Vietnamese people's indomitable and resilient spirit during their past struggle for national independence.
Both Vietnam and Chile are members of the UN Human Rights Council and the Comprehensive and Progressive Agreement for Trans-Pacific Partnership (CPTPP), which would facilitate the enhancement of the bilateral ties in the time ahead, both bilaterally and multilaterally, and enable them to join hands to fulfil common goals of the international community, for peace and development, especially climate change response, she noted.
Thuong affirmed that Bachelet's visit will contribute to consolidating cooperation between peoples and especially localities of the countries.
He highlighted the close ties between Vietnam and Chile despite their far geographical distance, during both Vietnam's past struggle for national independence and its present cause of national construction and development.
He suggested the two countries take more measures to forge economic cooperation, for the sake of their businesses and people, step up collaboration at multilateral forums, and further coordinate in organising exchanges between localities and citizens.
Close supervision over VMS equipment needed to fight IUU fishing
Installing Vessel Monitoring System (VMS) equipment and supervising their operations play an important role in removing the European Commission (EC)'s "yellow card" warning on Vietnamese seafood.
According to the Directorate of Fisheries under the Ministry of Agriculture and Rural Development, the national fisheries database (Vnfishbase) shows that as many as 223 fishing boats in localities have yet to install the VMS equipment although their operating licences are still valid.
Nguyen Quang Hung, deputy head of the Directorate of Fisheries, urged localities to work to ensure that all of the remaining fishing vessels are equipped with the device.
The number of fishing boats that have been disconnected for more than one year reaches 2,335 to date, accounting for 8% of the vessels equipped with the device, he added.
Such boasts should be monitored closely like those without the VMS equipment, he stressed.
Hung pointed out the fact that many localities have not operated the monitoring system round the clock, and many others have yet to issue regulations and procedures for fishing vessel information processing.
Moreover, only about half of the vessels with the VMS equipment have activated the device, he continued, asking localities to review the operations of all boats measuring from above 15 metres in length.
Le Van Ninh, deputy director of the Fisheries Information Centre under the Directorate of Fisheries, also stressed the need for localities to quickly issue regulations on the installation, dismantling and replacement of the equipment.
On October 23, 2017, the European Commission (EC) issued a "yellow card" warning to Vietnam, after the country failed to demonstrate sufficient progress in the fight against IUU fishing.
The commission is scheduled to conduct an inspection over IUU fishing in Vietnam in June 2023.
Vietnamese, Chinese border communities beef up cooperation
Four northwestern border provinces of Vietnam, namely Lao Cai, Ha Giang, Lai Chau, and Dien Bien, and China's Yunnan province on March 27 convened the 3rd annual conference between secretaries of their provincial party committees.
With Ha Giang hosting the event, Secretary of its Party Committee Dang Quoc Khanh underscored the countries' close-knit ties and the two peoples' long-standing traditional friendship in his opening speech.
He recommended the five localities make efforts to boost mutual visits between their leaders and host exchanges between their Party units. He also suggested they maintain smooth trade at their crossings and pairs of border markets, and speed up the establishment of new border gates and upgrade existing ones. It is also important to resume their cross-border import, export, and tourism activities, he said.
Informing one another about their respective socio-economic development, the provinces agreed to launch effective measures to support the common perceptions reached between senior leaders of the two parties and two states.
They said they will continue to maintain, promote, and bring into full play the mechanisms of the annual conference between their provincial party committee secretaries and the meeting of their joint working group.
The parties highlighted the need to continue to actively implement the motto of "friendly neighbourliness, comprehensive cooperation, long-lasting stability and looking forwards to the future" and the spirit of good friends, good comrades, and good partners".
It is necessary to strictly implement the three legal documents on the land border between Vietnam and China and related agreements, they noted.
Secretary of the Yunnan provincial Party Committee Wang Ning said he believes that the implementation of contents reached at the conference will bring about practical effects, contributing to strengthening the provinces' friendship and cooperation.
Participants signed the minutes of the meeting and an action plan for their pilot collaboration in sustainable poverty reduction for 2023-2025.
They agreed that the 4th conference will be held in Yunnan in the first quarter of next year.
Van Don int'l airport to pilot biometric authentication for passengers
The Civil Aviation Authority of Vietnam (CAAV) has announced that passenger biometric authentication (facial recognition) will be piloted at check-in desks in Van Don international airport in the northern province of Quang Ninh.
The authority has asked the airport to take measures to prevent congestion and handle situations that arise during the trial period. It also requested the airport to coordinate with relevant agencies and businesses to evaluate the effectiveness of the pilot application regarding aviation security risks and convenience for passengers, and submit monthly reports to the CAAV.
Vietjet Air and Hanoi-based Noi Bai international airport's aviation security centre will worked closely with Van Don international airport and related partners in this scheme.
Previously, the CAAV has proposed to the Ministry of Transport on extending the piloting period of biometric authentication at airports nationwide. It reported that the trial application of facial recognition technology at Cat Bi international airport in the northern city of Hai Phong has not clearly demonstrated its advantages and disadvantages.
The high-tech method aims to contribute to ensuring social order and security, reduce time for check-in procedures, and increase accuracy. Facial recognition technology can also improve the prevention and detection of passengers using fake documents, and detect those who are banned from flying or wanted criminals that cross borders.
Cuba helps improve community healthcare in HCM City
Cuba and Ho Chi Minh City are cooperating to improve the quality of community healthcare.
The city's Department of Health last week had a virtual meeting with the primary health care board of the Cuban Ministry of Health.
Attending the meeting, Ailuj Casanova Baroto, head of the primary health care board, said Cuba's public healthcare system is recognised as one of the most effective systems in the world.
The system is operated by the Ministry of Health to guarantee that all Cuban residents can easily access it.
It focuses on disease prevention and enhancing education of public healthcare.
Community health centres are an important part of the country's public healthcare system, which have been established in urban and rural areas nationwide.
It estimated that there is one community health centre for 1,000 households.
The community health centres provide healthcare services, such as vaccinations, regular health checks, and care for pregnant women and newborns.
Medical staff at community health centres are trained to diagnose and treat basic illnesses and provide disease preventive measures.
Groups of specialised doctors of hospitals periodically cooperate with community health centres to give medical examinations and treatment to local residents.
Cuba's public healthcare system also pays attention to studying and developing new healthcare technologies and methods, ensuring the system always provides the best approaches in healthcare to people.
Tang Chi Thuong, Director of the city's Department of Health, said the Cuban Ministry of Health is willing to support the city in implementing a project of community healthcare development.
Cuba will send two specialised doctors to the city to carry out surveys and come to an agreement with the city's Department of Health on content that needs to be developed in the coming time.
The ministry expects to welcome the city's healthcare professionals to visit Cuba to learn about its public healthcare models.
Ballet suite "Carmen" to be staged in Ho Chi Minh City: HBSO
The Ho Chi Minh City Ballet Symphony Orchestra and Opera (HBSO) on March 27 announced that the ballet suite "Carmen" will be performed in the city on April 2 at the Saigon Opera House.
French composer Georges Bizet wrote Carmen in 1875, but as an opera. Then in 1967, Cuban choreographer Alberto Alonzo created a ballet suite based in part on Bizet's music, but more specifically on music by Russian composer Rodion Shchedrin.
Instead of interpreting the content of the original opera, Shcerdrin famously referred to his bold work as more than an arrangement, rather "a creative meeting of the minds". In particular, the familiar tunes of the opera have been vividly transformed through the arrangement of strings and percussion.
The original ballet was not appreciated for its use of distinct styles to tell an already familiar story. It was not until more than 50 years later that the ballet continued to be performed around the world.
People's Artist Kim Quy brings the world-famous ballet to the stage in Ho Chi Minh City with artist Nguyen Thu Trang playing the role of Carmen, Ho Phi Diep as Don Jose, and Dang Minh Hien as the toreador Escamillo.
Together with the ballet suite "Carmen" on the April 2 show, two ballets - "Falling Angels" and "Dépaysement" - will be performed.
"Falling Angels" is a very short piece about the challenges of being gay. Choreographed by Nguyen Phuc Hung, it will be performed by Do Hoang Khang Ninh and Sung A Lung. Meanwhile, "Dépaysement" (disorientation) is choreographed by Julien Guerin with music by famous composers Frederic Chopin and Ludwig van Beethoven.
Ninh Thuan grape and wine festival 2023 to be held in June
The south central province of Ninh Thuan will hold a grape and wine festival from June 13-18 to highlight the local products and culture.
The opening ceremony is slated for June 16 evening.
On the occasion, the locality will also hold a ceremony receiving UNESCO's certificate recognising the pottery making art of Cham ethnic people as an Intangible Cultural Heritage in Need of Urgent Safeguarding.
The festival will feature a series of events, including a seminar where grape farmers, businesses, scientists and wine producers will share experience on developing the value of grape trees and grape products; a workshop on preserving and upholding the values of Cham ethnic people's pottery making art, and a local cuisine festival.
Besides, a cycling race, an off-road car and motorcycle race on sand dunes, visits to grape orchards, Bau Truc pottery village and the world biosphere reserve Nui Chua national park, and a street music show promise to bring visitors both exciting and relaxing entertainment.
Activities during the festival are designed in response to the 2023 National Tourism Year themed "Binh Thuan – Green Convergence".
Grapes were introduced to Ninh Thuan province in the 1960s. With its hot and dry climate and sandy soil, Ninh Thuan has favourable conditions for grape cultivation, making it a unique agricultural product of the region. Ninh Thuan grapes have been certified for geographical indication by the National Office of Intellectual Property. This year, the province plans to expand the grape cultivation area to 1,115 ha and supply over 27,600 tonnes of fresh grapes to the market.
Thua Thien-Hue, Laos' Attapeu province strengthen cooperation
The cooperation between the central province of Thua Thien-Hue and Attapeu province of Laos has been strengthening and generating practical results in fields, Secretary of the Thua Thien - Hue provincial Party Committee Le Truong Luu said on March 27.
At a working session with a Lao delegation led by Secretary of the Attapeu Party Committee and Governor of the province Let Xaynhaphon, Luu and his guest informed each other of their local socio-economic developments, administration and Party building work, and cooperation results over the past time.
They also discussed cooperation opportunities in the coming time, and affirmed the two sides will further coordinate to finalise a draft cooperation agreement for the 2023-2027 period.
They will effectively implement an agreement to manage and protect the borderline, prevent and fight against all kinds of cross-border crimes, focus on promoting and diversifying trade promotion activities and export product structure, and continue to organise cultural and art exchange activities.
Luu called on the Attapeu administration to continue creating favourable conditions for workers of Thua Thien - Hue province to do business and live in the province based on strictly implementing the legal regulations of the two countries.
Secretary of the Attapeu Party Committee and Governor of the province Let Xaynhaphon. (Photo: VNA)
The Lao official suggested that the two sides should strengthen cooperation in the fields of education, health, culture, tourism, agriculture, trade, and investment in the coming time; and expressed his hope that Vietnam's provincial leaders, departments, and agencies, especially businesses, will visit Attapeu and find potential and business opportunities in the locality.
For years, Thua Thien - Hue province has granted scholarships for students from Attapeu. To date, 163 students from Attapeu province have received the scholarship and studied in colleges and universities in Thua Thien-Hue.
The locality also supported the Lao province in the medical sector and donated 10,000 USD to Attapeu to overcome the consequences caused by the broken dam at a hydroelectric plant.
Police hurry to issue chip-based citizen ID cards for students
The Ho Chi Minh City Police this morning hurried to issue citizen identification cards with electronic chips for students in the city.
Accordingly, from now until the end of March 31, 2023, the police force of Ho Chi Minh City will make concerted efforts to issue chip-based citizen ID cards to students with the year of birth from 2004 to 2008. The Ho Chi Minh City Police will work from 7:30 a.m. to 9 p.m. every day of the week including Saturday and Sunday.
Students in the above age group can go to the nearest police station to carry out procedures for issuing citizen ID cards with chips to ensure the necessary documents for participating in upcoming exams.
To create the most favorable conditions for students, during this peak period, the Ho Chi Minh City Police force will issue citizen ID cards with chips regardless of permanent residence; they even do not require those who lost information to return to their localities to get electronic identification number.
The Ho Chi Minh City police requested parents take their children to police stations for finishing citizen ID cards with chips.
This morning, at the District 8 Police Department's Administrative Management Team on Social Order, many parents took their children to do citizen ID cards with chips.
As of March 20, Ho Chi Minh City Police said that over 34,000 students will take a seat in the upcoming national high school graduation examination in the area. Police officers strived that all students will have citizen ID cards with a chip and an electronic identification code before May 20, 2023.
Bike-sharing scheme wholeheartedly welcomed in Da Nang City
The Transport Department of Da Nang City has just piloted a bike-sharing scheme in its downtown area. After one week, the program has received various positive comments from both local residents and tourists.
Not only international but also national tourists to Da Nang City have shown their excitement when renting a bicycle in the bike-sharing scheme for a leisure sightseeing trip on major routes of the city, be it day or night.
"I have visited Da Nang City for many times, but this is the first time I've experienced this activity. Riding a bike slowly to see the view of Han River is quite calming and relaxing. I think this meaningful program can help the city to attract even more tourists in the upcoming time", said Mai Huong from Hanoi.
Le Hoang Anh, a tourist from Phu Yen Province shared that during the visit to Da Nang City, she and her husband usually rented two bicycles to ride leisurely along the beach to enjoy the atmosphere and dinner. The locator device installed on each bike helps to minimize stealing, and there is no need to return the bikes after use at the original station but at any authorized stations throughout the city.
Besides tourists, local residents are happy with the scheme as well since they can use these bicycles for their daily exercise or as a stress release means after a hard-working day.
At present, Da Nang City has 61 stations for this bike-sharing scheme, located at different major routes. Director of Da Nang City Transport Department Bui Hong Trung shared that after one year piloting the program, there will be a report to Da Nang City People's Committee on the results and the ability to expand this useful program, which is considered effective in both attracting tourists and reduce environmental pollution for a greener and more sustainable development.
To rent a bike, people need to download the app TNGO on App Store or Google Play and install it on their smart device. They will then sign up for an account using their mobile phone number and choose a suitable payment method (MoMo, Zalo Pay, VTC Pay). After that, they can scan a QR code stuck on a bike of the scheme to unlock it for use. The rate is VND5,000 (US$0.21) per 30 minutes or VND50,000 ($2.1) per day.
Source: VNA/SGT/VNS/VOV/Dtinews/SGGP/VGP/Hanoitimes