People living in ethnic and mountainous areas have received a boost to improve their living conditions and infrastructure in their communities.
Deputy Prime Minister Tran Luu Quang has approved a decision to assist residents to reclaim land, improve their houses and build new homes.
It means funds from the state budget will be available to improve living conditions, pave roads, build markets, and install water supply facilities.
The assistance is meant to help with the implementation of the national target programme on socio-economic development in ethnic minority and mountainous areas for the 2021-30 period, in the first phase from 2021 to 2025.
A maximum of 40 million VND (nearly 1,700 USD) from the central budget will be provided for each household to carry out site clearance, prepare housing and land infrastructure, or settlement. A maximum of 40 million VND for each household will be provided to build a "three-solid" house (solid ground, solid frame/wall, and solid roofs) in line with local customs, and up to 22.5 million VND for each to conduct land reclamation for farming.
The decision also regulates that an average of 3 billion VND from the central budget will be given to help build concentrated water supply facilities. The paving of roads towards communes' centre can receive support of about 1.6 billion VND for each kilometre, and the construction of a new market can receive financial aid of 4.4 billion VND, while the upgrading of an existing market will be given some 800 million VND.
Meanwhile, local budgets will supply a minimum of 4 million VND for each household to carry out site clearance, prepare housing land infrastructure, or settlement. A minimum of 4 million VND will be dedicated to building a solid house in line with local customs.
In addition to the aid from the central and local budgets, localities were also requested to mobilise capital from other legal sources for funding the works under the national target programme, according to the decision.
PM hosts leader of Yunnan provincial Party Committee

Prime Minister Pham Minh Chinh underlined the importance of the Vietnam-China comprehensive strategic cooperative partnership in Vietnam's external policy during a reception in Hanoi on March 28 for Wang Ning, Secretary of the Yunnan provincial Party Committee and Chairman of the Standing Committee of the provincial People's Congress.
The talk between PM Chinh and his guest focused on measures to tap the potential and strengths of both sides and further promote bilateral cooperation, especially between Vietnamese localities and Yunnan province in the near future.
PM Chinh highlighted the need to continue concretising the common view of Vietnamese Party General Secretary Nguyen Phu Trong and Chinese Party General Secretary and President Xi Jinping on taking the Vietnam-China relations into a new development phase with higher political trust, more practical and effective cooperation and a stronger friendship foundation.
He wished that the two countries' ministries, agencies and localities would maintain regular exchanges, effectively make use of existing cooperation, and actively promote friendly exchanges between mass organisations in border areas to raise mutual understanding and trust.
The PM also wanted to expand mutually-beneficial cooperation focusing on making breakthroughs in economic-trade ties, road and railway transport connectivity, tourism and education. He asked Yunnan to improve the efficiency of customs clearance for goods at border gates, import more high-quality farm produce and aquatic products from Vietnam, and create favourable conditions for Vietnamese firms to join international trade fairs in Yunnan.
The Vietnamese government leader urged tightening coordination in border protection and management in accordance with the three legal documents on the Vietnam-China land border and related agreements, so as to jointly build a borderline of peace, stability and development.
Wang, who is also member of the Communist Party of China Central Committee, affirmed that the Party organisation, authorities and people of Yunnan will partner with Vietnamese border localities to well implement the common perceptions of leaders of the two Parties and countries; maintain all-level exchanges, discuss infrastructure connectivity projects, boost economic and trade ties, including importing more farm produce from Vietnam, and develop coordination in agriculture and tourism.
50 students suffer food poisoning after school lunch

The lunch with fried rice, fried chicken, chips and meat soup might have poisoned 50 students at the Kim Giang Primary School on Tuesday.
The statement was made by Hanoi Food Safety and Hygiene Division late Tuesday evening following initial investigations into the case in which 50 students were hospitalised after a picnic lunch the same morning.
According to a report from local authorities, Kim Giang Primary School organised a picnic for 915 grade 1 and grade 2 students at a local farm on Tuesday morning. The school prepared some food including fried rice, fried chicken, chips, and meat soup and brought it to the farm for lunch.
Lunch was served at 11 am. Besides having the food prepared by the school, students also had some snacks and drinks brought by themselves or served by the farm.
At 2 pm, some students showed signs of food poisoning including stomachaches, vomiting, and diarrhoea. Fifty students had been sent to hospital for treatment.
A representative from the food supplier for the school, Ngoi Sao Xanh Food Company, said that they cooked the food in the morning and transported it to the school at 9.45 am.
The Hanoi Food Safety and Hygiene Division have collected samples of foods and drinks served to the students during Tuesday lunch by the company and the farm for testing.
Late last year, one student died and 600 students at a school in central Khanh Hoa Province were rushed to hospital after lunch due to food poisoning.
Timely adjusting anti-COVID-19 measures to ensure public health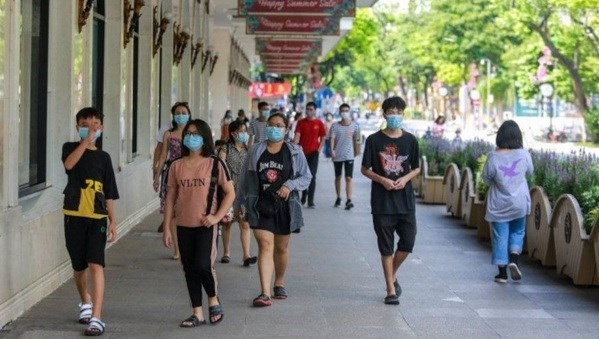 People wear masks in downtown Hanoi. Illustrative image (Photo: VNA)
Vietnam recorded 64 COVID-19 cases in the week from March 21-25, raising the total number of cases from the start of the pandemic to 11,527,203.
As of March 25 evening, 10,614,899 COVID-19 patients have recovered. Only one patient is receiving breathing support, and no fatality was recorded in the past week.

The number of deaths from COVID-19 stood at 43,186, accounting for 0.4% of the total cases.

The pandemic has been under control across the country, with both new cases and deaths on the decline.

However, risks still remain, including possible appearance of new variants of greater danger. Therefore, the Health Ministry has built a plan on response to such threats.

The ministry will continue to closely monitor disease situations at border gates, in communities and health establishments, while pushing ahead with COVID-19 vaccination and communication activities on COVID-19 prevention and control.

Prevention and control measures will be timely adjusted to ensure proactive response to new developments related to COVID-19.
Foreigners receive lost property in Hai Phong
A Dutch family have received important documents they had dropped during a recent trip to the northern port city of Hai Phong.
Van der Heide Nguyen Jolet, 28, her husband and their two children, all of whom are from the Netherlands, were visiting their relatives in Le Chan district of Hai Phong city on March 17.
She entered a local building and later found that she had lost her purse which contained several important personal papers, along with three passports, two bank cards, and VND2 million in cash.
She immediately reported the case to the police in Le Chan district, hoping to retrieve their lost property.
By profession, the police arrested a thief and returned the property back to the Dutch family.
Foreigners receive lost property in Hai Phong
A Dutch family have received important documents they had dropped during a recent trip to the northern port city of Hai Phong.
Van der Heide Nguyen Jolet, 28, her husband and their two children, all of whom are from the Netherlands, were visiting their relatives in Le Chan district of Hai Phong city on March 17.
She entered a local building and later found that she had lost her purse which contained several important personal papers, along with three passports, two bank cards, and VND2 million in cash.
She immediately reported the case to the police in Le Chan district, hoping to retrieve their lost property.
By profession, the police arrested a thief and returned the property back to the Dutch family.
Project launched in Hau Giang to improve adaptation to climate change
A project was launched March 28 on supporting livelihoods for local residents and improving climate change adaptation in the southern province of Hau Giang for the 2023-2025 period.
The launch ceremony was co-hosted by the provincial Department of Agriculture and Rural Development, the Korea International Cooperation Agency in Vietnam (KOICA Vietnam) and the Republic of Korea (RoK)'s Merry Year International (MYI) funding agencies.
MYI Secretary General Kim Choo-in said MYI will work with the department and the Can Tho University's Faculty of Rural Development to set up a climate risk assessment system, build more surface water salinity monitoring stations, and utilize information and communication technology to improve remote management capabilities.
By 2025, five more surface water salinity monitoring stations and a management system will be built for them, thus enhancing the capacity of responding to water management crises in Long My district.
MYI plans to launch various programmes, including basic economic and climate change adaptation education, and financial support projects in partnership with local authorities for beneficiaries.
The non-Governmental project runs from 2022-2025 in Long My district at a total cost of over 4.1 billion VND (178,000 VND).
Outbound tours prove popular during April holiday
Outbound tours to both Asia and Europe seem to be particularly interesting for Vietnamese travelers during the coming five-day break marking National Reunification Day (on April 30) and May Day (May 1).
Vietluxtour, a local travel company in Ho Chi Minh City, reports the number of bookings for outbound tours for the coming public holiday has risen by 40% to 45% compared to the same period last year.
Meanwhile, Travel agency TST Tourist's figures indicate that outbound tourists have outnumbered inbound tourists, with 61% of 2,000 guests booking tours for the break choosing tours overseas.
28-year-old Hai Nam of Ho Chi Minh City is pondering whether he should spend the holiday in Thua Thien-Hue province or the Republic of Korea. What worries him most is that during the public holiday, domestic tourist destinations tend to be overcrowded, whilst airfares, food, and room prices also increase.
Furthermore, the open-door policies of many foreign countries can be viewed as the main reason in attracting an increasing number of Vietnamese travelers during the holiday period.
Local people tend to choose to go to Northeast Asian or Southeast Asian countries as it is suitable for a five-day holiday, noted Tran Bao Thu, marketing director of Vietluxtour.
According to Agoda.com data, since 2022 Vietnamese tourists have been very fond of travelling abroad, with their top 10 holiday searches all relating to international destinations. Among them, popular destinations include Bangkok, Tokyo, Kuala Lumpur, Seoul, Osaka, Jakarta, Taipei, Hong Kong (China), and Pattaya.
Travelling abroad involves visa procedures, meaning customers often register early for travel agencies to prepare the process for them, although many companies have stopped accepting travelers seeking to go to the European or Japanese markets due to a time-consuming process for visa issuing.
There are therefore only a few routes in Southeast Asia such as Thailand, Singapore, and Malaysia which remain open to receive guests as no visa is required.
Vietnam, Malaysia eye stronger labour cooperation
Malaysia still remains one of the top markets for Vietnamese unskilled workers after Japan, the Republic of Korea, and Taiwan (China), head of the Vietnamese Embassy's labour management department in Malaysia Thai Phuc Thanh has said.
According to Thanh, labour cooperation between Vietnam and Malaysia has developed continuously and substantively. The two governments in 2003 signed the first cooperation agreement in sending Vietnamese labourers to Malaysia, which was re-inked in 2015, and 2022 in the framework of the official visit to Vietnam of then Prime Minister Ismail Sabri Yaakob.
Labour cooperation is always touched upon in most of the high-level meetings between the two countries, and closely linked to the interests of workers, businesses and development goals of each country. It is not only bilateral cooperation but also within the framework of ASEN cooperation, the International Labour Organization (ILO) and trade agreements that both sides have joined.
Thanh highlighted the great benefits brought about by labour cooperation agreements to the two countries, saying that these deals have helped create jobs and incomes for hundreds of thousands of Vietnamese workers.
Official statistics show that there are over 12,300 Vietnamese labourers working in Malaysia. The total income of Vietnamese workers in Malaysia in the 2010 – 2020 period was estimated at about 1.5 billion USD.
He said that Malaysia is considered an "easy" labour market suitable for almost unskilled rural labourers of Vietnam. Vietnamese workers have the opportunity to work in almost all industries in Malaysia such as manufacturing, mechanical engineering, textiles, construction, services, and agriculture.
Labour cooperation has also contributed to expanding economic, trade, tourism and investment cooperation between the two countries, he went on.
To effectively exploit the potential of labour cooperation between the two countries, it is necessary to create favourable conditions for workers to travel, reside and work legally, and further develop the segment of skilled and highly-qualified labour market, Thanh said.
Vietnam to issue e-visa to foreigners of all countries
Vietnam is likely to issue an electronic visa (e-visa) to foreigners of all countries and territories across the globe.
The agreement was reached by Government members at a working session in Hanoi on March 27, discussing the law-making programme.
The e-visa will be valid for one time or multiple times for a maximum of 90 days instead of 30 days at present.
The Government will decide on a specific list of countries and territories that allow e-visa issuing.
Vietnam is also likely to increase the time limit for granting a temporary residence card to people entering the country at border gates from 15 days to 45 days. This policy is only applied to passport holders that enjoy the unilateral visa exemption.
These proposals will be submitted to the National Assembly for consideration and approval at its fifth working session in May.
Currently, Vietnam has issued the e-visa to citizens of 80 countries and territories with a duration of no more than 30 days and only one-time entry.
The Ministry of Public Security earlier proposed that the Government revise the law on entry, exit, transit and residence of foreigners in Vietnam, in order to attract foreign visitors.
In 2023, Vietnam aims to welcome 8 million international visitors and 102 million domestic tourists, with total revenue estimated at VND650 trillion.
Lan Ha Bay faces pollution
Lan Ha Bay in the northern city of Haiphong is struggling with pollution, mostly caused by deteriorating styrofoam buoys.
Pieces of styrofoam buoys have appeared on Lan Ha Bay since early this month in addition to rubbish that has also been discharged into the bay, worsening the pollution.
The area which is adjacent to Ha Long Bay has been the hardest hit.
The bay has also recently seen red-orange water areas. A person who specialises in raising groupers in Cat Ba Town said that he witnessed the phenomenon on March 23-24.
According to some local fishermen, this would be the phenomenon of red tide, caused by the simultaneous blooming of marine algae, which occasionally appears in the waters of Cat Ba. Red tides can threaten fish.
A representative from the Cat Ba Bay management board said that since early March, the pollution has had a bad impact on tourists.
The board is focusing on rubbish collection.
Authorities in Quang Ninh Province have instructed the removal of nearly one million styrofoam buoys used at fish farms in the Van Don Island District in order to have them replaced with environmentally-friendly alternatives. This has been cited as one of the reasons for pieces of styrofoam buoys to drift to Cat Ba Island.
Over 44,000 jobs created in Hanoi in January-March
Hanoi has found jobs for more than 44,000 people in the first quarter of 2023, accounting for 27.5% of the year's plan, according to the city's Department of Labor, Invalids and Social Affairs.
The result was attributed to applying the city's labor market development solutions.
During the period, the city provided jobs for more than 10,000 workers from the city's fund entrusted through the Vietnam Bank for Social Policies. As many as 728 were sent abroad under fixed-term contracts, and 3,443 people were recruited through the job exchange system, the municipal department added.
More than 12,600 people found jobs through job counseling and placement services, and another 232 received vocational training courses worth VND1.02 billion (US$43,297). In addition, the unemployment insurance fund paid out a total of VND427 billion ($18 million) to more than 14,200 workers.
More than 1,500 units and enterprises recruited 28,336 workers from January to March at 53 job fairs organized by the Hanoi Employment Service Center.
On March 25 and 26, the Department of Labor, in cooperation with Hoan Kiem and Thanh Oai District authorities, organized job fairs to fill an estimated 5,000 vacancies for new employees and trainees.
The job fair in Hoan Kiem district attracted 28 employers with 2,000 job vacancies in tourism, information technology, biotechnology, high-tech agriculture, and logistics.
In Thanh Oai District, 55 companies and educational institutions participated in the job fair, seeking to fill 3,350 positions for new employees, enrolment, study, and work abroad.
Hanoi aims to create new jobs for 162,000 workers this year, said Nguyen Tay Nam, deputy director of the city's Department of Labor, Invalids and Social Affairs.
To achieve this goal, the city will continue to implement solutions to stimulate the labor market, including reducing the time spent on administrative procedures, providing vocational training and finding new jobs for the unemployed, and implementing policies to provide loans for job creation, labor export, production development, and restoration and development of traditional handicraft industries, he said.
Last year, Hanoi created jobs for over 200,000 people, achieving 126% of the annual plan thanks to flexible solutions.
Project brings traditional art to schools
HCM City schools and artists are working on a project to introduce traditional musical instruments and cải lương (reformed opera) to schools across the city this year.
The project is co-organised by the Trần Hữu Trang Cải Lương Theatre, one of Việt Nam's leading art troupes, and FPT University's traditional music department with the support of the city's Department of Culture and Sports.
The organisers target to bring the project to around 30 schools in the city this year.
The programme aims to offer knowledge on traditional Vietnamese musical instruments such as đàn nguyệt (double-stringed lute), đàn tỳ bà (plucked four-string instrument) and đàn bầu (monochord) through performances and classes hosted by students and lecturers from the university.
The performances feature popular folk songs such as Trống Cơm (Cylindrical Drum) and Lý Cây Đa (Song of Banian), as well as young people's favourite pop songs such as Hoa Hải Đường (Camelia).
In addition, artists from the Trần Hữu Trang Theatre will perform excerpts from famous cải lương plays, including Chân Dung Người Mở Cõi (Marquis Nguyễn Hữu Cảnh) written by playwright Phạm Văn Đằng.
Đằng, a native of the Cửu Long (Mekong) Delta province of Hậu Giang, graduated from the HCM City University of Cinematography and Theatre.
He wrote his first play Giọt Máu Chung Tình (Blood of Love) in 2007 for the Bình Minh Film Studio, featuring talented artists such as Phượng Loan, Hữu Quốc, Trọng Phúc and Lê Hồng Thắm.
He has written many plays such as Lê Công Kỳ Án (Lê Công's Extraordinary Case), Đất Thiêng (Holy Land) and Chuyện Của Dung (Dung's Story).
His plays have been presented at many cải lương festivals.
In 2022, Đằng was honoured as having the most plays performed at the Trần Hữu Trang Talented Cải Lương Performers Contest, a competition for national professional cải lương performers.
Asia-Pacific doctors discuss advancements in gastric cancer management
More than 500 gastroenterologists, oncologists, surgeons, and scientists from 17 countries have met at the 9th Asia Pacific Gastric Cancer Congress in Đà Nẵng City.
At the "Gastric cancer management: from resolution to revolution" conference that ended on March 25 some 170 scientific reports were tabled by medical professionals.
It was the first time that Việt Nam hosted the biennial regional meeting of gastric cancer researchers and surgeons.
This year's programme comprised plenary lectures and symposiums on recent innovations and research and screened operative/endoscopy videos of gastric cancer.
The agenda included the diagnosis and treatment of early gastric cancer with wide application of image-enhanced endoscopy and artificial intelligence.
Multidisciplinary approaches, including chemotherapy, targeted therapy, immune checkpoint inhibitors, and surgery for treatment of advanced gastric cancer were also discussed.
Doctors said recent research in the field of gastric microbiome and molecular biology enabled a new era of personalised treatment of gastric cancer.
At the pre-congress on March 23, Dr. Võ Duy Long, deputy head of the GI surgical department at the HCM City University Medical Centre and Prof. Souya Nunobe of the Cancer Institute Hospital belonging to the Japanese Foundation for Cancer Research successfully conducted laparoscopic distal gastrectomy, laparoscopic total gastrectomy, and laparoscopic proximal gastrectomy with double-flap reconstruction procedures on three patients.
They were done as live demonstration as part of the scientific programme.
Vegetation, garbage burning complicates in Lam Dong
According to reflections sent to Sai Gon Giai Phong (SGGP) Newspaper, the situation of burning vegetation and garbage in the forest has been complicated without control in recent weeks.
Previously, Lam Dong Provincial People's Committee had directed to immediately stop handling vegetation during the dry season 2022-2023 in the whole province.
Still, black smoke and dust from vegetation fires are seen every day and tend to increase in areas far from the city center such as Tuyen Lam lake area, Ta Nung pass and the communes of Xuan Tho, Xuan Truong and Tram Hanh.
The columns of smoke having an altitude of tens of meters were seen from vegetation fires, and blown into the central area, obstructing visibility and causing air pollution.
Amid the current situation, the People's Committee of Da Lat City has just directed the prevention of vegetation fires at the Cam Ly landfill in Ward 5 as well as hazards to properties, lives of people and environmental pollution.
Previously, a huge fire occurred in the closed landfill of Cam Ly which is about five kilometers far from Da Lat City. The fire spread smoke and dust particles to the city center, affecting people's daily life.
Hanoi targets 100% of population with accounts on public services portal

It is expected that local governments will waive or reduce fees for the use of online public services and for online payments.
Hanoi aims to achieve 100% account registration in its online public services portal by 2023, while at least 50% of new documents will be received and processed online.
The move was part of the City's Plan No. 95 to implement National Project No. 06 to build a population database and electronic authentication and identification for national digitization in 2022-2025, with a vision to 2030.
The city will provide 100% of citizens with free digital signatures for electronic transactions and public service delivery.
Under Plan No. 95, Hanoi authorities identified implementing Government Project No. 06 as a crucial task that requires the active participation of all levels, sectors, and localities, leveraging the collective strength of the entire political system and the people.
The approach must be focused, prioritizing easy tasks first and progressively tackling more challenging ones, always following the guiding principle of "accurate, sufficient, clean, relevant" data and ensuring information security, the plan said.
"Improving the quality and efficiency of online public service delivery and facilitating the maximum participation of individuals and businesses must be pursued at all levels, sectors and localities," it said.
Furthermore, the development of digital citizenship and the use of population data, chip-based citizen identification and electronic authentication should be promoted in support of socio-economic development efforts.
To achieve the city's overall goals, the city's departments and sectors are assigned to take responsibility and coordinate the implementation of 23 specific tasks in seven groups. This year, the Hanoi People's Committee will submit a new policy to the Hanoi People's Council for approval. The policy aims to waive or reduce fees for online public services and online payments to encourage greater participation by individuals and businesses.
The city aims to simplify and streamline at least 20% of administrative procedures and citizen documents related to population management compared to when Project 06 was promulgated.
In addition, 80% of work records related to population management at the provincial, district, and commune levels should be processed in the network environment, and all population records should be created, stored, and shared electronically according to regulations.
By the end of 2022, Hanoi has successfully implemented all 25 essential public services according to the Roadmap of Project 06, having achieved 100% completed. Nine of the 25 public services will be fully online, without the need to submit applications in person.
Specifically, the Municipality is implementing various measures to encourage citizens to use public services, such as the organization of door-to-door and house-to-house campaigns to inform and assist citizens with the process of using public services online. These campaigns highlight the benefits of using public services, registering for electronic identification authentication, and using and sharing population data from the government's Project 06 National Population Database.
In addition, models to support people in accessing and using public services online have been developed and implemented in all districts and municipalities of the city.
To facilitate citizens' access to public services, various creative initiatives and methods have been implemented in all districts and cities of the city, such as the establishment of "Mobile Teams to Support Online Public Services at Home", the promotion of "Green Friday", "No Writing Tuesday", "Saturday Volunteering to Support People in Performing Online Public Services", and the establishment of "Support Points for Performing Administrative Procedures 24/24".
Crab-eating macaque disturbs HCM City residential area
HCM City's forest management force has caught a crab-eating macaque that regularly disturbed a residential area in Binh Chanh District.
The monkey broke into some local houses to take food. When being driven away, the animal fiercely responds.
After being reported, local authorities deployed measures to catch the monkey.
The forest management force captured the monkey using anaesthetic on March 25.
The male animal which weighs around 8 kilos is being taken care of at Cu Chi District's wild animal rescue station.
The monkey is listed among endangered rare species.
Da Nang hospitality sector called on to open more toilets
Danang authorities are calling at least 50 hotels and restaurants in Son Tra District to offer free toilet facilities for tourists as part of an effort to boost hospitality in the central city.
This move is part of efforts to promote the city's Comfort as Home campaign to provide free bathrooms for travellers. The campaign was launched in Danang's Son Tra and Hai Chau districts in 2015.
Son Tra District's Department of Natural Resources and Environment has been assigned to support local hotels and restaurants with Comfort as Home-Free Toilet stickers.
The stickers will be at the front entrance and toilet entrance.
Government agencies in HCMC propose extra income spending guidance
The Ho Chi Minh City Department of Finance was proposed to soon give guidance or consult the City People's Committee on directions to implement extra income spending for cadres, civil servants and officials in the city.
According to the proposal by the Ho Chi Minh City Department of Internal Affairs, many offices and units in the locality have proposed the department to guide in detail the index of extra income spending; give guidance on procedures, process to build the quotation and allocate expenses to implement the extra income spending in 2023.
By the end of 2022, the eighth session of the tenth tenure of the Ho Chi Minh City People's Council approved a resolution to increase the income in 2023 by the end of the pilot period of implementing the Resolution No.54 of the National Assembly.
The adjusted level of additional income expenditure for cadres, civil servants and public employees in the state management sector, political organizations, socio-political organizations and non-business units managed by the city will be lifted to the maximum level of 1.8 times the salary according to their pay grades and positions.
Phu Bai airport's new terminal set to open in late April
Prime Minister Pham Minh Chinh has required the investor to finish the remaining work and put the new terminal at the Phu Bai International Airport into operation by the end of April to serve the rising travel demand during the upcoming holiday.
PM Chinh inspected the construction progress of Terminal 2 at Phu Bai International Airport on March 24 during his visit to the central province of Thua Thien-Hue.
He also asked the investor to prepare human resources and test operate the terminal before officially putting it into service.
The Terminal 2 project at Phu Bai International Airport requires over VND2.2 trillion, with the Airports Corporation of Vietnam (ACV) serving as the project owner.
It has a floor area of around 22,380 square meters and is expected to serve five million passengers annually, including four million domestic and one million international passengers.
Work on the terminal started in August 2021 and is currently 95% complete.
The project management board is urging the contractors to complete the remaining work, install interior furnishing items and equipment in the terminal, and carry out test operations.
The terminal is expected to be put into operation as scheduled in April.
Built in 1940, the Phu Bai International Airport currently serves both military and civilian purposes. ACV invested nearly VND700 billion in repairing and upgrading the airport in 2013.
The Phu Bai Airport's current terminal has a design capacity of 1.5 million passengers per year.
Classic Vietnamese books for children reprinted
More than 200 titles of books for children and teenagers by Vietnamese writers have been reprinted and distributed by the HCM City-based Trẻ (Youth) Publishing House this month.
The publication promotes the habit of reading among young people.
Literature book, comic books, colouring books and reference books are offered.
Poem collections and short stories by young writers such as Mai Chi, Ánh Tuyết and Hà Triều are also featured.
Highlighted books include Hương Rừng Cà Mau (Scent of Forest in Cà Mau), a famous short stories collection by late cultural researcher and author Sơn Nam of Kiên Giang Province.
The work was first released in 1962 and has been reprinted several times by leading publishing houses. It was translated and taught at Paris University Diderot.
Hương Rừng Cà Mau includes 18 short stories featuring Mekong Delta cultures, southern people and their lifestyles.
Trẻ Publishing House released the book in a new version of 204 pages including paintings by young artists.
Nam was born in U Minh Hạ in Rạch Giá Province (now Kiên Giang) in 1926. He studied in Cần Thơ and took part in the resistance war against the French in 1945. He passed away in HCM City in 2008.
Nam wrote more than 60 fiction and non-fiction books, 400 short stories and did many research works. His books have attracted millions of readers from different generations.
His readers call Nam "a living dictionary on the southern land" because his writing features his love for and knowledge of the southern region.
In order to raise the awareness of parents about the importance of books for children, Trẻ Pubishing House will organise book fairs and host discussions with leading children's book authors, educators and psychologists this summer.
The printer has signed contracts with well-known authors, including young writers, to create books in literature, history and the arts targeting children and teenagers.
Its long-term campaign "Vietnamese Writes Books for Vietnamese Children" began in 2018 and has supported local writers to offer more quality publications for young readers.
Vietnam named among world's Top 5 destinations to visit this summer
UK travel magazine Expedia has listed the nation among its Top 5 international destinations that visitors should visit this summer.
According to information given by the UK outlet, Vietnam represents one of the countries that saw a significant hike in terms of searches and bookings for the summer.
The capital city of Hanoi reached a search and book rate of up to 298%, while Da Nang and Ho Chi Minh City were at 439% and 219%, respectively.
Expedia noted that these searches prove that there is more to the world than stereotypical destinations that people tend to visit every year.
"Hanoi is the country's capital and is known as its art capital. You can find some of the city's most exciting architecture and centuries-old culture," the magazine revealed.
Rounding off the list of the Top 5 is Japan, New Zealand, Italy, and France.
Hue summer festival 2023 opens with colourful carnival
The Hue Summer Festival 2023 kicked off on the evening of March 26 with the launch of a colourful carnival programme in the Hai Ba Trung pedestrian street in the ancient capital of Hue.
The scheme is part of a series of tourism promotion events organised by the tourism industry of Thua Thien Hue province and being held in response to Hue Festival 2023.
The carnival parade consists of nearly 300 representatives from numerous travel firms, students, and artists donning traditional costumes of various foreign countries, Vietnamese ethnic minority groups who reside in the northwest, as well as the historic Hue royal costume.
Nguyen Van Phuc, director of the Department of Tourism of Thua Thien Hue province, revealed that the upcoming festivals are expected to elevate Hue as a typical Vietnamese festival city in the time ahead.
He added that the carnival parade and the opening of Hai Ba Trung pedestrian street will serve to meet locals and tourists' recreational demands, thereby contributing to reviving the local tourism industry and attracting a greater number of foreign tourists to the ancient capital.
Hai Ba Trung pedestrian street consists of a number of commercial areas that combine to create a bustling space to meet the demands of visitors for nightlife while simultaneously offering an ideal venue to organise art and cultural exchange activities and street performances to entertain both locals and visitors.
Thuy Linh wins Vietnam International Challenge 2023
Nguyen Thuy Linh, the nation's top female badminton player, won the Vietnam International Challenge 2023 on March 26 in Hanoi after being her Japanese rival in the final match of the competition.
At the tournament, world No. 49 Linh was seeded No. 2 in the women's singles.
The Vietnamese player went on to defeat Asuka Takahashi of Japan 21-7, 15-21, and 21-12 to ultimately win the title.
Linh won the Yonex-Sunrise Vietnam Open 2022 last October and successfully finished second in the Thailand Challenger several weeks later.
Meanwhile, in the men's singles, Vietnamese player Le Duc Phat suffered failure after being beaten 21-14 and 21-14 by Takuma Obayashi of Japan in the finals.
In the last edition which took place in 2019, Firman Abdul Kholik of Indonesia won the men's singles, whilst Japanese player Hirari Mizui took the women's singles title.
This year saw the annual Vietnam International Challenge attract the participation of more than 300 local and international athletes from 17 countries and territories, who competed across five categories, including the men's and women's singles and doubles, as well as mixed doubles.
Two killed, three injured in Kon Tum explosion
Two people have been killed and three others seriously injured after a warhead exploded in the central highlands province of Kon Tum's Dak Ha District.
The Dak Long Commune People's Committee announced on Sunday that the tragic accident occured on March 25 when A Nhi, 24, brought home an old warhead he found in the farm of a neighbour.
Nhi used a hoe to cut the warhead, which was left from the war, and it suddenly exploded, killing him and injuring four others including his wife, their four-year-old son, and two other local children. Their son then died shortly after from serious injuries while other people are still being treated at the Kon Tum Provincial General Hospital.
New stamp collection on purple phoenix flowers issued
The Ministry of Information and Communications, working in collaboration with Vietnam Post Corporation, have launched a new postage stamp collection showcasing purple phoenix flowers, aiming to promote the image of the country's landscape, people, climate, and biological diversity.
The collection includes four 37mm by 54mm stamp designs, as well as one 80mm by 105mm miniature sheet.
The miniature sheet costs VND15,000, while the price of the four remaining stamps stands at VND4,000 each.
The stamps have been designed by painter Nguyen Quang Vinh of the Vietnam Post Corporation, with the artist making use of water colour design methods in order to develop the colourful and beautiful collection.
Purple phoenix flowers, known as Jacaranda acutifolia by their scientific name, are mainly grown in Da Lat city where temperatures tend to be cool throughout the year.
The flowers usually blossom in March around Da Lat city. It normally takes a flower up to five days to truly blossom, with the inflorescences often taking turns to bloom regularly over the course of a four to five-month period.
The collection will be made available from March 30 before ending on December 31, 2024.
Primary schools in HCM City to no longer host out-of-town experiences
Primary schools in HCM City are no longer allowed to organise experiential education activities – where schools would organise classes through field trips or other engaging activities – for students outside the city.
The HCM City Department of Education and Training has recently urged relevant authorities to review educational activities outside of regular school hours and ensure all experiences are practical while associated with specific educational goals and content.
Schools are required to focus on safety and smooth organisation and avoid activities involving too many students at the same time.
At the primary level, the HCM City Department of Education and Training has instructed schools to not organise outdoor activities for elementary students outside of HCM City.
At the high school level, schools are responsible for creating activities with meaningful and relevant content such as future jobs relevant to 4.0 industrial revolution, social network communication, and traffic safety culture.
The organisation of experiential activities and lessons outside the school has to be done in a voluntary and transparent manner, according to HCM City Department of Education and Training
An equivalent learning plan for students who cannot participate in the activities must be developed as well so that they can study at school or at home.
Border guards in Quang Binh join in IUU fishing combat
Border guards in Quang Binh province, one of the central localities with large fishing fleets, have joined efforts of all-level authorities in fighting illegal, unreported and unregulated (IUU) fishing, towards having the "yellow card" imposed by the European Commission (EC) on Vietnamese seafood removed.
Representatives from the provincial Border Guard Command regularly visit local fishermen before they go fishing offshore to persuade them to observe fishing regulations.
Dau Ngoc Van, captain of vessel QB 98722TS in Quang Phuc ward, Ba Don town, expressed his delight to receive the support and encouragement of the border guards before leaving for a fishing trip after the Lunar New Year (Tet) festival. He affirmed his determination to observe fishing regulations.
Ho Chi Quoc, a fisherman from Bao Ninh commune, Dong Hoi city, said before each fishing trip, boat owners and sailors consented to conduct fishing within Vietnam's maritime territory, and not to violate relevant rules.
Over the past time, the border guards have seriously and drastically implemented directives, plans and documents of the Government, the Ministry of National Defence, the Vietnam Border Guard High Command and Quang Binh province, while sketching out their own plans against IUU fishing.
They have also coordinated with departments, agencies and localities to carry out communication work, holding 18 conferences on IUU fishing combat last year which brought together some 1,300 local residents, and distributed 3,100 leaflets to fishermen, among other activities.
At the same time, the force has intensified inspections and supervisions, conducting over 350 patrols at sea, along the coast and on local rivers.
Colonel Trinh Thanh Binh, Commander of the Border Guard Command of Quang Binh province, affirmed that the force will continue with communication work among fishermen and captains, and direct border guard units to coordinate with other forces in aquatic resources preservation, and with local authorities in inspections and supervisions at estuaries and at sea.
Quang Binh is home to more than 6,700 vessels, including 1,200 offshore fishing boats.
Source: VNA/SGT/VNS/VOV/Dtinews/SGGP/VGP/Hanoitimes